I grew up on my Grampas soup and I'm convinced that there is no soup better than his vegetarian Scotch broth recipe. This has led me to plenty of trial and error, chopping and changing and learning how to improve my own Scottish lentil soup recipe.
Personally, I like to use onion, swede, carrots and sometimes potato as I have here but I think if you are learning how to make Scotch broth from scratch then you can opt to use any root vegetable that you may prefer to make a good hearty Scottish soup.
Have some fun trying new things, see what works and doesn't work to make the best Scotch broth recipe for you!
After cooking, I like to season with some salt, freshly ground black pepper and a garnish of chopped parsley for some added colour before serving with some warm crusty bread.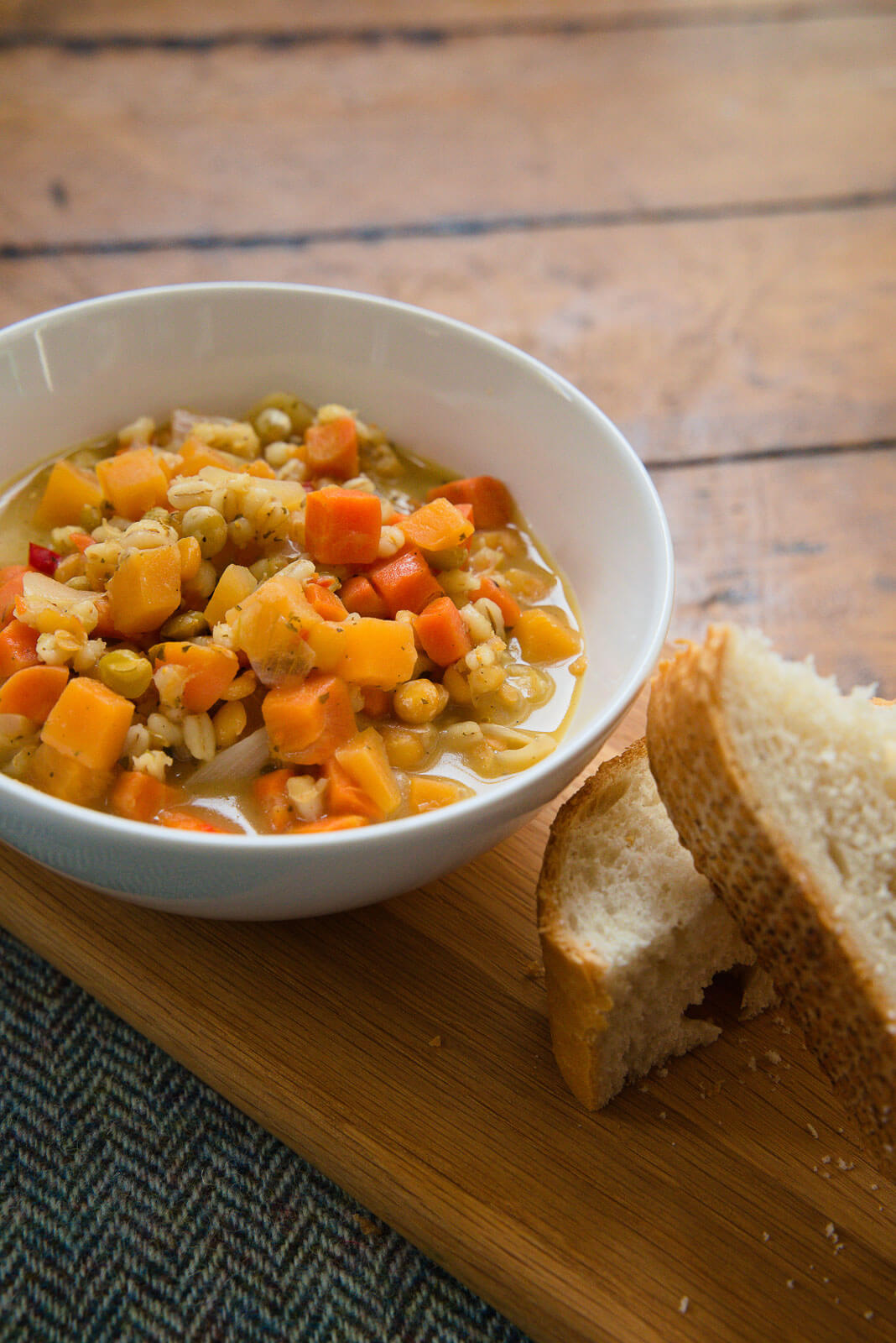 Scotch broth mix
(pearl barley, red split lentils, yellow split peas and green split peas)
2 vegetable stock cubes
3 medium size potatoes
2 carrots
1 onion
1/2 swede
salt
pepper
Measure 100g Scotch broth mix or mixed lentils/barley of your choice and soak in 500ml cold water for 8-12 hours.

I like to use a measuring jug for this to save on any unnecessary faff or extra cleaning!

After the allocated time spent soaking (I usually leave this overnight), drain and rinse again with cold water.


Peel, chop and dice vegetables and add to your pan along with your Scotch broth mix.


Dissolve 1 vegetable stock cube in 500ml boiling water and add to the pan along with 2 pints of cold water and bring to the boil.

After around 10 minutes, I would suggest a taste test of this as you may wish to dissolve and add another stock cube with a further 500ml water or if you are happy with the taste, simply add the 500ml water to your mix.


Once all of the water has been added, gently lower the heat to a simmer, place the lid over the soup and leave for approximately 1 hour.

Occasionally check on progress and stir. 


Add salt and pepper for seasoning and leave to stand for a further 5-10 minutes in its own heat before serving.
Old butter or takeaway tubs are great for storing quantities and each container can usually hold a portion big enough for two servings.
For those of us who do not have the extra space and usually look to keep our leftovers in the fridge, lock these in an airtight container and eat within 4-5 days.
If you have more space available, I would highly recommend that you make a big batch of this healthy vegetable soup and stick some in the freezer!
I know that this is not an option for everyone but for those that can, soup can be kept for 4-6 months in the freezer and defrosted when required.