This post may contain affiliate links of which we earn a small commission should you choose to purchase through them. This helps us to keep the site running. Thank you for your support
I have lived in Aberdeen City Centre for the majority of my life, so I know the best things to do in Aberdeen, but I also think that is part of the reason that it has taken me so long to write this post.
But here it is, finally, my complete guide to visiting the Scottish city of Aberdeen, also known as the 'Granite City'. Aberdeen is famed for being the 'Oil Capital of Europe' and that is one of the main industries but there is much more to this city than the oil bubble.
Keep reading as I highlight some of the best things to do, bars, restaurants and sights that Aberdeen has to offer as well as some of the best beaches in Aberdeenshire.
Is Aberdeen worth visiting?
Most definitely. Often forgotten about on Scotland road trips or Scotland itineraries, this city offers plenty of attractions, a great food scene and tonnes of history for any prospective visitor. 
Your journey to the North East of Scotland and to Aberdeen city is easily accessible by air, road, rail and sea. I have listed some of the transport options available below.
How To Get To Aberdeen, Scotland
Air
Aberdeen International Airport is approximately 5 miles from the city centre in the suburb of Dyce. Aberdeen airport has had a lot of refurbishment in recent years to improve customer experience and it is well connected with frequent flights travelling to and from many other UK cities.
You can fly to Aberdeen from most major cities including three of the London airports, Manchester, Newcastle, Amsterdam and Paris.
How To Get To Aberdeen Airport/City Centre?
Aberdeen airport is only accessible by road and there are two options available for this.
You can book or find a taxi at one of the city centres taxi ranks and from experience, but this will depend on traffic, fees tend to be approximately £20.
Alternatively, you can catch the 727 Aberdeen Airport Terminal bus to/from Union Square bus station. There are a couple of stops of Union Street and on Broad Street, this service runs every 10 minutes and this costs £6 return and less for one way.
Book a rental car in advance
Want to explore Aberdeenshire a bit more? Book yourself a rental car in advance to pick up when you arrive.
Rail
The Aberdeen Railway Station is attached to Union Square Shopping Centre so it is as central as it gets and the Aberdeen train station is well connected for journeys to and from the whole of the United Kingdom as it is part of the national rail.
The Scotrail service has hourly trains which travel to all the larger Scottish cities such as Glasgow, Edinburgh and Inverness.
You can also book tickets on the National Rail website.
The LNER Service travels all the way from London Kings Cross to Aberdeen and the journey takes just over 7 hours with many stops in between.
If you are looking for a first class and different kind of experience, why not try the Caledonian Sleeper where you can travel overnight from London to Aberdeen with your own cabin to sleep in.
I would highly recommend booking all train tickets online in advance to save money as these can be quite costly last minute.
Sea
Northlink Ferries operate from the Aberdeen Ferry Terminal at Jamieson's Quay which can be found in Aberdeens city centre harbour.
Journeys to/from here can take you towards the islands of Orkney, Shetland and some of the other Scottish Isles.
Road
Aberdeen is easily accessible to reach by road. Whether you choose to make this journey using your own method of transport or one of the many Aberdeen bus services, the roads are well signposted to assist you.
Some of the bus providers who travel to Aberdeen are the National Express, Megabus and Stagecoach where you can opt for direct or coastal routes.
Again, I would highly recommend booking tickets in advance.
Journey Times To/From Other Scottish Cities Possible By Public Transport, Road And Rail
How long does it take to get to Aberdeen from Dundee?
Approximately 1 hour 10 minutes
There are plenty of things to do in Dundee. Why not visit the infamous V&A building, the McManus art gallery and museum or Camperdown Wildlife Centre among many others. Read our guide on What To Do In Dundee for more.
How long does it take to get to Aberdeen from Edinburgh?
Approximately 2 hours 30 minutes
Looking for things to do in Edinburgh? The capital of Scotland is steeped in history. With Edinburgh Castle, The Royal Mile, Calton Hill and many other attractions. A visit to the capital is a must when visiting Scotland! We've also put together this list of the best airbnb options in Edinburgh should you fancy an overnight stay!
How long does it take to get to Aberdeen from Glasgow?
Approximately 2 hours 30 minutes
Glasgow is a great city for culture and music. Often voted one of the friendliest cities in the world, Glasgow is famed for its warm and friendly attitude towards tourists. But more than that, when looking for things to do in Glasgow, you will find that it is filled with beautiful Victorian architecture and great places to eat.
How long does it take to get to Aberdeen from Inverness?
Approximately 2 hours 30 minutes
Visiting the Highlands of Scotland should be high on everyone's list. Take some time to explore the city and things to do in Inverness, the beautiful scenery and make a stop to visit the world-famous Loch Ness!
Museums in Aberdeen
Visiting some of the many Aberdeen museums is a great way to learn more about the city, its history and its culture. Most of the museums do not have an entry fee which is further incentive to visit and all are family-friendly although some may be more appealing to children. I have listed some of the best museums that the city has to offer and I hope that this will be of some use to you when planning your visit!
Aberdeen Maritime Museum
The Aberdeen Maritime Museum on Shiprow is a museum that is close to my heart. It is probably the museum that I have visited most often throughout my time of living here and is one that I have very fond memories of as a lot of my family members worked on the sea. Located in the city centre, near Aberdeen harbour, this museum shows collections on shipbuilding, fast sailing ships, fishing and port history.
Aberdeen has a long history and connection with the sea and primarily now with the North Sea Oil & Gas industry. The Aberdeen Maritime Museum also has a great viewpoint over Aberdeen Harbour.
Entry Cost – Free
Gordon Highlanders Museum Aberdeen
The Aberdeen Gordon Highlanders Museum is a Regimental Museum which holds a large collection telling the story of over 200 years worth of duty in one of the greatest regiments of the British Army, The Gordon Highlanders.
The North East of Scotland has a strong fighting history with many ordinary men such as farmers, fishermen, students and labourers joining the regiment and all with a story to tell.
The staff and volunteers at The Gordon Highlanders Museum have thoroughly retraced and keep these stories alive for future visitors and generations.
Located in the West End of Aberdeen, the Gordon Highlanders Museum also has the Duchess Jean Tea Room.
Entry Cost –
Adult – £7.60
Children – £4.28
Tolbooth Museum
The Tolbooth Aberdeen is a great option for those with children. Learn about one of Aberdeens oldest buildings, it is a great example and one of Scotlands best-preserved 17th-century jails.
With original doors and barred windows along with displays on the local history and changes that were seen with regards to crime and punishment in Aberdeen, this museum provides an insight into life within 17th and 18th-century gaols.
Make sure to look out for the original 17th-century guillotine!
There is a steep spiral staircase so do be aware of this if you have any mobility problems and note that there are no toilets or cafe facilities.
Entry Cost – Free
Aberdeen Art Gallery
The newly renovated Aberdeen Art Gallery is one of Aberdeen cities top attractions to visit.
The closure of the art museum Aberdeen took almost 4 years to complete at a cost of almost £35 million but it was well worth the wait as the gallery has been re-imagined with several new exhibits, many of which have interactive features making them a lot more accessible and family-friendly to all ages.
The exhibits cover a wide variety of subject from the history of art to sculptures, local art pieces and design through the ages.
We have written a full guide to Aberdeen Art Gallery to provide further information on this wonderful addition.
Entry Cost – Free
Aberdeen Science Centre
The Aberdeen Science Centre was the first science and discovery centre in Scotland and has been a popular choice to visit with children for over 30 years.
With its mix of interactive and educational science discovery, including programmes and exhibits teaching children about a variety of subjects such as coding, robotics and engineering which will hopefully inspire for years to come.
Entry Cost –
Adults – £5.75
Children (3+) – £5.00
Blairs Museum Aberdeen
Approximately 5 miles from Aberdeens city centre on South Deeside Road is Blairs Museum, the museum of Scotlands Catholic Heritage.
This museum is considered a hidden gem among those who have visited, filled with collections covering over 500 years and with artefacts such as a memorial portrait of Mary, Queen of Scots, the pocket watch of Bonnie Prince Charlie and many church textiles dating back to the 1400s.
Along with these artefacts looking into Scottish history, you can also visit the beautiful St Mary's Chapel which is still in use today.
Entry Cost –
Adults – £4.00
Children – £1.50
Along with the above, Aberdeen also has three University museums which may be of interest to visitors and tourists when looking for things to do in Aberdeen.
University of Aberdeen Zoology Museum
The Zoology Museum is as close to a natural history museum Aberdeen has to offer. With over 75,000 specimens from great whales, Bengal tiger and taxidermy to insect collections.
This museum holds permanent and temporary displays covering the whole animal kingdom including a new exhibit relating to Darwins Theory of Evolution.
With over 200 years of research, this is the only international collection of Zoological specimens in the North East of Scotland.
Entry Cost – Free
The Gallery, Sir Duncan Rice Library
The Sir Duncan Rice Library is a love or hate building. Personally, I love it.
This large cube-shaped building can be seen from around Aberdeen University campus and much of the city. This may be in part due to the white zebra-like stripes that cover the exterior clear glass, it's hard to miss!
A seven-storey building, the library is home to much of the Aberdeen Universities historic collections including over a quarter of a million priceless books, manuscripts and journals which have been collected for over 5 centuries.
Situated on the ground floor of the Sir Duncan Rice Library is The Gallery, this houses exhibition and special collections which show rare pieces from the Universities collections.
With views over Aberdeen and across to the sea, this is another popular tourist destination to visit, however, you will require some form of ID for access.
Entry Cost – Free
King's Museum Aberdeen – Old Town House
King's Museum is a small University Museum which can be found in Old Town House in the Universities Old Aberdeen Campus. This is one of Scotlands newest museums although it is also one of the oldest as the collection is from King's College dating back to 1727.
The exhibitions at Kings Museum changes every few months hosting temporary exhibitions from the Universities collections.
Entry Cost – Free
Painted Doors Aberdeen + Nuart Aberdeen
I am a huge fan of the street art in Aberdeen and I think it adds such an interesting dimension to an area.
Aberdeen city is known for its strong use of granite and all things grey so when international and local Aberdeen artists were invited to take part in creating some public art around the city, as many other Scottish cities have done, I thought it was a great idea and a change that I was really excited for.
Giving artists free rein to add some colour and create either a painted door or large wall mural is a wonderful celebration showing alternative art in Aberdeen, perhaps reaching a wider or more varied audience and hopefully drawing some more tourism to the city.
The Aberdeen street art from previous years certainly inspired something in those that came across it and there are often posts on social media with tweets, Facebook and Instagram showing recognition to the artists for the wonderful work.
I have to say that certain pieces have really been adopted by the city and by the people in Aberdeen, which is great and I look forward to seeing what's to come!
I believe over the past couple of years that the annual Aberdeen Art Festival event has been run, (which is the only street art festival in Scotland) that there are now over 30 Painted Doors in the city centre and also over 30 Nuart Festival murals to find with more being added each year.
During this Aberdeen festival, which I believe is typically held in April but this could change, there are many guided walking tours of the city to show and locate new pieces of artwork. These are always popular and it's nice to see adults and children of all backgrounds really engage and be excited over the new art that Aberdeen has to show.
Make sure to download an Aberdeen street map or Aberdeen location map for all of the Painted Doors and Nuart pieces to aid you on your tour of the city.
Parks In Aberdeen
Union Terrace Gardens
Union Terrace Gardens are just off Union Street in the city centre and I think of them as the main area of greenery in Aberdeen city. Although there are other parks nearby, I feel that these are the most accessible to reach within the city.
The park is surrounded by some of the best views of architecture in the city such as His Majestys Theatre and the Triple Kirks.
You will find Union Terrace gardens closed at the moment as it is receiving a grand transformation and due to reopen in summer 2021. Aberdeen City Council voted in favour of a controversial rejuvenation project of the gardens with the aim to create positive changes to the Victorian park making more accessible to all people.
Some of the Union Terrace Gardens design upgrades include plans to create lift access, disabled parking facilities, a new accessible walkway, play area, cafe and toilets which will be a great improvement in the use of space and safety to locals and a great addition for North East Scotland.
Duthie Park Aberdeen
If it's a sunny day and you are searching for some fun things to do in Aberdeen with the family, think of visiting Duthie Park. Located on Polmuir Road just outside of the city centre and running alongside the River Dee following on to Riverside Drive, these gardens have a vast amount of space along with a variety of activities for all ages.
Duthie Park comprises of 44 acres of land and is approximately 10-15 minute walk, or a 5 minute drive from the city centre. It has car parks and on-street parking at both entrances.
Some of the main things at Duthie Park are the restored Victorian features such as the boating ponds where kayaks and paddleboats are often offered, there are fountains and the bandstand. More than that, there are two play areas, one for younger children and one for the more adventurous. There are large areas of grass, astroturf area for ball games as well as the Duthie Park cafe for refreshments and light meals.
These Aberdeen botanical gardens are really popular to visit during the nicer weather and you often find the area filled with people enjoying the open space.
David Welch Winter Gardens
The David Welch Winter Gardens are set within Duthie Parks grounds and are one of the largest indoor gardens in Europe and one of the most visited in Scotland.
These popular gardens include the Tropical House, Arid House, Japanese Garden, Temperate House, Corridor of Perfumes, Fern House and the Victorian Corridor.
A paradise of rare, beautiful and exotic flowers along with a variety of succulents and cacti (look out for Spike Duthie Parks talking cactus!) from around the world, the Duthie Park Winter Gardens are a top spot to visit on a rainy day!
Johnston Gardens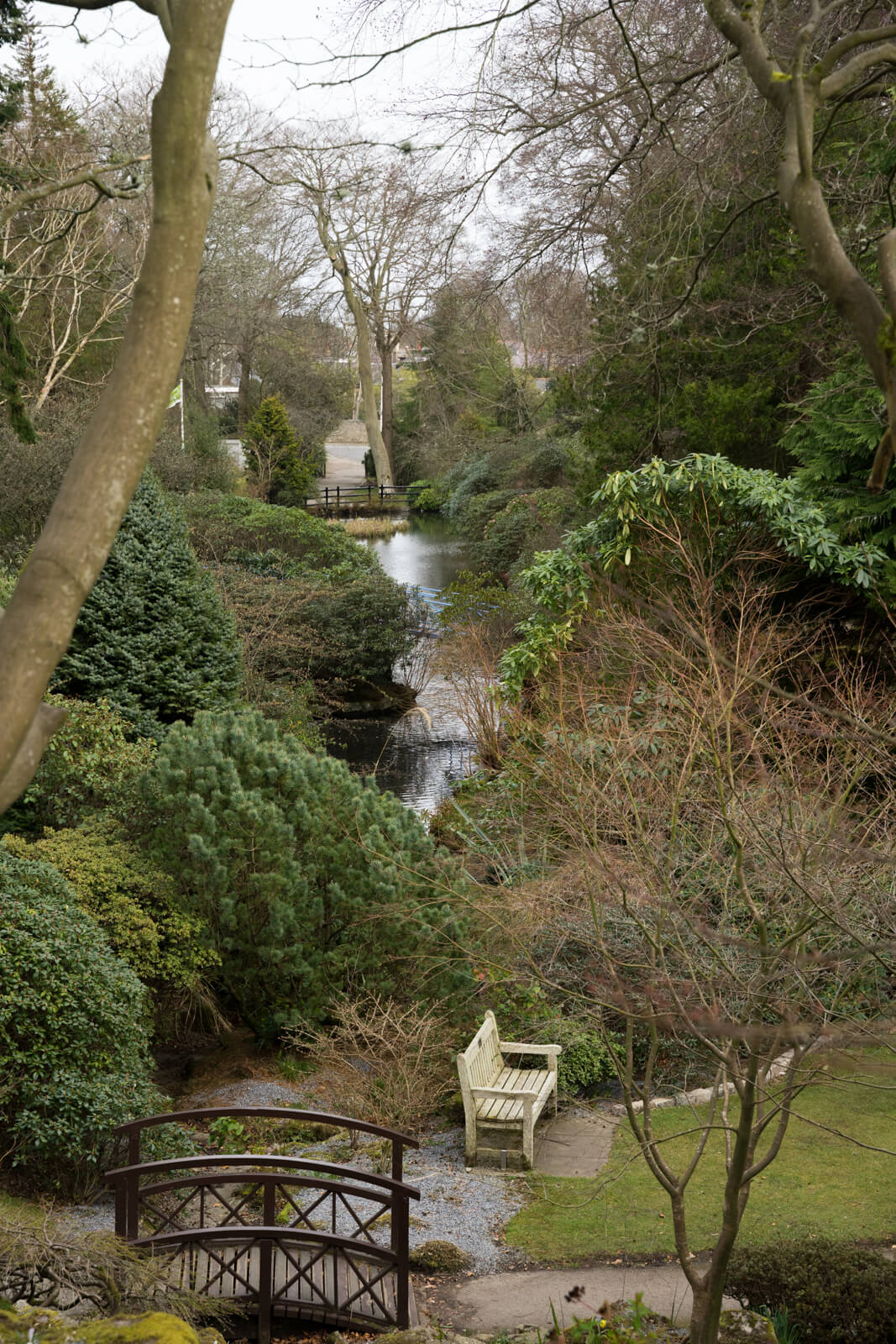 Johnston Gardens are one of Aberdeens hidden gems. Found slightly outside of Aberdeens City Centre, on Viewfield Road near the Gordon Highlanders Museum.
This is a small public park which has won Britain in Bloom several times, with ponds, streams, waterfalls and one of the parks main features, the picturesque bridge which is very popular for wedding photographs. The park also has a play area along with the large selection of flowers and flower displays to view.
This park also holds a memorial for the 16 men lost in the Super Puma helicopter crash in the North Sea.
Things To Do In Aberdeen With Kids
I imagine that a lot of visitors to the city will be looking for things to do in Aberdeen with kids! While there are a considerable amount of things to do with kids I really wanted to add some family friendly options.
I have added a lot of activities in this section, however, you can find suggestions for parks and gardens or museum suggestions such as the science centre in some of the other areas of this post which may be of interest to you.
Lane7 Aberdeen
I felt a little conflicted as to what section to add Lane7 to as it is generally considered as an evening venue, a bar, somewhere for pre-drinks and a couple of games of bowling but during the daytime, I think it is a fantastic location for families and kids to visit.
I think Lane7 is especially great for those who are at that stage where they are too old for really childlike things but not old enough for adult things.
Located on Shiprow in the city centre, Lane7 have really upped the game when it comes to 10 pin bowling Aberdeen. With walnut bowling lanes, arcade games, ping pong/table tennis, American pool tables and shuffleboard all set in some very hip surroundings, it's no wonder that it has been such a hit with the locals!
While you play the games and build up an appetite, you can order some food and there is a separate children's menu with the obligatory nachos, pizza and hot dog options. Adults are offered the same but with slightly more exciting toppings.
For drinks, why not order a fruity mocktail? Of course, there are also fruit juice and soft drink options but all in all it's a lovely way to spend a day bowling in Aberdeen.
Under 18s must be accompanied by an adult and must leave the premises by 7 pm.
Aberdeen beach
Aberdeen beach is known for its long golden sands and is a very beloved area for people of all ages to visit when the weather is nice but I would still consider it one of the top things to do in Aberdeen on a rainy day.
Not only do you have the beach itself, but also Queens Links which has Codonas Amusement Park, a nine-screen cinema and a selection of restaurants to visit.
Further along the beach, you will find the Beach Leisure Centre, Linx Ice Arena and Transition among other attractions.
Codonas Amusement Park
Aberdeens Codonas Amusement Park is a popular choice for children and teenagers to visit, especially during school holidays and has something to appeal to the whole family.
With outdoor rides such as the waltzers, bumper boats, adventure golf and soon to arrive go-karts. Along with these, we have plenty of indoor attractions such as laser tag, bowling, karaoke rooms and dodgems and plenty of fun game machines for children and adults.
If your children are younger and you are looking to let them run free then maybe Smugglers Cove is for you. With an indoor and outdoor adventure play filled with chutes, tunnels and ball ponds it's always busy.
For the really little ones, there is a soft play area called Little Nippers.
Aberdeen Ice Rink / Linx Ice Arena
The Linx Ice Arena is right next to the Beach Leisure Centre along the beach promenade, and as you can imagine is an ice skating rink.
With private and public ice skating sessions and lessons, there are also times available for parent and toddler sessions as well.
If you are a fan of ice hockey, you can always come and watch an Aberdeen Lynx game! The team trains and plays here and there are often games on so it's worth checking out if you are looking for something a little different to do!
Beach Leisure Centre
I spent a lot of time at the Aberdeen Beach Leisure Centre growing up. The leisure pool was a hive of activity on weekends and during the holidays. With a wave machine, rapids and four flumes it's not hard to see the appeal for children.
It is great fun, there is a very shallow entrance for younger children who may not be able to swim but there is also a separate smaller pool for those learning. There is a jacuzzi nearby which was another popular addition for visitors!
The flumes are slightly separated from the rest of the pool so you do not have the interference of that if you are visiting with younger children. The flume rides do range from the use of a ring to the much faster ride.
If you are looking to take your children but not participate yourself, then there is a viewing section on the swimming pool level and another on the upper level which is next to the crèche.
Transition Extreme Sports
This is one for the more adventurous. Transition Extreme is an indoor and outdoor adventure sports complex.
With a climbing wall, high ropes, BMX and skate park it's good for people of all ages and levels.
Something else at Transition that really pleases me is that it engages freedom to express with their Graffiti Wall. The Graffiti Wall is a legal space along the side of the building where local artists can come and experiment with new techniques and creativity in the art without the fear of breaking the law.
Jump In Adventure Park
Looking for things to do in Aberdeen on a rainy day? I think Jump In Adventure Park is a perfect option for these kinds of days. Another one for kids and adults (I did say I wanted to keep this family-friendly and why shouldn't the adults have some fun too!), it is essentially a trampoline park.
But it is so much more than just trampolines. With the interconnected trampolines, there are games of dodgeball and basketball to join in on, children can challenge themselves on the interactive wall, see how high they can jump onto the giant airbag, they can fight it out on the battle beam or use the clip n climb wall. There are so many possibilities to allow for hours of fun!
For the under 5's there is a soft play area where they can climb and crawl and have some fun of their own.
Doonies Farm
My final suggestion is the Doonies Farm. The options above are perhaps for the more energetic but sometimes it's nice to simply experience and I think a lovely choice for doing this is Doonies Farm.
A short distance from Aberdeen city centre and you will find Doonies Farm, a family-run working and public farm. From sheep to goats, pigs, horses, ponies and cattle you can feed, touch and learn all about the livestock (many of which are rare breeds) and if you are so lucky as to visit in the springtime, then you may be witness to all the new lambs, calves, chicks, kids, piglets and foals to arrive.
Things To See In Aberdeen
RSPB Dolphinwatch Aberdeen
One thing you may not have been aware of is that Aberdeen is one of the best places to spot bottlenose dolphins in Europe! And even better, it's a free attraction.
The harbour in Aberdeen city is one of the best and most reliable places to see dolphins if you do not have access to a car and as this is a feeding ground they are here all year round.
Aberdeen Harbour and much of the city is very lucky to be witness to marine wildlife such as dolphins, porpoises, seals, otters and whale spottings but it is the bottlenose dolphins that are some of the most special as they are the largest bottlenose dolphins in the world.
RSPB Scotland has set up tours called Dolphinwatch which can be found at the Torry Battery car park, off Greyhope Road. Just look out for the RSPB van.
The Torry Battery offers panoramic views of the harbour mouth and the North Sea but it can be cold, so make sure to wrap up warm and take any food or drinks that you may need.
The RSPB Dolphinwatch will provide you with binoculars and telescopes along with plenty of information on the wildlife that can be found in the area.
For more information on the dolphin spotting experience in the North East and Aberdeenshire, make sure to check out RSPB Dolphinwatch.
Footdee Aberdeen (Fittie)
Footdee is an old fishing village found at the end of the Aberdeen beach and Aberdeen Harbour.
Known locally in the North East as Fittie, this hidden gem is an area that was originally planned to re-house some of the local fishing community in the 19th century. Designed by architect John Smith (who also designed Balmoral Castle), this area which was originally known as fish town is now one of the most loved and sought after areas in Aberdeen.
To those of us that visit today, it is a really quaint little fishing village, reminiscent of times gone by but with plenty of fun character. Nothing matches in Fittie which makes it a great place to take photos.
Designed in squares, we have North Square, South Square and the later added Pilot Square and middle row. All of the houses and cottages face inwards to protect both architecture and people from the unpredictable and blustery weather of the North Sea.
The homes look onto the grassy areas and sheds which are the main attraction of Fittie. This is where you find the character and charm. They are utterly mismatched and you could spend hours upon hours admiring the thousands of details large and small that are to be found here.
Make sure to look out for the beautiful Footdee Mission Hall which is located in the centre of North Square. This is a really lovely building created for general and religious purposes and I think it's central location plays a big part in its significance to the village life. Now, I say to look out for it as it could be so easily missed as it is surrounded by all these wonderful sheds!
Footdee (Fittie) has been given conservation area status which aims to protect the special architectural or historic interest of an area.
For Footdee Aberdeen directions – Located at the far East end of the city harbour towards the end of the promenade.
Old Aberdeen
What was once a separate burgh to the north of the city, is now considered part of the Aberdeen City council area and I regard Old Aberdeen as one of the most beautiful areas of the North East.
With its cobbled streets and rich history, I recommend visiting the old town primarily as a location to walk around and simply enjoy the scenery but there are plenty of things to admire while you are here such as the Old Town House – King's Museum, St Machar's Cathedral, Powis Gates and Seaton Park which are mentioned elsewhere in this guide.
Places I recommend visiting in Old Aberdeen are King's College which was the first university in the city but is now part of the University of Aberdeen. Visit this along with the Aberdeen University Chapel, King's College Chapel. These are two of the oldest buildings on the Aberdeen campus and date back to the 15th century. The beautiful architecture along with the cobblestone roads and green areas reflect the time in which they were built making this area a tourist favourite to visit.
Another popular venue on the King's College campus that is a favoured spot to visit is Elphinstone Hall. This was built much later in 1931 but is a firm favourite for photography.
Bishop Elphinstone was the founder of King's College and there is an imaginative bronze and marble tomb monument to the front of the chapel. The original tomb was badly damaged and Bishop Elphinstone is not buried here but in the chapel.
Take a walk along the Old Aberdeen High Street and The Chanonry. Admire what feels like stepping into another era. With many of the buildings still owned by the University of Aberdeen, there are some coffee shops and other attractions to visit such as The Snow Kirk, MacRobert Memorial Garden, Brig o' Balgownie and the College Well.
Old Aberdeen is around 2 miles from Aberdeen City Centre and with great bus connections which are easily accessible throughout the city, this journey can take approximately 10 minutes. If walking, I would estimate around 40 minutes time to do this.
St Machar's Cathedral
The Cathedral Church of St Machar is still an active part of the Church of Scotland Aberdeen and is situated by Seaton Park in Old Aberdeen.
This Aberdeen cathedral is a cathedral only in name as it hasn't had a Bishop for several hundred years but it still remains one of the most admired churches in all of the city. It is now considered more of a High Kirk.
Its location is sitting on a bank above a bend in the River Don and is easily recognisable thanks to its twin spires. Once inside, make sure to look at the St Machar Cathedral Heraldic ceiling, the organ and the myriad of stained glass windows which are mostly in memorial but also depicting important moments from The Bible.
There is a rumour that when William Wallace was hung, drawn and quartered in 1305 and parts of his body sent to different corners of Scotland to warn others, that his left arm was buried in the walls of St Machar's Cathedral. However, I don't believe that this has been confirmed as a fact.
Powis Gate
This is one of my favourite things to see in Aberdeen. Powis Gate is a really unusual structure for Aberdeen but it's one that I am also really drawn to for that same reason. You can find it in the Aberdeen University campus in Old Aberdeen.
Powis Gate was built as quite an ostentatious entrance to Powis House Aberdeen in the 1830s by Hugh Fraser Leslie, a wealthy Scottish landowner who owned several coffee and sugar plantations in Jamaica. Originally the gates to Powis House, these gates are now entrance to the University of Aberdeen Halls of Residence.
An impressive archway with two large minaret towers, which may suggest some Turkish influence, the Powis Gates is a prominent structure in Old Aberdeen and for the city. Above the impressive archway is the Fraser Leslie family coat of arms and another shield at the back shows the busts of three black slaves and commemorates the Slavery Abolition Act (1833), the freedom it brought and the part in which the Fraser Leslie family played a part.
Provost Skene House
Built in the 16th century, the Provost Skene's House is one of the most historical buildings in Aberdeen city. This is one of the few remaining examples in the North East of early burgh architecture and while all surrounding buildings from this time were knocked down, Provost Skene House was saved from destruction and is currently under refurbishment until Autumn 2020.
The newly built Marischal Square is a mixed-use complex consisting of offices, hotel and restaurants which now surrounds the historic Provost Skene building. It is a complete juxtaposition which draws a lot of attention to both buildings and their differences.
The Provost Skene House is primarily used as a museum and cafe. The rooms have all been furnished with influence and artefacts creating an atmosphere from the 17th, 18th and early 19th centuries.
Things to see when visiting Provost Skene House – The attic painted ceiling, coins, costume gallery, religious paintings and make sure to look out for The Russel Head which can be seen on the corner of the South East outfacing walls!
The Russel Head is a gargoyle effigy of an old man appearing very unhappy with a furrowed brow and baring his teeth. The story is that Russel carved this effigy of himself after his bakery was closed down by the town council as it was located next to a sewer. Russel believed that his neighbour had complained to the council and in retaliation, carved this effigy into the stonework so that his neighbour would always see it as he passed. It was subsequently attached to Provost Skene House after the demolition of the lane in which the bakery was located.
Marischal College
Marischal College is one of the grandest and most prominent buildings in Aberdeen. Located on Broad Street and now primarily home to Aberdeen City Council, it was originally part of and I believe is on long-term lease from the University of Aberdeen.
The University of Aberdeen does still maintain and use parts of the building for Marischal museum and ceremonial events but it is mainly used as office space for the Aberdeen Council.
Marischal College was founded in 1593 by George Keith, 5th Earl Marischal of Scotland as part of the Marischal College and University of Aberdeen and it is the second largest granite building in the world. Adjoined to the end of Marischal College is Greyfriars Church with architect Alexander Marshall Mackenzie being involved in the construction of both buildings.
Until its recent renovation, much of the building lay unused except the Mitchell Hall which was used for ceremonies and graduations, the Marischal Museum and the students' Anatomy department. The exterior of the building has recently been power washed which has removed a century of grime and restored it to its former beauty.
Make sure to keep an eye out for Open Doors Days as there is often an opportunity to step inside the Quadrangle and The Anatomy Rooms.
Mercat Cross
Mercat Cross is the Scottish name for a Market Cross. Market Crosses are a structure which usually signifies the heart of a town, an area where a town, city or village would be authorised the right to hold a regular market place or fairs which was granted by the monarch or bishop.
The Mercat Cross in Aberdeen City Centres can be found in the Castlegate area, at the east end of Union Street. It was originally placed just outside of The Tolbooth but was moved to its current location between 1837-1842. There is a wide debate locally on whether this is considered the top or bottom of Union Street!
Built by John Montgomery in the 17th century, the Aberdeen Mercat Cross is a hexagonal structural base which is highly decorated, through the centre is a shaft crowned with the royal unicorn (Scotlands national animal) and the cross features many panel illustrations relating to Scottish monarchs from James I to James VII along with two panels showing the Royal Arms. In 1995 a new column was commissioned by Aberdeen City Council for safety and preservation reasons, the original column is on display in The Tolbooth museum.
This is a nice part of town to visit and is a really interesting piece of architecture to view and admire although it is often overlooked by the public.
Shopping In Aberdeen
Although Aberdeen is one of the largest cities in Scotland, the majority of Aberdeen shops are relatively close together. Unlike many other cities, we do not have many varying districts or quarters when it comes to shopping.
I am unable to provide a full Aberdeen shopping guide due to the size of the city but I will list all of the shopping centres in Aberdeen below along with several shops and restaurants that you can expect to find in each centre.
Many of the clothes shops in Aberdeen are chains and you can often find multiples of these throughout the city, although they do usually hold different stock.
This can also be said of the restaurants in Aberdeen, many of the eateries in shopping centres are chains although I have listed some local and independent restaurant recommendations in the city for you to try elsewhere in this post.
Union Street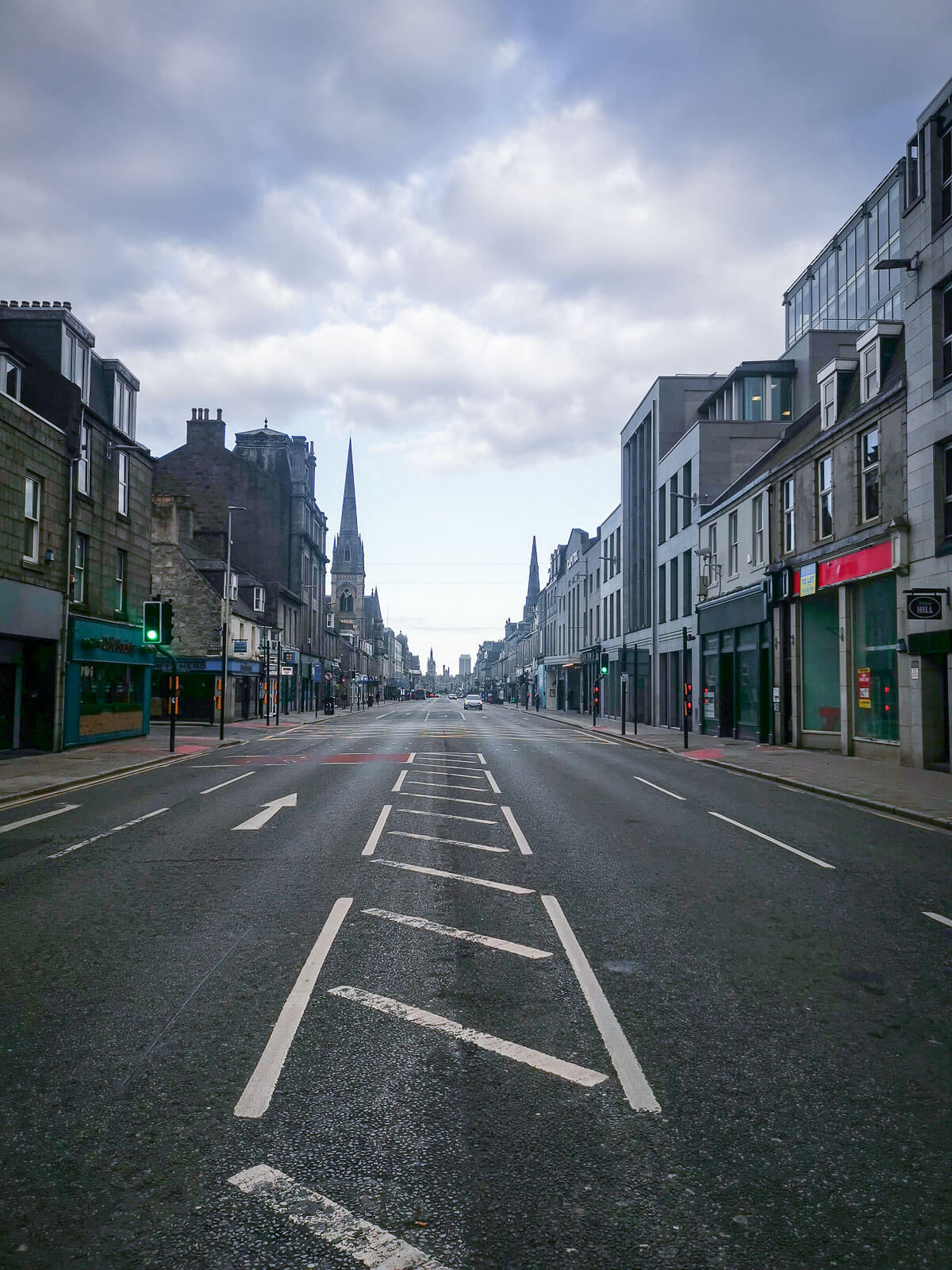 Union Street is the main street that runs through the city centre of Aberdeen. It is approximately a mile long (also called The Granite Mile) and was once the hub of Aberdeen shopping.
Unfortunately, many stores on Union Street have now closed and it acts as more of a thoroughfare to the different shopping centres.
There are still plenty of Union Street shops to visit although I do not think it would be the main desired shopping location when visiting Aberdeen.
Some of the shops you will find on Union Street are Lush, Dr Martens, Primark and All Saints. If you are interested in visiting designer shops in Aberdeen then you may want to visit the furthest away end of Union Street from the shopping centres, where you will find shops like Cruise along with many boutiques.
Belmont Street
Belmont Street is one of Aberdeens busiest streets for nightlife but during the day there are several restaurants and bars open for eating along with a couple of local shops such as Juniper which sells Scottish and UK produced jewellery, gifts and homeware.
Bon Accord Centre
Shops in the Bon Accord Centre – Topshop, River Island, John Lewis, Next, Warehouse, New Look, Oasis, The Disney Store, Waterstones, Boots.
Restaurants in the Bon Accord Centre – Costa, Pret, Di Maggios
Bon Accord Centre / St Nicholas Centre
Shops in Bon Accord Centre / St Nicholas Centre – Superdrug, Office, Holland & Barrett, WH Smith, Marks and Spencers
This is the smaller of the two Bon Accord Centres, it was previously referred to as the St Nicholas Centre as it lies next to St Nicholas church, in case I have confused you by providing two different names.
Marischal Square
Shops in Marischal Square – None
Restaurants in Marischal Square – All Bar One, Prezzo, Mackies 19.2, Tony Macaroni
Make sure to look for the Leopard Sculpture by Kelpies Artist Andy Scott.
The Academy
Shops in The Academy – Attic
Restaurants in The Academy – Revolución de Cuba, Nandos
Trinity Centre
Shops in The Trinity Shopping Centre – Debenhams, Flying Tiger, Superdrug, HMV, Primark
Restaurants in The Trinity Shopping Centre – None
Union Square
Shops in Union Square – Zara, H&M, Hollister, The White Company, Joules, River Island, Outfit, TK Maxx, Homesense, The North Face, Jack & Jones and Marks and Spencer Union Square Aberdeen
Restaurants in Union Square – TGI Fridays, BrewDog, Starbucks, ASK, Nandos, Las Iguanas, Wagamamas, Pizza Hut, Pizza Express, Thaikhun
Places To Eat In Aberdeen
I would love to recommend to you some of my favourites and in my opinion, some of the best restaurants in Aberdeen restaurants, those which are in, around and local to Aberdeen city centre.
Whether you are looking for breakfast, lunch, dinner, afternoon tea or fine dining, there are plenty of popular options to choose from. These are just a few of mine but of course, there are plenty of good places to eat in Aberdeen and if you have any recommendations for us, then we would love to hear them!
Melt
If you have read any of our previous posts, you will have no doubt heard me harp on about my love for all things mid-century modern and for that reason, I couldn't miss Melt Aberdeen off the list..along with the promise of great food! Decorated as somewhat of a mid-century, 70s throwback (with the additional benefit of being able to purchase some items, just lookout for a price tag), Melt is a really fun and laid back restaurant to visit. Read more on our Melt Aberdeen review.
What started as Aberdeens first grilled cheese sandwich shop for those people on the go, has now relocated to much larger premises and they have also opened a full cheese restaurant to coincide with the original take-out option for their much-loved and made to order toasties.
You can order all the classics along with some exciting additions on the take-out menu but in the restaurant, there is a wider selection of options from mac and cheese, burgers to fondue. I would highly recommend the Fonduel which comes with toasted bread, Hasselback potatoes, flat-iron steak and fried pickles. Delicious!
All meals available, from breakfast to evening. Vegan alternatives are also available.
Cognito On The Corner
Cognito On The Corner is one of three Cognito establishments in Aberdeen but it is the only one that I would consider a cafe-bistro.
Located at the top of and overlooking the cities Rosemount area, Cognito On The Corner is to be found, on the corner, as you may have guessed. In a beautiful building which was once the old Bank of Scotland, this has been converted into a stylish and lively place to dine, hold celebratory meals or somewhere to visit for a nice evening out with a couple of drinks of their extensive gin, craft beer and wine choices.
Depending on the mealtime you choose, whether you prefer meat, seafood or a lovely pasta dish, I think there are plenty of options to suit everyone.
They also do one of the best breakfasts in Aberdeen.
Cafe 52
A long time favourite of mine and many other peoples in Aberdeen. Cafe 52 has been around for over 20 years and that alone is a testament of their knowledge, skill and presence in the city.
I would describe Cafe 52 as a restaurant for the unpretentious foodie. They serve delicious culinary delights using frequently changing menus with many locally sourced items at an affordable price. This is fine dining in Aberdeen. The atmosphere remains very relaxed, the staff are very friendly and there are no airs and graces in this dining experience.
Cafe 52 is situated in the city centres popular area 'The Green' and the restaurant has a rustic feel to it, it could be described as quite a narrow space but filled with exposed stone walls, chequered floor tiling and plenty of artwork it retains a warming charm. With great food and a great atmosphere, the hours will run away from you as you dine here.
It is best to book a table in advance to save disappointment.
Foodstory
Serving mainly plant-based food, this cafe is a really popular choice for Aberdeen residents.
Foodstory serve foods for all dietary requirements and also host several events including music and DJ sets which prove to be very popular and engaging with the local community.
All foods that can be locally sourced, are, and the menus offer a range of meals such as pancakes, vegan lasagne, hot pot and many vegan cake options.
One of the best things about Foodstory that you may not be aware of is their shop. The Foodstory shop offers fresh and seasonal veg boxes which can be bought weekly and also their zero waste refill stations where you can bring and fill your own containers for the purchase of bulk buy goods.
Almondine
Further along from Foodstory, which are both on Thistle Road, is Almondine. This French Patisserie coffee shop is the perfect place for ladies that lunch, somewhere that is a little bit fancy to catch up with friends and loved ones over some light bites and a glass of coffee or fizz.
Almondine is primarily known for its lovely handmade macarons, patisserie and pastries which along with being eaten in-house can also be purchased for takeaway or events.
However, it is their afternoon tea that receives the highest praise. The afternoon tea comes with a selection of freshly made sandwiches, scones, preserves, mini patisseries and tea or coffee unless you choose to opt for a glass of champagne.
With a relaxed ambience and picture-perfect treats, this is a great place option for food in Aberdeen.
Moonfish Cafe
Moonfish Cafe is considered one of the best restaurants Aberdeen has to offer and is often highly regarded as such in publication. Located on Correction Wynd, looking onto the cobbled street and overlooking St Nicholas Kirkyard they hold a really lovely city-centre position.
This seafood bistro is open for lunch and dinner seatings and incorporates locally sourced and seasonal foods with modern British cuisine. It is also run by head chef Brian Mcleish who was a finalist in 2014s Masterchef.
The menu at Moonfish Cafe is quite small, frequently changing and seafood-heavy in my opinion and as a lover of fish, this is no issue for me but I know that there are lots of people who are not such big fans and if that's you, there are meat and vegetarian options available but perhaps bear in mind that there may be more seafood options.
Rustico
Another one of the best Aberdeen restaurants out there is Rustico. Rustico is a family run Mediterranean restaurant and is a firm favourite for those who live in and often visit the city.
With a traditional decor of cosy alcoves, rough walls and pictures of the Sicilian coast, Rustico has an extensive Southern-Italian menu which they offer at lunchtime and evening seatings (they close daily from 2.30 pm – 5.30 pm).
Whether you choose to order pasta, pizza or one of their delicious chicken, red meat or fish main dishes, you are sure to love the food at Rustico along with the incredibly warm, relaxed and lively atmosphere that they have.
Nargile
Completing our Aberdeen dining section is Nargile. An authentic Middle Eastern, Turkish restaurant which has been in the city for over 35 years. Again, this restaurant is proud of using fresh and local produce which is cooked to order before serving.
Nargile offers a variety of hot and cold meze dishes to start, along with several vegetarian options and all starters come with hot and fresh pitta bread. Meze is small dishes of which you would order a large selection to whet the appetite. For the main courses, there are a selection of kebabs and different meats with vegetables, rice and these often come with a tomato, garlic or lemon sauce or dressing.
The staff at Nargile can accommodate small and large bookings so if you are looking for great food which is full of flavour, Nargile is one to add to the list.
Other Aberdeen Restaurants to try
Must Try Whilst Visiting – An Aberdeen Buttery
The Aberdeen butteries or Aberdeen rowies as they are also known are a bit of an institution in North East Scotland.
Considered an Aberdeen delicacy, if you are visiting these parts, you must head to a bakery to try one. Similar to a flattened croissant, this food is known for its flaky texture and buttery taste. They are slightly salty and very buttery and can be eaten as they are or warmed with butter and strawberry jam. Everyone has their own personal preference.
These morning rolls are very high in salt and very high in fat but this is thought to have originated for the fisherman who were sailing from Aberdeen harbour. The lard and high fat content meant that they would not go stale quickly but also provide a good source of energy.
I dread to think how many calories are in an Aberdeen buttery, from a quick search online it looks to be approximately 300 calories per rowie and I can believe that. I also imagine it would be high on your daily salt and fat intake so while I recommend you try one on your visit. Everything in moderation!
Fancy trying to make your own? Check out our Aberdeen buttery recipe.
Things To Do In Aberdeen At Night
His Majesty's Theatre Aberdeen
HMT Aberdeen hosts a variety of Aberdeen events from musicals, ballets to pantos and childrens shows but there is always a show playing worth talking about. From Wicked to Dirty Dancing, Scottish ballets to operas and Shrek to sing-along Frozen.
His Majesty's Theatre is the largest theatre in the North East of Scotland, seating over 1400 people over 4 floors. Make sure to book your HMT tickets early as this Aberdeen theatre books up quickly!
Make sure to look online for the latest HMT box office Aberdeen events. You can take a look at the HMT Aberdeen seating plan online before booking to ensure that you have the best seats possible.
Built entirely of granite and overlooking the cities Union Terrace Gardens, its interior is filled with details of gold and rich crimson velvet. Drinks can be purchased at the Dress Circle Bar, Stalls Bar and at Café: 1906 prior to shows starting and at intervals. These can also be pr-ordered for the interval if you do not want to stand in the queue. A selection of beers, wines, spirits, soft drinks, teas and coffees are available.
If you are looking for a meal before your show there is the 1906 restaurant at HMT which is attached to the theatre and provides an in-theatre restaurant experience. You can book one of the pre-theatre meals in advance which is a 3-course meal but you can opt for a one or two-course meal for a lesser cost.
The 1906 restaurant is open to the public also and is available for lunches and afternoon teas.
His Majesty's Aberdeen is not to be confused with Her Majestys theatre Aberdeen which is now more commonly known as The Tivoli, another Aberdeen theatre located on Guild Street.
Breakneck Comedy Club
If you are looking for something a little bit different to do in Aberdeen city centre, why not try visiting an Aberdeen Comedy Club.
Breakneck Comedy Aberdeen is the first dedicated comedy club Aberdeen has had the pleasure of having. Open Thursdays to Sundays 8 pm till late, they host open mic comedy from local, national and international comedians.
As the largest comedy club in Scotland, Breakneck Comedy ensures to book a variety of comedians to suit different senses of humour.
If you are a new act and fancy your shot on the stage and trying your hand at open mic comedy Aberdeen, you can get in touch with the venue about performing but you must be over 16 and have your own jokes!
Currently located on King Street, I believe they are looking to move premises, Breakneck Comedy Club is a brilliant way to start a night out in the city.
Reset Aberdeen (Formerly known as Engage Gaming Aberdeen)
Reset Aberdeen is a gaming and internet cafe. Previously known as Engage Cafe Aberdeen, it was located on North Silver Street but has changed its name to Reset Aberdeen and relocated to John Street which is still in the city centre.
This gaming cafe is a centre for local friends and members of the public, of all ages, to meet in a safe environment and enjoy a variety of games. At Reset, you can take part in games such as console video games, board games, tabletop role-playing games and VR. Alternatively, you can book a PC for basic internet use should you require access.
All equipment can be booked from any time between 1 hour and a full day pass. Prices start at £6 per hour but there are significant discounts available when looking to book outwith peak hours. This venue can also be used for parties but booking in advance is essential.
Reset Aberdeen is open until 11 pm each night and open 7 days a week. Those of all ages can visit, however, children under the age of 11 must be accompanied by an adult and there is a slightly earlier leaving time for those between the ages of 12-15.
Food and drink are available while at Reset and this is mainly in the form of burgers, hot dogs, chips, pizzas and sandwiches. A wide selection of alcoholic and non-alcoholic drinks are available.
Aberdeen Pubs And Bars / Nightclubs In Aberdeen
Scotland is well known for its drinking culture so I couldn't possibly write a guide to Aberdeen without mentioning some of the bars and nightlife Aberdeen has to offer.
Of course, I can't mention everywhere and there are a wide variety of Aberdeen pubs and clubs to visit but I have chosen some of the most aesthetically pleasing and/or most popular haunts among locals looking for some afternoon drinks, live music events, craft beers, cocktail bars or a proper student night out.
From the city centres Union Street to Belmont Street, The Tunnels to The Tippling House we have your guide for Aberdeen at night which I have added in my separate guide, Nightlife In Aberdeen: The Best Places To Go.
Day Trips From Aberdeen
I think we have covered a lot of things to do while in Aberdeen but maybe you would like to know what Aberdeen day trips are a possibility when visiting the city so here is a quick rundown of some of the most popular day tours to take.
Cairngorms National Park
If you are considering a visit to the Scottish Highlands from Aberdeen then you must take a trip to The Cairngorms National Park. This is the UK's largest National Park and is filled with fun activities to suit the whole family. From distilleries, watersports, snowsports, cycle and walking routes to museums, castles and wildlife watching, golf courses and fishing. There is something for all ages and abilities.
Royal Deeside
Royal Deeside is an area that captivated Queen Victoria and has since captivated many tourists. With brooding mountains and rugged waters with vast moors and forests, it's a really beautiful area of the country and an area that still holds a dear place in the heart of the Royal Family today.
In Royal Deeside, you will find a wonderful charm in the towns of Ballater and Braemar. These are favoured destinations for tourists in the summer months while the Queen also visits the nearby Scottish holiday home of the Royal Family, Balmoral Castle. If visiting, you can opt to book one of the Balmoral tours which will last approximately one and a half hours.
One notable event is The Braemar Gathering, which takes place on the first Saturday of September each year. These are the most famous highland games in the world, watched by the Royal Family and where you can witness pipe bands, highland dancing and some caber tossing.
Whisky Tour
Why not book one of the private tours to Speyside from Aberdeen and take part in the Speyside Whisky Trail. At a distance of just over 50 miles from Aberdeen, Speyside is a great place to visit whether you are a whisky connoisseur or a keen learner.
There are seven working distilleries and one cooperage in Speyside and with plenty of private day tours available for small groups, it's a great opportunity to have a dram of Scottish whisky and spend some time in a distillery while learning more about history and landscape of this area.
Stonehaven
You can catch a train or a bus directly from Aberdeen to Stonehaven. At only 20-30 minutes of travel distance from Aberdeen city centre, it is a very popular town with a pretty harbour, open-air swimming pool and some lovely restaurants along with some great places to grab some fish and chips or ice cream. Stonehaven is a well-loved destination to visit for those local to Aberdeen. Make sure to read our post of Things To Do In Stonehaven to find out more.
Castle Tour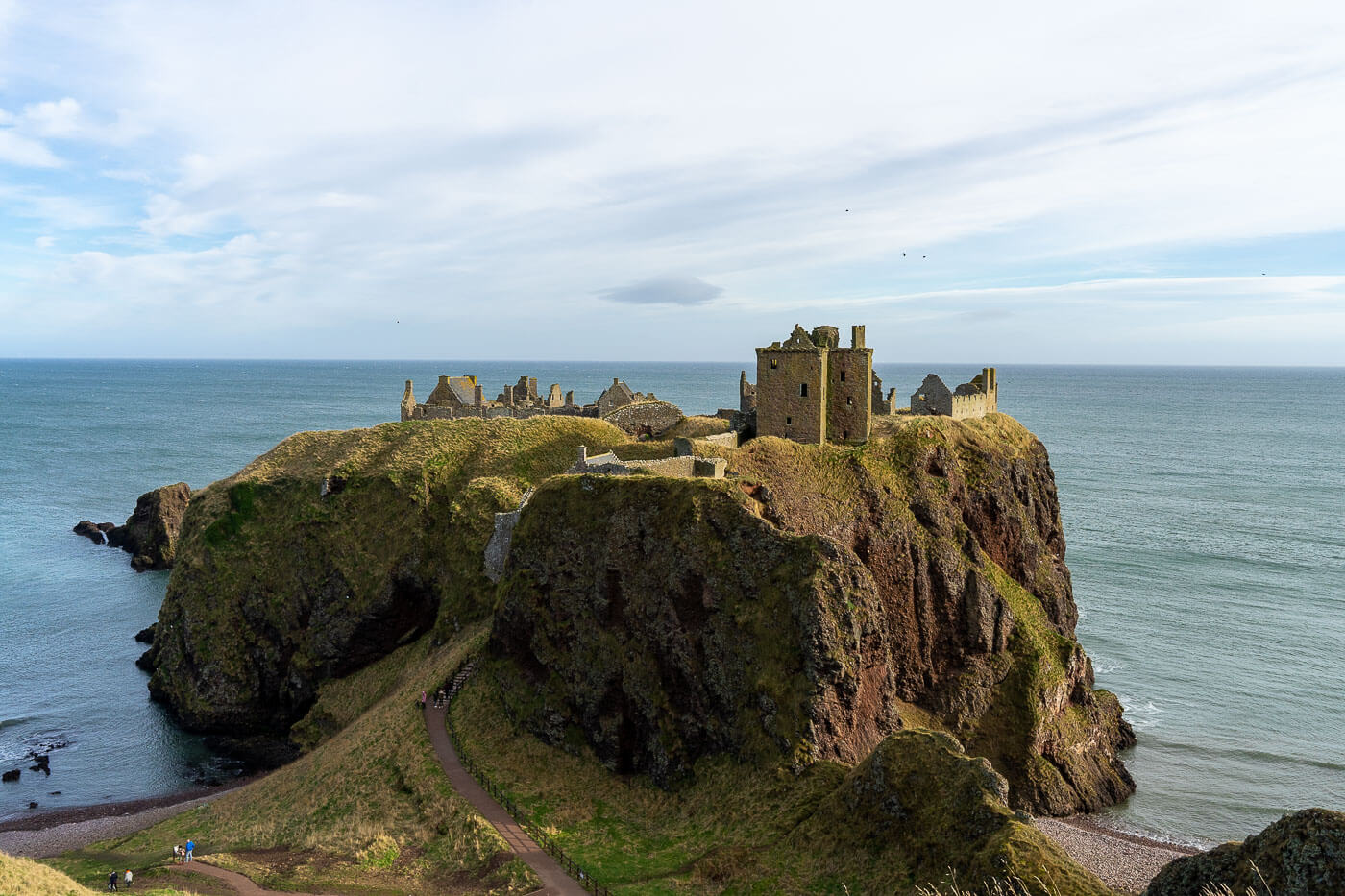 A short distance from Stonehaven, we have one of the most notable castles in the northeast, Dunnottar Castle. Dunnottar Castle is recognised worldwide as it perches on the rugged cliffside and it has been a big part of history as well as influence in many films.
Aberdeen has been home to 263 castles so you can imagine the variety and grandeur of possibilities to visit!
Some other castles that you definitely need to visit are Craigievar Castle, the pink castle which is said to have been one of the castles to inspire Walt Disneys Cinderellas Castle and Slains Castle, whose ruins were the inspiration behind Bram Stokers Dracula.
Must try in Aberdeen
When visiting Aberdeen, one of the things that you must try is an Aberdeen Buttery or a Rowie as they are sometimes called. 
A local pastry delicacy that you can pick up in most supermarkets, but you're best to hunt one down from the many local bakeries. 
If you want to try making a batch for yourself then give our Aberdeen butteries recipe a try and let us know what you think.
Where To Stay In Aberdeen
Looking for an Aberdeen city centre hotel, serviced apartments or guest house for your stay?
Booking accommodation can be a daunting decision but there are plenty of options available in the Granite City for all budgets whether you are looking for a central location or somewhere just outside such as the Aberdeen beach or closer to Aberdeen Airport.
Most Aberdeen hotels do offer free wifi and many have free parking but do check availability now to ensure that you get the best price possible!
If you fancy staying somewhere a little more off grid then check out our round up of the best hot tub lodges in Scotland.