Nightlife In Aberdeen City Centre: Cocktail Bars, Pubs and Clubs
This post may contain affiliate links of which we earn a small commission should you choose to purchase through them. This helps us to keep the site running. Thank you for your support
One frustration I have when visiting a new city is never knowing where to visit, where to spend your time and most importantly, where to eat and drink!
If you have a trip planned to Aberdeen or you're a new student in the city, we have you covered. While we write our ultimate guide to visiting Aberdeen, we will share with you some of our favourite spots.
This post is all about the Aberdeen nightlife and some of the best places to grab a drink (and maybe some food) whether that's for an afternoon or evening visit, no-ones judging.
Need somewhere cheap and cheerful to stay?
This is probably the most budget friendly city centre hotel if you're looking for somewhere to stay following a night out in Aberdeen

Of course, I can't mention everywhere and there is a wide variety of Aberdeen pubs and clubs to visit but I have chosen some of the most aesthetically pleasing and/or most popular haunts among locals looking for some afternoon drinks or things to do in Aberdeen at night.
Nightlife in Aberdeen is so good that even Michael Gove made the trip up to dance the night away.
Aberdeen Cocktail Bars
The Tippling House
Tippling House is a small cellar bar located on Belmont Street in Aberdeen city centre. It could be considered quite a dark venue due to its underground location but this adds all the more to its atmospheric charms. With cosy booths and seating covered in tweed, this bar offers plenty of well-considered cocktails, Scottish ales and meals or bar snacks available into the early hours.
At The Tippling House Aberdeen, there is also the addition of the Tasting Academy workshops where you can learn more about your favourite drinks. From botanicals to tasting the finished products of your beverage of choice, whether whisky, wine or gin, explore all of the different flavours in these interactive sessions.
Find the tippling house at 4 Belmont St, Aberdeen AB10 1JE
The Spiritualist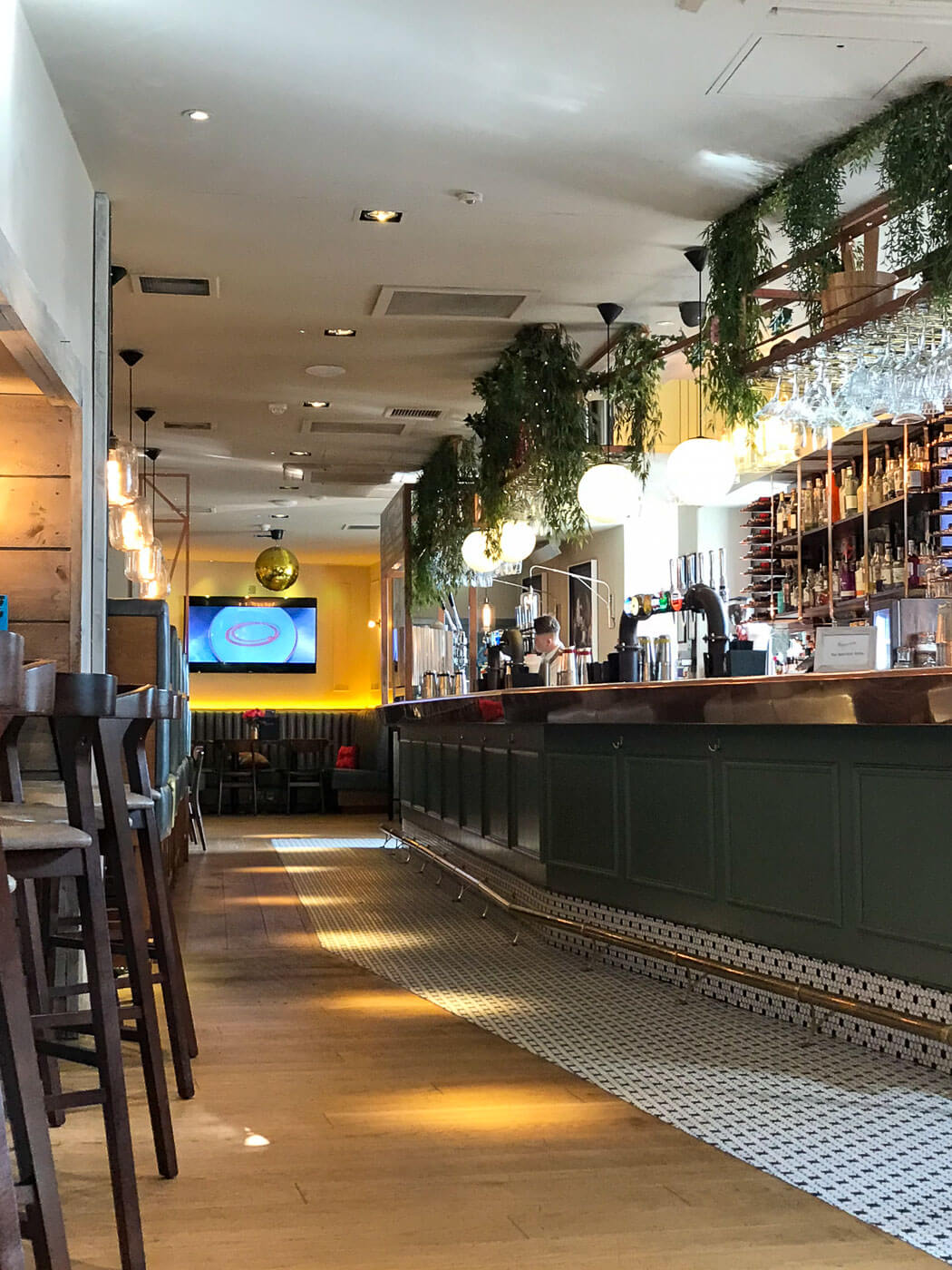 With an extensive cocktail and spirits menu, The Spiritualist Aberdeen is a popular choice to grab lunch or for friends looking to catch up on a weekend.
You will find a number of the below cocktail bars on Langstane Place, within close proximity where you can find some of the best cocktails in Aberdeen.
With all the classics on offer, you can also choose to order an ice sphere, nitrofusion or smoked cocktail if you are feeling a little more adventurous.
One great thing about The Spiritualist which may tempt you if you are visiting as part of a group is one of their cocktail trees with up to 9 drinks and it may save you a little money. However, if cocktails aren't your thing they do also serve mocktails, wines and draught beers.
The Spiritualist is a great place to start an Aberdeen night out, I would advise reserving a table but you can always wait at the bar if that is no issue to you!
Find the Spiritualist at 67 Langstane Pl, Aberdeen AB11 6EN
Orchid
Orchid Bar Aberdeen is primarily a cocktail bar, but they also specialise in mixed drinks served in really nice glassware and decorative garnish.
I would consider drinks at Orchid as the picturesque cocktail bar, with a nice relaxed atmosphere.
It can be quite dark but I think that is quite normal of a cocktail bar and I think it's a great quieter establishment to visit for drinks and catch-ups.
Orchid offer mixology, gin and whisky tastings and classes to enable you to learn more about the products and create and drink some of your own delicious cocktails.
Find Orchid at 51 Langstane Pl, Aberdeen AB11 6EN
Dusk Bar
Only a few doors away from both The Spiritualist and Orchid, in Aberdeens West End is Dusk Cocktail Bar.
Serving classic and original cocktails, specialist spirits and craft ales, this is another popular location for people to start a night out.
As with many of the Aberdeen cocktail bars, Dusk offer mixology classes. Teaching you how to create your favourite cocktails while adding a little personal touch and flair to them, you will learn about the blends of the spirits in these interactive sessions.
Find Dusk at 45 Langstane Pl, Aberdeen AB11 6EN
Ninety – Nine Bar and Kitchen (Bar99)
Ninety-Nine Bar and Kitchen is located on Back Wynd in Aberdeens city centre. This is another popular spot for some afternoon drinks along with your lunch or perhaps somewhere to start your evening.
Bar 99 Aberdeen as it's often known locally provides a mixed menu of vegan options, whether you choose a light dish such as soup or opt for loaded fries and a burger.
With added fun classic and contemporary cocktails, it makes for a great mix.
Find Ninety-Nine Bar and Kitchen at 1 Back Wynd, Aberdeen AB10 1JN
Soul Bar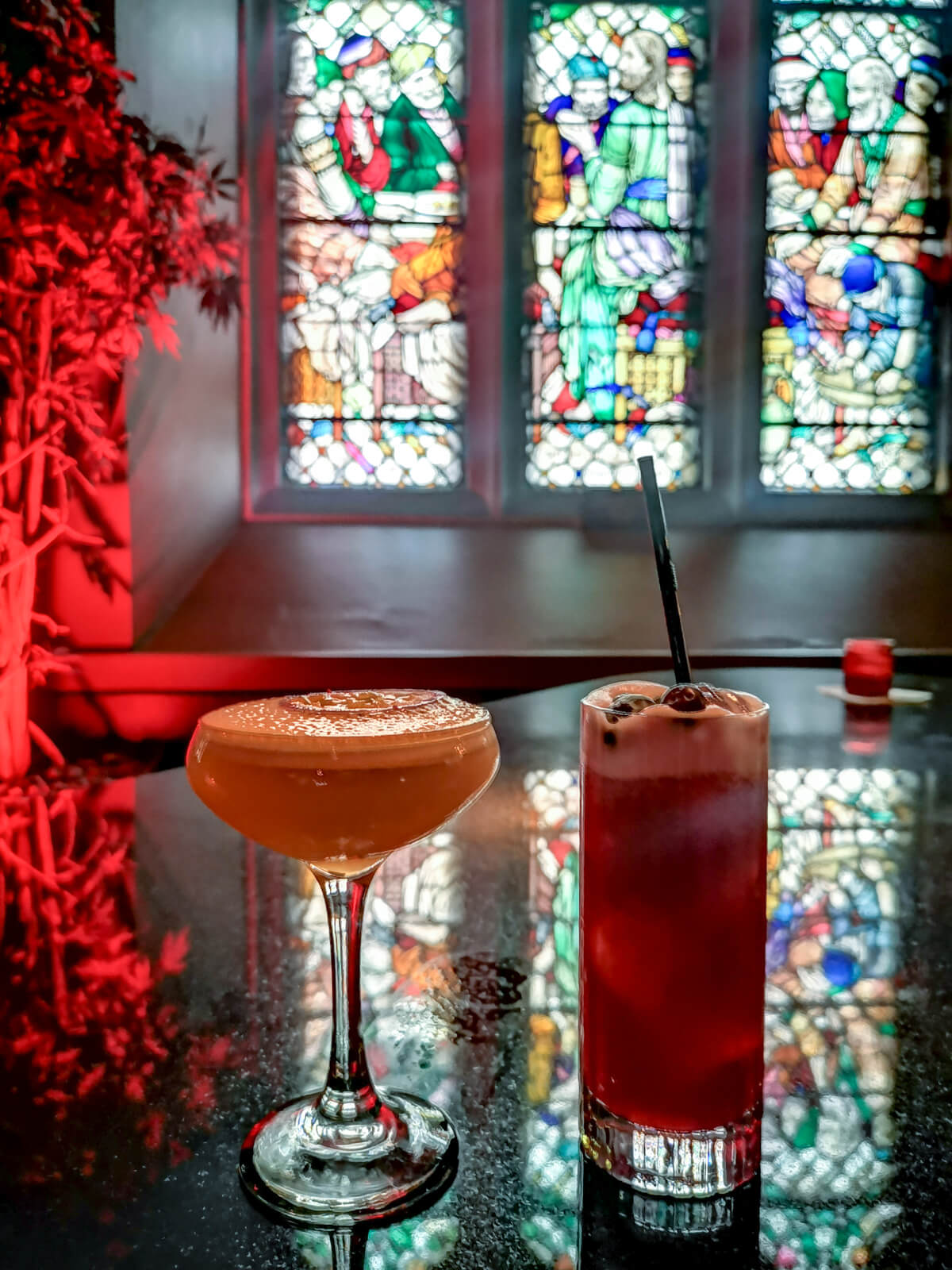 Set in the former church, Langstane Kirk (you may notice that Aberdeen has a strong penchant for converting old churches into bars) at the top of Union Street, Soul Bar Aberdeen is definitely a crowd-pleasing location.
With stained glass windows, large columns, high ceilings and plenty of space I would consider this to be one of Aberdeens most loved bars.
Known for their delicious cocktail menu, they have some really great mixes whether you choose to opt for fruity, creamy or darker flavoured drinks. They also offer sharing cocktail bowls and trees for a very reasonable cost.
Again, if cocktails aren't your thing they do have a wide range of drinks and spirits available with wine, whisky, gin and rum.
If you are looking for food you may want to take a look at The Fishmarket at Soul restaurant which is in their conservatory area and while the main focus is on seafood there are chicken, steak and vegan options available.
Find Soul at 333 Union St, Aberdeen AB11 6BS
21 Crimes Aberdeen
Considered a bit of a speakeasy, the 21 Crimes Aberdeen location is shrouded in mystery for those not local to the city.
A secret and exclusive bar and while I can tell you the location… I'm afraid I cannot help with the passkey as it regularly changes. And yes, the passkey is necessary, there are no exceptions.
The 21 Crimes bar is located at the top of Union Street in the cities Vovem Meat & Liquor restaurant. Serving a mix of cocktails and spirits the staff are often praised for their knowledge and expertise in what they are serving. This is another great location for photos and for something a little bit different.
Once you have located the entrance, make your way to a member of staff and say 'I have a confession to make.' after this, you need to speak the passkey, so make sure to follow the brand on social media for the answer!
Need somewhere cheap and cheerful to stay?
This is probably the most budget friendly city centre hotel if you're looking for somewhere to stay following a night out in Aberdeen
Aberdeen City Centre Bars and Pubs
Grape And Grain
Grape and Grain describes itself as a luxurious wine bar and I would have to agree. Located in the West End of Aberdeen, it is beautifully decorated, stylish and exudes sophistication.
I think that Grape and Grain is a wine bar for all ages, it has plenty of modern touches but with enough classic contemporary that I think it would appeal to all.
Although it is primarily known as a wine bar they also serve a selection of beers, gins, ciders and more. Along with your chosen drinks, you may want to order one of their cheeseboards or charcuteries.
Grape and Grain also offer the option of a wine flight, where you can receive three glasses of different wines with accompanying cheeses to match the flavours. This may be something fun to do and allow you to try something that you may not have otherwise!
Find Grape and Grain at 31 Thistle St, Aberdeen AB10 1UY
The Stag
The Stag is a traditional tavern bar selling lagers, craft beers, cocktails, wines and spirits. Serving hearty home-cooked meals using local ingredients.
With a warm and comfortable atmosphere, it is a family-friendly pub with a really large menu. There are also screens to show live sports when on and I have always been met with attentive and friendly service when I have visited.
Find the Stag at 6 Crown St, Aberdeen AB11 6HB
Slains Castle
A former Gothic church with an eerie Dracula themed interior, Slains Castle on Belmont Street is always a good option. Having drawn a lot of inspiration from Bram Stokers Dracula (Slains Castle in Cruden Bay was said to have been the inspiration for the Dracula novel), this Gothic style pub is a really interesting venue to visit.
With toilets found behind faux bookcases, mismatched and oversized furniture and lots of pretend cobwebs. A very dark and imposing decor often with soft rock music playing in the background that is fitting for the pubs aesthetic, make sure to try some of their cocktail options such as the 7 deadly sins. You won't regret it.
Find Slains Castle Pub at Belmont St, Aberdeen AB10 1JH
Siberia
Siberia is often referred to as 'The Vodka Bar' and is another popular choice among the Aberdeen bars and restaurants scene.
Again, it is found on Belmont Street in the city centre and is quite a large premises with plenty of outdoor seating.
The outdoor seating wraps around a small area and seats can fill up quickly on a weekend, especially with the nicer weather so do be sure to get there early if you want to bag a table.
Indoors, there are plenty of comfortable seating areas. You can order both food and drinks here for a reasonable cost.
Find Siberia at 9 Belmont St, Aberdeen AB10 1JR
Krakatoa
Established in the 60s and formerly known as The Moorings, the newly named Krakatoa is a Tiki Bar. Known for their no-nonsense attitude when it comes to the safety of their visitors, this is a great space for those just looking for a good night in what they describe as a dive bar.
Meet people from all walks of life, in a setting illuminated in neon where you can enjoy a mix of rock, metal, punk, disco, funk, soul, electronica, and hardcore music. It's not about how you're dressed, just who you are.
Krakatoa specialises in the serving of drinks such as absinthe, cask ale, cask cider, rum, tiki, and world beers.
Find Krakatoa at 2 Trinity Quay, Aberdeen AB11 5AA
Revolution
When it comes to the best bars in Aberdeen, Revolution has always been a popular choice as it serves good food, delicious cocktails and often hosts live DJ sets.
Revolution can be found on Belmont Street, a popular street for Aberdeen bars and clubs.
It's especially popular when the sun makes an appearance, as they have an outdoor seating area, which can be in short supply in the city, but Belmont Street is probably your best best to find outdoor seating if required.
Find Revolution at 25 Belmont St, Aberdeen AB10 1JS
Revolución de Cuba
Revolución de Cuba is found in the Academy Centre Courtyard and serves Latin-inspired food, tapas and cocktails.
You can expect live music, salsa and resident DJs in Revolución de Cuba. They have a fantastic menu and offer some great deals like their Brunch Fiesta which includes a main and 3 drinks for a set price.
Find Revolución de Cuba at Academy centre courtyard, Aberdeen AB10 1LB
BrewDog Aberdeen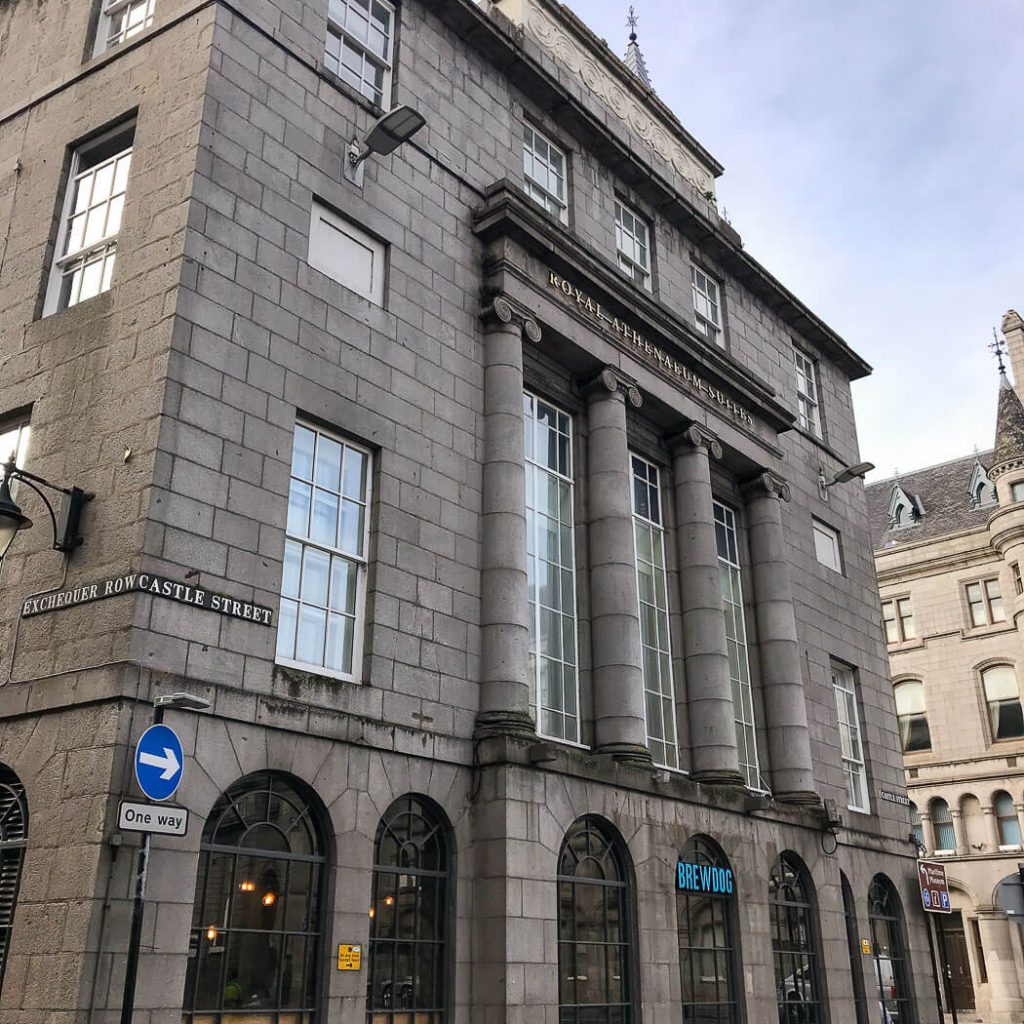 Specialising in Scottish brewery's craft beers, BrewDog has developed somewhat of a cult following. With 3 Aberdeen city-centre locations for food and drink it's a firm favourite for those who like the brand.
With many types of bottled and canned ales, stouts and lagers, BrewDog was founded in the nearby area of Fraserburgh in Aberdeenshire, which is why I think the city has such an affinity to it.
I will not claim to know too much about the brand as I don't and I don't want to allude to the fact that I do but I can appreciate its popularity worldwide and that it is a very desirable place to visit.
Find Brewdog at 5-9 Union St, Aberdeen AB11 5BU
Fierce Beer Aberdeen
The Fierce Beer bar is a dog-friendly and very laid back space. With over 20 beers on tap, along with the option of a beer flight to suit your taste. There is plenty to entice you to visit!
Beer isn't for you? They also serve a selection of Fierce gin, rum, vodka and whisky or wines and prosecco.
Paninis, cheese, olives, crisps and traybakes are also available to go with your chosen beverage and coffees, teas and hot chocolates are on the menu in case you are driving.
Find Fierce Beer at 4-6 Exchequer Row, Aberdeen AB11 5BW
The Grill
If whisky is your thing, then you definitely should head along to the Grill.
Quite an unassuming bar from the outside, step indoors and feast your eyes on row upon row of the finest whiskies to come out of Scotland.
This place has remained largely unchanged from when it opened back in 1870 but has been reimagined through the years and is still very much a favourite for locals and visitors alike to this day.
The whisky selection here is quite unrivalled and a must-visit for a night out if you fancy trying something different.
Find the Grill at 213 Union St, Aberdeen AB11 6BA
Irish Pubs in Aberdeen
O'Neills
Another bar located on Back Wynd, not far from Ninety-Nine Bar and Kitchen, O'Neills may very well be Aberdeens original Irish pub!
It is part of a chain but it has a great atmosphere, with live music and sports throughout the week it is always very busy and on the weekends, you will almost certainly find people spilling onto the street once the early hours arrive.
There is full meat, vegetarian, vegan and children's menus available at O'Neills and food is served from breakfast to 10 pm at a considerably low cost so if you are looking for great drinks, a great atmosphere and cheap food. This Aberdeen pub is your place!
Malones
There are many bars in Aberdeen but Malones is a favourite among those looking for a vibrant Irish bar to visit. With live music, every night and live sports across their 7 giant 4k screens when on, you can imagine the buzz of the atmosphere.
An independently run family business that has a great reputation for its warm and welcoming attitude it's a great place to stop for some food, a couple of drinks and probably leave having made quite a few new friends.
Aberdeen Nightclubs
Exodus
I spent much of my younger years in Exodus. Found above the Triple Kirks bar on Belmont Street, Exodus is open 7 nights a week and plays various music genres over the week.
There weren't a huge amount of nightclubs in Aberdeen that catered to an alternative music taste and sadly most of the others have now closed but on Friday and Saturday nights, Exodus is reserved for those Indie classics and you usually find a good crowd forms later in the evening.
Exodus is popular among younger students.
Club Tropicana/Vogue
I'm sure every city has its version of Club Tropicana and Vogue. With Club Tropicana playing 80s music and Vogue playing music from the 90s it's just a really fun throwback.
It's a crowd-pleaser and with cheap and easy drinking it's somewhere to sing the night away!
ATIK
ATIK is the biggest of the Aberdeen clubs with three floors dedicated to the different music styles. From Dance and chart to R'n'B it's a diverse club.
If you are planning a night out as part of a group whether that's a hen, stag, birthday or just a night out in general why not consider booking one of the booths where you will get the VIP treatment with your very own private area along with table service.
Cheerz
Aberdeens only LGBTQ+ nightclub. Open 7 days a week, Cheerz has been a longtime favourite of the Aberdeen nightlife scene, among many different groups in Aberdeen. It's very much a safe environment but it's also just a great night out and always has a fantastic atmosphere.
With cheap drinks, great music and friendly staff it's an all-around winner. Make sure to catch one of their infamous drag shows while you're here!
NOX Aberdeen
Described as a late-night luxury nightclub, I would say that NOX is popular among younger groups looking for nightclubs in Aberdeen.
NOX play a mix of music depending on which evening you visit but you can expect to hear chart, dance, disco and classics. Table reservations are an option that allows you to skip the queue and receive table service.
You cannot enter wearing casual clothes, smart dress is required and I have to say that Nox Aberdeens reputation is a little like marmite.
There are alleged rumours that entry is often based on looks and age but equally, those who visit regularly absolutely love it and have no problems.
Live Music Venues in Aberdeen
Cafe Drummond
Drummonds is a laid back bar on Aberdeens Belmont Street, there are a lot of regulars that visit and it's a great place to visit if you are looking for a popular location for alternative live music, open mic, comedy events and DJ club nights.
It's always worth checking for upcoming events as they are always keen to support local acts but you will also hear plenty of up and coming artists perform here too.
The Tunnels
The Tunnels are located under a tunnel and occupy two further tunnels which run under the city, funnily enough.
Here you will find an eclectic selection of artists perform, from all different genres. The Tunnels supports both local and national bands and artists and it attracts a diverse age group.
From dance to indie to comedy to burlesque, a lot is going on down there.
The Lemon Tree
This live comedy and music venue also has a seated theatre along with two bars making it the perfect destination for many acts.
The Lemon Tree is a great place supporting performing arts by local and international artists and I am pleased to have seen some great comedy shows and fantastic bands and discovered some new talent in the times that I have visited.
The stages are quite intimate so you can be very close to the performing artists which is always nice or you can choose to join friends and watch a show and enjoy A Play, A Pie and a Pint which is kind of what it says on the tin!
Aberdeen Music Hall
After a 2 year closure and a multi-million-pound transformation, the Aberdeen Music Hall reopened in late 2018.
As a category A listed building, The Music Hall is quite an outstanding venue on Union Street, you can't miss it. It was originally built as the cities Assembly Rooms but later changed to a concert hall, with grand columns outside and a light and airy interior it's a great venue which holds many musical events such as rock, pop and classical shows along with many stand-up comedians and orchestras.
It can make for a fantastic night out if you make it, whether that's by having a few pre-drinks and leading on to The Music Hall or by visiting one of the clubs Aberdeen has to offer afterwards.
The Cellar
The Cellar on Rosemount Viaduct is next door to the Noose & Monkey bar. This venue plays live music with a capacity of 80 people.
It is always very lively with a variety of local bands, tribute bands, open mic and jazz nights.
This venue is 18+ only.
And there we have it, a small insight into some of the best Aberdeen bars, clubs and venues. I hope this helps you a little in seeing what nightlife Aberdeen has to offer.
If you find yourself feeling a little rough the morning after then pick yourself up with some the best breakfast spots in Aberdeen.
Need somewhere cheap and cheerful to stay?
This is probably the most budget friendly city centre hotel if you're looking for somewhere to stay following a night out in Aberdeen