Best Breakfast and Brunch In Aberdeen
This post may contain affiliate links of which we earn a small commission should you choose to purchase through them. This helps us to keep the site running. Thank you for your support
The older I get, the more often I find myself searching Google for the best breakfasts in Aberdeen!
Whatever the occasion, whether it's a cooked breakfast with the other half, boozy brunch with friends or catch up with family, I am always on the lookout for a great breakfast near me.
But what I've come to find is that it's hard to come across reviews and recommendations and despite going to all of these places frequently myself, I haven't written about it either!
So, this is my list of some of the best places for breakfast and brunch in Aberdeen and here's hoping that some of these will appeal to you too.
Cup
Nestled away on Little Belmont Street in the centre of town is Cup Aberdeen. I remember when it opened, everyone was into that slightly shabby chic decor with mismatched tea sets and cutesy afternoon teas, it was so popular that it would be queued out of the door and it was the place to be as is usually the case when somewhere new arrives in town.
However on-trend you may be, business requires the substance to survive and Cup has certainly gone the distance in Aberdeen for which there is a good reason.
While I and many of those my age have outgrown the elements of a mad hatter, kitschy decor theme, there is a lot to be said for the food and drinks available that have kept people coming back.
Breakfast is served until mid-afternoon daily and the Cup cafe menu is surprisingly varied. You have several options, additions and toppings, both hot and cold for the same overall meal such as the full breakfast, breakfast rolls or pancakes, pastries and waffles. You also have the options of granola and porridge.
One of the top breakfast choices that Cup offers are the breakfast sliders which are three mini rolls serving bacon, egg and sausage which go great with your morning coffee.
Along with the wide variety of flavoured teas and coffees that Cup offer, it is overall a great option for those looking for a breakfast or brunch catch up with friends.
For those with a smaller appetite, there are mini versions of many of the breakfasts available and there are vegetarian options also available.
Prices range from approximately £4-10.
Beach Tree Cafe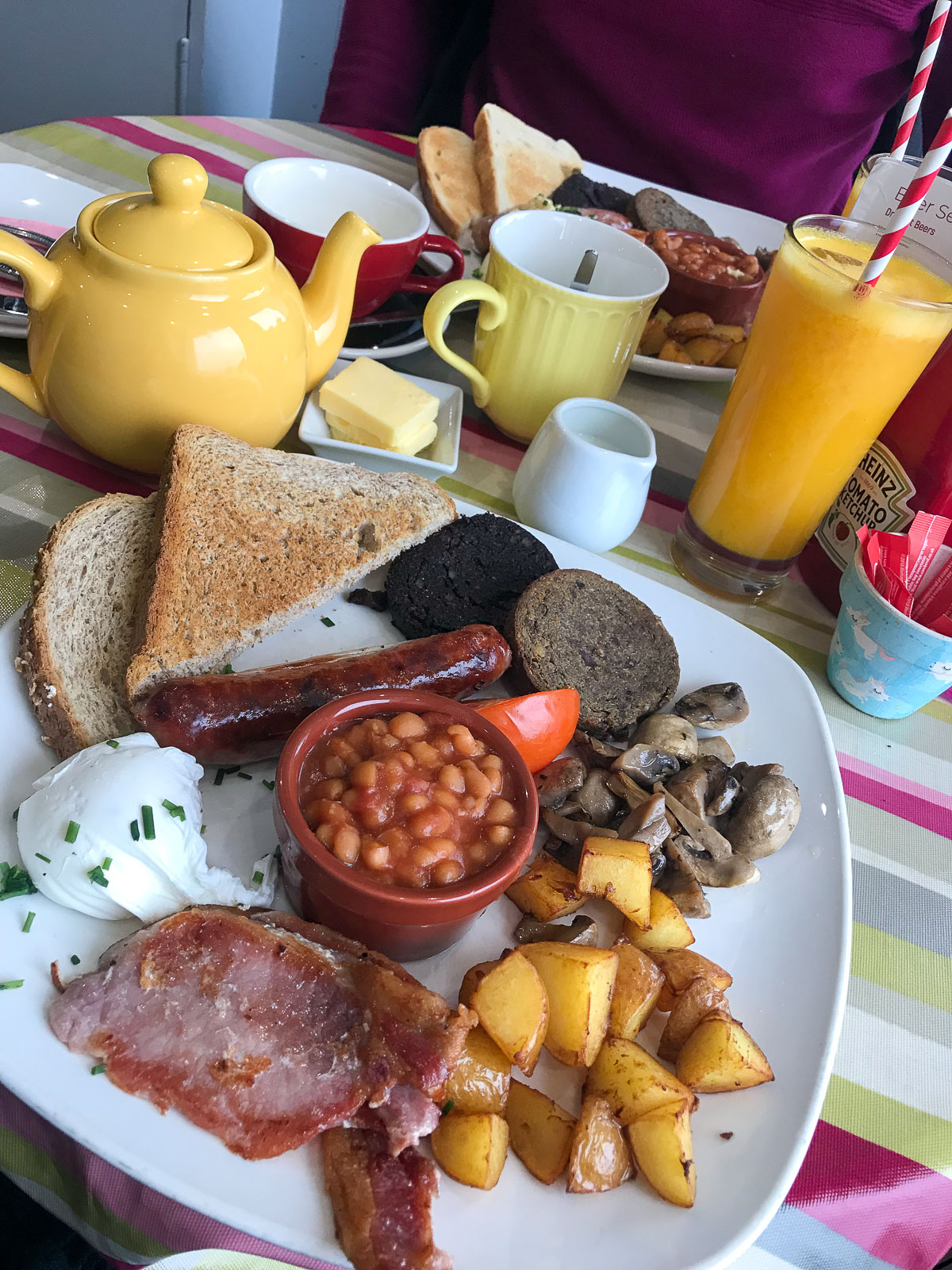 Formerly the Sand Dollar Cafe, Beach Tree Cafe can be found on the Beach Promenade and is one of the most popular restaurants to visit along the Aberdeen beachfront whether that is for food, coffee, ice cream or entertainment.
This cafe offers your family-friendly atmosphere in the daytime but also transforms into an evening bistro with live entertainment at night.
It is a busy venue due to its popularity and I find the majority of tables to be close to one another which can make it difficult if you have additional needs such as space for a pram. There are tables with more space available and I do not doubt that the staff would do their best to accommodate this but as an FYI, space can be limited.
The menu at Beach Tree Cafe is served from 7.30 am – 2 pm and they are primarily known for their cooked breakfasts although they also serve warm and toasted croissants and bagels, pancakes or healthy options such as overnight oats and natural yoghurts with toppings.
Make sure to check out the daily specials board for additions to the breakfast menu such as smoked kippers and avocado on sourdough.
When it comes to the cooked breakfasts, you can order the Full Scottish or a Small Scottish Breakfast, the vegetarian or vegan breakfast or a gluten-free breakfast if required. The food at The Sand Dollar is cooked freshly and made to order so waits can exceed 30 minutes during busy periods but you do receive a large portion of food and I would consider it to be worth the wait if you have the time.
I often order freshly squeezed orange juice while I wait for my order and it is just the pick-me-up I need in the morning! There is nothing better!
Prices range from £4-10
Books and Beans
Books and Beans is a really popular Aberdeen coffee shop which can be found on Belmont Street, one of the busiest streets in Aberdeen city centre.
I think the cafe opened in the early 2000s, at least, it has been there as long as I can remember and it has recently changed hands so I expect that there will be some changes coming up.
This is a cosy coffee shop which also sells books and has access to computers/printing services for those that need them.
While you won't see your usual fry-ups on this menu (although they do serve pancake stacks), you will find a selection of other options which will appeal to some people.
Some of the comforting breakfast options that I think people would like are the strawberries and cream or maple syrup porridge, the warm pastries and the fresh scones. For those looking for something a little bit heavier, you can purchase a breakfast panini that comes with bacon, egg mayo, sausage, mushroom and tomato.
I love freshly squeezed juice with breakfast so I am pleased to say that Book and Beans also offer freshly squeezed orange and homemade lemonade.
Prices range from approximately £2-8
Corner Tree Cafe
This cafe is located on Whitehall Road and I generally find it to be quite quiet although popular. I think many people pop in to pick up some freshly baked goods and take them home so I have never found any issue in getting a table when visiting.
The Corner Tree Cafe is a great place to stop for food as it has the main seating area, a private use 'kitchen' style area for groups of up to eight people which can be booked but also a home and gift shop with many wonderful items to purchase, so it does offer more than simply that restaurant experience.
You won't find your full breakfast here but what they do offer are pancake stacks, French toast, warm croissants with roasted pepper and mozzarella, granola or scrambled eggs on a toasted bagel or toast with items like smoked salmon, cherry tomatoes and bacon.
Prices at approximately £3.50-8.50
Cafe AHOY!
On the Beach Boulevard lies Café Ahoy! This is a really lovely restaurant that I don't think gets nearly as much recognition as it deserves and I think that this is in part due to the location as it's slightly set back from the roadside and could be easily missed if you didn't know about it.
It has really lovely interior decor with lots of woods, friendly staff and it is also a dog-friendly cafe which I know a lot of people are looking for. I have always found it to have quite a relaxed atmosphere and it has never been overwhelmingly busy when I have visited.
In terms of food, they serve an all-day breakfast but they are also great for lunch (I recommend the fish goujon burger because sometimes a really good fish finger sandwich just hits the spot!), signature sandwiches, smoothies, afternoon teas and even ice cream if you fancy it!
You can order a Full Scottish Breakfast, Small Scottish, a Veggie Breakfast and even the Ultimate Breakfast which is the full Scottish breakfast but it also comes with pancakes and syrup.
Other options available are the bagels which you can order either smoked salmon, dill crème fraîche, olives and sundried tomatoes or the breakfast bagel which comes with bacon, haggis, egg, cheese and scotch bonnet ketchup.
For breakfast, I love poached eggs and Cafe Ahoy! provide scrambled and poached eggs on toast, croissants and bagels with either bacon or smoked salmon which suits someone like me perfectly or you may prefer one of their pancake stacks.
Prices range from £2-15
Foodstory – Vegan Brunch in Aberdeen
Foodstory serves healthy foods suiting all dietary requirements with the majority of food being vegetarian and vegan based.
Located on Thistle Street towards the top (or bottom, depending on how you think of it) of Union Street, Foodstory is in a great location with a large premises that also has an outdoor seating area and shop attached where you can buy sustainable food and home items.
Many of the daily food options are listed on the boards/can be seen on the heated counters as you queue to order but you can expect to find porridges and granola bowls with oats, fruits and seeds and smoothie bowls.
You can order pancakes with peanut butter or cocoa nibs with fruit and natural yoghurt or sourdough toast with a variety of toppings such as poached eggs, garlic mushrooms, tomato pesto salad and avocado along with scrambled eggs and homemade beans.
Get your food along with one of the many coffee options with impressive latte art, or I love the flavoured tea options that are available whether hot or cold.
There is also the option to takeaway for a lesser cost if you are looking for food to go.
Prices range from £3-15
Milton On The Corner
Milton On The Corner on Mid Stocket Road is where the old Cognito on the Corner branch used to be before it was bought out by the owners of Milton Brasserie and it is my personal favourite of the 3 locations due to its unique building.
Inside, there is a nice, calming atmosphere with a somewhat eclectic decor, where seating at each area feels like dining in a slightly different restaurant. There are booths, there are tables, you can opt to sit around the bar or you can request one of the private dining areas for larger groups, making it a great option for those that may like a little extra privacy.
So, the breakfast menu is early! I think it's served between 9-11 daily, which I do understand, yes, is breakfast time and it's reasonable for those who live nearby but the Sunday brunch is between the hours of 12-4 which may be a lot more accessible for those that don't live in the city and the brunch menu is more suited towards a typical late breakfast or Sunday lunch and for those with more of an appetite.
The breakfast menu at Milton On The Corner is a little smaller, with pancake stacks, granola, scrambled and poached eggs, French toast or a breakfast roll but they do use high quality and fresh and tasty ingredients.
When I visited, I chose the French toast with bacon and maple syrup and for the cost, it was delicious but I expected and I think I would have liked another piece of toast or another piece of bacon as part of the meal. My friend ordered the smoked-salmon with free-range scrambled eggs and just adored it, visibly content and his review of the food was that he would happily visit and eat again.
We both ordered coffee which was enjoyable and each came with a piece of Scottish tablet as all Cognito coffees do and despite the early hour, I am telling you that I am here for it!
The staff at Milton On The Corner are very friendly and always willing to go above and beyond to help but one thing I would mention is that I don't feel there are many options for vegetarians or vegans on the menu and maybe this is something to bear in mind.
Prices range from £3-10
BrewDog
When looking for a nice place to grab breakfast, understandably, the local bar may not be your first thought but I can confirm that the BrewDog breakfast and brunch food menu is a winner.
BrewDog beer is a big brand name in Aberdeen, this is the hometown as it was founded nearby but I think that in terms of food, menu choice and my personal opinion, it is the best breakfast that Union Square has on offer. The quality of food served for breakfast easily beats many of the other chains and you also have the option of the Castlegate building on Union Street which is a great location.
As the brand is firstly considered as a bar and drinking location, and in terms of food it is primarily known for burgers and beers, many people don't know about or think to visit BrewDog for breakfast which can be great and work to your advantage as early mornings are generally quite quiet so you can enjoy the soft lighting and darker surroundings with less fuss and noise around you.
When it comes to the menu, BrewDog themselves say 'we believe in bold flavours in beer and our food; whether meat, veggie or vegan.' And I agree. The breakfast and brunch menu isn't massive but it does have your usual favourites and go-to's, mostly with a unique addition that you don't often find on other menus, nothing wild, over the top or unnecessary but somewhat unique nevertheless.
So, the menu is affordable and ranges in price from around £5-10 and you do also have the option of some breakfast cocktails if you are looking for something a little boozy and indulgent to accompany your food as opposed to the coffee that I so desperately need in the mornings.
The menu ranges from granola and fresh yoghurt to breakfast rolls, avocado on toast, the full breakfast, loaded pancakes and on to the brunch burger but two items on the menu really stick out in my mind and that I would highly, highly recommend.
Firstly, and if you have been to BrewDog for food, then you will know that the fried chicken and waffles are a really popular choice. These come with Franks red hot sauce and maple syrup and are just really, really good. I say that as someone that's generally not a fan of the chicken and waffle combination as it can often be a bit, well, dry. The chicken is juicy, the waffles are waffles and the mix of hot and sweet sauces offer the perfect little kick in the early morning.
Secondly, I would recommend The Veggie Haystack. This is the veggie equivalent of the full breakfast and comes with 'BBQ seitan steak, smashed avocado, chargrilled Padron peppers, hash brown, Boston beans, forest mushroom, vine tomato & sourdough toast'. Unfortunately, ours was missing the forest mushroom and the service was a little… abrupt.. despite being so quiet so although disappointed (I love mushrooms!), we just let that go. The flavours were all there and the seitan steak was delicious and I would consider The Veggie Haystack thoroughly enjoyable whether a meat-eater or not.
If you are a meat lover, of course, you can order The Haystack which comes with 'British pork sausage, black pudding, smoked streaky bacon, hash brown, forest mushroom, vine tomatoes, Boston beans, fried egg & sourdough toast'.
I consider BrewDog a great breakfast option if you are looking for something a little more filling, somewhere a little quieter where you will be left alone or somewhere to drown away a hangover, before the next.
The Craftsman
The Craftsman Company is on the corner of Market Street and Guild Street and is a dog friendly, artisan coffee, craft beer, restaurant and live music establishment. It's open morning till late and has been popular among locals since opening. At the same time, I think there are a lot of people that don't know about it. It's one of those funny ones.
I tend to find The Craftsman to be consistently busy without being overcrowded during the times that I have visited for breakfast or coffee.
I love the styling of The Craftsman; high ceilings, large wooden tables and lots of windows. They have done such a good job with the decor and it is worthy of a social media post if you visit. I also love that the tables are close but not close enough to feel like part of a strangers conversation and obviously, there are a lot of dogs! What's not to like.
When it comes to breakfast food, the menu changes and there are daily specials so you may be offered something along the lines of pancakes, Turkish eggs, pastries, smoothie bowl or a filled croissant along with some other options. The food is enjoyable, I sometimes find the combinations a little pretentious and unnecessary and I have found that when visiting for lunch too but you may see otherwise and like the added flair, I think it is a personal preference.
One aspect of The Craftsman that I have found has always let them down is the service and it's something that I have read on many reviews since. It's just not great. It can appear quite standoffish and difficult, again, I feel it buys into that pretentious attitude of appearing above what it is or needs to be. For the most part, I actually do like being left uninterrupted when eating but I have often found interactions to be strained when you get them but for the small part this plays in your experience, you can look past it.
This may not be the most accessible for those that require parking and those with mobility issues but there is parking on side streets nearby and it is, however, very close to many of the most popular shopping areas such as Union Square and not so far from the Bon Accord Centre and Union Street.
Prices are generally around the £6/7 mark for breakfast and brunch.
Kilau
Kilau Coffee opened way, way, WAY back when I was a teenager and was originally based on Little Belmont Street in the city centre, it has since moved to Old Aberdeen by the Aberdeen University but it is as popular a haunt now as it ever was.
I have many fond memories of visiting Kilau whether it was for breakfast, lunch, after school or for a late-night hot chocolate after a gig. It has always been a popular choice for a wide demographic, whether that's for those coming of age, students or for adults catching up.
I don't often get to visit the Old Aberdeen location but when I have, it still lives up to many of those memories that I have with regards to the atmosphere and selection of food choices available.
The menu, which changes regularly, is written on a blackboard in the main eating rooms but there is also a menu available with the usual scones, pastries and coffees which can always be purchased.
Kilau has always been good at taking into account and recognising different dietary requirements and although the menu may seem quite limited in options, they do tend to suit a wider set of needs than many other restaurants in the city.
Instead of the usual full Scottish breakfast or morning rolls that you see in many of the other places listed, Kilau offers meals such as toasted focaccias with poached eggs and grilled veg or smoked salmon on sourdough.
If this is not to your taste, you can always order toasts and other baked goods and many hail Kilau for their coffees!
One negative I would state is that you can be left waiting for your food as I don't believe that there are many kitchen staff and it does become quite busy. While your coffee may be served within the first 5-10 minutes of ordering, you may then be waiting a further 20-10 minutes for your food. Perhaps ask for all items to be delivered together or consider ordering a second refreshment while you wait!
The food at Kilau does come in at a little more costly at around £10 a meal.
Noose And Monkey
The Noose and Monkey is a popular pre-show Aberdeen theatre restaurant and pub located in the Rosemount area.
They aim to serve seasonal and locally sourced foods and meals where possible and for those of you with a Tastecard, the Noose and Monkey offer 2 for 1 on meals which is great value for money.
For breakfast, the menu offers a variety of warming options such as the Full Scottish Breakfast, filled rolls and different egg options such as Benedict, Royale and poached along with the sweeter options of loaded pancakes with berries, syrup and cream or French toast.
There are also vegetarian options such as the granola bowl with yoghurt and berries, avocado on sourdough, eggs Florentine and the Veggie Breakfast.
If you have any breakfast recommendations for Aberdeen City Centre, or even recommendations from the menus on the above then do let me know!
If you're looking for other things to do when visiting Aberdeen, then check out our city guide for plenty of suggestions or if you want something a bit lighter then have a look at some of the best coffee shops in Aberdeen.
Pin This Post