Chilli Garlic Prawns Recipe!
This post may contain affiliate links of which we earn a small commission should you choose to purchase through them. This helps us to keep the site running. Thank you for your support
One of my favourite restaurants in the city specialise in serving Spanish tapas and I really wanted to challenge myself to recreate some of those same flavours and dishes at home.
I would definitely describe myself as a picky eater, not fussy by any means, but I love to pick at foods, so a selection of tapas and the option to have a wide variety of foods to choose from is great for me!
It's not always possible (and costs can quickly add up) to visit restaurants, but I do love the food and find myself often hankering for some food so I am finding ways to incorporate them into my own meal plans!
Enjoy these chilli garlic prawns with some crusty bread (this is a must to really get all of those wonderful flavours from the oil!) and a glass of white wine or try adding them to a salad or some pasta for something a little more filling.
I know these should be eaten while the oil is still hot, but I really like these slightly cooler and think the flavours are much stronger!
Let me know what you think!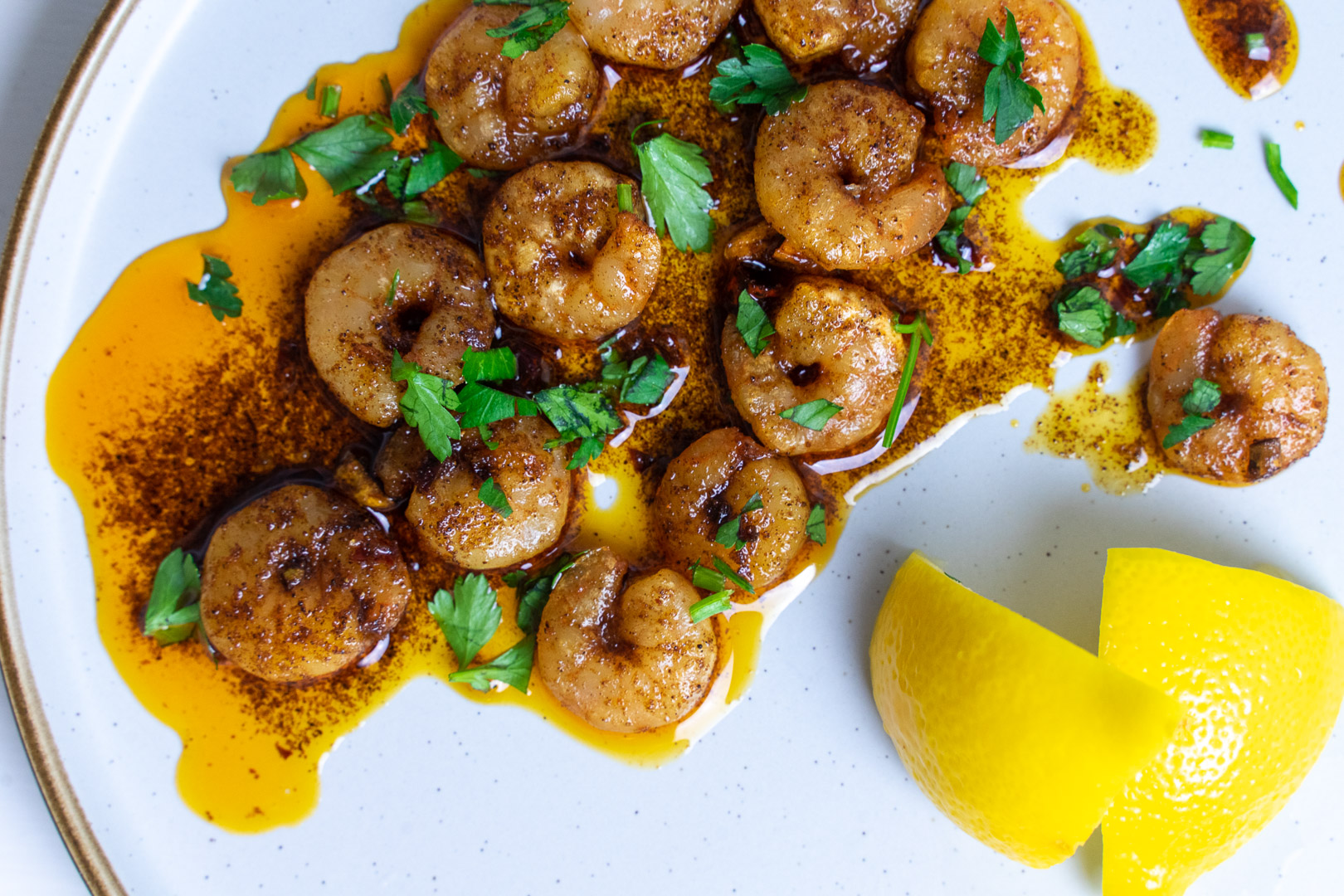 Overview
Makes: 2 servings
Prep time: 2 mins
Cook time: 10 mins
Total time: 12 mins
Ingredients
1 Pack jumbo or King cooked and peeled prawns (approx 150g)
3-4tbsp Olive oil
2-3 Cloves garlic (chopped)
1 Red chilli – deseeded
1/2 Lemon
1tbsp Paprika
Knob of butter
Sea salt
A couple sprigs of parsley
Utensils
Instructions
Heat 3-4tbsp olive oil and a knob of butter in your frying pan on a low-medium temperature.
Once the oil is hot and butter melted, add your chopped garlic (just cut this into discs, the pieces don't need to be too small) and chopped chilli to the pan before stirring for approximately 30-40 seconds.Depending on how much spice you like, you may prefer to use only 1/2 a deseeded red chilli but if you like some heat, just chop it finely and add in the full thing.
Turn the heat up a little, set it on medium and add your prawns to the frying pan along with 1tbsp paprika and a healthy pinch of flaky sea salt before cooking for approximately 2-3 minutes on each side if they are particularly meaty or simply until the prawns are hot.Keep stirring to infuse those flavours.Be careful not to overcook the prawns and remember that they do cook quickly.
Add some chopped parsley before stirring again.
Remove your frying pan from the heat and add a pinch of coarse seal salt before serving.I like to leave a bit of lemon on the side, giving the option to add but you can always add 1tbsp of lemon juice to the frying pan before serving if you prefer.Enjoy!
Storage
Once your prawns have been cooked, I would highly recommend that you eat these on the day of cooking.
Pin this recipe