Creamy Brussels Sprouts With Bacon Recipe!
This post may contain affiliate links of which we earn a small commission should you choose to purchase through them. This helps us to keep the site running. Thank you for your support
Brussels sprouts are fast becoming one of my favourite vegetables.
One that until recently, I solely ate on Christmas Day but there are so many things that can be done with them.
They have a wonderful nuttiness about their flavour which tastes absolutely delicious in this creamy Brussels sprouts with bacon recipe!
You can chose to skip the bacon but I think it provides a nice bit of texture and saltiness to the mix.
Along with the garlic, cream and cheese, it's a really indulgent take on what I consider a really overlooked vegetable!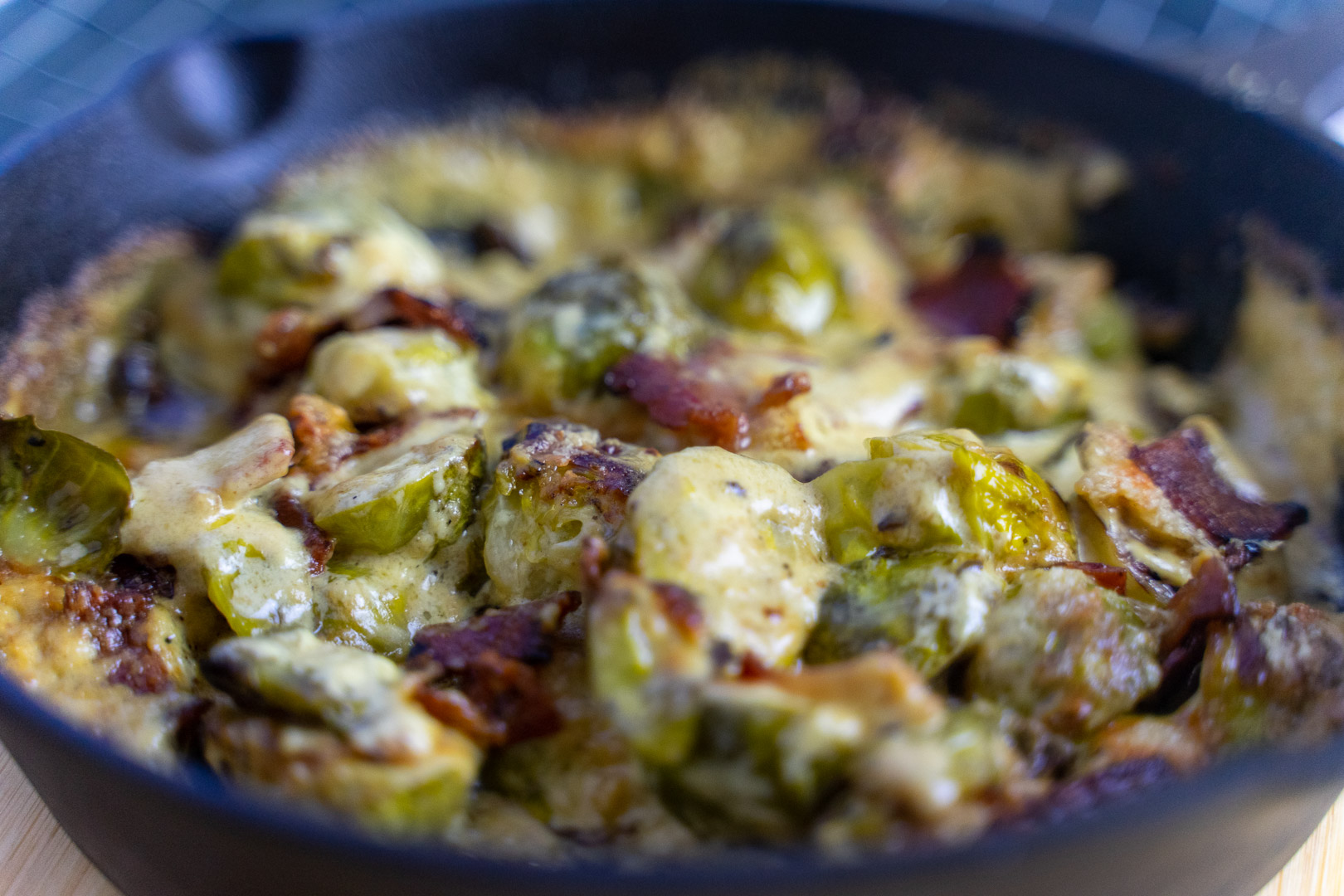 Overview
Makes: 6 servings
Prep time: 10 mins
Cook time: 35 mins
Total time: 45 mins
Ingredients
400g Brussels Sprouts
4 Rashers of bacon
240ml (1 cup) Double cream
3 Cloves garlic (minced)
2tbsp Dijon mustard
45g (1/2 cup) Parmesan cheese
1tbsp Butter
1tsp Kosher salt
1tsp Cracked black pepper
Utensils
Glass/Mixing bowl
Cast Iron Skillet (8-10″)
Instructions
Preheat your oven to 200ºC/400ºF
Wash your Brussels sprouts, removing the outer layer if loose and set aside to pat dry.
One you have pat dried the Brussels sprouts with a paper towel or similar, you want to cut the ends off.Just the very end where it is hardened.

We hear talk of cutting a cross 'X' at the bottom of our sprouts but this isn't necessary and can actually leave the sprouts waterlogged if boiled.

Cut the Brussels sprouts in half.If you prefer or to save on time, you can leave them whole.
Next, take your skillet (I use an 8″ cast iron skillet when making a portion for 2 but size up to a 10″ if you are using the full quantities of this recipe) and begin to heat on the hob.Always be careful to protect your hands when using a skillet!
Cut your bacon into small sections around 1″ wide and place in the skillet.Don't worry about adding oil to cook this.
Cook your bacon for approximately 5 minutes until turning crispy, stirring when needed.
Once your bacon has cooked as you want, remove it from your skillet and set aside.
Now, melt 1tbsp butter in your skillet before adding your Brussels sprouts, minced garlic, salt and pepper and cook for approximately 5 minutes before removing from the heat.You want the flavours to mix and some light browning of the sprouts to occur.
In a bowl or measuring jug, add 240ml (1 cup) double cream along with 2tbsp Dijon mustard and mix together.Pour this over the mix in your skillet, making sure to cover all of the sprouts.

Do not worry if they are not fully covered by the mix.

Next, sprinkle your 45g (1/2 cup) Parmesan cheese on top of the Brussels sprouts and cream already in your skillet and then add the bacon.
Place your skillet into the oven, preferably on the middle shelf and cook for around 15-20 minutes.Cook until your cheese has melted, it may bubble away as it's cooking but down worry, that's normal.
Remove your skillet from the oven and allow to cool for a couple of minutes before serving.Enjoy!
Storage
I recommend eating these on the day due to the dairy being used.
Pin this recipe
More Brussels Sprouts Recipes