Easy Dutch Oven Bread Recipe!
This post may contain affiliate links of which we earn a small commission should you choose to purchase through them. This helps us to keep the site running. Thank you for your support
Today, we are going to make this easy 'Dutch Oven Bread' recipe, or you may know it as the 'No-Knead Bread' and it is the easiest bread recipe that you could hope to make.
Especially if you are a beginner to the art of bread making!
I know that bread recipes can often appear intimidating, to me too, but I want to assure you that this recipe is not one of them.
It only requires 4 ingredients and around 5 minutes to mix. Honestly, it's the waiting time in between that makes up the majority of this recipe but trust me, it's worth it!
So, with minimal prep time and minimal effort required, this is the perfect homemade bread to make if you don't have a lot of time to spend or aren't sure about kneading dough, because you don't have to do anything but mix the ingredients together with your wooden spoon or spatula!
This bread is perfect for those cold winter days if you are looking for something to tear and share with friends and family while having soup but I also like to cut slices and make toast out of it!
It's a great thick bread to enjoy with some good butter to match. Keep it simple!
However you choose to have yours, this easy Dutch Oven/no-knead bread recipe is sure to impress!
Overview
Makes: 1 Loaf
Prep time: 5 mins
Cook time: 45 mins
Total time: 24 hours 50 mins (12-24 hours rest time)
Ingredients
430g all purpose flour/bread flour (approx 3 1/2 cups)
1/2 tsp yeast
2 tsp salt
400ml (approx 1 1/2 cups) room temperature water
Utensils
Scales
Large mixing bowl
Spatula/wooden spoon
Cling film
Dutch oven/casserole dishOptional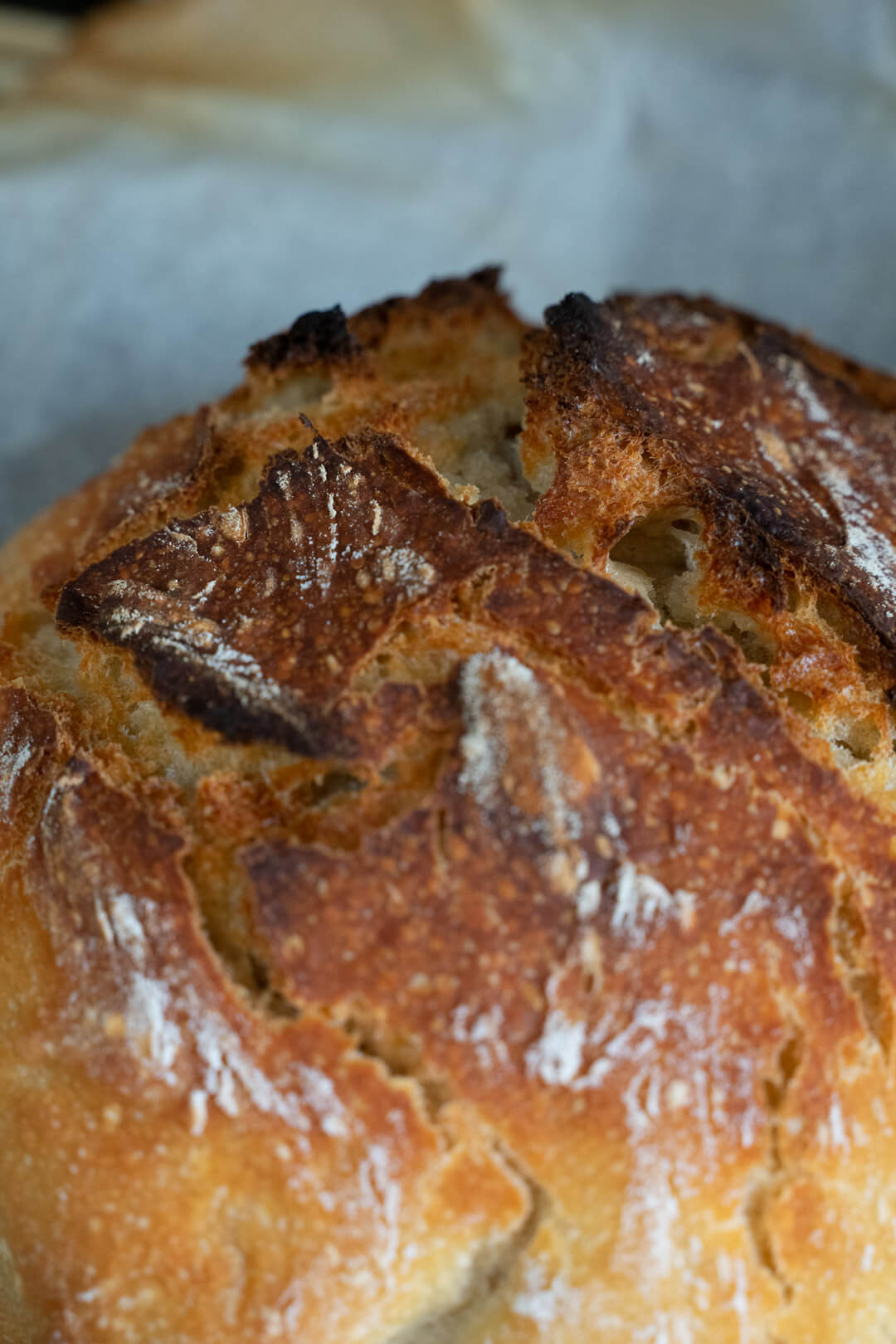 Instructions
Mix your flour, yeast and salt together in a mixing bowl.
Add the water to your dry ingredients and continue to mix until dough becomes thick.Don't worry if it looks a bit tacky and messy, it's meant to!
Cover your dough with some cling film and set aside for between 12-24 hours.You want to leave this at room temperature.And yes, I know a 12 hour gap is a big one, so what I'm suggesting is to leave this for a minimum of 12 hours.I tend to make the mix at night and cook it the following night, make it a time that fits into your schedule!Preferably leave it overnight for ease.
Preheat your oven to around 220°C or 450°F
Make sure to look out for some wee bubbles on the top of your mix which will let you know that it's ready and if so, lightly flour your work surface.Tip the bread mix out onto the surface and dust a little more flour on top.
Gently fold it over a couple of times and shape it into a ball.
Then, I like to transfer it onto some parchment paper and let it rest until the oven has heated.I find that there is always way less mess (or opportunity for sticking) when using parchment paper but you don't have to!
You can cover your dough with a tea towel or your cling film again while you wait for the oven to heat.
Once the oven has heated, move your dough, along with the parchment paper into your Dutch oven/casserole dish.Don't worry if you don't have a Dutch oven, as long as you have an ovenproof dish with a lid!
Set the lid on top and put it into the oven for 30 minutes.Then remove the lid and cook for a further 15 or so minutes until the crust looks golden and crispy.You know your oven, so this could take more or less time!And you're doneEnjoy!
Storage
You can keep this bread unwrapped at room temperature to maintain that crusty texture or you can wrap in foil if you prefer.
Do not refrigerate!
Make sure to eat in 2-3 days for best taste.
Pin this recipe