Easy Peanut Butter Fudge Recipe!
This post may contain affiliate links of which we earn a small commission should you choose to purchase through them. This helps us to keep the site running. Thank you for your support
I have a really easy peanut butter fudge recipe for you!
It uses only 4 ingredients and takes 10 minutes or less to make. The rest is waiting time, which is almost the certainly worst bit! It comes a close second to cleaning up, my least favourite activity when cooking and baking. I'm not extremely messy when I bake, but it's the sheer volume of spoons and whatnot that I seem to have to clean afterwards. Is that just me?
Anyway, the outside has a crisp shell just like Scottish tablet while the middle section is soft like fudge and it has a lovely crunch if you choose to use crunchy peanut butter as I did. Of course, you can use smooth peanut butter instead if you prefer!
The plan was to keep this recipe quite simple, my Bueno fudge has a lot more involvement (but its totally worth it) but sometimes you just want something that offers similar results but is nice and quick to make! I understand that and I definitely have those feelings sometimes.
Check out my easy recipe for easy peanut butter fudge below!
Overview
Makes: 40 pieces
Cook time: 10 mins
Chill time: 2 hours
Total time: 2 hours 10 mins
Ingredients
440g Soft brown sugar (2 cups)
130ml Whole milk (1/2 cup)
180g Peanut butter (3/4 cup)
1 tsp Vanilla
Utensils
Scales
Large saucepan
Wooden spoon/Spatula
8″ Square baking tin
Optional
Parchment paper
Baking thermometer
Instructions
Add your 130ml whole milk and 440g soft brown sugar to the pan and place on a low to medium heat while stirring gently until the sugar has melted into that beautiful caramel colour.

Keep stirring until you no longer feel the grains of sugar under your spoon.

The mix will begin to bubble once boiling but don't worry, that's what you want!

Stop stirring once you reach this stage.

This should take 2-3 minutes before removing the pan from the heat.

Once you have removed your pan from the heat, add your 1tsp vanilla and your 180g peanut butter and continue to stir until the mixture is smooth.
Your mix will begin to thicken as it cools but keep stirring for 4-5 minutes until it begins to form a thick and smooth consistency which resembles a loose fudge.
Lightly spray your baking tin with some oil if you have some or use some parchment paper if you prefer, this is to help avoid with sticking.

Pour your fudge mix into the tin before smoothing out the surface. I use a spatula for this but you may prefer something different.

Leave fudge at to chill at room temperature for approximately 2 hours.
Once fudge has chilled, cut into 1″ squares!

Enjoy!
Storage
Store in an airtight container.
This fudge should keep for 1-2 weeks at room temperature.
If refrigerated, fudge can last 2-3 weeks.
Pin this recipe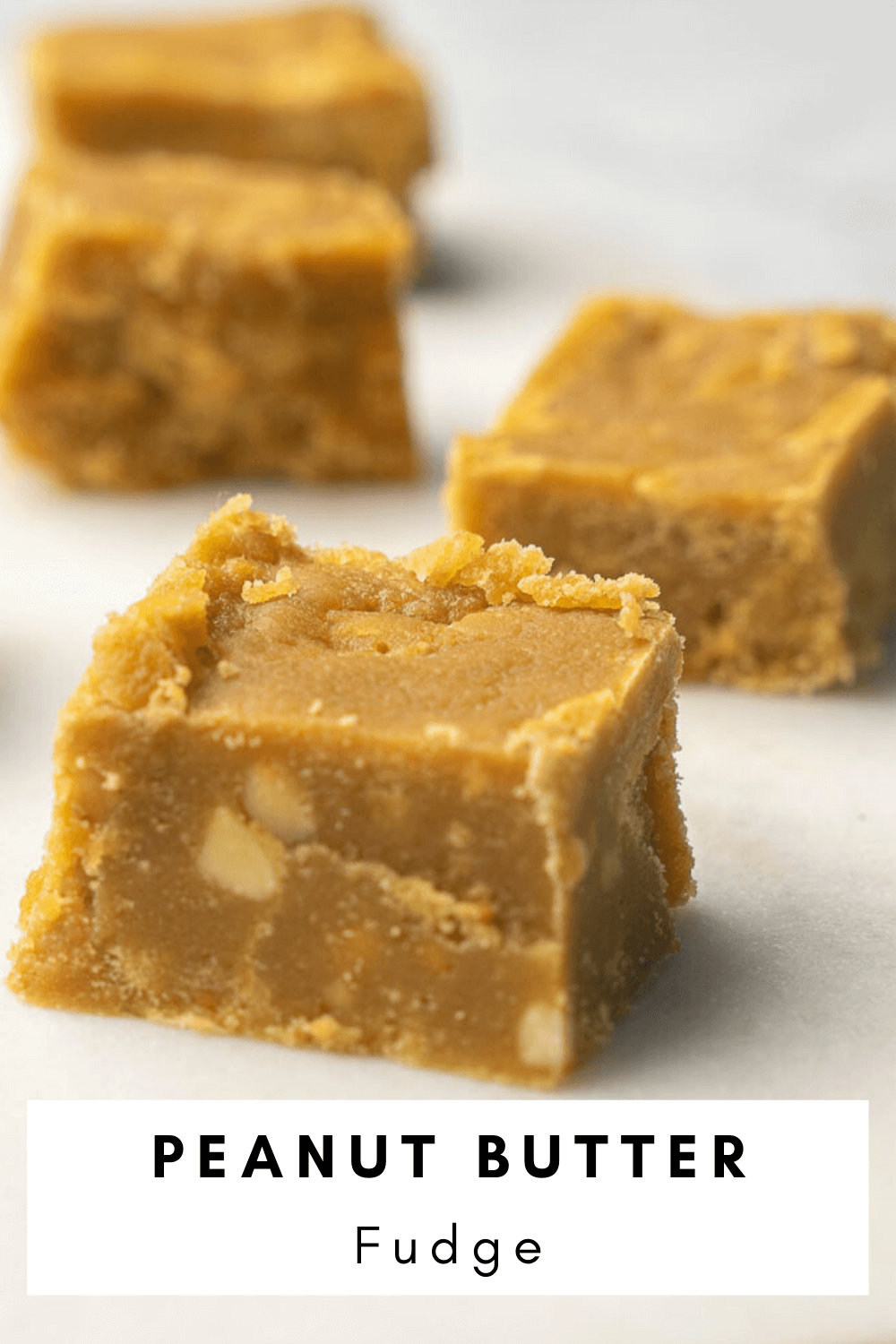 More Fudge Recipes