Sweet Potato Curry Recipe!
This post may contain affiliate links of which we earn a small commission should you choose to purchase through them. This helps us to keep the site running. Thank you for your support
I love a good vegetable curry. It's a hug in a dish, really hearty, really warming and there is something about it that just feels so comforting.
This sweet potato curry recipe is creamy and vegetarian but you can always add some meat if you prefer.
Or, consider changing the vegetables used. If you want a little crunch, consider some sugar snap peas or even baby corn!
As always, I want to keep this recipe really family friendly and I've added a little bit of a kick but nothing overwhelming. Of course, if you like more spice, then add some more chilli flakes or try adding a chilli for added flavour.
I hope this is the start to a lovely, easy curry base that you can make your own!
Overview
Makes: 2 servings
Prep time: 15 mins
Cook time: 45 mins
Total time: 1 hour
Ingredients
400ml Coconut milk (1 can)
250g Sweet potatoes (peeled and diced)
200g Spinach
200g Vegetable stock
2 Cloves garlic (minced)
2″ Fresh ginger (minced)
1 Onion (diced)
1 Bell pepper (sliced)
1 Lime
1 1/2 tbsp Olive oil
1 1/2 tsp Curry powder
1/2tsp Chilli flakes
Sea salt
Black pepperOptional To Serve

Rice
Peanuts
Sesame seeds
Lime wedges
Cherry tomatoes
Utensils
Large heavy-bottomed saucepan
Chopping board
Chopping knife
Spatula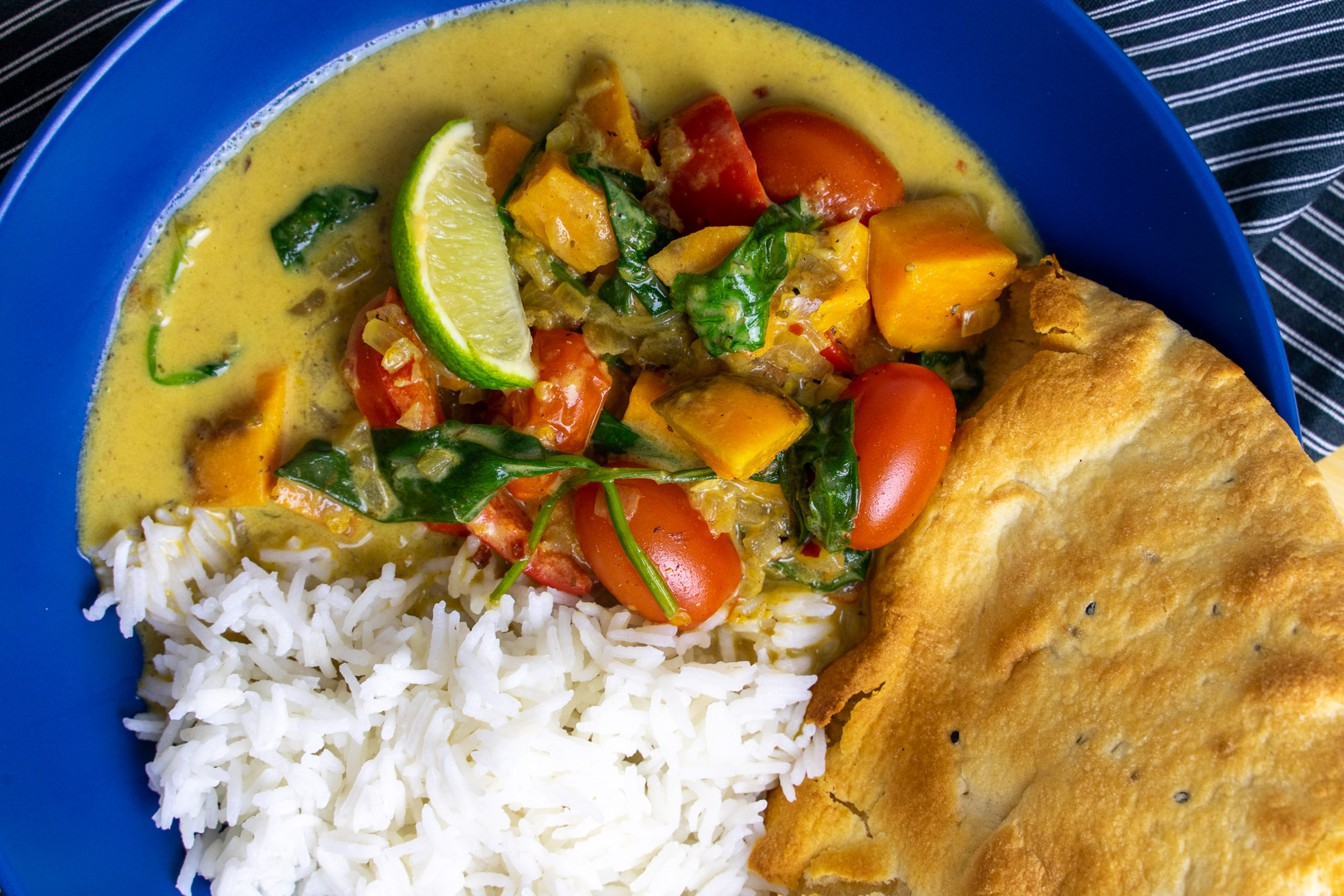 Instructions
Firstly, I would recommend preparing all of your vegetables.Whether that's dicing, peeling, slicing or mincing, because I think it will lead to a much smoother and enjoyable cooking experience!
Heat 1 1/2 tbsp olive oil (or coconut oil, if you prefer) over a medium temperature in your heavy-bottomed saucepan before adding your diced onion.You want to sauté your onion until translucent and soft (this can take up to 5 minutes), stirring occasionally to prevent sticking or burning before adding your fresh ginger and garlic and continuing to stir for 1-2 minutes.
Add your diced sweet potato to the pan.
Next, add 1/2tsp chilli flakes and 1 1/2tsp curry powder to the pan and continue to stir for another 1-2 minutes until fragrant.You want to coat all of your sweet potato in the spices, so give this a good mix.Season with salt and pepper.
Add your 200ml vegetable stock and bring to a boil before turning the heat down and allowing to simmer.We want to soften the sweet potato, so once boiling, place the lid on top, leaving a slight gap for steam to escape and allow to simmer for 25-30 minutes, stirring occasionally.Around 5 minutes before the potatoes are done, add your bell pepper and allow this to soften for a couple of minutes.
Once the veg has softened, the amount of liquid in the pan should have reduced significantly but give it a quick stir again before adding your can of coconut milk and spinach leaves and allow these to simmer for 3-4 minutes.The spinach should wilt and turn a bright green when cooked.
Add the juice of 1/2 lime and some more sea salt and pepper to season and taste.If you feel it needs a little extra kick, then add some more chilli flakes.You can serve this with rice, naan or any other kind of bread that you like.Enjoy!
Storage
Keep in an airtight container and refrigerate for up to 3 days.
I can't guarantee best taste once frozen, but this can be frozen for up to 2 months.
Pin this recipe