This post may contain affiliate links of which we earn a small commission should you choose to purchase through them. This helps us to keep the site running. Thank you for your support
When looking for things to do in Venice, we recommend visiting the Island of Burano (Isola di Burano) which is highly regarded as one of the most beautiful islands on the Venetian Lagoon and one of the most picturesque places to visit in Italy.
Only 7 kilometres (4 miles) from Venice, Burano is well known for its picturesque and colourful fisherman's houses. Even considered one of the most colourful locations in the world.
I'm sure you will have seen many pictures of this wonderful island online but is it worth visiting?
Read below for our visitors' guide to Burano, our suggestions of what to do and where to go in Burano along with how to get there and where to eat.
Visit Burano and Murano with a half day excursion
Check the latest prices and availability for a half day trip to both Burano and Murano from Venice.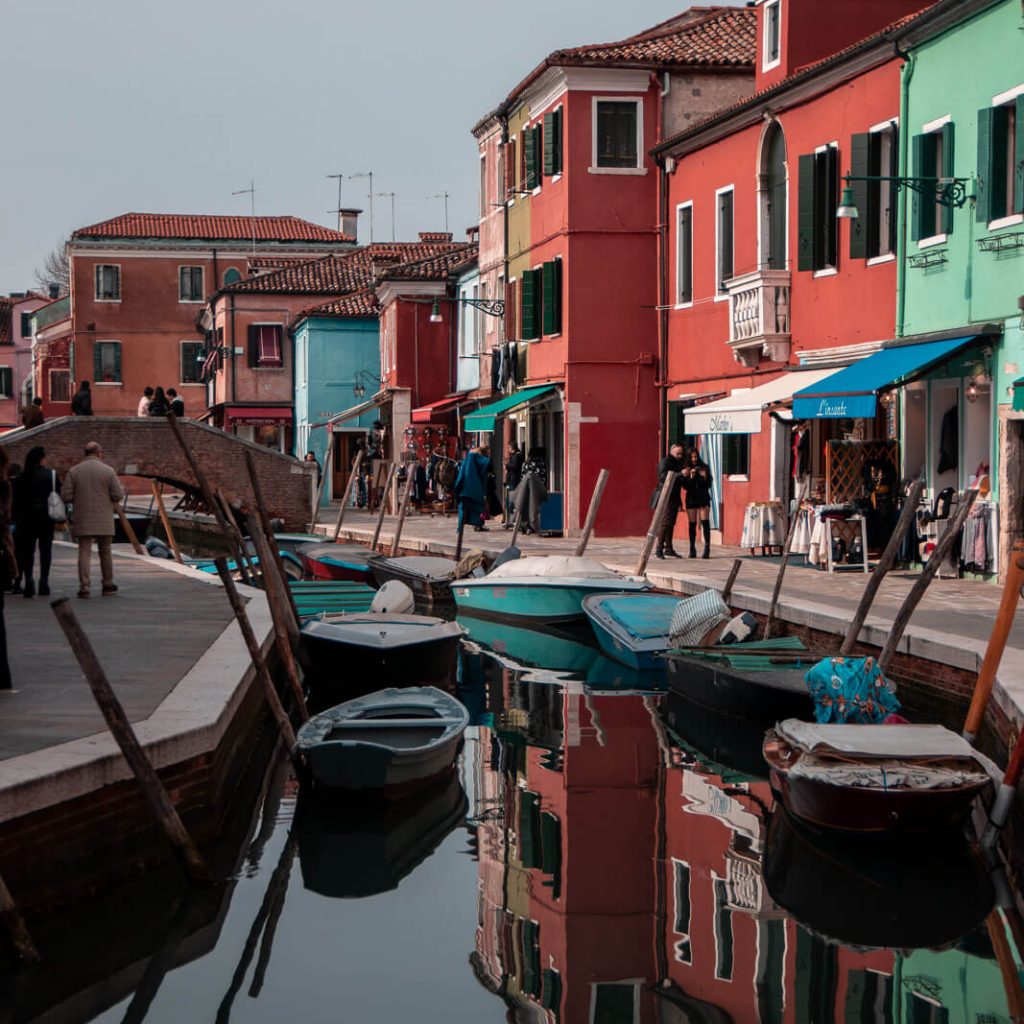 Tre Ponti
One of the most popular and beloved photograph spots for tourists visiting Burano is Tre Ponti (three bridges). I'm sure that you will have seen many photos online from this area as I know that I have certainly seen a lot on Instagram. But perhaps the name is a little misleading, as there are not actually three bridges but this charming wooden bridge connects three canals and three of the most colourful streets in Burano (Giudecca Via, Via San Mauro and Via San Martino Sinistro).
Many of the colorful houses surrounding Tre Ponti are shops filled with beautiful examples of the delicate lace which is made on the island.
When you think to imagine Burano, you most likely imagine the sights of and from Tre Ponti.
Chiesa di San Martino
Chiesa di San Martino, or the Burano leaning Bell Tower (Il Campanile Storto) as you may hear it more commonly referred to as the Bell Tower of the only church on the Burano island, San Martino. Built in the 16th century, the bell tower stands at around 53 metres high and it became unstable and started to sink shortly after construction but it has had a lot of work done to protect it and I think it's such a sight to see. The leaning tower of Burano fascinates me and if you are a fan of the Leaning Tower Of Pisa, then this may fascinate you too!
The church has free admission and is open to the public.
Oratorio di Santa Barbara
Close to the Chiesa di San Martino, curiously, is another church. The Oratorio di Santa Barbara is a much smaller building and appears more like a chapel than a church.
Casa Bepi
Of all the colourful houses in Burano, CasaBepi is the most famous! Covered with bright colours and geometric shapes the house of Bepi Suà draws in tourists from all over the world.
Casa Bepi's colourful walls are featured on many postcards, photographs showing the beauty of Burano and it is now recognisable worldwide.
Museo del Merletto
Museo del Merletto is the Burano lace museum. Burano is known worldwide for its intricate and detailed lacework. Museo del Merletto is located in a small building on the island which was once home to Venices famous lace school.
The museum features more than two-hundred rare and priceless lace pieces while showing the evolution of lace making in Venice between the 16th to 20th centuries.
Traditionally, the art of needle lace-making which has been handed down for generations was something that would be done by women outside their homes or groups made up of friends and family.
Museo del Merletto Opening Hours
November st to March 3st – 10.30 am – 16.30 pm (ticket office 10.30 – 16.00)
April 1st to October 31st – 10.30 am – 17.00 pm (ticket office 10.30 – 16.30)
Closed on Mondays, December 25th, January 1st, May 1st
Museo del Merletto Ticket Prices
Tickets – 5 euro
Concessions/Students – 3.50 euro
If you are looking to visit a number of the islands on your trip then you may be interested in purchasing a combined ticket for entry of Museo del Merletto and the Murano Glass Factory Tour and Museum access for a cost of 12 euros or 8 euros for concessions/students. These tickets are valid for 3 months.
Martina Vidal
Martina Vidal is a family-run concept store in with a flagship based in Burano, although stores can also be found in Venice. They primarily sell handmade Burano lace and linen items for the home. The idea behind the stores was to use the experience, skills and knowledge from their ancestors to create beautiful artisanal products not only for the house but for people as well.
Using the best fabrics and with inspiration taken from Italian culture and tradition, Martina Vidal products are hugely popular among celebrities, Royalty and tourists looking for something unique and personal to take home.
At Martina Vidal, you will have the opportunity to see some of the ladies working and creating new lace using the same techniques which were passed down the generations. You may find time to speak to them and ask any questions you may have and if you have significantly more time or a full day to spend, you can partake in one of the Burano lace-making courses.
If visiting Martina Vidal in Burano make sure to take the opportunity to visit the 'Venice Secret Garden' where guests can relax, enjoy the tranquil peace and have a coffee.
Piazza Baldassare Galuppi
This piazza in the middle of the island features Remigio Barbaros statue of 18th century Venetian composer, Baldassare Galuppi who was born on the island of Burano.
Surrounded by colourful houses with small shops and a view of the leaning bell tower surround the otherwise empty area of Piazza Baldassare Galuppi.
Located in the centre of the square is an Istrian Stone well which still provides fresh water from a small fountain, also nearby is the Istrian Gonfalon which held the ceremonial flags which once held St. Mark's banner.
Remigio Barbaro Sculptures
Remigio Barbaro was a famous Buranello sculptor who lived on the island on Burano his whole life. Although described as a bit of a hermit, this sculptors pieces can mostly be found on the islands surrounding his home although some can be found in galleries and private collections.
The pieces are said to be mainly influenced by art, spirituality and nature such as the 'Attesa di Pace' (Waiting For Peace) sculpture which shows a young naked woman looking in distress, can be found by the Vaporetto stop to Burano.
Pescarìa Vecia
Burano's old fish market located in Via Giudecca is another wonderful insight into the island's history. Burano is a fisherman's island after all. Make sure to visit Pescarìa Vecia as it is one of the most loved places to photograph in Burano, especially among couples looking for beautiful views of sunsets over Venice.
Where To Eat In Burano
There are plenty of options to choose from when looking for somewhere to eat in Burano whether you are looking for a quick bite to eat or somewhere to sit back, relax and enjoy the view.
Buy some pizza and paninis for on the go at 'Devil' – We stopped here for some pizza and juice on our visit as we were short on time but for a reasonable cost of around 3 euros for the food we were very impressed with what we received. There was not much seating to be found considering the number of tourists that visit but this was to be expected and there are plenty of areas nearby to stop at.
For a restaurant experience check out 'Al Gatto Nero Da Ruggero' – Burano is best known for serving high-quality fresh fish dishes and their signature gò risotto, this restaurant is not the cheapest option but it is an experience.
While visiting the island, make sure to also visit one of its bakeries to try some of the Esse Buranei and Bussolà Buranello cookies. These are traditional Venetian biscuits from the island of Burano.
Where To Stay In Burano
If you would like to and are hoping to find somewhere to stay in Burano then you are in luck, there are many options available for all different budgets.
Burano may be a great option for those looking to stay in the Venetian Lagoon but cannot pay some of the higher accommodation costs in Venice.
From the Casa Burano Experience to a luxurious Burano Villa, take a look at some of your options below.
Best Time To Visit Burano
Burano is a very busy tourist destination in the warmer summer months, their primary economy is tourism and if you are looking to avoid the crowds, you may need to think about when best to visit so below are some of our tips to make the most of your trip to Burano.
Venice and Burano can be very foggy in the colder months but if you are lucky enough to visit during the clear and colder season days as we did, you will find that the island of Burano is significantly quieter and you can get some beautiful photographs. Although, it didn't look quite as bright and mesmerising as it does during those brighter days it did cast a beautiful light over the houses and the island felt much quieter than I expected it to be.
Another thing to be mindful of in the winter months is that Venice, Burano and the other Venetian Lagoon Islands are susceptible to flooding due to the higher tides if there is a lot of rain which may affect your visit. We visited Burano at the beginning of February and we have no issues with the weather, it was relatively warm and bright on our visit but it is something to be aware of.
If possible, try to visit Burano during the week as you may expect, visiting on the weekends tend to be a much busier and popular choice for tourists but this leads to much larger crowds and longer transport waiting times.
Another bit of advice would be to visit as early as possible and this is something that I would always recommend when travelling. Of course, I think it's important to take into account that you are on holiday and you want to enjoy that time but if you are looking to experience places without the crowds, I'm afraid the early mornings are your friend! Early and mid-afternoons are when most people will choose to travel so you have to beat the crowd!
Visit Burano and Murano with a half day excursion
Check the latest prices and availability for a half day trip to both Burano and Murano from Venice.
Burano FAQ's
Venice to Burano Vaporetto – Route 12
Where to get the Vaporetto to Burano – Fondamente Nove (F.te Nove)
How long does it take to get from Venice to Burano? – The journey is between 40-45 minutes
Where to buy Vaporetto tickets – Make sure to buy your travel ticket at one of the ticket counters or machines at your closest Vaporetto stop, if this is not an option, purchase tickets while boarding to avoid a fine
Validating Vaporetto tickets – You must validate your Vaporetto ticket prior to use by holding it up to the electronic card reader at your stop
How often is the Vaporetto from Venice to Burano? – A water bus runs approximately every 20-30 minutes but the number of journeys reduce as the day gets later so make sure to check the ferry schedule timetable here.
How much is the Vaporetto from Venice to Burano? – You are looking at a cost of €7.50 each way for use of the water taxis from Venice to Burano which adds ups to a total cost of €15 return. Tickets are valid for 75 minutes after purchase and can be used for transfers on the Vaporetto as long as you are continuing your journey, it cannot be used to turn back in the same direction.
A better option for you and perhaps better value maybe, as it was for us, is to buy the multi-day Vaporetto ticket in Venice which allows an unlimited number of journeys for your chosen ticket.
1-day ticket – €20
2-day ticket – €30
3-day ticket – €40
7-day ticket – €60
Travellers aged between 6-29 can opt for a Three-day Young Person's Travel Card for €22 although, to purchase this card, you will first need to buy a Rolling Venice Card for €6.
These can be purchased at several ticket points. The Rolling Venice Card is a great option as it also provides discounts for many tourist destinations along with unlimited use of the bus and water bus transport lines.
Some Other Islands To Visit Near Venice
Burano is not the only island to visit in the Venetian Lagoon, you may also want to take a look at making some further day trips and visit Murano and Torcello islands or discover the island of San Francesco del Deserto. There are many tours available to help you reach these destinations, even visiting all in one day. Below are some great suggestions for these tours.