This post may contain affiliate links of which we earn a small commission should you choose to purchase through them. This helps us to keep the site running. Thank you for your support
I recently visited Aperitivo, an authentic Italian restaurant in Aberdeen. This was my first time in Aperitivo, which is a Tripadvisor top-rated Italian restaurant in the city so I had faith that this would be a great place to try for an evening meal.
Aperitivo describes itself as a family-run business with 1940's-inspired décor and I had presumed that it would be influenced by that era with the Art Deco signage outside because although I had not visited, I was very aware of the Aberdeen restaurants location and of its name.
The website says that l'aperitivo is traditionally a time where Italians would catch up and unwind with some friends over some food and drinks. I believe it's the drink or drinks that you have before the meal which are meant to line the stomach or whet the appetite. Something to create a buzz of atmosphere with laughs and jokes and good conversation over some nice food and maybe a couple of glasses of wine. I was also intrigued to see mention of the restaurant taking a Sicilian twist to local Scottish produce to see how the two would be incorporated.
Visiting Aperitivo was something a little bit different for me, I'm not too familiar with the Aberdeen Italian restaurants although I would love to visit more of them and because of that, I had no preconceptions before or about visiting which can be quite refreshing. A real blank canvas.
My friend and I chose to make a last-minute online booking, make sure to visit the website to do so as this is a great option for introverts like me that hate to phone. I also chose not to look at the menu beforehand as we were visiting as part of the 'Eat Out To Help Out' scheme and I wasn't sure if there would be a limited or reduced menu in place due to the pandemic which I know many other restaurants were doing, so I didn't want to get my hopes up and decide on and look forward to a meal that was not to be!
Upon entering, the staff were very welcoming, friendly and guided us to our table. I was a little surprised by the interior as it was more dated than I had expected. The lighting was darker and the walls a deep red with quite a basic decoration. It was clean and there was nothing at all wrong with it, maybe just a little underwhelming and looked in need of a sprucing up.
Once seated, we were provided with a jug of cold water for refreshment and a menu to look-through before ordering and upon ordering, we were provided with some complimentary bread with balsamic and olive oil while we waited for our starter which I thought was a nice touch to ease us in and relax us before starting getting too caught up in conversation.
We chose to order two starters to share from the menu, the Bruschetta and the Carpaccio Salmone.
The Bruschetta was delicious. I really enjoy bruschetta, it's a popular Italian dining choice and it's nothing fancy but it can easily be very disappointing. The garlic bread was toasted and topped with crushed tomatoes, olive oil, oregano and basil. It was very garlicky, I'm sure that there were chunks of garlic on it and if you are a fan of garlic, it's a very welcome flavour. The tomatoes were also very firm and not heated or squishy which gave the dish more of a fresh texture and I thought it was very good.
The Carpaccio Salmone is 'slices of smoked salmon with baby prawns, bound in Marie Rose sauce and crisp salad leaves'. This dish was very, very cold. I imagine that it was straight out of a cold fridge cold and I felt that it took away some of the flavours but other than that, it was very tasty. The smoked salmon was quite a strong fishy flavour and I hope that makes sense, I know some people enjoy fish but not the some of the stronger tastes so just in case that is something you aren't so keen on but other than that, I thought it was a very enjoyable dish.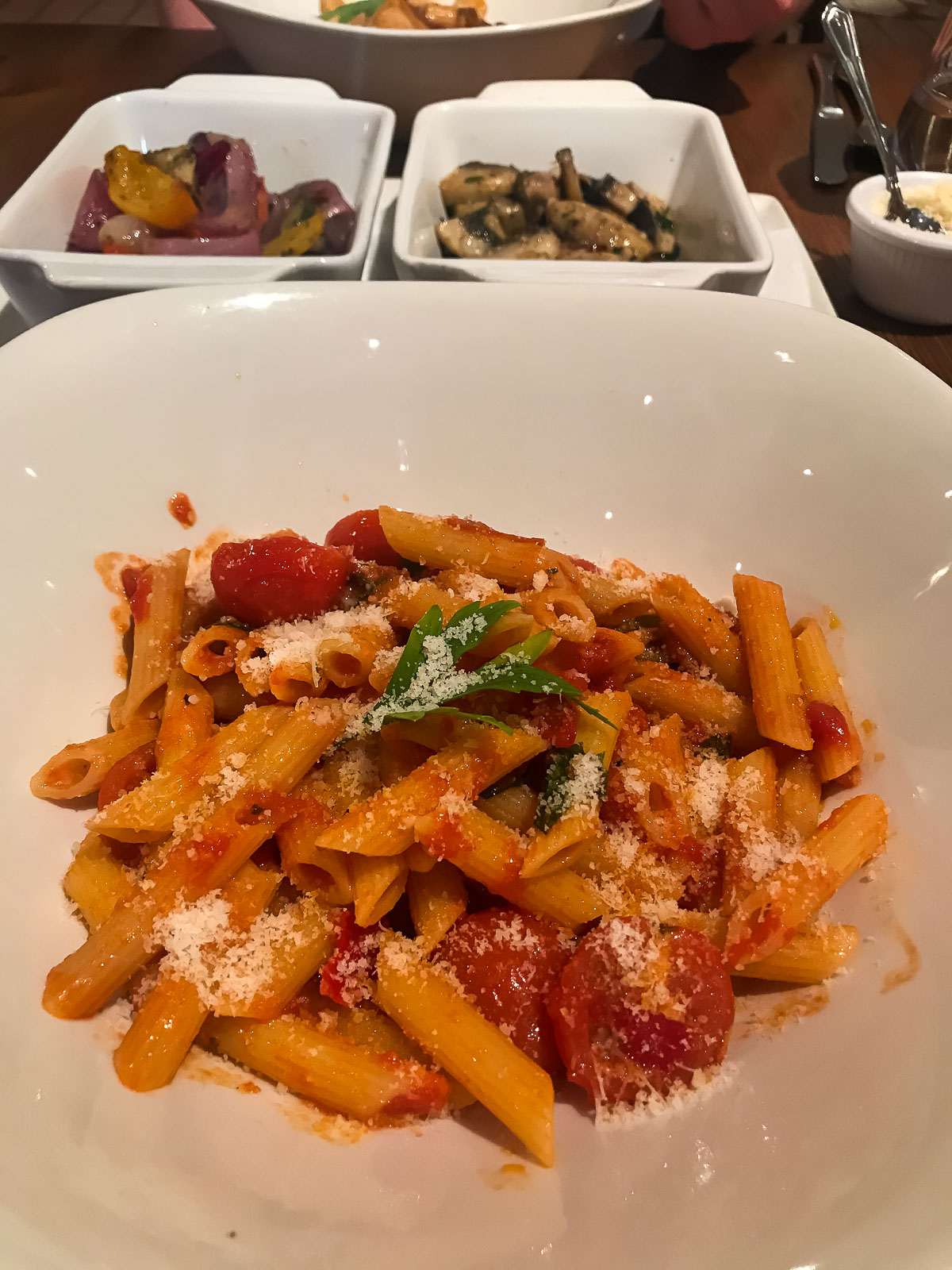 For mains, we ordered from the main menu and I don't think that there were too many choices but there was still a good selection of pasta dishes available, including one fish of the day and one chicken of the day dish. It is mainly pasta, there was no pizza or other alternatives that you might associate with visiting an Italian restaurant.
I chose the Penne Arrabbiata with no chicken or prawns although they were options and my friend chose the Rigatoni Vulcano. Because I had not chosen any meat to add to my main, I instead chose two vegetable sides to share and that I could add to my meal. These were the Misto Di Vegetali (mixed veg) and the Funghi Piccanti (mushrooms sauteed with chilli and garlic), both were delicious and really well cooked.
The Penne Arrabbiata was very good, it tasted fresh with garlic, tomato and chilli. The pasta was cooked perfectly, as you would expect and it had a little bit of a kick from the chilli but it could be easily eaten by those who don't like spicy food. The portion size was quite large for me so I did not manage to finish it but I believe that it is of good value for the cost of the meal.
My friend had the Rigatoni Vulcano which is 'large pasta tubes tossed with spicy sausages, mushrooms, roasted pepper and red onion with a light tomato sauce'. He felt that it was the right amount of food for him, the pasta was again, cooked nicely with good flavours but that it was nothing extraordinary that he would rush back for.
We were keen to stay for dessert (I was definitely choosing the white chocolate profiteroles) until a party of 8/9 people arrived and swanned into the restaurant one after the other, noisy, none with masks on and also not challenged by staff. Unfortunately, they were seated at the table closest to us and although I think there was a good distance between the tables, that cut the evening short and we decided to get the bill, leaving without dessert. I know that there will be many people like my friend and I who would have felt uneasy at this and I also know that there are many that would feel like those from the group that entered but perhaps it's something worth mentioning for those who are still choosing to remain more precautious.
Overall, I think we both really enjoyed the food given to us, it was all very nice but we also felt that we weren't leaving the restaurant already planning our next visit or desperate to shout about it to other friends.
The service was great, the staff were really attentive and on the ball. The courses came out very quickly, the main was ready to serve once our starter dishes were removed. It was a nice environment to be in at the start but we just not one that we were comfortable to stay at that time and I think that is a real shame. I do think that we are all trying to adapt and it can be an awkward conversation to have, certainly from reading other reviews online, I can see that service is generally very good so perhaps this was just unfortunate timing.
The pricing of our food was also great with our starters costing from £4.75-7.95 and the mains at £9.25-11.95. I think this is a standard price point for meals of this kind so I did not begrudge it at all.
I have since looked at the pre-theatre menu/lunch menu and I think that this is a fantastic deal as you can enjoy two courses for only £9.95 or three courses for £12.95. There is a varied selection of pasta, salads and sandwiches available on this deal.
More than this, you can enjoy a set menu which is available every day. A vegan menu which has 4/5 options that all sound really appetising, much like my Penne Arrabbiata they are choices from the main menu but without the meat. There is also a kids menu for those looking to take some younger visitors along and this is your typical children's menu with burgers, chicken strips and mac and cheese.
Aperitivo is a partner restaurant of Rustico Aberdeen which is another family-run Mediterranean restaurant nearby and another popular eatery in Aberdeen.
If you are looking for Italian restaurants in Aberdeen city centre then make sure to check these out!
Aperitivo
15 Bon Accord Street,
Aberdeen AB11 6EA
United Kingdom