This post may contain affiliate links of which we earn a small commission should you choose to purchase through them. This helps us to keep the site running. Thank you for your support
If you're in search of a secluded getaway in Scotland, then look no further than Carberry Tower in Musselburgh, just 6 miles East of Edinburgh.
A luxury 4* mansion house and estate with 35 acres of parkland, this is Edinburgh's own 'castle in the country'.
Carberry Tower even has royal connections with history going as far back as the 16th century where Mary, Queen of Scots surrendered the throne to son James VI and I on nearby Carberry Hill, until the present, where our very own Queen Elizabeth II and family would holiday.
Now an intimate hotel with 30 en-suite bedrooms, a wedding venue with it's own chapel and an award winning bistro, Carberry Tower is a fantastic alternative for those looking for somewhere to stay just out of the city centre.
I always feel there is something special about staying in a property steeped in history, so I was very excited to have a nights stay booked in this beautiful mansion house.
Having known nothing about Carberry Tower beforehand, everything we saw was down to a quick search of the castle online and we went with a somewhat vague idea of what to expect, something I have to say is very unusual for us but every now and then we want to visit somewhere without the stress of 'content' on our mind, which can be hard to turn off as a blogger. However, I think you will see that we succeeded in this due to the lack of 'blogger photos' and that this was very much intended as simply a nice getaway. That I have now decided to blog about.. there's an irony there somewhere.
How to get to Carberry Tower
Carberry Tower is set a little off the main road so you will need a car or taxi to arrive at the destination (helicopter coordinates are also available, should that be an option) but just FYI, Wallyford rail station is the closest station from the city centre, if you were looking to book a taxi.
The entrance to Carberry Tower is really something, with a long drive down a tree-lined driveway with vast open space all around, leading you to this beautiful tower house at the end of the road, which is no less impressive once you're inside.

On arrival, we were met by a lovely inviting warmth, which was even more welcoming due to the heavy rain outside and we found the staff to be helpful without being overbearing which was also much appreciated after a long day travelling.
The Rooms at Carberry Tower
We located our room on the first floor of the hotel and once inside were very pleasantly surprised at the size. Staying in The Turret Suite we were greeted with some chocolate covered strawberries and cream and instantly noticed that the room had some beautiful original features such as the fireplace and working window shutters, and interestingly, the bathroom was found through a door to the back of the room and up some stairs into the turret area.
The Turret Suite has views facing the grounds to the side and the driveway to the front and is one of the oldest parts of Carberry Tower. Rooms are also provided with tea and coffee making facilities along with some small biscuits and I believe that all rooms have TVs.

Although the decor within the room was quite contemporary with soft coloured walls, dark woods and some deep reds, it didn't take away from the architectural splendour within the building.


The bathroom was very modern in decor, although one thing we found a little disappointing was to find that the toiletries were attached to the wall. Now, don't get me wrong, I am in no way saying that I expect free toiletries nor do I expect to take them away but for a luxury 4* hotel with ample space, I didn't feel it hit the mark in that instance.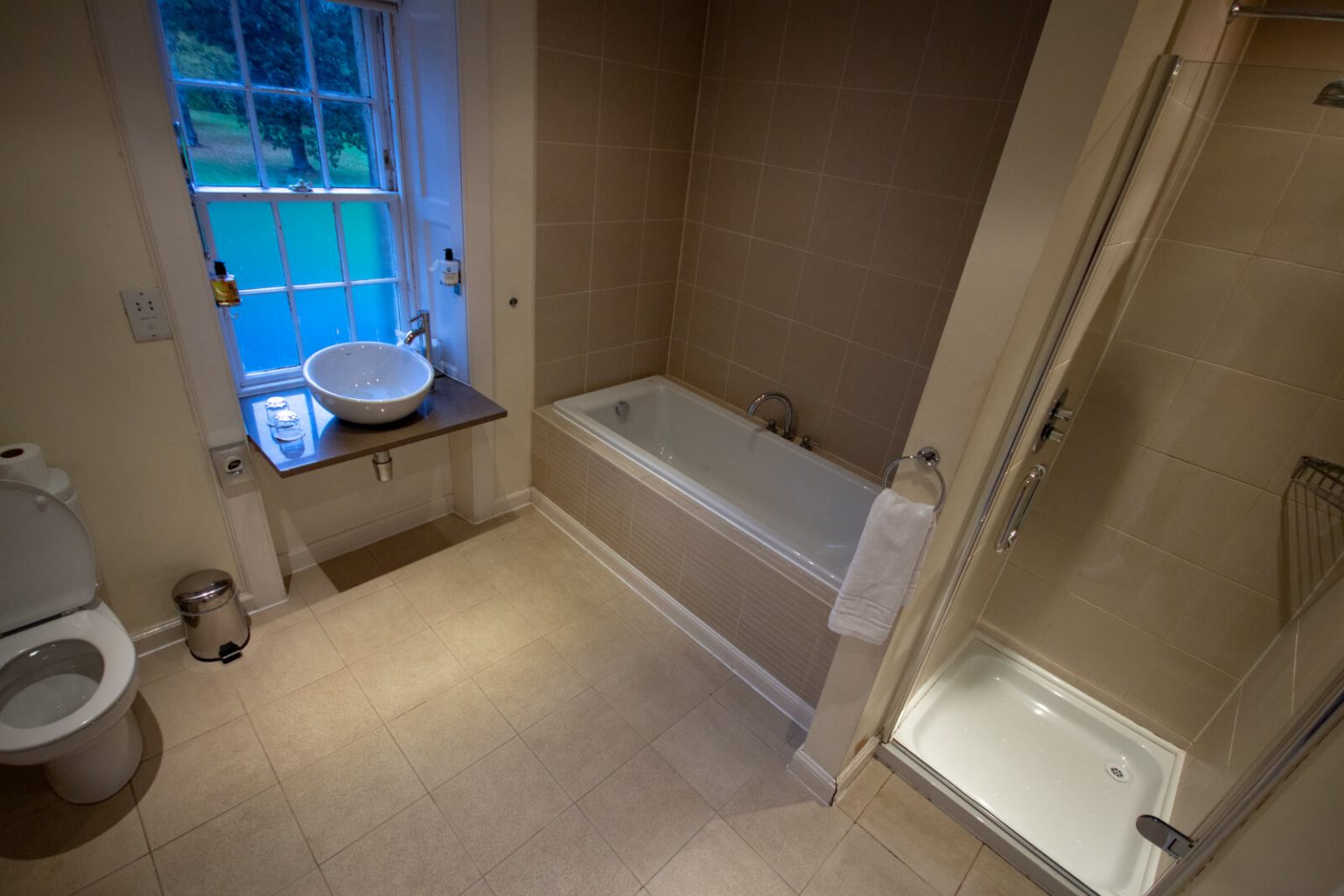 Once settled in the room we chose to investigate the hotel a little. No information was provided to us on this but by this point it was later in the evening and we didn't want to interrupt any goings on but we did get the chance to view some of the facilities.


The hallways are where you will experience a true sense of being in a castle as there are suits of armour, stained glass features and lots of carved panelling.
You will also find The Library filled with an array of chesterfields, armchairs and walls lined with books, The Music Room with an intricately carved fireplace from 1616 and bespoke pipe organ and The Drawing Room for afternoon tea. We also came across a games room on the ground floor with billiards table but I am sure there is much more to find.


Our sleep at Carberry Tower was brilliant, I can't complain one bit. We heard no noise from nearby rooms, which are close but also far enough away to allow for privacy. I found the bed to be very comfortable, very spacious and I found the duvet and pillows to be just right. Lightweight yet warm.
And thanks to Carberry Towers grand estate, you are sure to see some wildlife. I was very surprised to open the shutters in the morning and spot numerous grey squirrels in the gardens but there is also ample opportunity to spot parkland deer, pheasants and more.
Carberry Tower has also been voted most romantic locations in Scotland for a wedding, with champagne terrace and stunning backdrops.
I would highly recommend a stay at Carberry Tower to anyone looking for accommodation in or around Edinburgh, or simply if looking for a countryside getaway as it is great for both couples and families with plenty to do in and around the grounds.