Courtyard by Marriott Edinburgh West – A Review
This post may contain affiliate links of which we earn a small commission should you choose to purchase through them. This helps us to keep the site running. Thank you for your support
AD – Before we go any further, we must tell you that this was a gifted stay, but that doesn't affect our review which is always impartial.
If you're heading to Edinburgh in Scotland soon, whether that's for shopping at the new St James Quarter, seeing the sights of the old town, or catching your next flight from Edinburgh Airport then the Courtyard by Marriott hotels at Edinburgh West could be the perfect place to lay your head. 
Let us tell you exactly why.
About the hotel
The Courtyard by Marriott Edinburgh West is a 4-star rated hotel on the outskirts of Edinburgh city.
Roughly 7 miles, if you're taking the castle to be the city centre, which makes it the ideal base for those looking to explore the city but seeking the tranquillity of being away from all the hustle and bustle that comes with a city centre. 
Now you may think that with this hotel being perfectly positioned as an Edinburgh Airport Hotel that it would be anything but tranquil, but rest assured. We heard absolutely no planes, traffic, bagpipes or otherwise and had one of the best nights sleeps we've had in years.
The hotel is also fantastic for those who love sports and exercise. With one of the top sporting facilities in the country next door, the Oriam centre.
What makes it even better is that all guests have access to use the Oriam centre facilities included in their stay package. 
Whether that's spending some time in the weights room, relaxing at some Yoga classes or some solo cardio, it's all included simply by booking in at the reception of the hotel.
Getting here
We arrived at the hotel by car and were pleased to discover that the hotel offers free parking for guests, with plenty of spaces to go around. Something that can quite often cause difficulty if staying in Edinburgh city centre. 
If you don't have a car then don't worry, as there's a bus stop right outside of the hotel that we frequently saw both the Lothian Buses and First Bus services operating. 
The Lothian bus service will take you right in to the heart of the city and costs around £2 for a single journey that takes around 20 minutes.
First impressions
The first thing that we both noticed about the hotel was how green everything around it was. 
There were so many trees and grassy areas which had a few people sunbathing on, great at the best of times but given that we had visited during a mini heatwave and were currently being baked alive by temperatures that no Scot should ever be subjected to, it was wonderful.
Looking at the hotel from the outside, the design was modern with floor to ceiling windows that allowed the glow of the late afternoon sun to fill the rooms, giving us a teaser of what to expect inside.
Entering the hotel I was very pleased to find that the temperature inside, in no way reflected the temperatures outside and immediately felt myself relaxing as the cool air hit me. 
The reception was unattended as we walked in, but we were very quickly greeted by a member of staff who came over to welcome us to the hotel before our bags even hit the floor.
Our stay was the evening meal, bed and breakfast option and we were given a run down of the hotel layout and where to head for dinner reservations a short while later. 
The room
Heading past the bar area, we took the lift up to the second floor and to the end of the hallway to find our room. 
As we were about to insert our keycard, I noticed that they were actually made out of cardboard.
Now I'm not sure if these were single use keycards due to the ongoing pandemic, but it was quite cool to see that plastic had been changed for a more environmentally friendly option. 
Our room was a and as you walked in, it opened up to showcase those full length windows that I mentioned earlier, with views over the green areas outside.
The first thing that I noticed was the size of the bed. To say it was huge is an understatement. 
I believe that it was a king size bed and the amount of space on offer around the room gives you an idea of just how big the rooms actually are. 
It had a nice modern feel, with a smart TV on the wall that allows you to screencast from your phone/tablet if the channels on offer aren't enough.
Each room comes with a desk area, as well as a small table and chair for those perhaps dining in their room.
This is perfect for those who may be travelling for work and need somewhere to set up their laptop workstation.
Another thing that caught my eye immediately was the sheer number of plugs. They were everywhere and some of them even had USB ports, so no complaints if you've forgotten the plug part of your phone charger. An excellent addition to an already impressive room.
Along with all the rest of the usual in-room amenities it was nice to see a full size ironing board and iron in the cupboard. Something that you quite often need to head down to reception to borrow at many other hotels.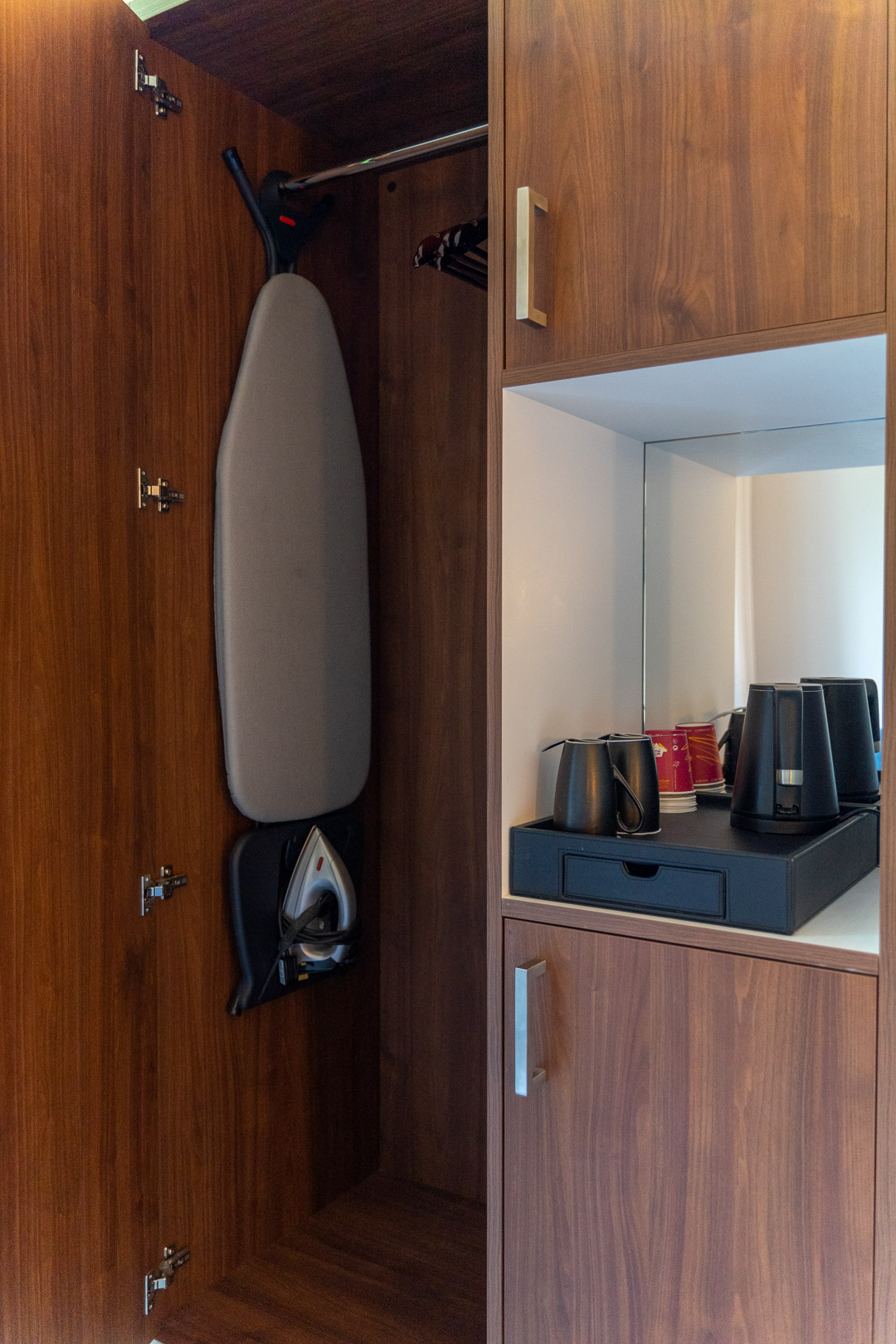 The bathroom
Just before you enter in to the main room area is the bathroom which can be found behind a frosted glass door.
Featuring a walk in shower, sink and toilet with plenty of surface space for your toiletries as well as some small bottles of shampoo, conditioner and body wash.
The bathroom locks from the inside and gives you plenty of privacy, even though there's a slight gap between the door and the frame that I imagine is more of a safety measure than a fault with how it was built as it would allow someone to unlock the door from the outside in an emergency. 
The Avenue restaurant
After freshening up, it was almost time to head down for our dinner reservations. 
We took the opportunity to explore more of the reception area and discovered all the meeting spaces, seating areas and just general chillout zones that were on offer. 
If you're down in the area and staying at the hotel for business purposes then this is a great hub for spaces to meet and network with plenty of individual booths that have TV's which I assume you can hook your laptop up to. 
There was also a full set of glass board room style offices for larger breakout space needs.
It really does seem like this hotel has all bases covered in terms of their potential customer. 
After our little exploration, we took our seats for food and the first thing we noticed was going back to our initial impressions of the hotel when we walked in. 
It was cold.
With the restaurant being open plan with the reception area it was quite a chilly environment.
Lauren is somewhat of a slow eater and we worried that with the area being so cold, it would chill her food in no time.
The menu
The menu in The Avenue restaurant was as you would expect in a hotel restaurant. Much of the usual favourites but with some added ooh's and ahhh's thrown in for good measure. 
There's not a huge amount of choice, but it's definitely more than enough to cover all bases in my opinion. 
When ordering, we decided to go for three courses. 
I mean, it was our first trip away in over a year, so it was time to treat ourselves.
I went for the Dirty Fries with beef to start and Lauren opted for the Feta and Tomato Fondue.
When they arrived, I'm going to admit it. I panicked.
The portion sizes were huge, and I'd already put in my order for the mains too so there was no turning back.
My starter was excellent. To the point where if you had told me, that was the meal done, I would have been completely satisfied. There was loads of beef and I really have to say that this could have been a main on its own it was that big.
Lauren enjoyed her starter, although would have preferred for there to be some more tomato as feta on it's own can become quite dry.
Moving on to the mains, we were a little underwhelmed which was disappointing given how good the starter was for me. 
Now, that's not to say that the food wasn't good. It was more than edible, but nothing about it screamed great value for money. 
At £15 for my chicken strips, chips, with slaw and honey mustard sauce and £13 for Laurens Cambodian paneer curry with rice, it was quite pricey.
I guess that's pretty standard for hotel food prices, but I was a little let down by the mains as it seemed to favour quantity over flavour. 
And after a short breather, it was time for dessert. 
Having had a lot more food than we anticipated we opted to share and went for the Belgian waffles with caramel sauce and ice cream.
This is where Lauren and I have to disagree with each other. I enjoyed the dessert, although the waffle was a little bit hard. Lauren wasn't too keen as it was cold and didn't feel freshly made. No big deal though, it just meant more for me.
The sleep
Rolling back up to our room, stuffed and sleepy, we got ourselves ready for bed.
The room was quite warm after all the sunshine streaming in through the day. So on went the air conditioning. Something that can quite often be missing in UK hotels, as it's never usually hot enough to require it.
Thankfully, this hotel meant that it wasn't going to be an uncomfortably warm nights sleep.
We tucked in to bed, turned on the laptops to get some work done and immediately connected to the hotel Wi-fi which was free to use and was extremely simple to connect to. Nothing pains me more than when a hotel asks for every detail about your life in order to connect.
After an hour or two of work, we drifted off to sleep.
Now either the hotel itself wasn't very busy with guests or it's the quietest hotel that I've ever stayed in. I'm not sure, but we never heard a peep from other guests, traffic or anything. Even the aircon was pretty quiet.
I didn't sleep all the way through because the air con cut out mid way through the night and meant I got a bit too hot. It may have been me not setting it correctly, so I can't put that down as a negative at all. 
Other than the short wake up, we both had a great nights sleep and were up early for breakfast as we had a busy day ahead of ourselves. 
Breakfast & check out
Heading down for breakfast, we were greeted with a buffet of choices, although all of the food was being served to you from behind a counter, again due to the pandemic. 
Choices included cooked breakfast options as well as continental.
Neither of us felt up to having a cooked breakfast so early in the morning, so opted for some fresh fruit and yoghurt with tea, coffee and apple juice.
One thing that really surprised me was that we had options when it came to coffee.
I'm so used to just getting provided with filter coffee for breakfast in hotels, but we had access to the full set of options that the machine could make which was a nice change and meant I could opt for a morning latte to kick start the day.
Breakfast was very nice and the fruit was lovely and refreshing. 
The perfect start for the day ahead.
After breakfast, we headed to check out of our stay at the Courtyard by Marriott having had an overall fantastic stay.
As with everything, there's never going to be perfection all round, but this hotel left us with very few negatives to pick up on. 
If you're down in Edinburgh for an extended stay, then we would perhaps suggest checking out other places to eat for your evening meal as there are lots and lots of choice on offer in the city.
We would definitely consider staying here again, especially if we had an early morning flight from Edinburgh airport.
The staff were lovely and helpful and we know we'd be guaranteed a quiet comfortable nights sleep.
Get 2 nights for the price of 1 at the Courtyard
Make the most of your trip to Edinburgh with this fantastic offer. Hurry though, it won't be around forever.