This post may contain affiliate links of which we earn a small commission should you choose to purchase through them. This helps us to keep the site running. Thank you for your support
This is my second attempt at writing about Coyote's in Inverness, the first having been lost in the realms of… well, I'm not entirely sure where. I pressed save, I really did…really!
So, please take this as a testament to how great my experience was because I would not put myself through the displeasure of attempting to rewrite my long-forgotten words for anything that I found mediocre.
For a little bit of context, we were staying in the Highland Apartments nearby, desperately in need of an evening meal after a long day of travelling and sightseeing. In all honesty, we had really hoped to make full use of the apartment facilities and order a takeaway, sit about in loungewear and eat in front of the tv but our plans fell through last minute (due to some, unsavoury, reviews) and we found ourselves wandering the streets of Inverness city centre in search of some food.
I know that there are quite a few chains in the city but we were looking for something unique to eat in Inverness which is when we came across Coyote's.
Where is Coyote's?
Coyote's is in a great position, it's across the road from the train station so it is very central and there is side street parking nearby should you need it. Although, I did find it quite tight once we were inside so if wheelchair access is required, I would call ahead to reserve one of the more accessible tables.
Please note, that Coyotes Inverness has now moved and is situated down in the old Jimmy Chungs building by the River. A much larger location and an excuse for us to visit and try it all over again.
It was busy, which I take as a good sign. There was a steady stream of customers, the tables were filled and there were lots of delivery drivers turning up as well. We inquired as to whether there would be any availability that evening and we were advised that it may be a 20-minute wait, which was fine, so we placed our names on the waiting list.
Just to be clear, they do offer takeaway, so if you find yourself in a similar position to us, it is an option but by that point, we were already up and out so we decided to wait.
We spent the next 20 minutes wandering the streets of Inverness aimlessly. Not wanting to stray too far from the restaurant but also keeping an eye out for a spot to visit for breakfast the following morning.
That is when we came across The Rose Street Foundry building which, lit up with the evening sky, looked very impressive. I don't know much about it but it was a truly beautiful building.
Once our table was available, we were seated quickly and provided with a menu. The menu offers beef, chicken, vegetarian and vegan burgers with a selection of toppings and sides of fries to choose from.
All of the tables were booths with long wooden tables and benches. There weren't too many, maybe 7 or 8 that I could see and it definitely had a younger, alternative vibe in the decor but honestly, there were customers of all ages and styles dining, so don't let perceptions put you off!
I am a big believer in food envy so I was scoping out the tables nearby to deduce what looked good, Peter on the other hand, had already made his mind up that he felt like chicken that night. I chose the cheeseburger because evidently, I wasn't being too adventurous but I will say that I am having such a thing for pickles at the moment so once I saw those listed, my mind was made up.
Coyotes Inverness Menu
Peter chose the spicy fried chicken burger and we ordered some cheesy dirty fries to share along with an extra side of pickles and two sauce pots.
I would say that the food arrived quite quickly, 10 minutes or so. I really didn't notice the time pass as the playlist was SO good! If you are a millennial or simply like the mid-2000s pop-punk/rock era of music, you will be in your element. I was. Peter was. It was brilliant!
When ordering, you can opt to have either a single or double patty which I know will appeal to many people but as always, I chose the single. When it arrived, I was a little surprised as it doesn't look like your typical burger. Ok, it does and it doesn't, it was a little rough around the edges as though it had been grilled and was much thinner than the typical burger you receive elsewhere but it felt like good quality. It was delicious.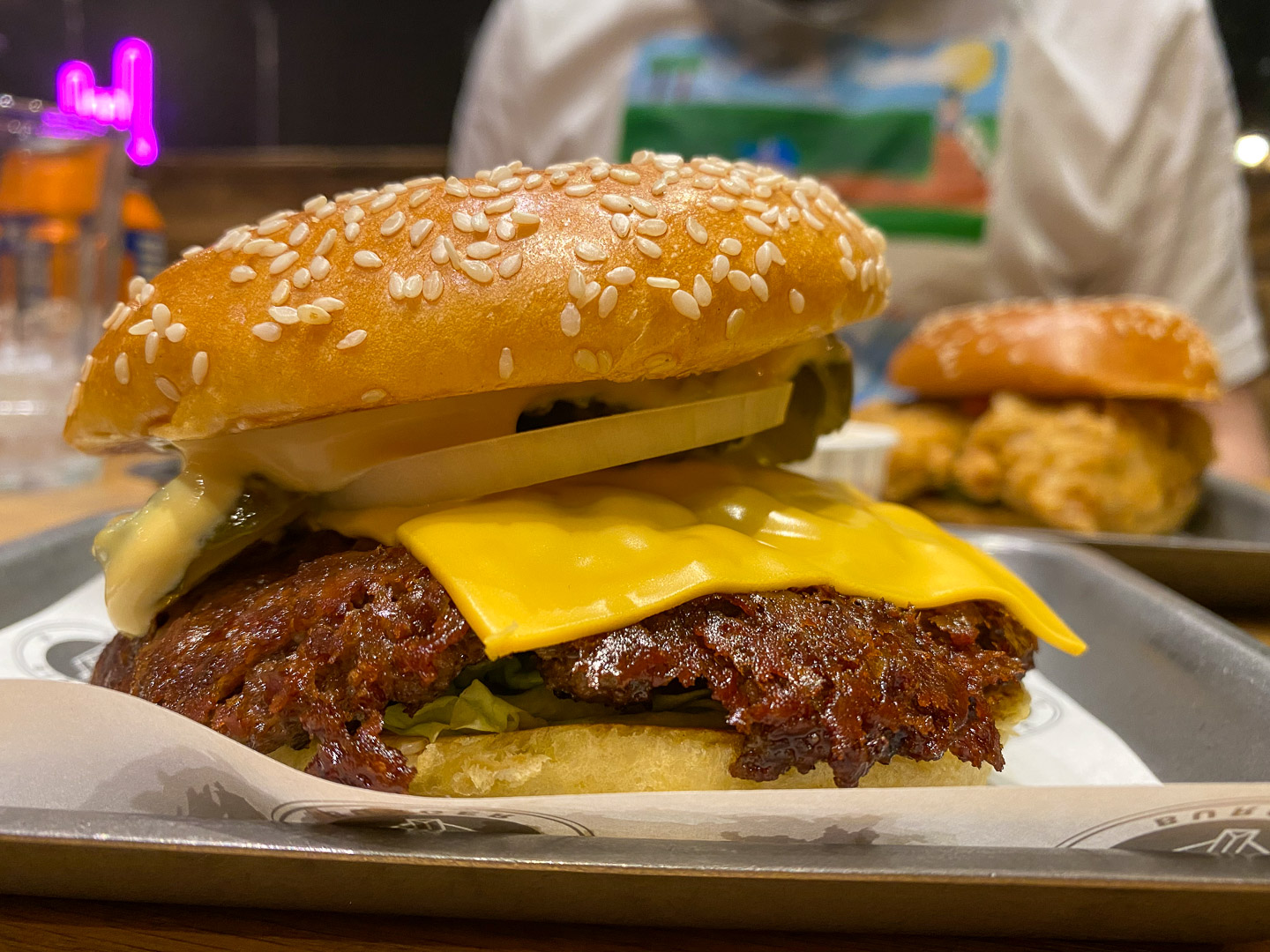 The burger sauce was also delicious and the pickles, well, I said that I was having a moment for pickles, and I am, but, oh my goodness, I think I'm so used to getting a measly two or three pieces that I was sure that I would want more which is why I ordered the side, but I must have had two whole pickles chopped up. I didn't need it, but I was very happy about it!
The sauce pots were a great addition, we got one of the burger sauce and one of garlic mayo, the burger sauce was so good that we barely touched the garlic mayo, which would normally be our go-to!
I actually finished my burger which is almost unheard of but I really enjoyed it, Peter thoroughly enjoyed his too. Everything tasted fresh and of high quality, even the fries were brilliant, they had a lovely soft cheese sauce running over them and the portion sizes were just right.
When it comes to cost, I suspect that some people may find it a little pricey as it was £8-16 for the burger and toppings alone with an added £3-6 for sides.
Perhaps it's not somewhere that you would visit too often as there is no doubt that costs can quickly add up but it is a lovely place to enjoy a meal and we had a wonderful experience.
Next time that I am in Inverness, you can be sure that I'll be making my way back to Coyote Burger to taste some different things on the menu!
Coyote's Inverness Address
Coyote Burger
27 Bank St,
Inverness
Scotland
IV1 1QU