Murrayshall House Hotel Review
This post may contain affiliate links of which we earn a small commission should you choose to purchase through them. This helps us to keep the site running. Thank you for your support
We made our way down to Murrayshall house hotel in Perthshire on a mildly warm yet overcast day. This is typical of Scottish weather in spring, and really, I should have known better than to hold out hopes for some sun… but then again, where would we be without some good old Scottish blind optimism?
Perth is an area that I haven't had much experience in visiting despite it being so near, as I find is often the case with those areas nearby. We're so quick to go the distance and explore further afield but rarely spend the time in those places on our doorstep. However, I recently discovered and now believe that it is where my grandmother was born and with that in mind, I have developed a keen interest to discover more about it.
Murrayshall Country Estate and Golf Club is a luxury 4-star hotel which is set against 365 acres of luscious tree-lined grounds and countryside. It is also just 4 miles from the beautiful Scone Palace, somewhere that I highly recommend visiting for all ages.
When we arrived at the country house, we were taken aback by the amount of greenery surrounding us. Although we knew that there was a golf course on the grounds, we hadn't anticipated those gloriously picturesque views on offer much further beyond, as far as the eyes could see.
Now, I won't make any bold claims about golf or golf courses as my knowledge is very limited, in fact, it is virtually non-existent but I can tell you that the Murrayshall golf course boasts of 27-holes which are open to all levels, meaning no prior handicap certificate is required. There is a fully-stocked shop on site, a driving range and there is also tuition available, should you be interested.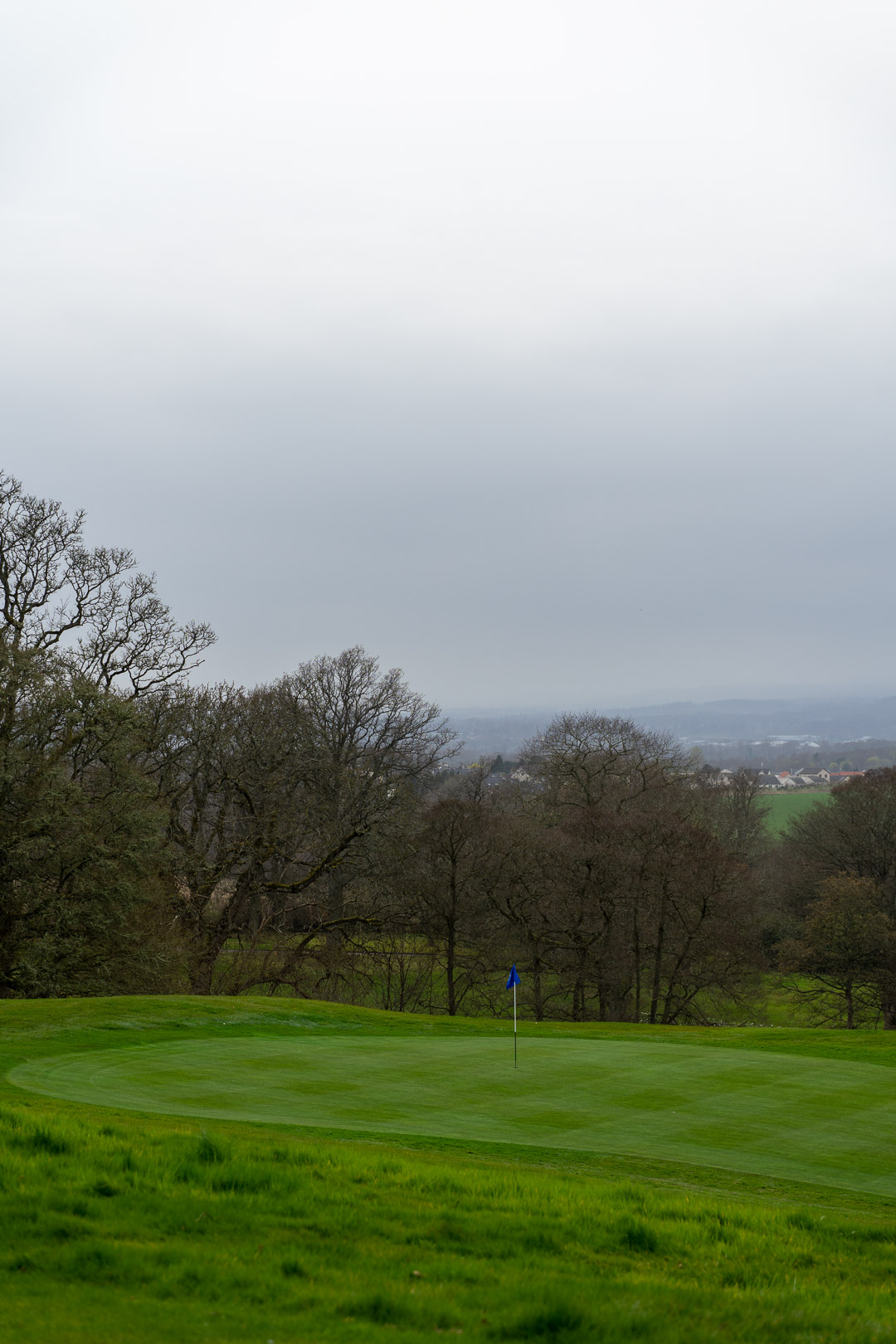 The Hotel
We received a warm welcome upon entering the hotel, before checking in quickly and with ease. Without taking too much time looking at the hotel initially, we made our way up to our room to drop off our bags. We packed lightly as we were only staying for one night but nevertheless, bags can be a bit of a burden to carry.
We hadn't looked at the rooms online prior to visiting as we wanted a surprise, so we really weren't sure what to expect. We walked to the top of the main staircase from the lobby, followed by a much darker and narrow hallway to our room. Once inside our Deluxe Room, we were very pleasantly surprised by the size of it, the decor and more so, the view.
Aesthetically, the grounds and views of the Perthshire countryside in the distance are beautiful. We had a lovely view overlooking one of the holes from our bedroom and despite there being many people and groups playing golf while we were there, we heard no noise.
Our bedroom was located in an original part of the house so it had those wonderful high ceilings and original features that I love in older buildings. I think it is decorated with, what I would call, a modern traditionalism. Touches of check and decorative panelling, painted a lovely soft grey with cast iron radiators and both spotlights/chandelier on the ceiling. It had elements of both the old and the new but they merged together seamlessly to create a cosy, comforting feel.
The room was extremely big and let in a lot of light which was lovely to walk into, the bed itself was a pair of twin beds which were connected to create one and there was a table with two chairs by the window, a stand-alone table with a mirror and a flatscreen TV on the wall. We didn't use the TV and I don't believe that you could easily watch it from bed, I suspect you would be required to sit by the table to see the screen comfortably.
There were tea and coffee making facilities, some shortbread and complimentary bottles of water. We also received a complimentary assortment of chocolates although I am not sure if this is standard, if they are, they were delicious but if not, I'm sure for special occasions that they would be more than willing to assist.
The bathroom was entirely modern in decor, tiled throughout, with a large and brightly lit mirror above the sink, although sadly this room also had a shower over the bath. This doesn't actually bother me at all, it's not my preference but I am fine with it, my criticism is that I know that it would be an issue for many other people and I just don't believe that a shower over the bath is best practice in today's time.
I was also a little bit disappointed with the electric shower because it looked similar to one that I used to have in a property that I lived in, which was not powerful at all, especially for those of us with long hair but for the same reasons as my home, I suspect that this is because of the position within the original part of the building and is something that cannot be easily changed due to the age. On a more positive note, the bathroom was filled with Ishga products, most notably the shampoo and body bar, which I admit I was dubious of using, but it is fantastic! Really fantastic, in fact.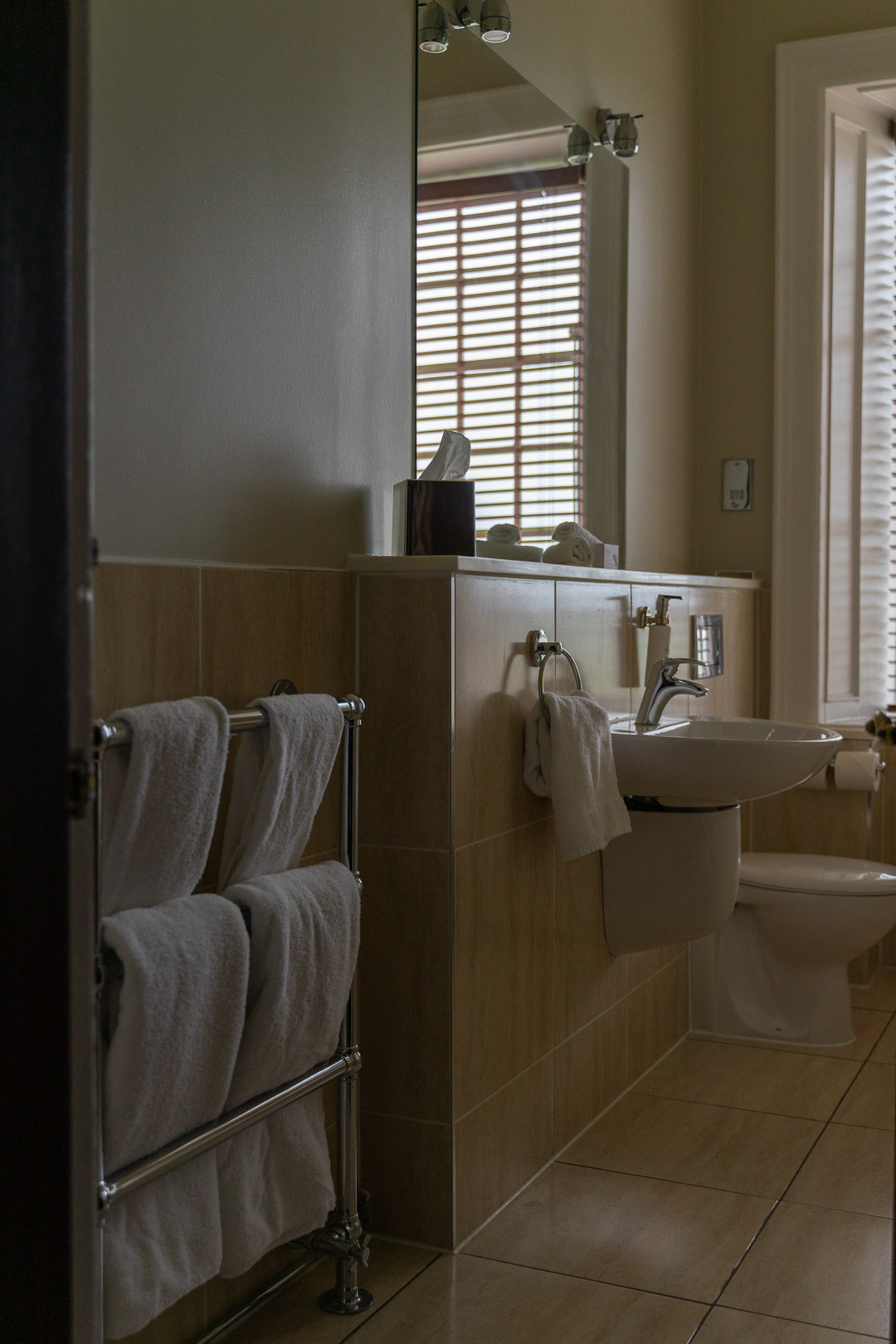 After sufficiently noseying around our room, we decided to do the same around the hotel itself and much like the bedroom, I would describe its decor as having a modern traditional Scottish influence.
The two public rooms that we entered, one of which could be described as more of a library and the other as a lounge, although both are clearly used as lounging areas, which each had a glorious open fireplace.
A fireplace is by far one of my favourite features in any property and people naturally tend to navigate towards them in the evening, so having the option of two is brilliant!
The room that I referred to as more of a library had this gorgeous blue Chesterfield sofa that will remain in my subconscious for a long time to come and the fireplace also had glorious club fender (perch) seating surrounding the fireplace. It was lovely and cosy, while the larger room across the hallway had a small bar area along with tables and various seating options. There were two guests enjoying an afternoon tea, which looked delicious, but we were mindful not to be intrusive and didn't spend as much time looking around.
Instead, we decided to walk around the grounds and appreciate the views along with a stop at the walled garden, sadly this was being worked on so there were very few flowers to see but we were assured that this is beautiful in the height of summer and a very popular spot for wedding photography.
On the way back in we passed the more casual of the dining areas, Cairns. There were quite a few golfers relaxing in this area as we walked through and they were enjoying drinks along with their burgers and chips. The food looked great and I definitely took a look at the menu once I got back to the room, the menu was far larger than I had anticipated with a wide selection of burgers, hot dogs, salads, pastas, curries, fish dishes and more.
Food at Murrayshall
However, rather than dining at Cairns, we enjoyed an evening meal in the alternative dining area, Eólas, where they offer a tasting menu and a more formal dinner menu. Please don't mistake my use of the word formal as being of any particular or as stuffy in any way, it was still very much a dress as you please environment, there were families dining alongside us and I would simply say that the menu was a little more refined. We chose to eat from the dinner menu which offered two and three course packages.
We, of course, chose three.
Starters and desserts are my favourite dishes, Peter loves a main. So, it was a no brainer to go all in and order the three. I also believe in indulging a little when on a trip away from home. It's a holiday!
To start, I enjoyed the hand dived scallops while Peter had the wild mushroom risotto. His was gone in seconds, wolfed it down, I never even got a look in so I can only assume that it was satisfactory! My scallops came with a coconut curry, some apple and some potato and they were divine.
Really, really lovely.
For mains, I had the Highland venison loin and Peter had the slow cooked beef cheek. My main was so tender and cooked beautifully. I was highly impressed. Peters beef cheek was a little too tender for him, he felt that it was a little bit fatty but I think that is a personal preference. It did not dampen the mood of the meal at all but I think he developed a little food envy of my main.
We also got a side of herb buttered baby potatoes, totally unecessary but totally worth it. In honesty, I like potatoes with my meal and I just wasn't sure that I would have enough with my main so thought it best to have too many than not enough.
Reasonable logic, I thought.
When it came to dessert, I chose the apple crumble soufflé with clotted cream ice cream and Peter chose the rhubarb crème brûlée with shortbread. Again, these were delicious and we were absolutely stuffed by the end, probably those extra potatoes.. but we managed to finish our meal. I believe my soufflé hadn't risen to begin with so another attempt was made and this thankfully gave us a little breathing room before desserts.
I think it should be noted how brilliant the serving staff were with these regards, standards were very high but not only that, they were so incredibly welcoming and friendly. And very knowledgeable! It made the evening all the better to hear little tales and interesting facts about the food, the hotel and the surroundings.
Once we had eaten, we made our way back upstairs to the room. I opted for a cup of tea in the room as opposed to the dining room, and not that I needed it, but I decided to bite into some of those chocolates before bed. I really didn't need it, I know! Gluttony at its finest but again, it's some of that holiday indulgence.
We spent quite a bit of time faffing about with the light switches, trying to work out which ones worked which lights as it didn't seem to make sense to us but we got there eventually and after a very long day and a very full stomach, we fell asleep quickly.
The room felt a little bit warm and stuffy through the night, we hadn't altered the radiator at all but despite that I had the best nights sleep that I have had in a very long time. I habitually wake up during the night for no reason other than to wake up but for the first time, in a very long time, I did not wake and I felt so comfortable and well rested come morning.
Thankfully, we had set an alarm for the morning as I fear that we would have slept straight through to check out if we hadn't. We arose and quickly showered. I used the Ishga shampoo and body bar which was fantastic, the shower, although not extremely powerful, was powerful enough and the morning light that entered the room made for a joy to get ready in. We opened the windows and enjoyed the sounds of nature and it felt like another world for that short time.
For breakfast, we made our way back down to Eólas, where we had eaten the night before and there was a hot and continental menu on offer. I chose some fruit salad, we both had a fruit juice and then toast, teas and coffees were served. Our order for hot food was taken where I chose the eggs Florentine and Peter chose the full Scottish breakfast.
Most of the hot breakfast menu had servings of egg and we both chose to have poached eggs, I think this is where our disappointment lay, out of the 3 poached eggs that were served, all were hard boiled. No hint of a soft yolk in any of them. And of course, we enjoyed them nonetheless and it doesn't cause any major issues, bar the disappointment, but as the meal the previous night had set such a high standard, we had an expectation and it definitely was not met with the breakfast. We both also felt that the serving staff from the previous evening would not have allowed them to be served as they were, so there seemed to be a little bit of a disconnect in standards from that point.
After breakfast, we collected our items and prepared to check out, sadly. Our stay at Murrayshall Country Estate was excellent, the staff that we met were brilliant and the location was beautiful. I think it is a really lovely Perth hotel, even better if you like golf, but it is somewhere that I would definitely recommend to loved ones, friends and of course, you, to visit!
Book your stay at Murrayshall
Check the latest prices and availability for Murrayshall Estate Hotel
Murrayshall Address
Murrayshall Country Estate
Murrayshall Road
Scone
Perth
Scotland
PH2 7PH