This post may contain affiliate links of which we earn a small commission should you choose to purchase through them. This helps us to keep the site running. Thank you for your support
I imagine that if you have stumbled upon this post, you have either heard about the new Six by Nico Aberdeen restaurant and want to know a little bit more about it, or you are already familiar with the brand and are considering visiting. Either way, let us show you a little of what's in store!
You can find Six by Nico in the former Topolabamba restaurant space at the top (or bottom) of Union Street, depending on how you look at it. The Holburn Junction end. I always consider this to be the top, but I know numerically it is the bottom… and I know that this is one of Aberdeen's great debates, so I am not alone in my thinking!
Firstly, I am so glad that chef Nico Simeone saw value in opening a North East Scotland restaurant because having already opened restaurants in many of the large UK cities, it could have been very easily overlooked.
The new Union Street restaurant is a welcome addition to the city centre and I think most of us, particularly those of us that live in Aberdeen would agree, an area that has been crying out for some fresh life!
Secondly, this style of dining experience/tasting menu experience is something that is also quite new to Aberdeen. I know the odd place holds special nights or offers them occasionally, but this has a more refined, luxury feel that I think will really appeal to a lot of people here.
Once we arrived at the restaurant, we were enthusiastically greeted at the door before confirming our reservation. I suspect that this is somewhere that will always be best booked in advance to save on disappointment, but with that being said, this is easily done and relatively flexible with timings.
I suspect with new menu launches it may be somewhat busier but I don't envision anyone having to book too far ahead for a table.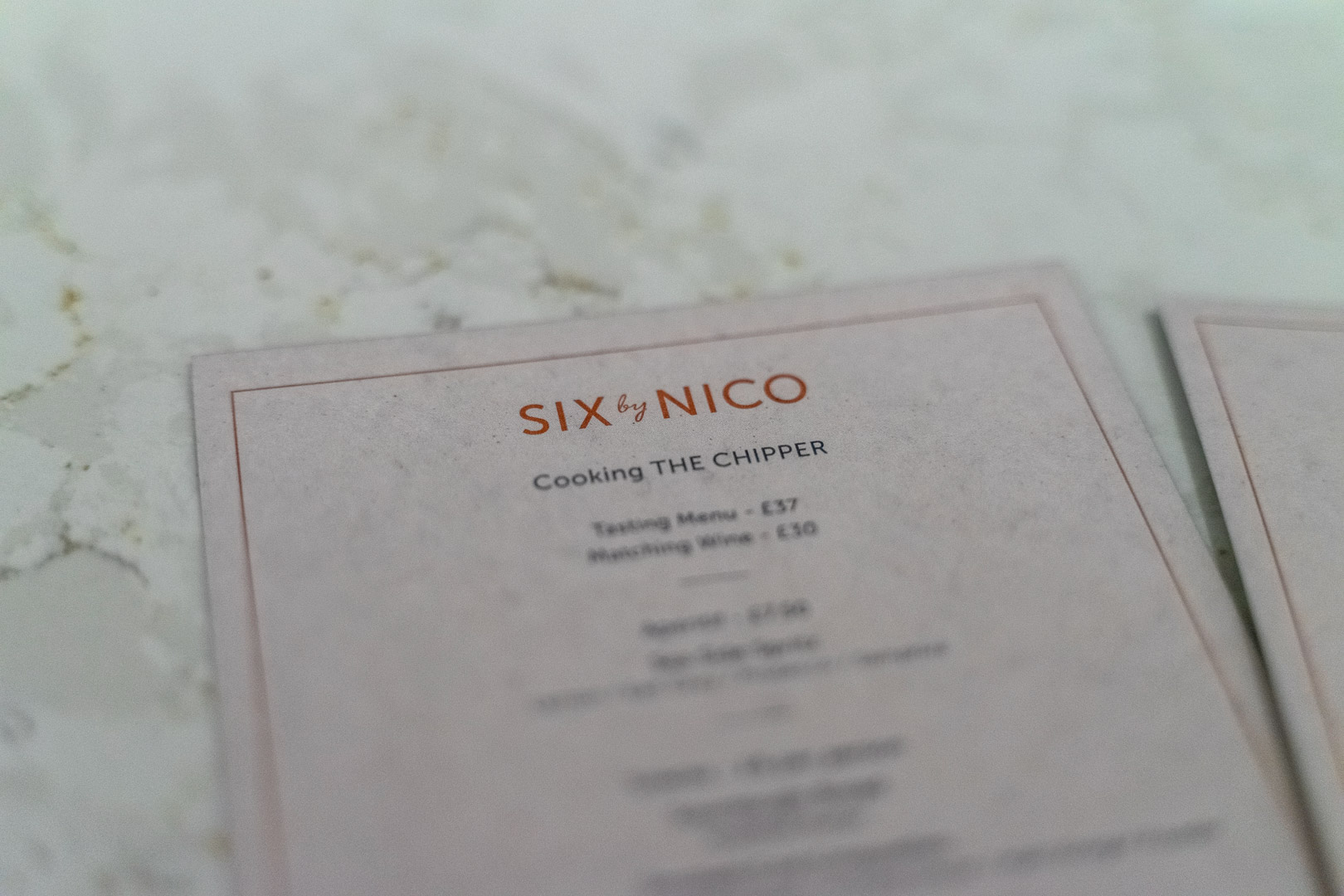 The 'six' in Six by Nico, of course, refers to the six course tasting menu offered, a menu that changes every six weeks and typically runs to a particular concept or theme whether that's a memory, place or an idea.
The first menu to be served here in the Granite City is 'The Chipper'. The perfect choice for a coastal city, moreso for an area with such strong fishing ties. I think we love a good visit to the chip shop and it was really fun to try a reimagined take on such iconic dishes, like the infamous deep fried mars bar! Which I have never actually tried, but if it's anything like the dessert that we received at Six by Nico, I'm fully on board with it.
As we walked through the restaurant to our table, I was taken with the decor. Very in keeping with my style. It won't be for everyone, I know, but taste is subjective, right? Rich, dark paint while bright, colourful prints adorned the walls. Plenty of velvet seating and splashes of colour throughout, with a mix of beautiful tiled and wooden flooring and softly lit, low hanging lights.
We were seated by the kitchen, just in front of the serving area and typically, I would think that these were horrible seats but let me tell you, these were golden. Especially if you want good lighting for a photo or video! Or, if you are like me.. a chilly mortal at heart, because we were getting the heat from the overhead lamps, the ones that are used to keep the food warm and come the end of the night when these were turned off, it was cold!
Anyway, onto the food. I don't want to go into too much detail because I think that takes away from the experience, and the menu is always changing.
The Six by Nico menu is £37 with the option of an accompanying wine flight for an added £30. I am not a big drinker so I didn't order the matching wines but they do have plenty of non alcoholic and soft drink alternatives. I still wanted to be a little fancy, so it was the virgin mojito for me!
Despite my not ordering the wines, I was looking at the tables surrounding me who did, and it looked great but I did notice a lot of half drunk glasses and then a lot of almost, chasing to catch up mentality? This might really suit some people but others may be better just ordering a glass or two of something they know that they like.
Another concern I heard a lot prior to visiting is that people would leave hungry as the dishes are smaller. I was stuffed. The dishes may be smaller but you are receiving 6 courses and we also enjoyed the 2 starter snacks beforehand. You won't leave hungry, and if you do, you won't need much but remember it's about the experience more than anything.
We were given both the standard and the vegetarian menus and you can chop and change between them for different courses if you there is something more to your taste. They do also offer vegan alternatives but I believe they don't have a substitute for every ingredient, so dishes may vary a little.
Upon leaving, some of the dishes have been firmly ingrained in my mind which is always a good sign. The smoked cod croquettes snack being one of them. Absolutely delicious! Truthfully, I would say that 4 out of the 6 courses were brilliant, and 2 were simply, OK, in my opinion.
Not bad, I enjoyed them but they were just, OK. In fact, probably the most showy course of them all, the smoke filled dish which was theatrically presented, left the most divided opinion.
Mine tasted like nothing but the smoke that filled the dish. I couldn't taste any other flavours, whereas Peter loved it as his tasted like the food itself, as it should.
Of course, I could have sent it back and I'm sure that there would have been no issue but overall, we were there for 3 hours and as it edged ever closer to 11pm, I was beginning to lag.
On the other hand, the dessert as mentioned earlier was divine. The deep fried mars bad with Irn Bru sorbet. I have a sweet tooth so the odds of this being a winner were pretty high, but it really was a great dish to finish on. I have tried Irn Bru flavoured ice creams and sorbets before but they really nailed it, it was even a little fizzy. And the lovely rich chocolate flavours were fantastic. I am a big fan!
Overall, I think it was a great experience and I think it's a great addition to the city. I thoroughly enjoyed my visit and I look forward to visiting again should the menu appeal to me. It's certainly not going to be your average or everyday meal out, but then it doesn't aim to be.
I think you will enjoy it, even if you only visit once!
Where to find Six by Nico Aberdeen?
Six by Nico Aberdeen
367 Union Street
Aberdeen
AB11 6BT
Find more places to eat in Aberdeen
Have a look through our list of top restaurants in Aberdeen if you're looking for somewhere a bit more relaxed.