This post may contain affiliate links of which we earn a small commission should you choose to purchase through them. This helps us to keep the site running. Thank you for your support
After a last-minute decision to visit Glasgow for some shopping, we decided to make a full weekend of it by booking ourselves a stay in the Sleeperz Hotel Dundee.
If you have already read our post on the top things to do when visiting Dundee, you will know that Dundee is a city that we enjoy visiting but as it's only an hour away from our home in Aberdeen, we rarely treat our time in the City of Discovery as anything more than a day trip.
Find the best deal for a stay at Sleeperz Dundee
Check the latest prices and availability for Sleeperz Hotel in Dundee
However, we were very interested to see that the Dundee Sleeperz Hotel has recently opened as the hotel has a wonderful view overlooking the RRS Discovery and the now-infamous V&A museum which I'm sure will attract and draw in a lot of appeal for visitors, just as it did us.
This 120 room accommodation was voted as the Best City Budget Hotel in Scotland at the Scottish Hospitality Awards 2019 and I believe a big part of this is due to its great location along with the fact that it is within only minutes walk to the heart of the city centre. Another thing about Sleeperz hotel that may appeal to you is that it lies above Dundee railway station which has been recently refurbished, making it a fantastic option if you are looking for a hotel within quick and easy reach for further travel.
One concern that I had with being so close to the train station was the thought of the potential noise that I expected to come from the hustle and bustle of this area, particularly as the entrance to the stations is beneath the hotel and even more so as we were visiting over a weekend but I can confidently say that we heard no noise at all from this during our stay.
When booking our accommodation at Sleeperz, we sent a request for a room with a view of the V&A if available, although we did fully appreciate that the majority of guests would probably look for and request this view also and we did take into account the fact that we had booked a room last-minute, so we knew that this would be unlikely. However, I have to say that the staff were very accommodating with our request and we did receive a room on the 5th floor with a view of the V&A. We did have to fully stand in the window sill area and squint somewhat to see it but it was there!
I would highly recommend making this request (perhaps with a little more forewarning) if you are booking as the V&A building is such an incredible structure and a great view if you can get it. Sometimes, it's simply worth asking!
On arrival in Dundee, we had to search for the allocated parking which the Sleeperz hotel offer. We had looked for the details of this prior to our arrival so we knew where we were to go. The car park is a short walks distance from the hotel and is open 24/7. Should you only be staying at the hotel during the hours of 8 pm and 8 am then lucky you, your Sleeperz Dundee parking at the Greenmarket Multi-Storey Car Park is free, alternatively, guests are entitled to a 25% discount upon showing a valid car park ticket before departure. I will say that the walk was not incredibly well lit between the car park and hotel as it was already dark by the time we had arrived in the city but I did not feel unsafe in any way and it is close to the main road.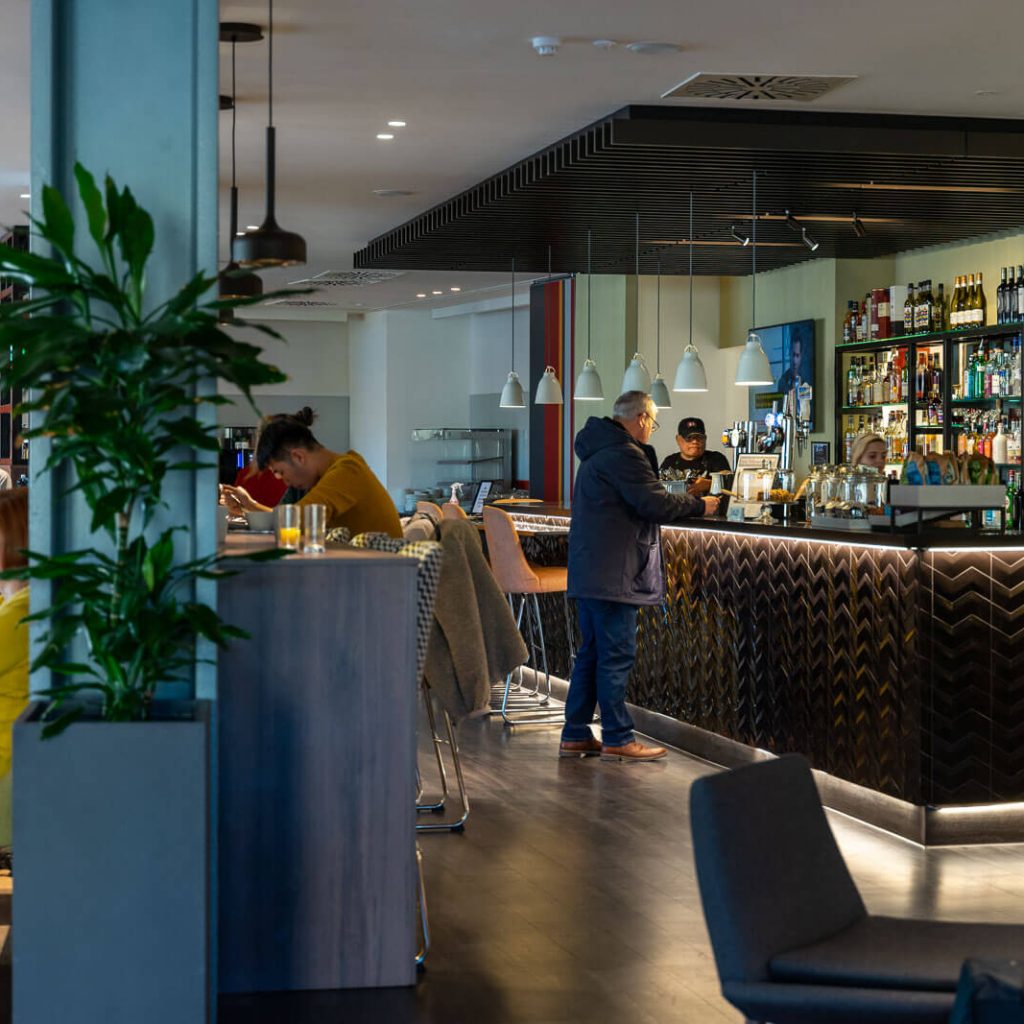 First impressions of the hotel were very positive, it was really cosy and warm with friendly and welcoming reception staff. Nicely decorated, with lots of soft lighting and plenty of seating. We had a quick nosey around the reception area and this led on to the bar and eating area, which was surprisingly busy for a hotel restaurant but it does have those incredible views that overlook the V&A building so I can see why this is a popular spot for those looking to catch up over a couple of drinks.
As we had our overnight travel bags we were keen to get to our room and drop them off before heading out to explore a little of the city at nighttime (and grab some food). We had booked a double room and I was very pleasantly surprised by the size of the rooms.
I didn't find that there was an awful lot in the rooms, they are definitely not fussy but they had everything you need and plenty of open space. The rooms had enough storage options for a short stay, private en suite bathroom with shower and writing desk with kettle, coffees and teas available. I thought it was a nice touch to find that there was also a guide to some of the attractions in Dundee if you are a new visitor to the city.
All rooms have climate control and air conditioning, 40" flat-screen TVs along with access to free WiFi. There is access to films on the TV but some of the newer releases do require added payment so do be aware of this.
Of course, one of the things that you look forward to most when staying in a hotel is the bed. We all dream of those plush and comfy hotel pillows and who doesn't look forward to sinking into the bed at the end of the night. It's one of life's luxuries! Well, Sleeperz has taken this luxury one step further as they have teamed up with Sleepeezee, one of the oldest bed manufacturers to create the 'best-ever' bed!
They have created their own custom made mattress to enhance your stay and better yet, your sleep while staying at Sleeperz hotel. The mattress' are medium-firm but also covered with a soft topper giving you the best of both.
After checking out the room, we decided to go out for some food. We did not eat in the hotel as we were hoping to explore some of the city but we did take a look at the Eatz&Drinkz menu beforehand and we were very impressed by their all-day menu.
The Sleeperz Dundee breakfast is as you would expect with several cooked and continental options but it was the all-day menu which caught my attention, with firm favourites such as burgers and mac n cheese mixed with many gluten-free and vegetarian options like Thai green curry and butternut, brie and beetroot tart along with deli boards and charcuteries I think that this is a well-considered menu.
While we didn't eat at the restaurant, we did have some drinks in the lounge area. I was especially intrigued to see such a varied cocktail and alcohol menu and I opted for a pornstar martini during our visit. The prices were on par with many of the nearby cocktail bars and although the drink was pleasant it did not offer that same flair or any add ons that you may receive elsewhere. It would have been nice to have a picture of a pretty cocktail in front of that V&A and Discovery Point view to fulfil my social media peacocking needs but on arrival, although it tasted nice, it was nothing to show off.
Eager to sleep after a long day of travel, we made our way up to the room where we had some time to kick back and relax. We turned on the tv, made a cup of tea and got into our pj's like the old people we are. Those long boozy nights of my youngers years have certainly disappeared but I'm not sad about it. I enjoy the slower pace these days. I am far more excited by the prospect of early mornings visiting new places for breakfast, such as The Bird and Bear or The Bach which are two great options in Dundee city center.
Our sleep was exceedingly comfortable, the room was warm thanks to the in-room climate control and we did not hear any noise from the hallway or nearby rooms which was a blessing for a Saturday night. We did hear more noise come the morning but that was to be expected. Another great addition is the USB points at the bedside as I rely solely on my USB charging cable for my phone so this is a welcome feature for me on hotel stays and not a perk that I take for granted.
In the morning, we each took the time to make good use of the en suite bathroom and the wonderful rain shower that the hotel has to offer. This seems to be the showerhead of choice in many hotels these days but I love it and it does feel like another little luxury. Perhaps one that I did not expect in what is referred to as a budget hotel but a budget does not mean sacrifice. The bathroom also boasts of a heated mirror with shaver socket and LED lighting and toiletries for guests to use. There is a hairdryer in each room for guests to use if like me, you have long and somewhat unruly hair.
If you are visiting the Sleeperz hotel as a family with children or perhaps even just a group booking, you may want to consider booking one of the 15 family rooms available to save on costs. The family rooms feature a queen-size double bed along with a bunk bed and can be booked for those in groups on a budget cost but along with this, there is no sacrifice on room location and you can still request a room with a view.
I would highly recommend the Sleeperz Hotel due to its central location in Dundee. It has so many fantastic reviews online thanks to its budget-friendly costs and modern decor which along with the incredible views of the V&A and RRS Discovery make it a desirable option for adults looking for some last-minute R&R.
What Are The Check-In Times At Sleeperz Hotel Dundee?
This Dundee hotels check-in time is from 2 pm on your chosen date and check-out the following morning is at 11 am.
For alternative arrangements, you must contact the hotel.
Is Parking Available At Sleeperz Hotel Dundee?
Sleeperz Hotel Dundee parking is available a short walks distance from the hotel and is open 24/7. Should you only be staying at the hotel during the hours of 8 pm and 8 am then lucky you, parking at the Greenmarket Multi-Storey Car Park is free, alternatively, guests are entitled to a 25% discount upon showing a valid car park ticket before departure.
Sleeperz Hotel Dundee Restaurant
The Sleeperz hotel Dundee menu is very varied with many types of meat, gluten-free and vegetarian options. There is the odd vegan option but I think this could be significantly improved and suspect that you may find better alternatives elsewhere.
Sleeperz Hotel to Dundee Train Station
Despite having a hotel located directly above Dundee rail station, the noise was minimal and the added perk that it is within a 5 minute walk to the city centre makes it a fantastic option for accommodation in Dundee for those looking for easy access to both shops and travel.
Dundee Train Station Opening Times
The times for ticket purchase at Dundee Grand Central are as below
Monday – Friday – 06:25 to 19:30
Saturday – 06:25 to 19:30
Sunday – 08:30 to 19:30
Sleeperz Dundee Hotel Deals
If looking to book a hotel in Dundee, make sure to check out the offers section on the Sleeperz Hotel website for the best deals when it comes to price, extras and rooms.
You could also check out Booking.com as they quite often have fantastic deals on Sleeperz hotel in Dundee.
Are Pets Welcome At Sleeperz Hotel?
Unfortunately, pets are not allowed in this Dundee accommodation.
If you are looking to explore some of the attractions that Dundee has to offer then make sure to check out our post filled with suggestions on what to do in Dundee such as the Verdant Works and McManus.
Sleeperz Hotel Dundee Address
Sleeperz Hotel Dundee
2 South Union Street,
Dundee, DD1 4BF
United Kingdom
+44 (0)1382 725 888