This post may contain affiliate links of which we earn a small commission should you choose to purchase through them. This helps us to keep the site running. Thank you for your support
I have visited The Boatshed Restaurant in Stornoway several times now, so I'm going to write this review a little differently.
A review of my two most recent visits. One of these visits was for a meal, the other for coffee and cake. Both took place during the pandemic and the subsequent easing of restrictions and I think it would be fair to say that one visit was positively glowing while the other, left something to be desired.
It shouldn't need to be said but I do always try to be fair in my reviews. I don't like the rhetoric that everywhere is "the best place ever" because I think that we all have positives and criticisms in our experiences.
With that being said, let's get to it!
You can find The Boatshed Restaurant, along with HS-1 on Cromwell Street, just a stone's throw from the town centre. They are both set within the Royal Hotel and if you are looking for places to eat in Stornoway, both of these names are popular restaurants in Stornoway and long-serving eateries on the island.
On first impressions, the entrance to The Royal is a little, ok, a lot, dated but once you make your way through to The Boatshed, you'll find that it is significantly more modern. The decor is very safe but inoffensive, with hints of tweed, exposed brick and a slight nautical theme running throughout.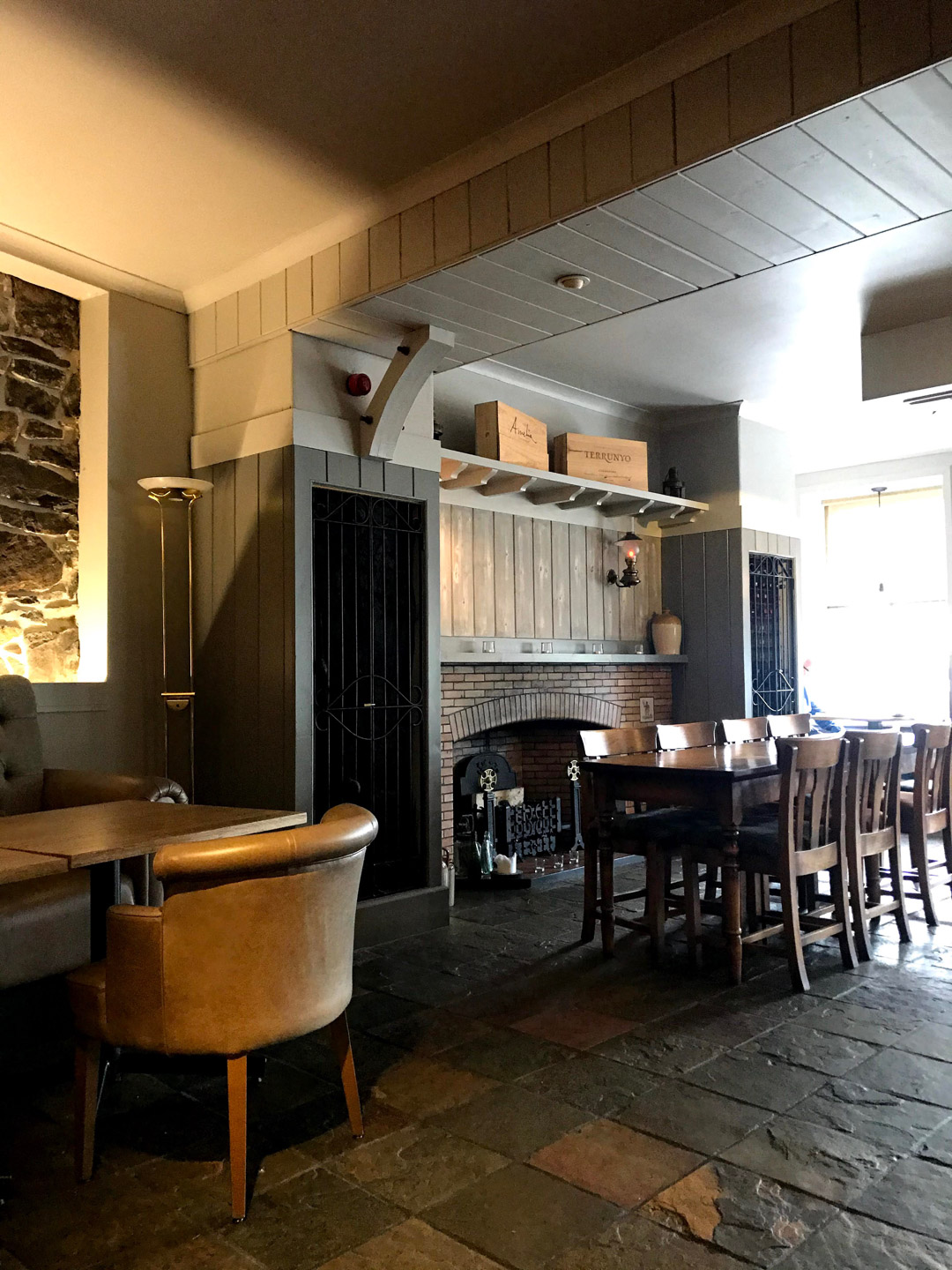 I wouldn't consider The Boatshed to be a seafood restaurant as I often hear it referred, I think it primarily serves Scottish cuisine although there is an emphasis on local, fresh seafood on the menu.
It boasts of incredible views over the water to Lews Castle which I think is one of the main selling points of the restaurant and, probably, the hotel. If you are a visitor to the islands and can get a table by the window of either The Boatshed or HS-1, it's a really, really lovely setting.
The service and staff are generally friendly without being overbearing. But, if there's one thing that I would say about service on the Islands in general, is that there is no sense of urgency. Almost to the point that you can feel a little ignored, which, having spent years living in the city, I don't like. I have things to do. Sometimes you just want to have your meal, chat as you go..and then leave! We don't all have the need (or often, want) of an extra 30 minutes at the end of the meal to sit and natter.
But, then again, that's the city girl in me. Always looking for the next thing to tick off the list.
In reality, it is a much slower pace of life here, there rarely is a sense of urgency. Sometimes, you just have to take it as it is.
The Boatshed, Stornoway Menu
The Boatshed menu has a selection of green, seafood and meat plates which you can choose from to either dine-in or take away.
I was pleasantly surprised by the green plates on offer, the Vegan Buddha Bowl, the Vegetable Samosa and the Blossom Burger. They sound well-considered, full of flavour and, substantial. They just sound better than the obligatory vegan meals that I have seen so many times on other restaurant menus.
You can view The Boatshed restaurant menu online although there may be changes depending on seasons.
And although I said it's not officially a seafood restaurant, I do think seafood is where they excel and with that in mind, we chose to order both the Local Battered Haddock (you can't go too far wrong with fish and chips!) and the Hebridean Langoustines. Now, we ordered the langoustines as a sharing starter rather than a main. Baked in chilli, lime and garlic butter, they sounded too good not to. I'm not sure if it was a special starter as the main comes with fries, but it's definitely worth asking for.
The langoustines were fresh and meaty and although I think that they could have packed more of a punch with the chilli and lime flavours, however, they were buttery and garlicky which are both lovely smooth flavours in themselves.
The Local Battered Haddock was a really good portion of fish, there were plenty of chips, tartare sauce and mushy peas. Absolutely no complaints about the meal.
And we also chose the Braised Beef Stack, which was like poutine. Lots of chips covered in beef, gravy, cheese, barbecue sauce and a slice of Stornoway black pudding. It was fabulous. Exactly the kind of food you want after a long day travelling while being in and out of the blustery winds.
A big lunch, but it was lovely.
Now, on the second visit for coffee and cake. This visit was quite a number of months later, restrictions had certainly eased and it was not so busy, although, we were coming into the tourist season.
We were quickly sat at a table and had stipulated that we were only looking for coffee and cake on entry. When it came to ordering, we asked if they could tell us what kind of cakes they had and we were informed that they don't actually do cake but they have desserts.
Fine by us, we then asked for the menu. Sorry, no menu, but we can show you the dessert board.
Again, no problem, we were shown the board and we chose the Berry Cheesecake and an Apple Pie and Custard along with two coffees.
To say I was underwhelmed by the desserts on arrival, would be an understatement. I love puddings and cakes, along with starters, they are generally my favourite two courses to order but the apple pie was lacklustre, soggy and if it wasn't shop-bought, it may actually have been nicer if it were.
The cheesecake, again, soggy. All in all, a bit wet. Less the consistency of a cheesecake and more of a mousse on top of a soggy biscuit base.
Of course, we ate it, it wasn't inedible but it was one of those instances where you regret having to pay for something. The usual, I could make it nicer at home. Or as I said, have bought some at the shop.
We wrote it off as one of those things, we'll just know not to do it again but that was until we received the bill. And I will preface this by saying that there were no prices on the dessert board, if you find yourself in the same situation, ask for the prices! But, when a bill of £24+ came in, I was horrified.
Actually shocked. And the two mains from the first meal worked out to cost around the same, completely understandable and absolutely worth it.
But let me tell you, while the meal was lovely, there are far nicer coffees and cakes (Kopi Java, Artizan, An Lanntair) to be enjoyed in Stornoway, for a far lesser price.
Learn from our mistakes!
The Boatshed Restaurant Address
The Boatshed Restaurant
Cromwell Street
Stornoway
Isle of Lewis
Scotland
HS1 2DG