Tribute Nights at Macdonald Inchyra
This post may contain affiliate links of which we earn a small commission should you choose to purchase through them. This helps us to keep the site running. Thank you for your support
When an email popped into our inbox inviting us along to a tribute evening at the Macdonald Inchyra hotel in Falkirk, we were a bit unsure as it's not really something that we would opt to do ourselves, but then we quickly realised that maybe that was a good thing.
We quite often stick to doing things that we're comfortable with and it can quickly turn into a bit of a routine, so we decided to take up the offer and accepted.
It was an easier decision to make given that the tribute night that we had been invited to attend was a Cher tribute evening and Believe is an anthem of both of our childhoods.
What's involved?
Macdonald Inchyra hotel often host evenings where you are treated to a three course set menu meal along with a tribute show followed by a DJ allowing you to let loose and dance the night away until the early hours of the morning.
With prices for the evening starting at £28.00 per person it's a great night out for anyone looking for something different to do around the Falkirk area on a Friday or Saturday night.
Alternatively you could make it a proper getaway with the option of turning your evening into an overnight stay with prices starting from £70pp for a Friday night show and stay and £89pp for a Saturday night show and stay.
Both of these include full access to the hotel fitness and health facilities (which are incredible btw, full review on those coming soon) and breakfast the following morning.
The Evening
As we were doing an overnight stay at the hotel we got ourselves ready in the room and headed down to the Inchyra suite where the evening meal and show were to be held.
This involved coming out of the hotel and walking across the carpark to another building to the rear of the hotel where crowds had already started to gather outside and into the foyer.
The first thing that we both noticed was how dressed up some people were. This was obviously something that we missed the memo on as we were quite casually dressed, but not enough to feel uncomfortably out of place.
There were hen parties, groups of people out on a night out together and plenty of couples which seem to be the main demographics for these events.
We decided to head to the bar to get a drink before getting into our tables and as drinks are not covered as part of your evening meal this is something that you have to pay for yourself.
As we're not big drinkers, we both opted for soft drinks which were reasonably priced and available on draft.
Outside of the main event hall there were a couple of boards with table plans where we discovered that we were to be seated in tables of 10.
This is something that those who are uncomfortable around other people may need to be aware of as you will probably be seated next to someone you don't know if arriving in a group smaller than the maximum capacity of a table.
To the left of the hall doors was a photographer who was taking photos of those heading into the event, although we again opted not to get involved in these.
Who would have thought it, a couple of camera shy bloggers.
I'm not sure if these photos were for social media or were something that you could pay for a printed out copy as a souvenir.
The Function Hall
We made our way into the hall without being actually asked to show any tickets or give any names which was quite a surprise to us, as at no point were we asked to prove we had booked.
Our table was right by the door so we didn't have to venture too far in the dark to find it.
The hall was filled with around 20 tables around the edge of an empty dancefloor and stage area meaning that most people had a pretty unobstructed view of the stage area for when the performance started.
To the rear of the hall were two bars, so there were plenty of service areas to get drinks and avoid lengthy queues and they were all within view of the stage so you wouldn't be missing any of the show when going up to order.
In the centre of the table was the menu and our first bit of information about what we were about to be served as our evening meal.
The Meal
As we mentioned before, the menu was a set menu so there were no choices to make and this was fine with me.
Prior to food service someone did come around to ask if anyone had any food requests, so I guess this would be your chance to request a vegetarian/gluten free or any other allergies, but I imagine that these bits of information would have been taken prior to attending also.
As food started to make its way from the kitchen, the smell of what was to come started to fill the room.
First up was Lentil soup, which is one of my personal favourites.
Portion size was good and with the addition of the small bread roll to accompany, it was definitely enough to get you started for the two courses ahead. The soup itself had quite a strong bacon flavour to it, which isn't personally my favourite type of lentil soup, but it was still nice and if offered I would have definitely taken a second serving. Shortly after the tables were cleared, the second courses began appearing. For mains, we were given chicken breast in a peppercorn sauce on a bed of dauphinoise potatoes with seasonal veg. The plate looked quite sparse on first impressions, but to be honest it was probably the perfect amount of food to not leave you feeling uncomfortably stuffed yet still quite satisfied. One of the main things I noticed about this dish actually occurred to me half way through eating that I had to remind myself that it was peppercorn sauce that was on the chicken as it didn't really resemble peppercorn sauce in either taste or looks.That's not to say it wasn't good. I personally really enjoyed my mains and would gladly have it again.

Once everyone had finished their mains it wasn't too long before the desserts started to make their way out.
These were strawberry cheesecakes with some chantilly cream and a chocolate twirl and were potentially my favourite part of the meal.
Again, portion sizes weren't huge but it was probably just perfect given the sweetness of them.
Overall the meal was excellent and really didn't leave me feeling hungry nor overly full which is a nice balance to have in a three course meal.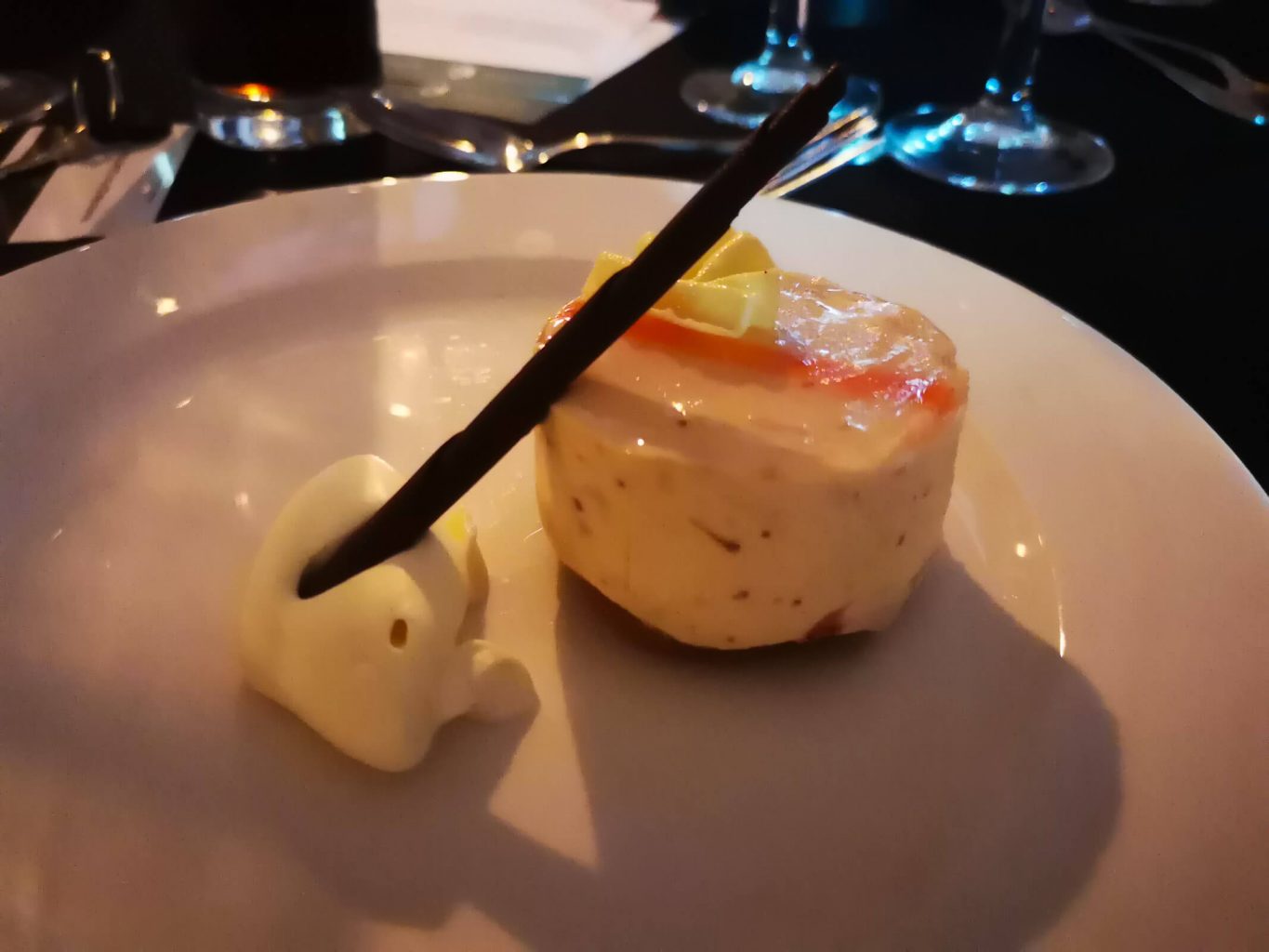 The Show
Now that all the food was out of the way there was a short break for people to get drinks, teas/coffees and then the DJ got everyone on to their feet to play a party game where the winner won a bottle of prosecco.
This was a good laugh and filled the gap in between the meal and the show well.
Once the game finished it was time for Cher to make her appearance and make an entrance she did.
Dressed in the full outfit and opening with Turn Back Time, it was an instant hit and people were immediately on their feet and singing along.
In between songs there was some audience interaction which to me felt a little bit cheesy as they attempted to put on an American accent and convince us that they flew in from the US only an hour ago, but I guess this is what a tribute act is like and given this is my first experience of a tribute show I'm not too familiar with how deep into character these people go.
"Cher" performed a number of other hits, some of which I had completely forgotten about including her fantastic cover of "Walking in Memphis" and banger "Just Like Jesse James".
Again there was some audience interaction during the set where some unfortunate man was plucked from the crowd and asked to help perform a Sonny and Cher duet with accompanying wig.
I made a swift exit for the bathroom as soon as the call went out for a man in the audience to volunteer.
Unfortunately there was no performance of my favourite song, Believe, but that was to be expected given that it's heavily autotuned and would be nearly impossible to replicate without expensive technology.
After the Cher performance was done, it was time for a short break and an outfit change before cher returned to perform songs from Mamma Mia.
After the performance was finished and the DJ proceeded to kick off the rest of the evening we decided to call it a night.
As we had been up really early we felt it was time to make our exit.
We squeezed by the packed danceloor and headed for our room for the evening having thoroughly enjoyed ourselves and our first experience of a tribute show.
The Verdict
I'm speaking for the both of us here, but we had a great evening at the tribute show and it was a chance to properly just have a bit of light-hearted fun, let our hair down and enjoy ourselves at something that we, in all honestly, probably wouldn't have opted to do off our own back.
In terms of value for money, I was very impressed with just what was on offer for the price of your ticket.
The meal was fantastic, the entertainment enjoyable and just an overall good night out.
I would highly recommend anyone who is thinking about attending one of these tribute shows, whether for a party or just as a couple to do so.
You won't regret it and probably have a great night out.
Fancy going along to a tribute night?
There are plenty of different acts to choose from on a wide range of evenings throughout the rest of the year.

See the full lineup