This post may contain affiliate links of which we earn a small commission should you choose to purchase through them. This helps us to keep the site running. Thank you for your support
Most of us are familiar with the term 'bottomless brunch' these days, but if not, this is where you can enjoy some breakfast/brunch food and take advantage of unlimited drinks from a set menu, for a set price and within a set amount of time, which is generally around 90 minutes to two hours.
It's quite common around the world and I see it advertised a lot in England but, unfortunately, you won't see it here in Scotland. This is down to our licensing laws where they consider it an irresponsible drinks promotion or a marketing ploy. And I suppose it is. But that's also part of why they are so popular!
Instead, we have the boozy brunch! It's similar, but the drinks are not bottomless and instead, you usually get a set number of these as well.
Of course, we are well known (albeit negatively) for our drinking culture here in Scotland but I think we see it as a great excuse to get a little dressed up, head out for some food, some cocktails and catch up with friends. It's an elevated brunch date and I think they are great, but yes, instead of the bottomless brunch, it's just a little different up here.
With that in mind, I have put together a list of the best boozy brunches in Aberdeen!
If Nightlife is more your thing? Then perhaps check out our list of Bars in Aberdeen worth visiting.
Triplekirks
The Triplekirks Boozy Brunch is a great deal! You can enjoy one brunch dish and up to 6 drinks: cocktails, Prosecco, beer or soft drinks if you aren't opting for alcohol.
Although there aren't many options, I think there is a good mix of brunch dishes available to suit all dietary requirements.
For food, you can choose a Scottish breakfast, quesadilla, some differently styled crumpets (sweet or savoury including avocado/bacon or Nutella/Biscoff) and wings.
The drinks include Aperol Spritz, some fruity cocktails or beers and cider on tap.
Triplekirks Boozy Brunch is £20 per person, includes up to 6 drinks and is available every day until 2 pm.
Revolución de Cuba
The Revolución de Cuba boozy brunch menu has some really tasty food, but sadly only 3 drink options on offer.In Scotland, you are also limited to 3 drinks as part of the deal, as opposed to England who get bottomless drinks over a 90 minute period!
I don't know if it's the best deal out there in terms of drinks quantity but it is a lovely location and the menu is definitely appealing.
The drinks on offer include a Strawberry Daiquiri, Bloody Mary or a pint of Mahou. For food, there are some really great choices likes the avocado brunch, the full breakfast (or the vegan/vegetarian breakfasts), the sweetcorn fritters, breakfast burrito or the chorizo hash!
Revolución de Cuba Boozy Brunch is £20 per person but is limited to 3 drinks in Scotland and is available every day between 11 am – 2 pm.
The Spiritualist
Boozy brunch at The Spiritualist starts with a welcome Bellini and your choice of brunch cocktail (Spritz range, No Speak Americano or Bloody Mary).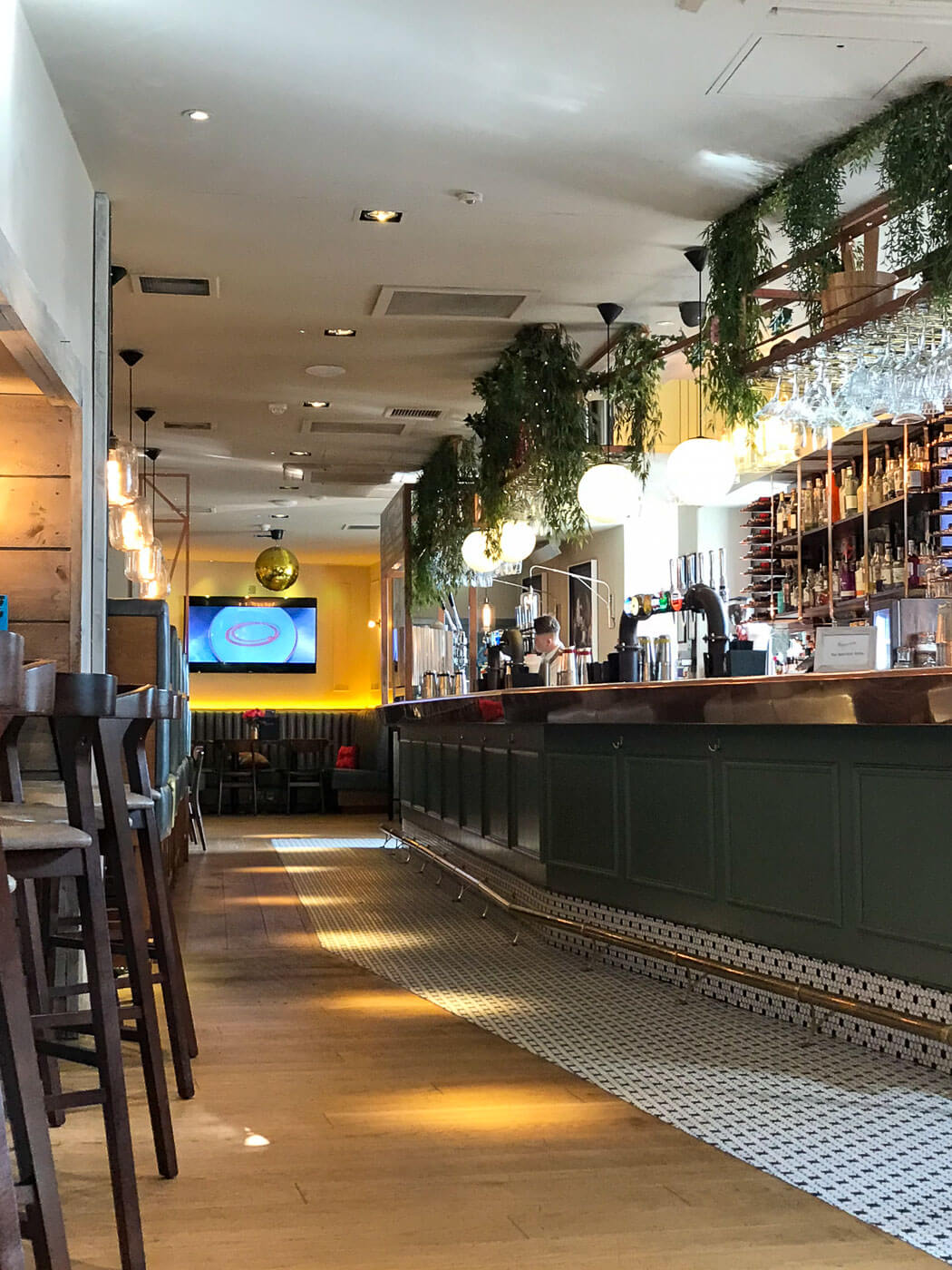 For the food, the options are a pancake stack (bacon and maple syrup or chocolate and strawberry), alternatively, you can choose smashed avocado toast or a breakfast roll.
Again, The Spiritualist is a really lovely location, the food is good and the cocktails are lovely but for the price, the options are very limited in comparison to some of the others available.
The Spiritualist Boozy Brunch is £22 per person and includes 2 cocktails (alternatively beer or soft drinks) and a brunch dish. This is available on Saturdays and Sundays between 12 pm – 3 pm.
Revolution
I have always liked Revolution for food and drinks. I think it has a nice atmosphere, not too quiet but not too loud. It's a nice place to meet friends and enjoy food and drinks so this is a good option in my opinion!
The menu definitely offers more lunch style options like burgers and pizza if you are visiting a little later in the afternoon which I think will appeal to some people. Although, they still very much have a breakfast theme to them as the pizza has free-range eggs, mushrooms, sausages and bacon and the burger has a bloody Mary relish.
Putting those aside, I think the star of the show for many people will be the Loaded Hash Browns with 'nacho cheese sauce, free-range fried egg, crispy bacon, roasted red pepper, parsley, spring onions and crushed chilli flakes.'
The drinks aren't too exciting, Aperol Spritz, Prosecco or Bloody Mary along with soft drinks and beers but you can upgrade for an extra £10 per person to receive Pornstar Martinis.
Revolution Boozy Brunch costs from £20 per person and runs from Thursday-Sunday 11 am – 4 pm. You will have 90 minutes to enjoy one brunch menu dish and up to 5 drinks.
All Bar One
The All Bar One bottomless brunch is subject to change as they just have a blanket menu for all restaurants so I can't say for certain that this will be the exact offering when you book.
When it comes to the menu, I think there are some nice dishes, the avocado and feta toasted sourdough, the quesadilla, the waffles or the cheeseburger.
The All Bar One Bottomless Brunch costs £30 per person and includes one brunch dish and up to 6 Prosecco, Aperol Spritz, Pineapple Daiquiri, Mango Daiquiri, Strawberry Daiquiri or Raspberry Daiquiris over 90 minutes. This must be booked in advance and is available every day until 4.30 pm.
O'Neill's
O'Neills has long been popular among those from Aberdeen, so it's nice to include them on the list. It's just a nice, relaxed pub atmosphere but usually full of personality.
The food options are limited but that's not negative, the choices are between a hearty breakfast 'two pork and leek sausages, two rashers of grilled back bacon, two fried free-range eggs, white pudding, two hash browns, Heinz® baked beans, grilled tomato, two flat mushrooms and your choice of toasted white or wholemeal bread with butter' or a morning roll. There are also vegetarian options for these.
But while the food options are limited, they offer far better drinks (in my opinion) than many of the others listed! You can choose a Pornstar or Espresso Martini, Mojito, Sex On The Beach, Long Island Ice Tea as well as beers, lagers, wine and more!
O'Neills Boozy Brunch needs to be booked in advance, I don't believe it has specific days or times. Pick any breakfast item, 2x 200ml mini bottles of fizz, 2x cocktails or 2x pints of draught from £12.50 per person, this can also be upgraded to include more drinks for up to £24.50 per person.
The Tippling House
In a lot of ways, The Tippling House boozy brunch may be the fanciest of them all and one of the closest to a 'bottomless brunch' that you will find.
It is more expensive than the rest but this includes free refills of Champagne every 15 minutes for 90 minutes including a brunch dish.
If Champagne isn't your drink, this can be substituted with draught beer, unlimited tea/coffee, single-shot Bloody Mary's or soft drinks.
The food is also a little bit fancier than the rest, using more indulgent ingredients. Some of the choices are the Breakfast Poutine 'hen's egg, Stornoway black pudding, streaky bacon, cheese curds, miso gravy' and the Pancakes 'caramelised apple, cider glaze, cinnamon streusel, maple butter (*vegan available)).
The Tippling House Boozy Brunch is £35 per person and offers free refills of champagne over 90 minutes. Available Saturdays 1 pm – 4 pm.
Our So Called Life Recommends
Aberdeen's best restaurants
If boozy brunch isn't your thing and you're just looking for somewhere to get some great food then we've got a roundup post of all the best Aberdeen restaurants to cater for almost every taste.