City Bar And Diner Aberdeen
This post may contain affiliate links of which we earn a small commission should you choose to purchase through them. This helps us to keep the site running. Thank you for your support
Last night we visited The City Bar and Diner as part of Aberdeen Restaurant Week. Now, if you don't know what Aberdeen Restaurant Week is, firstly, you are missing out, secondly, make sure to check it out and get yourself some great deals!
The premise of it is to highlight some of the great restaurants that we have locally, places you may already love or have always wanted to try, by allowing you to enjoy a specially curated lunch or dinner menu for between £10-25. I highly recommend it and I have found some of my favourite restaurants through this!
As I said, we visited The City Bar and Diner which is just behind The Esslemont, on Netherkirkgate.
If you haven't visited the restaurant before, it could appear quite hidden but it is a very popular eatery in the city, especially for vegans and vegetarians as they offer really great plant-based menu options.
The deal on offer is 3 courses for £25 and oh my goodness, the portion sizes! But we'll get to that.
For now, I'll just say, this could be the best value for money that I've experienced in Aberdeen Restaurant Week!
So, we arrived at the restaurant around 6.30 pm and there were a few tables dining but still plenty to choose from. We got to choose our table and we decided to sit by the window (despite it being dark, so I'm not sure why), which was nice. I'm not hugely precious about where I sit but it is nice to have the option if you can. We were provided with menus and then had some time to settle and make our choices.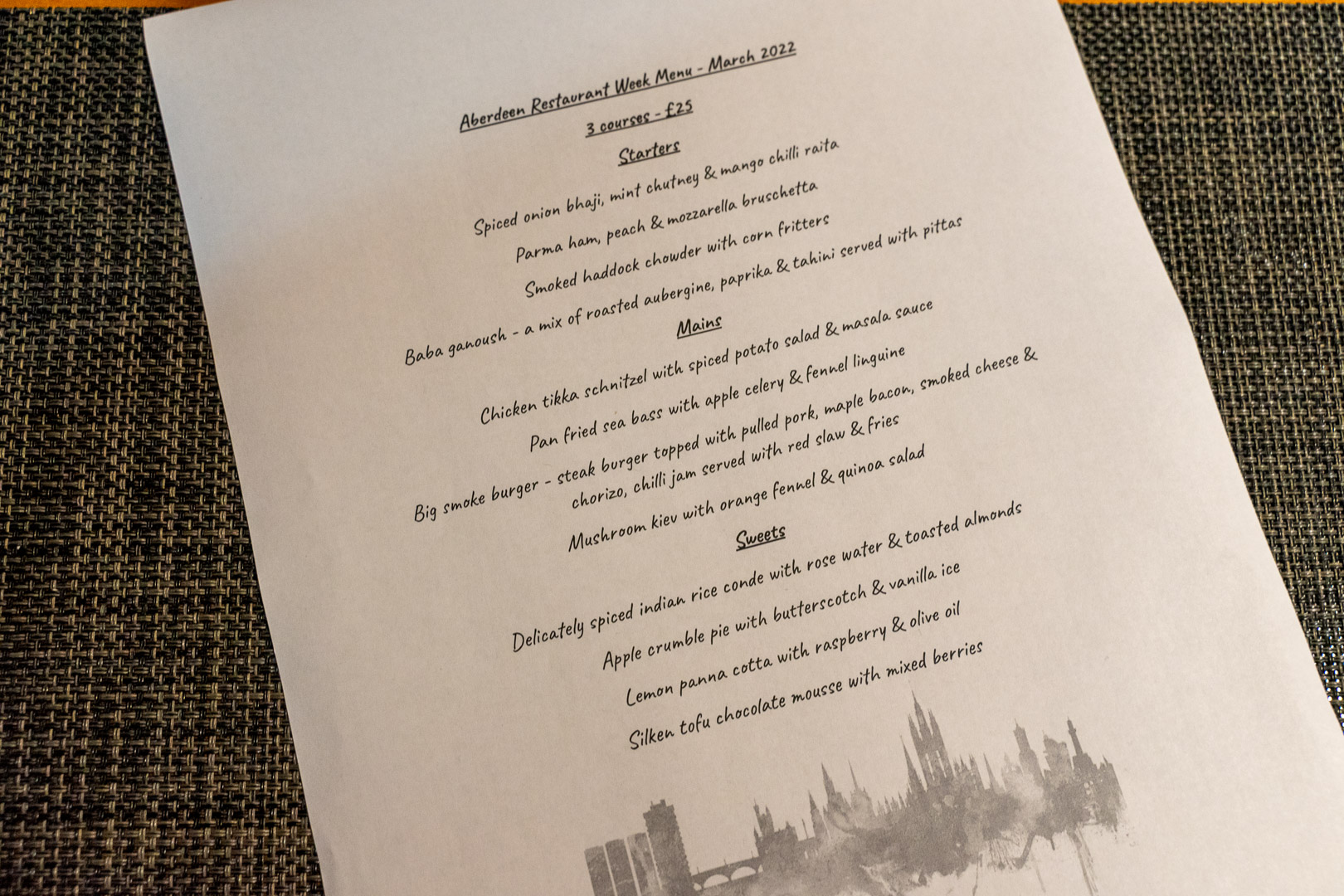 To start, we ordered the 'Spiced Onion Bhaji, Mint Chutney & Mango Chilli Raita' and the 'Baba Ganoush – A Mix Of Roasted Aubergine, Paprika & Tahini Served With Pittas'.
The onion bhaji starter had lovely colours running through it from the red onions, the heirloom cherry tomatoes and the raita. There were two large bhajis on the plate which were lovely and fluffy. They tasted fresh, had a bit of crunch and a little bit of spice.
The baba ganoush is similar to a hummus, a cold dip that can be scooped up with the pitta. This also came along with some celery and carrot sticks, crunchy veg that is also perfect for dipping. I noticed that this was devoured very quickly! One of these very moreish, gone before you know it starters!
For mains, we ordered the 'Chicken Tikka Schnitzel With Spiced Potato Salad & Masala Sauce' and the 'Big Smoke Burger – Steak Burger Topped With Pulled Pork, Maple Bacon, Smoked Cheese & Chorizo, Chilli Jam, Served With Red Slaw & Fries'.
The first thing we noticed was the size of the food portions coming towards us. I couldn't believe it! I think I generally expect slightly smaller portions, especially when a restaurant is hosting events such as these because creating 3 courses involves a lot of food but these were very hearty dishes. I struggle to finish so much food as I have quite a small appetite, which is very frustrating when you really enjoy what is being served! In all honesty, even Peter, who has a much larger appetite, was struggling!
The burger was massive. Great quality and great flavours, I believe they do try to use locally-sourced foods where they can and you can really tell. The toppings were plentiful and the sides were equally as large. There was so much food, I really couldn't believe it. Oh, and there were pickles. I love pickles, they were salty and crunchy and added a nice bit of texture to all of the meats which are naturally softer. Dare I say that I would cut the portion back a little? Although, I suspect many would not agree with me!
The chicken tikka schnitzel was a surprise. I read the description but I still wasn't too sure how it would be served and I had food envy as soon as it arrived. It looked delicious and colourful. Again, a very large portion of food but very refined. And again, wolfed down. The spiced potatoes were sitting beneath the chicken and were a particular favourite. All in all, there was not one bit of criticism for this dish and honestly, that is rare! I try to provide balanced reviews but if there is no critique, there's no critique!
Once we had the mains, we were stuffed. Absolutely stuffed. We really thought that dessert was off the table… but we were committed to the cause and took a 10-minute breather instead! Gluttony at its finest.
For dessert, we picked the 'Apple Crumble Pie with Butterscotch & Vanilla Ice Cream'. It was yet another massive portion. I can't complain though, I have a terribly sweet tooth and it was delicious despite having raisins in it which took me by surprise! I wasn't mad at it but it's a little unorthodox. The butterscotch was just as you hope butterscotch will be and the vanilla ice cream had the same fluffy sweetness as a soft scoop, which is my favourite.
The food was absolutely delicious and there is no exaggeration in saying that I would have benefited from being rolled out in the end. When you are really enjoying a meal I always find that there's a line, where you know you know that you are full, but you don't want to stop eating. You don't want to waste any of the food.
Overall, we had a fantastic evening at The City Bar and Diner and having had the experience that we did, you can be assured that we will most definitely be returning as soon as we can.
I also want to give a shoutout to the service, which was fantastic. We were served by Scott, who we then discovered was a popular street artist in Aberdeen called 'Skeps'. Make sure to keep an eye out around the city for some of his work. He was incredibly welcoming, friendly and no doubt a great addition to the team!
Do not miss this restaurant week menu and make sure to come along with your appetite!
Where to find The City bar & diner
The City Bar and Diner
37-39 Netherkirkgate
Aberdeen
AB10 1AU
Looking for more restaurants in Aberdeen?
Here's our list of the top restaurants in the city