This post may contain affiliate links of which we earn a small commission should you choose to purchase through them. This helps us to keep the site running. Thank you for your support
The Esslemont Bar and Restaurant on Union Street in Aberdeens city centre, opened late last year and claims to offer an all-day relaxed and sophisticated dining experience. I missed the original hype surrounding its opening and usually, that would fill me with FOMO but I think that it may have worked out in my favour as I managed to visit more recently in a much quieter setting.
Where to find The Esslemont in Aberdeen
It is located within the old Esslemont and Macintosh Aberdeen (E&Ms) store, which is a prime building with so much history connected to the city and its people so I was really glad to see it open back up and especially with its nod to the institution that was E&Ms. For those of us of a certain age, we will remember the department store and it felt like such a loss when that building closed and largely as it lay empty for so long. Many times I had walked past and gazed at that name above the door and wondered what would become of it so I'm thrilled to see its windows lit up again!
This is a large building which has been split over two floors to accommodate two restaurants. On the ground floor, you have the stylish main restaurant 'The Esslemont' and upstairs you can find 'Mac's Pizzeria', which is a little more laid back but still offers that sense of being a more sophisticated and upmarket pizza restaurant.
The Esslemont is open seven days a week and can seat up to 100 people including the use of its glass-fronted private dining room called 'The Fitting Room' which can seat a party of up to 12 people and I think this is a perfect option for special occasions and for those looking to book a celebratory or large group meal as it offers you that little bit more privacy, it's a little more exclusive and feels a little bit more special. There is also a contemporary bar where you can sit and enjoy a more laid-back drink.
I always imagine The Esslemont to be really busy on a Friday and Saturday night, it's a great place to meet for food and cocktails before your night out or as somewhere to meet for a catch up with friends over some drinks and light bites but having now visited, I now know that they are more than that and they do offer a number of different menus, including a Sunday Roast menu and Brunch and Lunch menu.
They also have a children's menu so it is a family-friendly restaurant and there is the option to order smaller versions of the meals from the main menu but honestly, sometimes I would love to order bangers and mash for myself so the menu is nothing over the top, it is child friendly and they are willing to accommodate where they can. One thing I would say with regards to children is that I'm not sure the overall atmosphere in the restaurant would suit all little ones, it may be a bit too quiet for some and not offer much in the way of entertainment.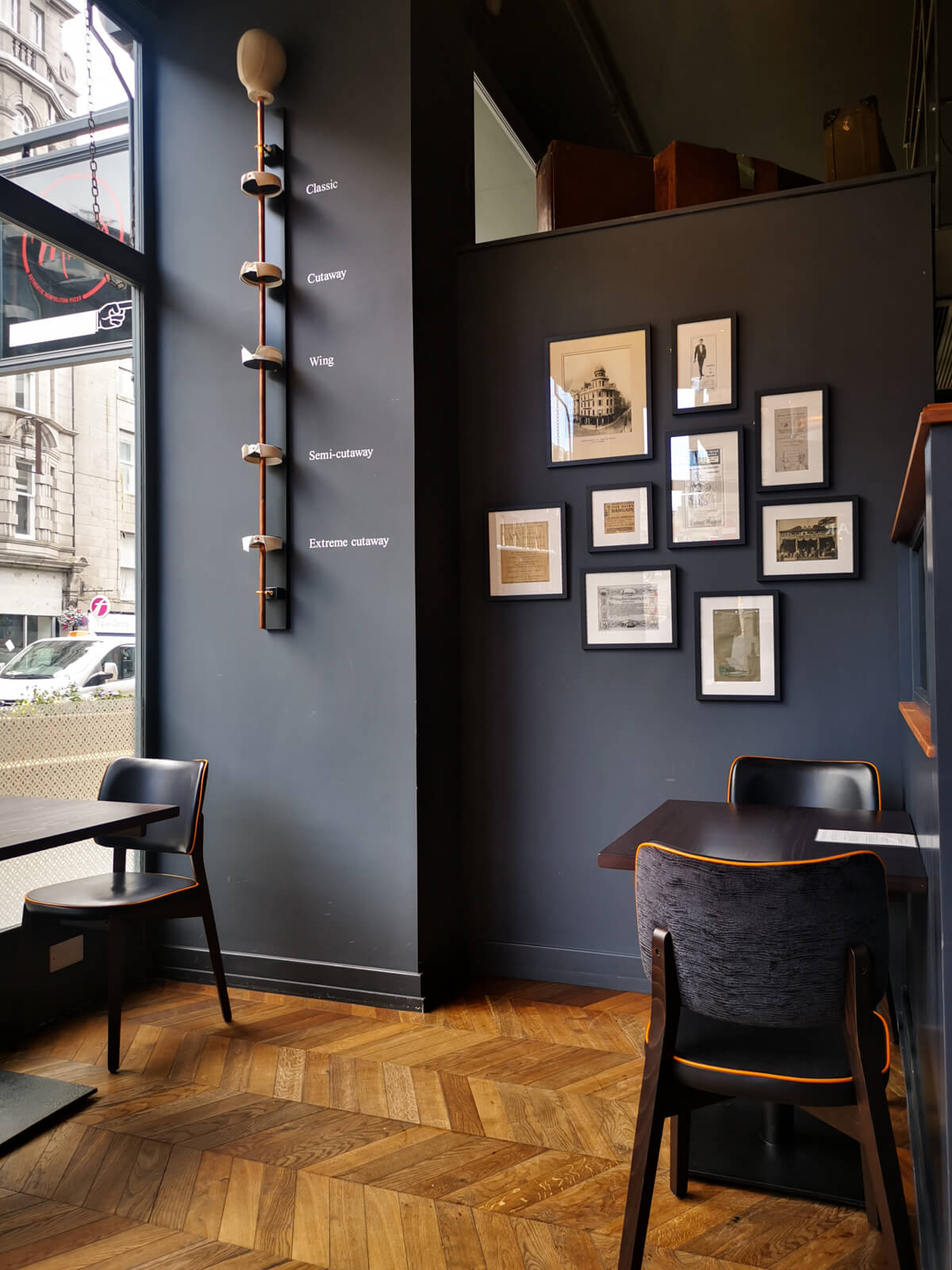 We opted to visit on a Saturday afternoon for the Brunch and Lunch menu because we enjoy that slower pace and that peace but I would be really interested to visit for an evening meal and try out one of the different menus and a couple of cocktails. The staff were really friendly and welcoming as soon as we went in, we didn't have a table booked but you can opt to book one beforehand if you are worried about it being busy and I would maybe suggest that you do this if you are planning to visit over a weekend evening.
We were seated in a quiet location, there was no one else around us when we arrived which was lovely as we had a chance to admire the surroundings, take a look at The Esslemont menu and chat a little as we waited to order. When looking at the food, I found it to be quite a classic menu complemented by some more modern twists and this was what I had been hoping for. A slightly more contemporary take on some of those breakfast and lunch menu staples.
The Esslemont Menu
There were quite a few things that I was keen to try from the brunch side of the menu such as the Eggs Beneduck 'pulled duck, English muffin, poached duck egg with hollandaise' and The Arnold Bennett Omelette which is an 'open-faced fluffy smoked haddock omelette with cheese & crème fraiche'. I know that these are a little more of an acquired taste as they have some strong flavours but if you prefer the full breakfast (a veggie option also available), buttermilk pancakes or avocado on toast then those options are also available.
In the end, we decided to order something from the mains and more lunch based meals as it was closer to 2 pm and we hadn't eaten since breakfast. Although they had some really delicious sounding meals on the menu such as the Mango and Jackfruit Red Thai Curry and the Seasame Crumbed Salmon Fillet with 'Asian spicy noodles, ginger and soy dressing', we chose two of the most basic and common dishes, fish and chips and a burger and chips. I know, I know.. but actually, these are probably two of the most commonly ordered dishes so I'm happy that's what we ordered and it further shows that there is something to suit everyone.
While we waited for our mains, we ordered some drinks but due to the time of day and our later plans, we decided not to get any alcoholic beverages this time (it's also an excuse to return) but we did order some mocktails. Peter chose the Pineapple Cobbler 'pineapple juice, raspberries, strawberries, blueberries and lemonade' and despite the name, it's this gorgeous red colour but gives you that massive hit of pineapple flavour. It's really delicious.
I ordered the Minty Apple which is 'apple juice, lime juice, fresh mint and sugar syrup' because it's like a fruity version of the Virgin Mojito which I think is one of my favourite drinks and something that I often make at home.
As we waited for the food we just enjoyed the surroundings, there are lots of old E&M touches, signs and pieces on the walls so it was nice to take in a little bit of the old Esslemont clothing Aberdeen history. The department store opened in 1873 so there is a vast amount of history to admire. Make sure to head on up to the toilets too, I know, what a girl I sound but really, we both took pictures to compare and again there are some lovely touches to the old store. The female toilets were also perfectly designed for those night out toilet selfies with flower walls and flowers everywhere.
The Food at The Esslemont
The service was reasonably quick after ordering and our food arrived at the same time and was hot which is always nice. I was disappointed with the presentation of the food, it didn't seem to match the impression I had been expecting to receive given the surroundings. So much attention to detail and care has been taken with the design and interiors of the building, the online site, the menus and in the information and descriptions but when the food arrived, despite the higher price cost, it just looked like anywhere else on the high street and maybe that is my issue alone for having had higher expectations but I think it could have been presented better.
So, I ordered the Battered Local Haddock (£15) with 'chilli peas, fries and tartare sauce' and despite its appearance, it was in fact really nice. The fish felt meaty, really thick but flaky, the batter wasn't too oily and the chips were nicely salted. I was looking forward to trying the chilli peas but there was nothing chilli about them. Yes, you could see small flecks of red but they just tasted like regular squashed peas (I'm not sure they can be referred to as either garden or mushed). The tartare sauce was really tangy and salty which is how I like it.
Peter ordered The Esslemont Burger (£13.50) which includes '6oz Scotch beef in a brioche bun with classic burger sauce, dill pickle and fries' and he ordered an additional item of cheese which was £1 extra. Again, he was really underwhelmed with the presentation but he really enjoyed the food. He said that the beef patty was really thick and flavoursome, much nicer than he had been anticipating and he thought the dill pickle was so incredible that he had to share so I could experience it. He wasn't too keen on the chips on either of our meals and I think that he would have preferred the option of some chunky chips or seasoning or oil to have on the chips to add a little extra as he found them quite plain and again, underwhelming although these options are available on the evening menu.
We decided not to stay for desserts on this visit but we do hope to return to try the evening menu and make a real night of it as I hear The Esslemont Cullen Skink is very good, I love scallops and I see those on the menu. Peter would love to try the port schnitzel and I think I would enjoy the braised shin of beef for a main. I would also be keen to try the Jack Daniels sticky toffee pudding and ice cream, a dessert which is always a favourite but with an unusual twist that I haven't seen before.
Overall, we did enjoy a lovely meal despite our gripes concerning the presentation and that is a very minimal disappointment to have but it is also a disappointment that I have read in other online reviews so I'm glad that this is a shared opinion among others. The price point is slightly more expensive than your chain restaurants with mains averaging between £15-20 and as I think the restaurant has been advertised as or perceived to be somewhere a little more special to visit, I think I would expect that little bit extra in the serving of the food but otherwise, we had a great experience in our visit to The Esslemont and we would like to return for an evening meal and perhaps see if the standard of presentation is improved during those busier times.
The Esslemont Address
The Esslemont Bar & Restaurant
38 Union Street,
Aberdeen AB10 1BD
United Kingdom