This post may contain affiliate links of which we earn a small commission should you choose to purchase through them. This helps us to keep the site running. Thank you for your support
We recently took a day trip to Fettercairn, a small village northwest of Laurencekirk in Aberdeenshire.
Our main reason for visiting was that we had been looking to visit The Clatterin Brig Restaurant for a little while, so we got up nice and early and made our way across to enjoy a cooked breakfast!
What we didn't do, was look at the opening hours and as it turns out, the restaurant doesn't open until 10 am, so we were left twiddling our thumbs with plenty of time to spare beforehand. I would be lying if I said that this wasn't typical of us. For some reason, I always presume that breakfasts will start at nine and never seem to learn from my actual experiences that this does not, in fact, happen. At least not often.
After a quick search of things to do, we came across pictures of The Royal Arch in Fettercairn and I was so drawn to it that I immediately pestered Peter to visit. It's not as though we were doing anything else and it's so unusual, particularly for a small village.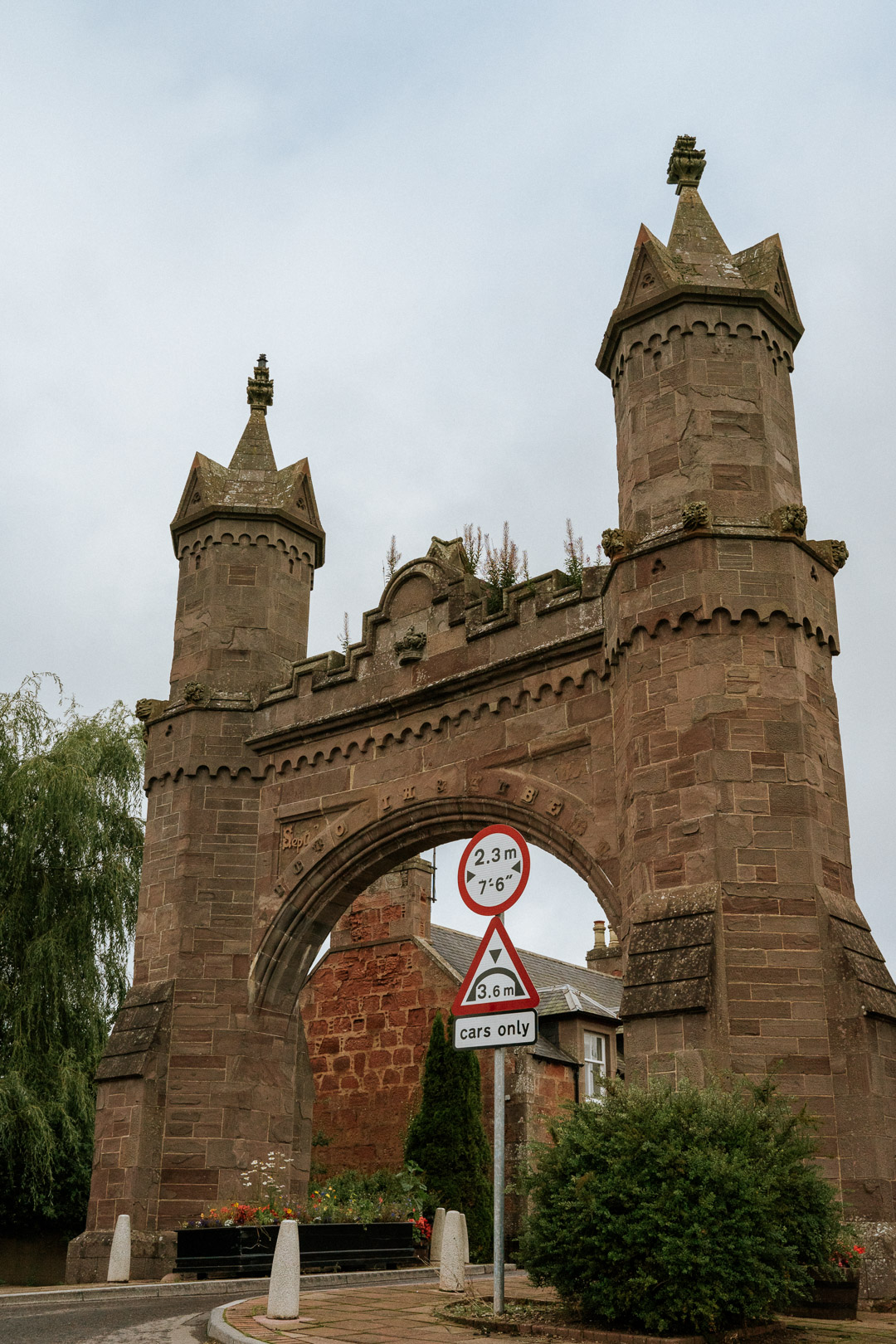 I really wanted to see it in person. I'm not sure if anyone else is like me, or if these are still as widely studied in school these days, but two topics that have really captured a (so far) lifelong interest in me, are Ancient Egypt and The Victorians. So, I find myself interested in seeing new things to do with either topic. I'm going off on a tangent here, I know!
Now, I know that The Royals have a long history with Royal Deeside in Aberdeenshire but I couldn't imagine why Fettercairn would have had an impact enough to create a Royal Arch.
Anyway, I needed to find out more or at the very least, get a picture of it. So, off we toddled (well, drove) back to Fettercairn to investigate. Driving through the village looking for somewhere to park and we couldn't help but admire the lovely colours of the buildings and the clear community feel all around us.
We parked in the centre of the square, or what I imagine was once the Mercat Cross and before we even vacated the car, we were greeted by a gorgeous cat which continued to follow us curiously throughout our tour of the village. A warm welcome, indeed! Peter is a big cat person and I suspect that we have a full album filled with pictures of our mystery cat greeter somewhere!
You might think that the first place that we head to, would be The Royal Arch, but you would be wrong. We actually spent a little time walking around the square, I first noticed all of the flowers and plants that sitting on the monument in the square. Flowers and plants sat next to a sign stating that they were free to swap and free to a good home. What a wonderful initiative! I love plants but I cannot for the life of me, for whatever reason, look after some of them. Usually, the ones deemed the easiest to care for are inexplicably, not.
I noticed a painted set of colourful wings on one of the doors nearby, the #FetteryWings as they were tagged below, another brilliant initiative to engage visitors. And it worked, I was quick to get my picture in front of them!
I find that it takes very little to capture the imagination of children and adults alike, a little something to draw people to the local area, yet it is something that many small towns and villages miss the mark on. The same can't be said of Fettercairn, I was really impressed by these little touches. It felt welcoming, family-friendly and above that, it's still a beautiful village. But clearly, one that doesn't rest on its laurels!
As we walked around the perimeter of the village, we, perhaps a little odd or morbid to some, took a short walk through the graveyard. The church sits on a slight slope with many of the graves in disrepair due to age and growing trees. I always find this an interesting thing to do. Truthfully, I like to see trends in names and discover new names and honestly, I'm an empath just showing a little consideration for those that have passed. If you have watched Disney Pixar's film, Coco, you will no doubt understand.
After that, we finally made our way toward The Royal Arch, walking along with many sandstone houses and buildings. I love the reddish colour of the brick. It makes a welcome change from the grey granite that I am so used to in Aberdeen.
Many of the houses by the square have walls adorned with green vines, this is another feature that I love. There are touches of deep red paint along many of the doors and fences, some with stairways leading to what I imagine are maisonettes.
The Royal Arch was built in 1864 to commemorate a stay by Queen Victoria and Prince Albert at the nearby hotel. I believe the stay was meant to be somewhat of a secret, but anyone that has lived in or nearby a village will know that that is never to remain the case!
The arch is still used by light traffic to this day, we saw a few cars make their way through and I think it makes a really lovely feature of the village. We spotted some damage to parts, I can imagine in part that this is down to some overzealous larger vehicles but due to the age, I think that is only to be expected.
As we arrived so early, there were no shops or cafes open in Fettercairn itself. Eventually, a shop by the arch did open. Encore Dress and Vintage Agency, I had absolutely no idea that this existed but if you like your vintage or want to get some second-hand, high-end designer pieces, I think this is one of the best places to visit in Aberdeenshire. I was shocked, I saw Chanel, D&G, Gucci.. you name it. Bags, shoes and clothes galore. It is definitely worth a visit!
Two other points of note, are the Fettercairn Distillery and Fasque Castle/Fasque House. Again, Fettercairn Distillery was closed at the time that we arrived but we did make a stop to have a look at the building. I believe that they do a very nice single malt scotch whisky and offer customer tours around the distillery. I really enjoy a distillery tour, I have previously taken part in the Harris Gin distillery tour and the Talisker tour so this is definitely something that I would return to visit.
We didn't visit Fasque Castle this time but oh my goodness, we certainly will have to return to do so. What a beautiful building! They specialise in weddings/micro weddings/elopements but you can also book a stay at one of the many cottages or Fasque House itself. It is just gorgeous. I can't say that I haven't since looked at booking a stay in The Garden Rooms or The Stables if I could gather a crowd. Unfortunately, there was no availability but I would still be more than happy to visit the grounds if possible.
I can't wait to explore more of the area, and perhaps take a trip to nearby Edzell and grab some lunch at Sinclairs Larder! There are a lot of hidden gems to be found in these areas! Alas, this trip was all about The Clatterin Brig, so make sure to read all about our breakfast experience!
Find accommodation near Fettercairn