Macdonald Inchyra Hotel Review
This post may contain affiliate links of which we earn a small commission should you choose to purchase through them. This helps us to keep the site running. Thank you for your support
Sometimes it's not about city breaks, it's not about having preplanned events to look forward to, and sometimes a hotel stay alone is all the R&R that you need.
A retreat from real life. Somewhere to escape your thoughts. And personally, sometimes I just really appreciate staying somewhere that requires no cooking or cleaning, or much thought at all from me. Somewhere that takes you away from the often overwhelming feelings of guilt of oh, I need to do this.. or I should be doing this..
So when Peter told me that we had been invited for a stay at one of the Macdonald Hotels in Scotland, little did he know just how ready I was for a last-minute getaway. So much so, I could have packed there and then.
We made our way down to the Macdonald Hotel in Inchyra, a four-star hotel which lies just outside of Falkirk. Falkirk alone isn't an area that we are overly familiar with and this is always an added appeal to us, the opportunity to visit somewhere new.
If like us, Falkirk hasn't been on your radar these are a couple of reasons you should make the effort to visit.
Falkirk is the home of the infamous Kelpies, the largest equine sculptures in the world. These can be seen from the roadside, something we had passed many times before on our way home to Aberdeen, but it's nothing in comparison to stopping the car and experiencing them first hand.
The Falkirk Wheel, linking two canals. This is an incredible sight to see as the worlds only rotating boat lift. At 115ft high, it is the equivalent of 8 double-decker buses stacked on top of one another. This is one of the biggest (and largest) tourist attractions in the town and definitely something to see. You can also book boat tours for this which we may do on our next visit as a unique experience.
And you can also find The Pineapple in nearby Airth (along with the beautiful Airth castle) which is one of the most unique buildings in Scotland. I have no idea how this building remained unknown to us for so long but it's such an interesting piece of architecture and worth the visit if you have the time to spare.
What may also be of interest to know is that Falkirk is situated halfway between Glasgow and Edinburgh, approx 20 miles from each so this may be a perfect location for you, should you be visiting either city but maybe prefer to book accommodation outwith the hustle and bustle, or should you struggle to find affordable accommodation within the cities due to any large events.
We were booked into the Macdonald Hotel and Spa in Inchyra as mentioned, a short drive from Falkirk central, past the very impressive Callendar House mansion and towards Grangemouth. Admittedly, as we drove further towards the Grangemouth area, a large port and oil refinery town, we had our reservations. Not for any reason other than, well, the billowing clouds and mist covering the town, which did not immediately evoke those feelings of relaxation that I had been hoping for.
Nevertheless, it is at a distance and once we turned the corner into the Macdonald Hotel grounds we realised that it is enclosed and secluded by trees so there are those elements of privacy as well as being a short distance from the main road, so there are no sounds of traffic to be heard.
The car park runs along the length of the hotel and appeared to have plenty of parking spaces to accommodate guests and visitors.
As we arrived, it was a bright and sunny day and people were sitting outside with drinks in hand enjoying the weather which instantly put us at ease and gave the impression of a relaxed and sociable atmosphere.
We quickly made our way to the hotel reception to check-in, taking time to drop off our bags and familiarise ourselves with the surroundings before our evening meal. However, the check-in process left us feeling a little disappointed. As we waited behind another guest and observed an animated member of staff, happy and jovial interaction we were feeling optimistic about our stay but when it came to our turn to book in, it was very dry and matter of fact. Had we not witnessed the prior welcome and customer service, we would have thought nothing of it but we both left with the key in hand and wondering what we had done so wrong!
This was not something to dwell on or something we were going to let impact our stay, certainly, no more than the 'what did we do?!' conversation as we made our way through the building until we quickly found our room on the older side of the building. The Inchyra Macdonald Hotel has recently had a refurbishment to many of the rooms and there is now an older, original side of the building and a newly refurbished modern side. Unfortunately, I do not know what the refurbished rooms look like but we do both prefer the character of older buildings so this suited us fine and we were very happy to be placed as such.
However, if there are any mobility issues within your party, I would potentially request a room on the refurbished side as the stairway to our room was narrow and I believe that the newer side has been adapted for more accessibility.
The Room
Upon entering our Super Deluxe King room we were very pleasantly surprised with the size. Very pleasantly surprised. Golden hour was starting to set, we had a wonderful light shining through the windows and it felt very homely.
These are the largest rooms in the hotel. Our room had a really lovely bay window with table and chairs in front of it. This was decorated with a fruit bowl, bottles of water and a bottle of prosecco along with some local tourist guides.
There was a desk/dressing table with writing materials, Nespresso machine and a menu for the hotels' AA rosette Scottish Steakhouse along with the menu of available meals for the 24-hour room service. Now, there was also tea making facilities and biscuits within the wardrobe, these were hidden by the safe but I feel that these may not have been the most obviously placed and could be easily missed, so best to have a nosey.
The Bathroom
The bathroom was modern in decor and fittings, with neutral tiles throughout. Our room had a bath with an overhead rainfall showerhead and there were Elemis face and body products within the bathroom and there was a heated towel rail which I always, always appreciate as the cold person I am. Elemis is one of my favourite luxury skincare brands so I was thrilled to find out that the hotel spa focused on Elemis treatments and therapies.
Along with this, you will find fluffy robes and slippers in the wardrobe to add to the relaxation.
Unfortunately, my worst fear about hotel bathrooms was realised and I'm not sure how, but there was a large smear of hair along the shower tiles. And we're not talking one or two hairs here. There was a lot. Now I only mention this because I struggle enough with removing my own hair from the plug, in fact, Peter does it for me and I know there are many people out there like me who just..gag at the thought. So the idea of a strangers hair really makes me feel uneasy.
The Bed
When booking a hotel stay, the bed is of huge importance and often one of the longest-lasting memories of a stay. We all dream of those plush pillows, cosy duvets and comfortable mattress' long after leaving.
Who else, during a hotel stay has looked at the labels on the bedding to buy a set of their own?
I am happy to report that the bed lived up to my hopes and expectations. It was just as comfortable as I like, the mattress was firm yet soft, the pillows were plump enough to only require one and the duvet had been tucked in with such military precision that it felt quite comforting.
We both slept peacefully throughout the night, in fact, I did not wake up at all which I do routinely, which I see as a further testament to the comfort. The room was dark and there was no noise to be heard during our stay. But perhaps it is best to mention that our room was at the end of a corridor which had only two rooms so I wouldn't have expected to hear much noise, although there were also events happening within the hotel so there was more footfall at the time.
Spa and Leisure Club
Spa
As mentioned above there is a spa within the Inchyra Macdonald Hotel which offers Elemis treatments and therapies.
There is availability for booking treatment such as massages, facials and manicures.
It is advisable to prebook any treatments or spa days that you would like as these are not exclusively for the use of hotel paying guests.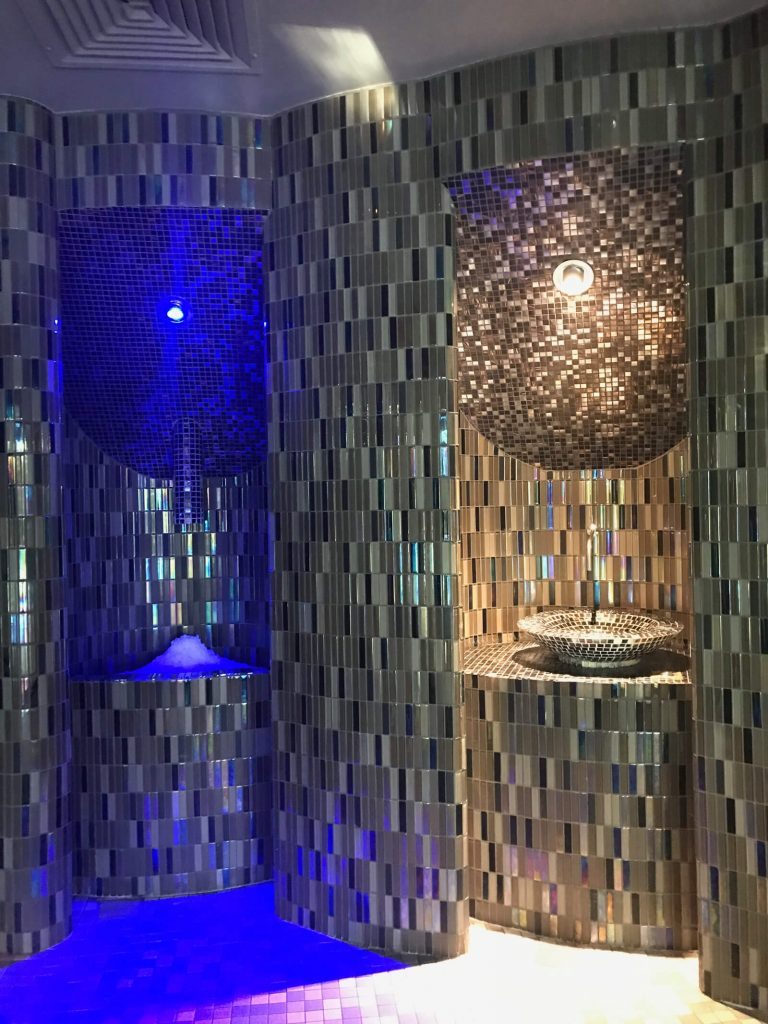 Leisure Club
The Vital Health and Wellbeing Club within the hotel is potentially the area which impressed me most.
I think if you were looking for places to stay in Falkirk which have a spa and leisure club, this hotel could seem a little out of the way and I think sometimes hotels can boast of a leisure club which in reality never amounts to much but we were both really pleasantly surprised by this.
I'm not sure how many Falkirk hotels with swimming pools there are but the Macdonald Hotel Inchyra offers a fantastic 20-metre indoor pool with beautiful views overlooking the estate. Along with the pool, there is a thermal suite with sauna, steam room and experience shower. I thought the addition of the crushed ice to cool yourself down was a nice touch.
Along with the swimming facilities, there is also a well-equipped gym with the latest equipment but even more appealing to me were the virtual Les Mills classes.
I am a big fan of Bodycombat and would love to try the Barre classes among others, but classes can be daunting if you are lacking in confidence and aren't sure of your ability or whether it would suit you. No one wants to stay for an hour during a class that isn't for them so the idea of a virtual class really appeals to me and I'm sure many others.
I believe the Spa facilities along with the Vital Health and Wellbeing Club facilities are available for public membership but the Health and Wellbeing Club allow free access for all Macdonald Hotel Inchyra guests.
We visited the hotel Macdonald Inchyra to experience one of their tribute nights.
This includes a set three-course meal, your stay and your breakfast and the act we saw performed as Cher, Abba and there was also a DJ set afterwards.
The tribute night is obviously a huge appeal to the local community along with guests as the room was absolutely packed with people of all ages enjoying some lighthearted fun.
Get 20% off your stay if you book and stay before 30th September 2023
Check the latest deals at the following link.

These deals are fantastic value for money and well worth a look when planning your stay. Read more about Macdonald Inchyra tribute night HERE…
Address
Grange Road,
Polmont,
Falkirk
United Kingdom
FK2 0YB