This post may contain affiliate links of which we earn a small commission should you choose to purchase through them. This helps us to keep the site running. Thank you for your support
Eastern Airways offer a new flight route between Aberdeen and Wick, which we were thrilled to have the opportunity to experience. These flights are affordable, accessible and also benefit from the fact that the flight takes only half an hour (as opposed to the nearly 5-hour drive and, of course, the current rise in petrol prices).
Find the best flight prices to Wick
Check the latest prices and availability for flights to Wick
Like many others, this was our first time travelling by plane over the past couple of years and we were a little apprehensive, mainly due to the unknown. We didn't know what to expect, would it be the same? Would there be changes in the process of checking in? How strict would security be? I can appreciate that there will be many like us at the moment, those who would love to travel but maybe aren't 100% sure about those longer flights quite yet.
That is why I think flights like these are perfect, as I said in our Things To Do In Wick post, our experience was seamless. We endured no long queues and a speedy security check and it was topped off with a timely and fuss-free flight.
We arrived at our accommodation, Mackays Hotel in Wick, after a relatively short walk from the airport. Of course, you could book a taxi if you have a lot of luggage but as we were travelling light and wanted to find our bearings, we opted to take the walk.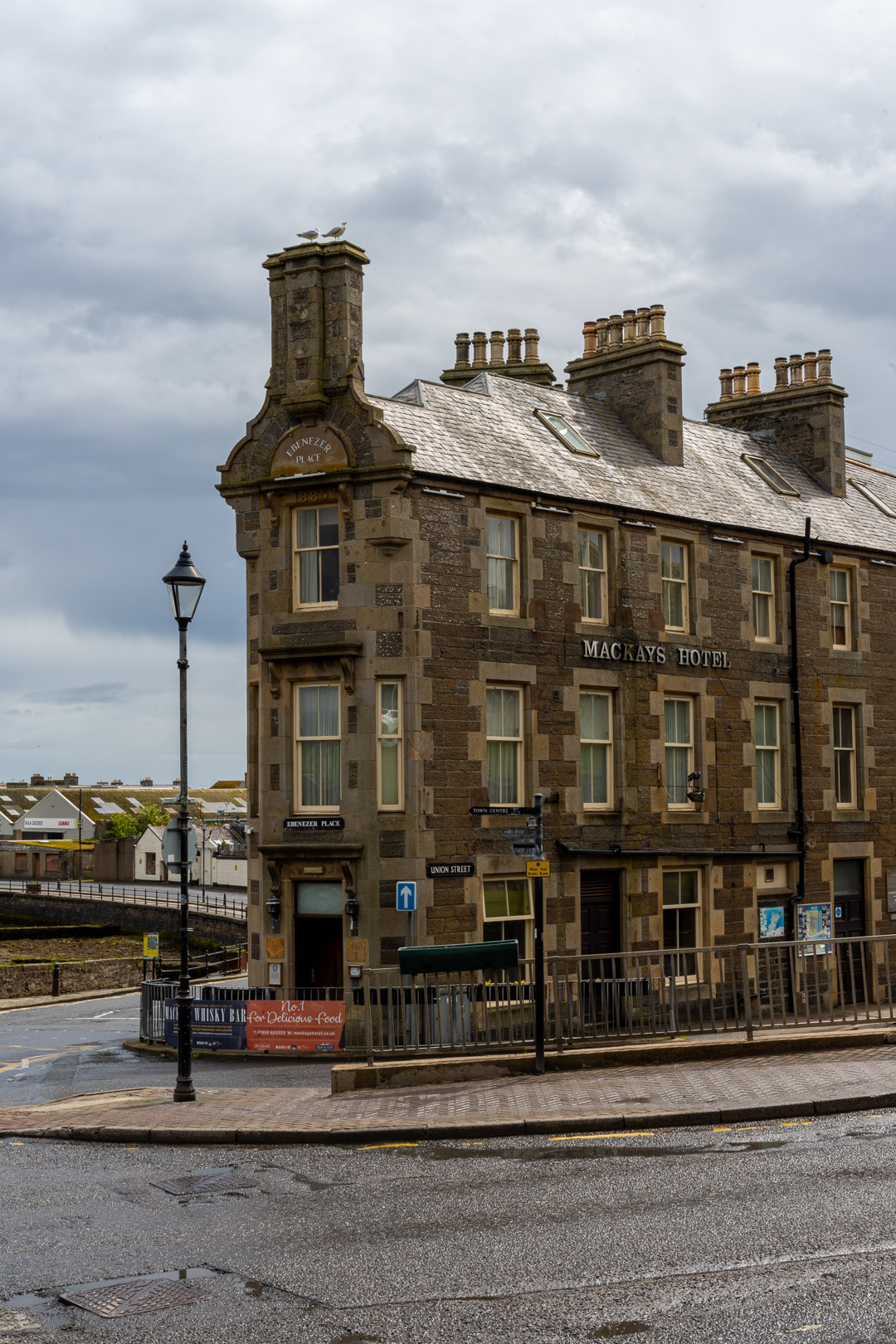 This was our first trip to Wick in Caithness, in fact, this was our first trip to this part of Scotland so we decided not to look at too many details of the hotel before we arrive, in part so that our opinions have not been formulated ahead of arrival but maybe also for a little bit of a surprise.
Maybe that's just me, I don't know, and although yes, I don't go in completely clueless and do read some reviews prior to visiting any hotel (I mean, cleanliness and safety are always a priority), I try not to look at too many photos.
The walk from the airport to the hotel was a straight route of approximately 1-mile and took very little time to achieve. It was a nice walk, we passed The Nucleus (national archive of the British civil nuclear industry) which is such an interesting-looking building. Very modern and very different to the type of building that you may expect to find in a relatively small town such as Wick.
The hotel was extremely easy to find once we made our way to the town. We did use our phones to navigate initially but the hotel is very close to the centre of town and we had no issues finding it after that first walk.
First Impressions
Once we stepped inside the hotel and introduced ourselves, we were greeted by one of the hotel owners, Ellie Lamont. The Mackay Hotel is a family-run business, run by Ellie and her husband Murray Lamont who have owned and worked there for over 40 years. We met Murray a short time later as he was out walking the dogs when we arrived.
Murray and Ellie have three beautiful and well-natured dogs, Max, Bria and Finn, who can often be found in the hotel and are extraordinarily well behaved, so, I suppose that this seems as good a time as any to mention that this is a dog-friendly hotel with pet-friendly rooms suitable for all of the family. It is also close to many scenic walking areas for the dogs to enjoy, with plenty of clean and fresh air.
Along with Mackays hotel, Murray and Ellie also own and run further self-catering accommodations in Wick and are both firm pillars within the local community.
The hotel itself has a very warm and welcoming entrance. We couldn't help but notice the giant Harrods bear as soon as we entered, which creates this air of ease about the place. In some ways, it seems very out of place and in others, I think fits perfectly and offers an insight into this family-run hotel business.
Introductions aside, we had some time to talk to Ellie about the town, the local attractions and future projects that are in store for Wick and Caithness before we made our way outdoors to experience some of them for ourselves.
As we had arrived so early, the room wasn't ready and we knew to expect that so we weren't anticipating any different but they graciously allowed us to leave our luggage while we went out before our official check-in.
Check-in is at 3 pm and our flight got us in mid-morning, but that was no problem as we were eager to get starting on experiencing as much of Wick as we could with the time that we had.
Thankfully, with Murray and Ellie's help, we made our way to Wickers World by the marina for some lunch and then on to The Wick Heritage Museum where we spent a couple of hours learning about the history of Wick and Pulteneytown.
Rooms at Mackays Hotel
On our return to the hotel, we were given the key to our room and directed to take the elevator to our floor. This is a smaller elevator than your average hotel so although fine for us with light luggage if you are taking anything heavier or have mobility issues, you may opt to take more trips or ask for assistance.
There are 30 bedrooms within the Mackay Hotel, all with ensuite facilities. Something that I find particularly appealing about Mackays Hotel is that because this is an older building, many of the rooms are, of course, different sizes and they do still offer single/double and family rooms.
This is a great option for those travelling alone or as part of a larger group, whether that be for work or as part of the NC500 (North Coast 500).
As we entered our room, we were taken by how bright it was, despite being much later in the afternoon. On initial entry, we were greeted by a small vestibule area with a luggage rack for our case. This then led to the room towards the left and the bathroom straight ahead. Once we placed our cases down, we were keen to view the room.
The room was incredibly spacious, a really comfortable room, which was lovely. We had a large open space surrounding the bed which meant there would be no awkward manoeuvring around each other as we were getting ready.
There were two single beds connected into a very large double and we had a wardrobe with a chair, two bedside tables along with a desk and even a full-length mirror by natural daylight.
I often find that hotels overlook the full-length mirror and it may seem insignificant to some, but to many of us, a mirror like this by natural light is a luxury when getting ready and applying makeup.
We had two large windows which looked onto the Wick River and this was delightful. A view overlooking the bridge and some gorgeous architecture and we could hear a piping band practice in a nearby car park which we watched for a little while. It felt perfectly Scottish and very soothing.
The bathroom was again, very spacious. We had a bath with an overhead shower and there were some complimentary toiletries for use. There were various sized towels but also flannels, and I think this feels underrated! I love using flannels for my face but don't always take one as they take a little while to dry, so I thought that this was a lovely touch to offer.
After spending a little bit of time in the room, we made our way downstairs for a meal at the in-house restaurant, No1 Bistro. This is a relaxed yet fine dining experience if that makes any sense. What I mean by that is that there is no pretence to be overly dressed up, there should be no expectation (nor worries) of bite-size meals but instead, expect some deliciously cooked, high quality, fresh and local produce cooked by a wonderful team.
The whole team really is wonderful and I would like to express that especially. Throughout our stay at Mackays Hotel, we were met with nothing but kindness and friendly conversation. We were instantly put at ease by their warm and friendly nature and I truly think that they are an asset to the hotel.
Now, before I get further sidetracked and begin talking about the meal itself, the doorway of No1 Bistro is actually on the shortest street in the world! I think that's pretty cool! Who could have imagined that it would be right here in Scotland? So, the shortest street in the world is Ebenezer Place, it's the very end of the Mackays Hotel building and measures 6ft 9in.
Food at No.1 Bistro in Wick
The restaurant was a little smaller than I had anticipated but that's not to say it was small. We certainly couldn't hear anyone else's conversation and we didn't feel as though we were on top of each other. I thought that it was nicely spaced out and was mainly set up with tables for 2-4 guests but I would consider booking prior to visiting in busier seasons or if you were visiting as part of a larger group.
When it came to the menu, there were so many delicious-sounding courses that it was difficult to choose from. I really debated between quite a few of the options and of course, there was a separate specials menu as well, just to add some more conflict into the mix.
For starters, I chose the pan-fried Orkney scallops which were brilliant. Really brilliant. I am quite partial to a scallop and these came with a cauliflower puree and crispy kale. I know that kale isn't for everyone but this was a very welcome touch, the crunch really added a lovely texture to the meal.
Peter chose the grilled black pudding, smoked bacon with creamed peas and poached egg and again, very tasty. Black pudding with a poached egg is an underrated dish that I don't think you see offered often enough!
I chose a main from the specials menu and that was a 'bangers and mash' dish with onion gravy and coated in some melted stilton. I don't want to play it down by referring to it as your typical bangers and mash meal because it was of great quality with really lovely flavours. And there was so much of it! These are some big portions.
For the main, Peter opted for a curry which came with all of the usual sides of rice, poppadum, chutney as well as Bombay potatoes. This was very nice, again, and a very big portion.
Desserts are usually the main attraction for me, I have a sweet tooth and I really enjoy ending a meal with something to suit, so I chose the apple and cinnamon crumble with custard while Peter chose the sticky toffee pudding with vanilla ice cream. We actually didn't share any and I think that is a testament to how nice each of them was.
In my opinion, the food overall was of such high quality, large portions and very reasonably priced.
We were absolutely stuffed and by the end of it, had to roll ourselves away from the table and back up to our room for the night. Not one more thing could have passed my lips and any kind of evening walk was out of the question. I overindulged because such lovely food was not to go to waste but I can't say I felt my best for it.
Once back in the room, we reflected on the day that had passed before us in a flash and wondered what would be in store the next morning. We both fell asleep rather quickly and I think it was the best night's sleep that I had in a very long time. I am not a very good sleeper, I always wake throughout the night and I often struggle to get back to sleep but I really, really slept well. I did wake up for a short while but I was so comfortable, there was no noise disturbance from traffic and it was lovely to have so much extra bed space that I think we both needed after such a busy day.
Thank goodness we set alarms for breakfast though, as I think I could have slept right through until check-out at 11 am!
Breakfast at Mackays Hotel
We woke early, showered and packed our belongings before heading down for breakfast As we still had plenty of things that we wanted to see and photograph, we thought that this was the port of call to take and should make the most of the time that we had left.
Breakfast was a mix of hot and continental foods, to start, we shared a little yoghurt and compote with some fruit juice before the hot food came.
I ordered the poached eggs on brown toast while Peter had a full breakfast. I always order poached eggs simply because they are my favourite way to have them served, but I do always worry that chefs will think it's some kind of a test, but I am pleased to say that these were cooked perfectly. Really. I was very impressed because I am often left disappointed when I order them but they were delicious. I do wonder if they could be improved with a sauce or chutney, tomatoes even as they were a little dry but there were other egg variations available on the menu that you may prefer.
Peter had almost felt the same with his breakfast, that perhaps it was a little bit dry and could have benefitted from a different texture in addition to what was there. Again, that could just be personal preference.
Tours of Wick
After breakfast, we enjoyed a tour of the Old Pulteney Whisky Distillery which was wonderful. We are not big drinkers but we are both very interested in history and taking part in tours like this. I really do appreciate them and I thought that our tour guide Daniel was wonderful.
This took just over an hour and I would consider this to be well worth your time if you are visiting the area, whether you are a big drinker or not.
Later in the day, Murray and Ellie were very kind to take us on a tour of some of the tourist hotspots and top things to do in and around Wick.
We visited John O' Groats and that infamous sign, Castle Sinclair Girnigoe and The Trinkie outdoor swimming pool.
Tours with local companies can be arranged for visitors and those at Mackays Hotel would be more than happy to help assist with this where possible.
We thoroughly enjoyed our visit to Mackays Hotel and would love to return to visit and explore more of Caithness soon.
Book your stay at Mackays Hotel in Wick
Check the latest prices and availability for Mackays Hotel