This post may contain affiliate links of which we earn a small commission should you choose to purchase through them. This helps us to keep the site running. Thank you for your support
We had the chance to visit the Royal Burgh of Wick in Caithness last week, and you know how much we love to visit new areas so, of course, we jumped at the opportunity!
I always feel somewhat ashamed when I say that there are areas of Scotland which are new to me, I've lived here my entire life, and I should have seen it all by my grand age but Scotland is a far bigger country than you often think and let's face it, tourism always seems to travel south.
Flying from Aberdeen to Wick
But not now! Eastern Airways has a new flight route between Aberdeen and Wick, making it far more accessible to reach. I was a little apprehensive about boarding a flight as we hadn't taken one in a couple of years and we had been viewing a lot of issues in many UK airports so we weren't sure what to expect.
However, I can happily report that we had a faultless experience. We checked in at Aberdeen airport seamlessly (as in, absolutely no queue), slipped through security with no setbacks, and enjoyed a little time at the much-improved departures area before boarding our Eastern Airways flight to Wick. It was great and I was surprised how easily we fell back into the motions.
One thing about these short domestic flights is that this is a much smaller plane than many people will be used to, I have experience of this size from travelling back and forth to Stornoway but it was Peter's first time. Propeller planes are typically two by one in terms of seating and it is much more unforgiving if you require leg room, but we are also talking typical flight times of around 30 minutes. There are no refreshments on board and for the time that you are in the air, I think you can do without but if not, you can take your own. And honestly, many people, myself included, pick up a coffee at the airport to take with them on the journey.
Find flights to Wick Airport
Check the latest prices and availability for flights to Wick
As we were flying over the coast before eventually arriving in Wick, we were surprised by how many wind turbines we could see. Both at sea and on land. I thought that Aberdeen had a lot of them from the view of the beach, but it is nothing in comparison.
After a short and turbulence-free flight, we arrived at the Wick John O'Groats Airport. As this was our first visit, we had done a little investigating before flying as we weren't sure how far out the airport was, how we would make our way to the town etc but it is potentially the best-positioned airport that I have encountered. It is around a 1-mile walk to the town centre or a short taxi ride, although, due to there only being a couple of flights a day, there doesn't appear to be taxis sitting at the airport as you may have come to expect but there is plenty of guidance within the airport as to organising transport.
We decided to walk, a little optimistic as it was spitting with rain but we saw it as a good opportunity to find our bearings. Or at the very least, the beginning of them. As it turns out, you simply walk straight ahead until you can't walk straight ahead any further. I like to think that my internal compass is quite good but I would consider this to be simple by anyone's standards.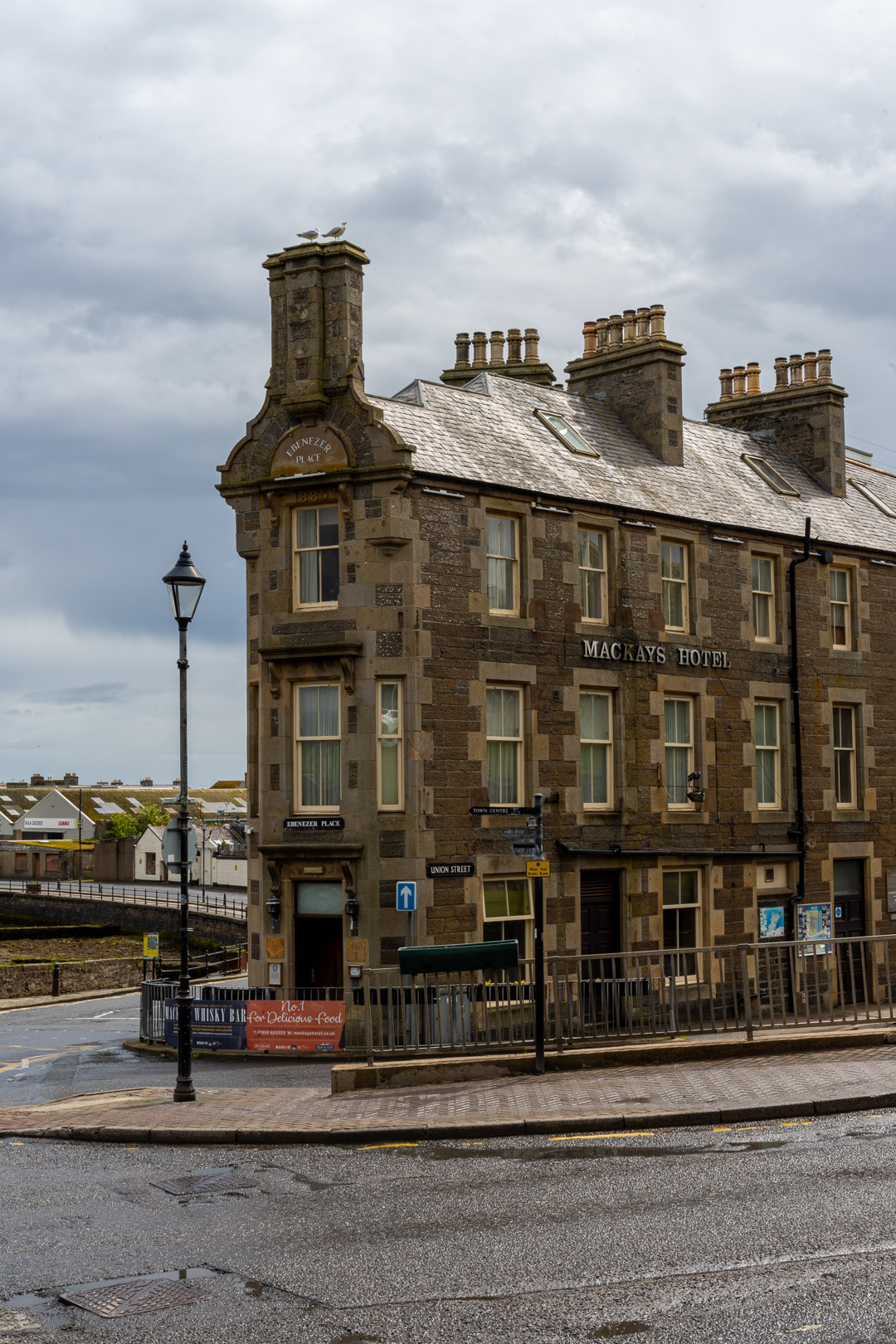 Our first destination, was, of course, the hotel. The last thing I enjoy is humphing around my luggage when I don't need to. We were booked in at Mackays Hotel which is a warm and welcoming family-run hotel in the centre of Wick, it is also the location of one of Wicks top-rated restaurants, No. 1 Bistro, which also happens to be on the shortest street in the world, Ebenezer Place.
Once we dropped off our luggage, we grabbed some lunch at a nearby restaurant on the Wick Marina, Wickers World, before taking a short stroll around the marina and eventually making our way to the Wick Heritage Centre.
Wick Heritage Centre
The Wick Heritage Museum appeared quite unassuming from the outside, in fact, very unassuming. It looked like a relatively small building which I imagine could be easily overlooked.
However, you really cannot begin to comprehend how big it is once inside, you couldn't imagine how much history, heritage and artefacts are safely tucked away within these walls, or the real passion, love and care that is shown by the volunteers towards keeping the story of Wick, past and present, alive.
Whatever your interests: boats, fishing, newspaper print, barrel making, Caithness glass, photography, art, clothes, interiors. Wherever your interests lie, it's in there! Aladdin's cave.
It almost seems a shame that this was the first stop on our itinerary, as it was going to be a tough one to beat. I was absolutely astounded. And if you're going to visit, do leave considerable time to do so as it can easily slip away. I think we spent just short of two and a half hours visiting and had they not been closing, it could have been considerably more.
We enjoyed a tour from volunteers Malcolm and Donald. We also had conversations with Carole and a number of the other volunteers, all of whom have their own individual interests and knowledge that they are more than willing to share. This is something that adds real character and a deeper sense of meaning to the stories that you hear as you make your way around the building as most, if not all, are from those that were born and brought up in the area and that passion and love for it really comes through as they reminisce of times and people passed.
They also have another thing that I considered to be a tremendous idea, Wick Voices. This is such a fantastic initiative, one that I think all heritage centres and museums should have and something that they should be and no doubt are, very proud of having.
So what is, or are Wick Voices? Recorded stories from those that live and have lived and grown up in Wick and have knowledge of tales and the history to share with future generations and visitors like us.
How often have we wondered what a distant relative, or time, or place must have been like? Passing memories and stories on to future generations is invaluable.
Wick Harbour
Once we left the Wick Heritage Museum, we took a little walk along the harbour to clear our minds. Trust me, our visit was fantastic but it is an incredible amount of information to take in and it was a little time to really reflect on some of those details that we had learned.
Of course, a big part of Wick's history was the fishing port and the herring fishery. During the 19th-century herring fishing was a massive industry.
At one point, there could be over 1000 boats found in Wick harbour and it is said that you could walk from one side to the other by hopping boats alone. The herring girls could gut and pack up to 50 million of 'The Silver Darlings' as they were known, within just a couple of days.
And this was a gruelling job, thousands of women gutting the fish, cutting their fingers right to the bone in the process and then dipping their hands in the packing salt. Few of us could really imagine such arduous work.
They even established their own Herring Market, which still stands to this day. Although the boats and the women moved south along with the fishing season, Wick played a really important part in this history.
Now, I had informed my family that I was going to Wick and even since, of the things that we learned, so tell me why, only now, do I find out that my great grandmother was one of those herring girls working in Wick?
It definitely holds more personal meaning to me now and perhaps it would have made me look at things more differently again but… families! Please tell me that mine is not the only one to forego useful information!
North Baths/The Trinkie
North Baths and the Trinkie are two outdoor swimming pools in Wick which are filled daily with the tide which is a great use of natural resources. Although, I imagine that no matter what time of the year you visit, this is a chilly swim!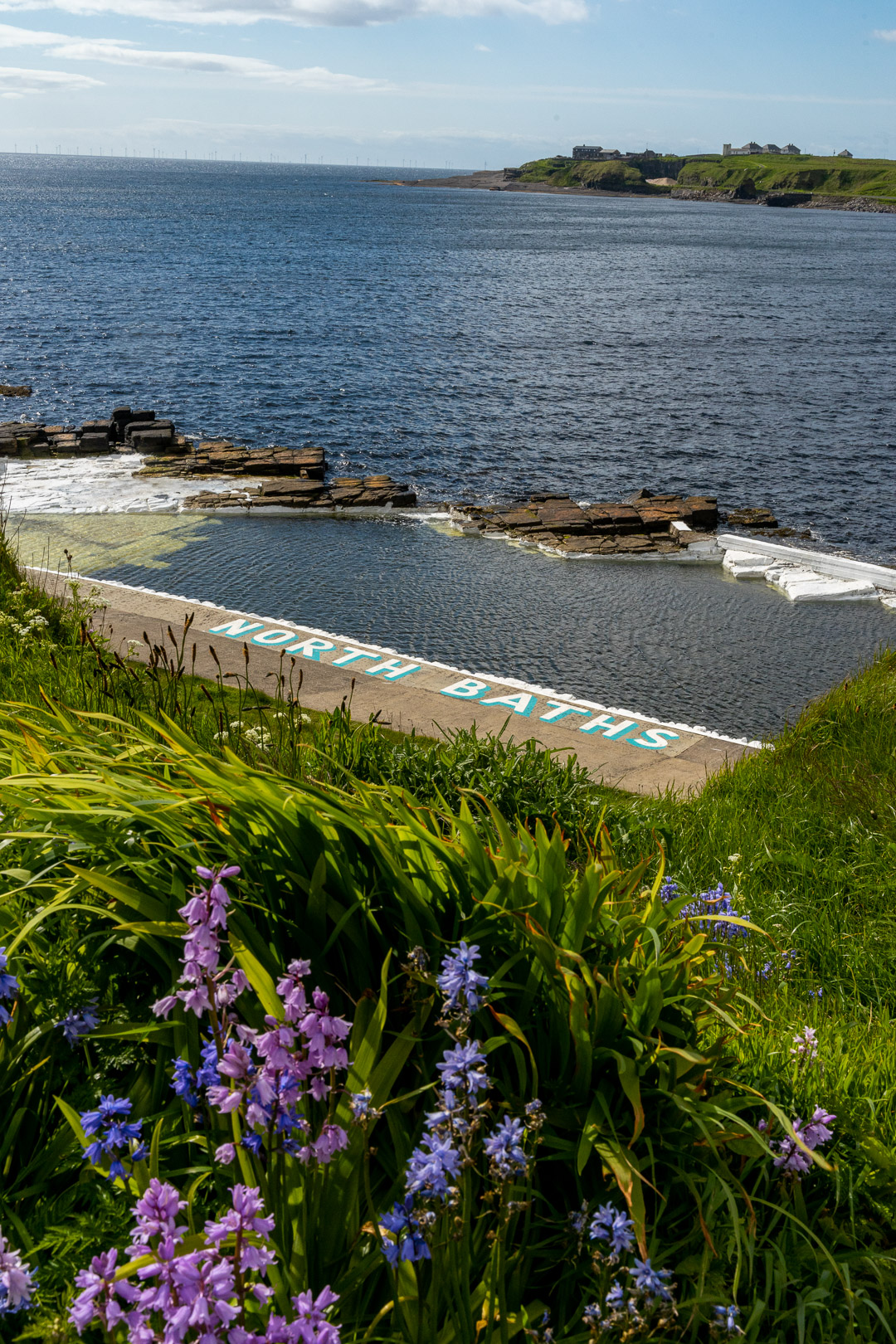 Out of the two, North Baths are slightly more sheltered and as the name implies, to the North of the town and harbour while the Trinkie is on the outskirts of town.
Both of them are maintained, have been restored and are painted yearly by volunteers.
Community is such a big way of life in Wick and that is very evident in every place that you visit. The people really care and want the town to be the best that it can be which includes much of the community funding and work.
The Trinkie has a lot more area surrounding the pool, I suspect that for many generations this will have been a fantastic place for picnics, sunbathing and playing games overall. There is a lot of room for families to set up a pitch and enjoy the day while the North Baths have a lot less space and are probably best suited to those looking to be in the water.
Wick Memorial Garden
We had spotted the Wick Memorial Garden on our initial walk through the town and thought it seemed a nice place to reflect and remember those that had been lost during WWII but we really didn't understand the sentiment behind it.
So, forgive me if I get anything wrong, I will happily rectify that if so, but we were told a story during our time at the Wick Heritage Museum which really gave a deeper meaning behind the gardens and made us look at them in a very different light.
We were told of a young boy who had been told by his mother to help his grandmother with the messages (shopping), pick some up and drop them off. However, as children often do, he became distracted playing with his friends in the street, lost track of time and didn't follow these instructions.
At this time, there was an air raid, a bomb fell on his grandmother's building, destroying it and it was lost entirely. This is the spot of the now, Memorial Gardens.
Thankfully, I believe that neither the boy nor the grandmother was injured. The grandmother for whatever reason was not at home and his failure to follow instructions saved him. Although, we were told that despite this, he was too scared to go home initially as he had not done as he was told.
Sadly, things didn't work out as positively for many families and there were a lot of losses.
Again, it's stories like these that resonate with people, a story that I took away with me and I will remember and I now pass on to you. This is the importance of sharing those memories with visitors and future generations.
Old Pulteney Distillery
Did you know that Wick was dry for 25 years?
From 1922 to 1947 it was completely alcohol-free (well…legally), hard to believe that this could be a thing in present-day Scotland but after a vote, 62% of the town chose to put Wick and Pulteneytown into complete abstinence.
At a time that sailors and servicemen could have really benefitted from a drink on returning home, sadly, it was not to be. You could not buy it, you could not sell it. Although, let's not kid ourselves into believing that there wouldn't have been many under the radar, home-distilled moonshine drams making the rounds.
I love a distillery tour and visiting Old Pulteney Distillery was no exception. You would be surprised how different each distillery is and how simple and minor changes between different producers, create completely different products.
We were very lucky to receive our tour from Daniel, who clearly has a passion for whisky and for the brand. The tour is not overly formal, it's equally very informative. We were on a tour of 6, all of varying knowledge and experience in visiting distilleries and there was no pretence or hierarchy, no snobbery I should say, behind the delivery of information. Plenty of time to ask questions at varying stages and little tidbits thrown in for good measure.
Old Pulteney is a single malt whisky which was established in Pulteneytown in 1826 but due to the aforementioned prohibition of alcohol in Wick, it ceased production in Wick for a number of years before returning.
Of all the distilleries that I have visited, I really like the building of Old Pulteney. I think it is possibly the most interesting building and the one that has tried to retain use of what it had, as opposed to manufacturing something entirely new.
It has the outbuildings for casking, a building for storage, and much of the original machinery and is really making the best use of the space available to them.
Castles
Much like Aberdeen, Wick has numerous castles and ruins to visit and we did manage to see a couple.
Sadly no Dunrobin or Old Keiss Castle but we did manage to visit Castle Sinclair Girnigoe and the Castle of Old Wick.
Both of these are ruins, the Castle of Old Wick, particularly so. It was also a tad too windy to get out and take a look so we did view this from the safety of the car.
However, we did manage to get out and see Castle Sinclair Girnigoe. Scotland really loved its clifftop castles (for good reason, battle defences and the like!) and my goodness, it was windy!
You know when the wind pushes you into a half run, that was me.
It is a mixture of two castles, Castle Girnigoe which was built in the early 15th-century and Castle Sinclair which was built in the 17th-century. It is a lovely, lovely building which has a drawbridge and you can still enter many of the rooms, despite being in ruins but it's very interesting to look at.
There is a car park nearby but it is a little bit of a walk to reach, so this is something to bear in mind.
John O'Groats
Wick is on the NC500 route and I know that many, many people that pass by will be heading towards the village of John O'Groats. I had no idea that it was so close to Wick, approximately 25 minutes drive.
It's not the most northerly point of Britain (that's Dunnet Head, nearby) but it is the most northeastern tip and that infamous sign which shows that it is 690 miles from London, 280 miles from Edinburgh, 6 miles from the Orkney Isles, and 2,200 miles from the North Pole is a major tourist attraction.
Of course, we got our picture taken there too. Of course, we did, I am a tourist and I am not above taking pictures at popular tourist attractions.
I also had no idea how close it was to Orkney, it was within sight. I believe that they run ferries over summer if you are looking to extend your trip, and I know that I would love to visit the islands!
It was an incredibly windy day filled with sun, rain, snow and surprisingly… hail! So, we didn't stay for long, we were also conscious of our need to return to the airport.
Sadly, we had to start making our way back from our jam-packed 2-day adventure. I can't deny that I was absolutely exhausted by the time we got back on the plane to make the journey home but we left filled with wonderful memories and a want to explore the region further!