This post may contain affiliate links of which we earn a small commission should you choose to purchase through them. This helps us to keep the site running. Thank you for your support
Disclaimer: This meal was gifted but we were not obliged to post a written blog post and as always, all opinions are our own.
I have just returned from a meal at The Braided Fig Aberdeen, a meal which could only be described as an exceptional dining experience, so I felt really enthused and eager to share my experience with you!
The Braided Fig is somewhere that I had never visited before, it is often named as one of the best places to eat in Aberdeen City Centre and I have long been aware of it and I had heard many good reviews about the restaurant but for whatever reason, it remained on my list of places to visit, that is until this years Aberdeen Restaurant Week.
In case you don't know, Aberdeen Restaurant week (or fortnight as this one is) runs city-wide, where participating restaurants have the opportunity to put on a special menu, whether that's lunches, dinners or other dining experiences and you can try these for a reduced rate of £10-20.
It's a great way to visit and discover somewhere new, just as I have with The Braided Fig because as soon as I saw them on the list and saw the menu, I jumped at the chance to visit.
We arrived on a cold and dark Tuesday evening and were greeted by a much welcome warmth as soon as we stepped into the restaurant.
I wasn't sure what to expect of the interior but I can tell you that I certainly wasn't expecting to see a fully blossomed tree in the middle of the entrance. I was quite taken aback, I didn't question it but it was definitely eyecatching and beautifully decorated with sparkling lights.
The rest of the restaurants' decor was fairly muted in comparison. While inoffensive, dark wood tables with a mix of greens and purples in the chair fabric, I think it could be elevated and brought a little bit more up to date but I appreciate this is an expense, tastes are different and trends change frequently so may not be a consideration at the moment.
The Braided Fig Menu
To start, we ordered the 'Breaded Calamari with Pickled Vegetables & Chorizo Aioli' and the 'Korean Cauliflower (Vg) with Vegan Mayonnaise' although the options of Cullen Skink and the Chicken & Sesame Toast starters appealed to us also.
The Breaded Calamari was delicious, it did have a very slight chew, you couldn't quite cut through it seamlessly but it did taste fresh, it wasn't rubbery and we thoroughly enjoyed it and we thought that the Aioli/mayo complimented it nicely. It was also a very good portion size.
The Korean Cauliflower was the standout dish of the whole meal for me. I think sometimes people overlook the Vegan options, perhaps they don't sound overly exciting or indulgent but trust me when I tell you that this dish was fantastic. The cauliflower was coated in a tempura-style batter that had a nice crunch, while the cauliflower inside retained its shape and its flavour, it didn't crumble and it wasn't watery which I was a little concerned about when ordering.
It was coated in a lovely Korean style glaze sauce which had a little bit of a kick, nothing overwhelming but you could definitely taste a bit of spice and it had a sweetness too but this was really pulled together with the mayo to save it from being overwhelmingly sweet.
Again, for a starter, the portion size was perfect, and if you don't have a large appetite, you could easily substitute a starter and/or side to create a smaller meal.
Both starters were brilliant but in my opinion, the Korean Cauliflower is not one to miss.
For mains, we ordered the 'Pan Seared Sea Bass with Sauté Potatoes, Broccolini, Petits Pois a La Francaise and Salsa Verde' along with the 'Duck & Shrimp Noodle Bowl with Smoked Duck Breast, Confit Duck Leg, Shrimp, Fragrant Vegetables and Hoi Sin Sauce'.
The Pan Seared Sea Bass was nicely cooked, flakey yet with a little bit of crisp while the potatoes were cut as discs and had a harder skin with a soft inside. The petits pois had a strong pea flavouring and the pearl onions were new to us in that way of serving. I don't feel they added much to the dish and had lost some flavouring in cooking. The salsa verde also divided us a little as the oil had separated and although it was mixed quickly before pouring, it did leave a lot of oil residue over the plate which wasn't so appealing.
When it came to the Duck and Shrimp Noodle Bowl, I was very excited to try this. I love noodles and it had been a little while since I had eaten them. This was a very big portion, one that I struggled with and in turn, shared a lot of, but that is not a negative, that is based on my having a smaller appetite but I did find it very filling.
The duck was a little bit tough to cut through but it had a nice strong flavour, I thought that the prawns were really nicely cooked and there was a good amount of them, it definitely wasn't sparse, while the noodles and vegetables were soft, sweet and really moreish.
Along with our mains, we couldn't help but be tempted by two of the sides. At least, we narrowed it down to two of the sides as we definitely wanted to try more!
We chose the 'Parmesan & Truffle Fries' and the 'Beer Battered Pickles & Taco Mayonnaise'. I really enjoyed both sides and I thought that they were more than worth the added cost of £4 each.
My dining partner was not so keen on the truffle on the fries or was it in the mayo, we weren't too sure which, as he found that a little bit strong but really enjoyed the beer-battered pickles which was fine as we both just ate a little more of what we enjoyed.
The service received throughout our time at The Braided Fig was impeccable, very friendly and warm, attentive but there was no rush to eat our meal and move on to the next course. Which is just as well because we both needed a bit of a breather and a glass of water before moving on to dessert!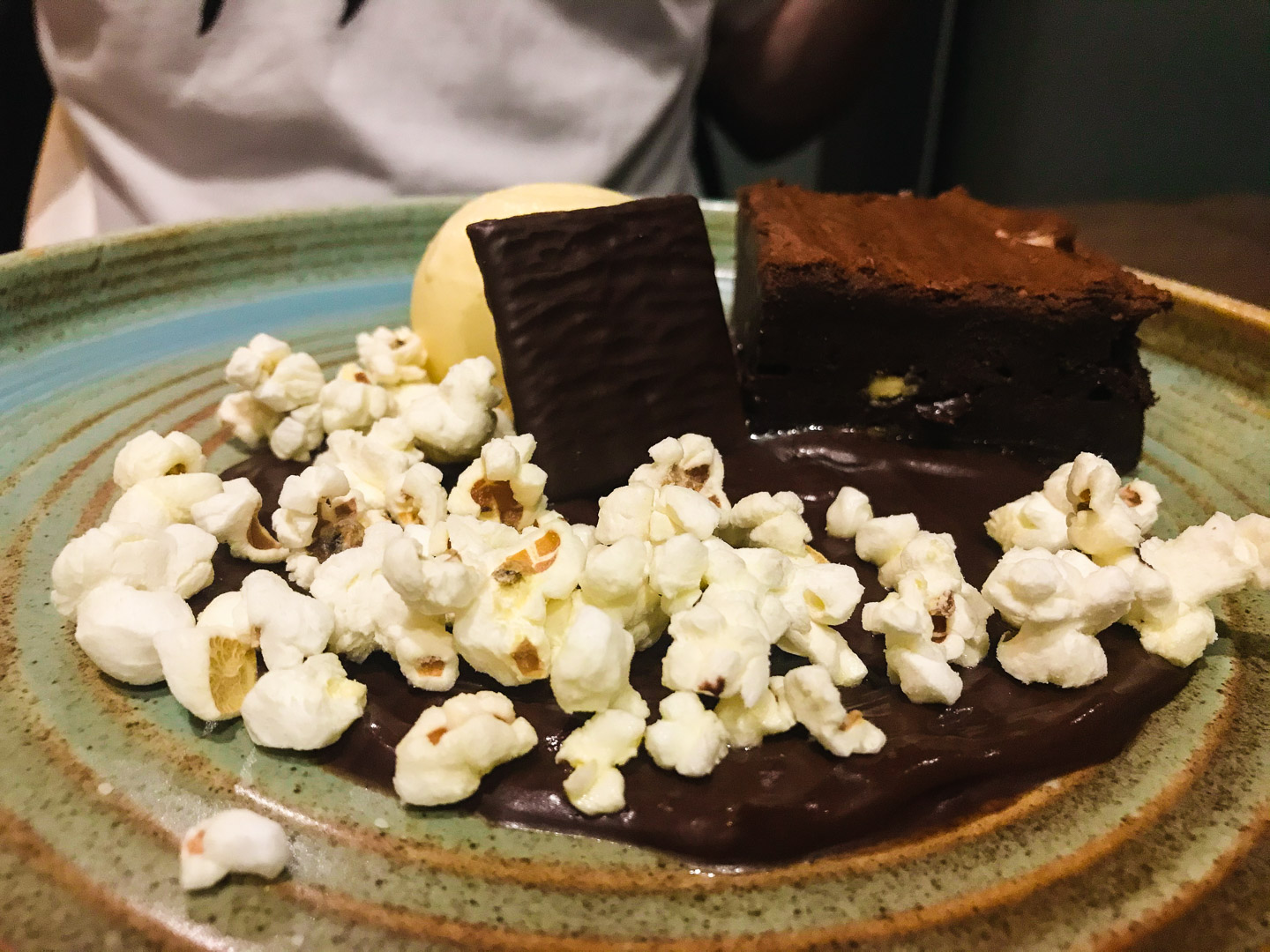 For dessert, we ordered 'Warm Chocolate Brownie, Dark Chocolate Sauce, Popcorn & After Eight Ice
Cream' and the 'Raspberry Jam Cheesecake, Raspberry Crumble, Haroosh Syrup & Toast Ice Cream'
I found the warm chocolate brownie extremely rich so this will be perfect for you if that is to your liking. I certainly couldn't have eaten as much as was served while my friend had no issue at all in devouring the lot! Something to bear in mind when ordering.
The raspberry jam cheesecake was not as I had imagined, I had expected a baked or even a no-bake cheesecake but this was the softest and fluffiest cheesecake that I have ever tasted. More of a whipped mousse consistency. The overall flavour of the cheesecake was quite mild but there was some raspberry jam on the dish if you wanted a little bit more. The jam was very sweet so I did not do this but the option was there.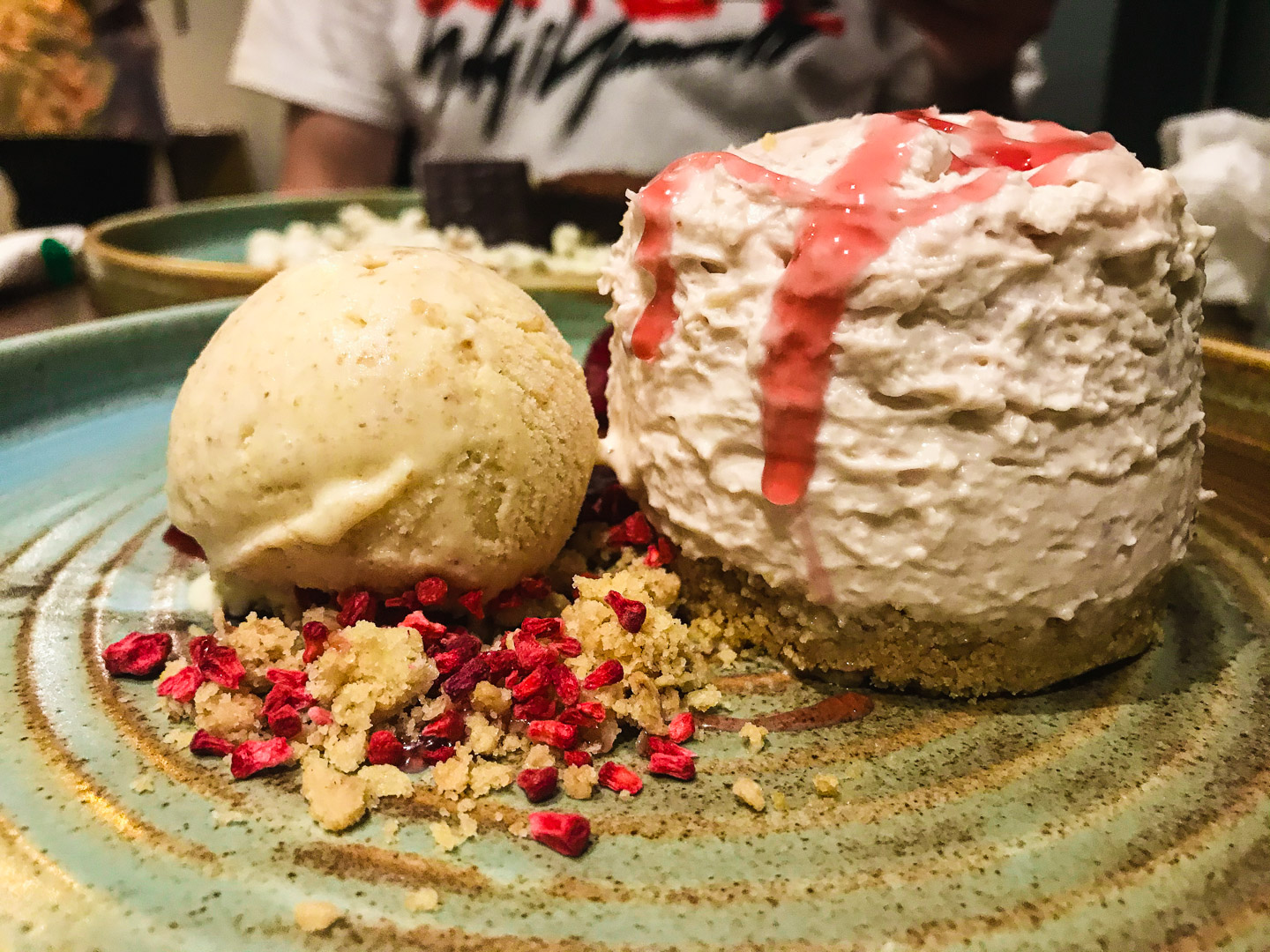 I'm not sure about the addition of toast ice cream. I thought to myself that surely it couldn't really be toast ice cream but I can confirm that it did taste exactly like toast, which wasn't unpleasant, but equally wasn't pleasant. I just found it a little bit strange and I wasn't quite sure where the connection to a raspberry jam cheesecake came in.
We rolled out of The Braided Fig in agreement that yes, this is one of the best Aberdeen City Centre restaurants, overall, the food was fantastic and I may have little critiques here and there but these are very minor details which are likely down to my personal preference.
I would happily visit and pay to enjoy this meal again, although, I do of course want to try other items now that I have had a taste of what's available!
Where to find The Braided Fig
The Braided Fig
39 Summer Street
Aberdeen
AB10 1SB
Tel: 01224 620333