The Coffee Apothecary Ellon
This post may contain affiliate links of which we earn a small commission should you choose to purchase through them. This helps us to keep the site running. Thank you for your support
I can't believe that it has taken me this long to write about The Coffee Apothecary but here we are, finally getting to it after a couple of my most recent visits.
When you are searching for places to eat in Aberdeenshire or just somewhere to grab a coffee, particularly if you are planning a visit to nearby Haddo House or Pitmedden Gardens, then The Coffee Apothecary needs to be added to your list of places to go!
They have two locations, Ellon and Udny, nearby but very different. I think The Apothecary coffee shop in Ellon is lovely and bright, significantly bigger which offers plenty more tables (especially for families and larger groups) while The Coffee Apothecary Pitmedden is probably best suited for adults, at least in my opinion, as it is slightly darker and feels much more intimate, although, it does have an outdoor seating area if you are lucky enough to visit in good weather!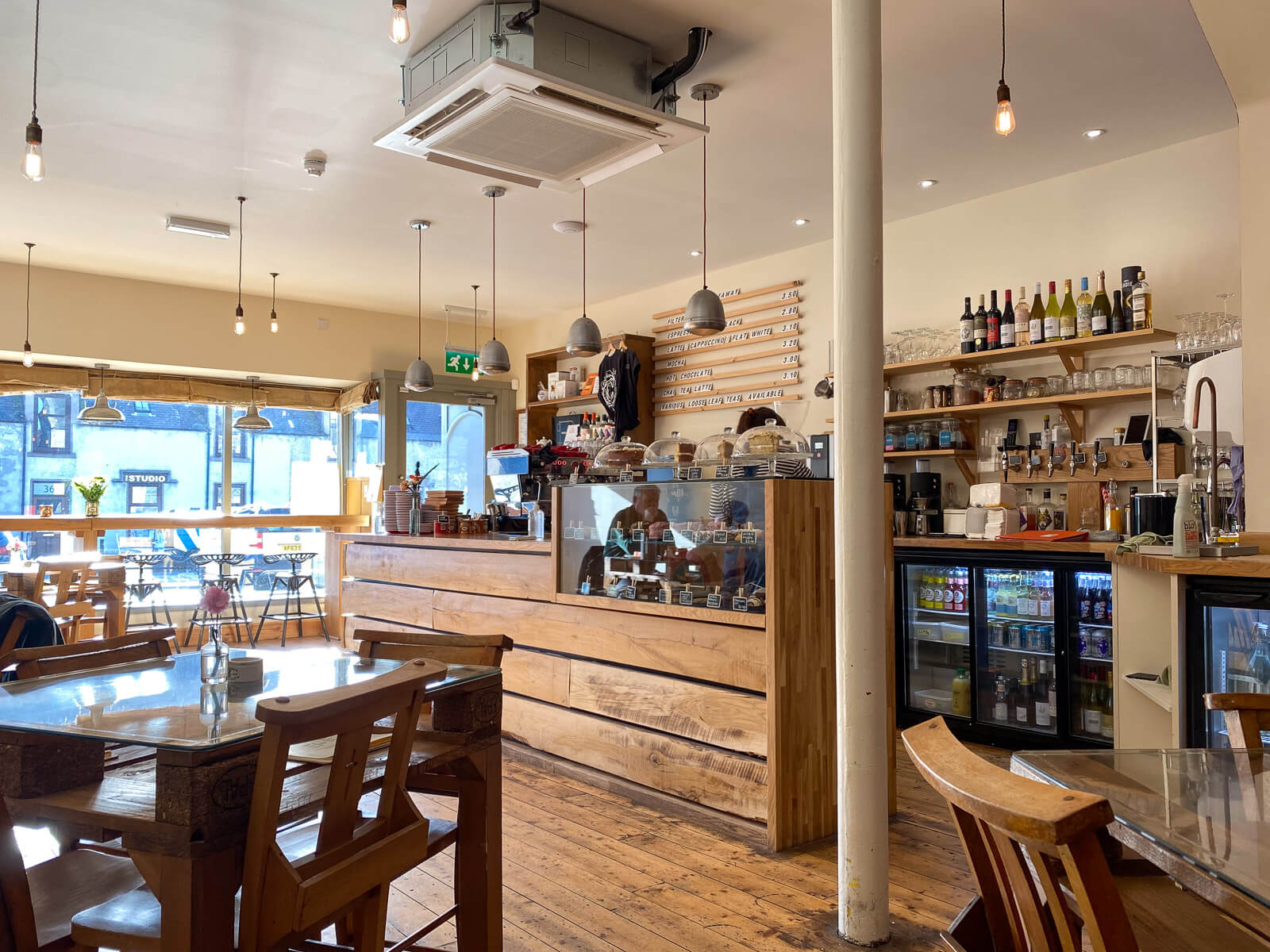 The Coffee Apothecary Udny and The Coffee Apothecary Ellon menus are also slightly different, fundamentally similar but offering slight variations so it's maybe something to bear in mind.
I don't have a preference, both are lovely… I suppose it depends on the weather which one I will visit on the day! I had the pleasure of visiting both recently, Udny for breakfast and Ellon for lunch.. but not on the same day, I should say!
For breakfast, I enjoyed a full cooked breakfast 'The Big Bear'. I was swaying between the Sweet Pancakes because they come with mini choc chip cookies and my mind can't begin to imagine what that really means. Mini Maryland cookies? Cookie Crisp? An unusual addition for sure and one that definitely piqued my interest, the other being the Cinnamon French Toast which I don't think requires any explanation as to why.
Unable to decide, I obviously went to the other end of the spectrum and chose the fully savoury breakfast. A cooked breakfast is generally a safe bet and it was delicious. The bacon was lovely and salty, the sausage (although I would have preferred two) was very tasty, two poached eggs, black pudding, mushrooms and beans. My only criticism, other than only receiving one sausage, would be that my toast was reminiscent of Melba toast. By that, I mean tiny. Minuscule. I was disappointed, especially when seeing another breakfast being served with large slices of toast! Not the end of the world, just my bad fortune!
My friend ordered the Savoury Pancakes (pancake stack with bacon, fried eggs & a wholegrain mustard, chive & maple syrup sauce) and swapped the fried eggs for scrambled with no issues. He really enjoyed these. Due to our varying appetites, he also helped me with mine so both left satisfied!
I am a sucker for a breakfast tea which I have no doubt that you will have noticed if you have read some of our other posts but The Coffee Apothecary is well known for its, you guessed it, coffee.
They really care about the coffee and each table comes with its own coffee guide describing the best methods and benefits of the different options available.
Everyone that I have visited with, of course, orders coffee for this reason and comments on how lovely it is. I do taste it and I do agree… but I am a tea girl at heart so I cannot offer much in the way of a coffee review!
We then on a later date visited the Ellon coffee shop for lunch where I enjoyed a steak burger with Welsh rarebit, served in a pretzel bun with onion rings, sweet potato wedges and coleslaw. It was really good, I was worried that the burger may be a little tough but it was very nice. A little salty and it reminded me of a good BBQ burger if you know what I mean.
My friend ordered, what was in my eyes, the star of the show and it's probably not what you are expecting but it's one of those dishes that just hits right when done well. The brisket stovies with pickled beetroot and oatcakes. It's a plate of brown food but good hearty Scottish food and I was really very envious once I tasted it. It is easy to forget how delicious such simple meals can be until you have them.
For dessert, we ordered the apple crumble with custard and a slice of Victoria sponge. There was absolutely nowhere near enough custard for my liking. It was pitiful and left me a little disappointed which I'm sure all custard fans could relate to! The crumble itself was lovely but it definitely requires more custard.
The Victoria sponge was nice and moist (sorry to the haters of that word), with a lemon filling. The cakes and traybakes as a whole looked delicious.
As a side note, I'm not really a doughnut fan but they had an incredible looking jam one with fondant icing behind the counter!
With regards to the food served, I know that they like to use a lot of local produce. The website states that the meat and eggs used are free-range, the veg is fresh and local and the cakes are made with organic flour, Fairtrade sugar and chocolate. They shop local right down to the drinks, with the lemonade and craft beer coming from local businesses.
The prices are reasonable, I would say roughly £7-10 per dish and for the quality, definitely worth it. The service is also very friendly, I had no criticisms at all from either visit and all tables seemed equally as happy.
I can't wait to visit again… probably order myself the stovies, or maybe the French toast…
You can find each of the Coffee Apothecary locations at the addresses below.
The Coffee Apothecary – Ellon
21 The Square
Ellon
Aberdeenshire
AB41 9JB
The Coffee Apothecary – Udny
Udny
Ellon
Aberdeenshire
AB41 7PQ