Hidden Gems In The Outer Hebrides
This post may contain affiliate links of which we earn a small commission should you choose to purchase through them. This helps us to keep the site running. Thank you for your support
Travelling to the Outer Hebrides is a truly memorable experience. Not only is the journey towards these islands extremely exciting, partly for the unknown but often thanks to the striking surroundings that you pass which only add to dreaming of the adventures and memories that lie ahead. It's the feeling that you get on arrival; the weight lifted off your shoulders, quickly forgetting 'real-life', the beautiful beaches with the turquoise waters and the wildflowers over the machair, it's those sights and feelings that just can't be beaten.
So, I write this post in honour of the Outer Hebrides' recent Airbnb Top Travel Destinations 2019 and Lonely Planet's Best in Travel 2019 rankings. Here are just some of the hidden gems and unique experiences that you can find in the Outer Hebrides.
Lying on the edge of the Atlantic Ocean is this chain of Scottish Hebrides islands and while I predominantly refer to these Scottish Isles as the Outer Hebrides in this post, you may also hear them referred to as the Western Isles or 'Na h-Eileanan Siar' in Scottish Gaelic.
I hope that this post will be especially helpful for those cycling The Hebridean Way, or for those hoping to hopscotch across some of the many Outer Hebrides islands and looking for some interesting things to see and do on your trip.
If you are one of those looking to cycle the Outer Hebrides, let's start with some stats.
You are looking at a route of 185 miles across 10 islands (including North Uist and South Uist which are not featured in this post), 6 causeways and two ferries. Cycling The Hebridean Way can take between 24 hours and 6 days depending on how many of the sights and attractions you would like to see, and your timeframe I would advise that it is also dependent on the weather.
How to get to the Outer Hebrides
If you are wondering how to get to the Outer Hebrides I am going to run through a couple of the options that you have below.
Flights To Outer Hebrides
If you are hoping to fly to the Outer Hebrides, you will be looking to travel with Loganair.
Loganair currently provides flights to Stornoway, Benbecula and Barra. These are all great options depending on the route you are looking to take on your journey, whether that be up or down the island chain.
The Isle of Barra is the most unusual option as they use the beach as their airport runway. I haven't had the pleasure to travel by this way myself (yet) but I can only imagine from the videos and pictures that I have seen, how incredible it is to land against the beautiful rugged backdrops, on the white sands next to turquoise waters. A truly unique experience.
You can fly to the Outer Hebrides from the majority of Scottish airports but it can be quite pricey as there are often only one or two flights from each city per day.
CalMac Ferries
For those travelling with a vehicle or cycling, you may be looking to take the ferry.
Caledonian MacBrayne provides the ferry service to the Outer Hebrides. You do have several options for the route that you would like to take. I would highly recommend booking one of the hopscotch ferry tickets once you have an itinerary. This will allow you to hop islands following a route and not have to bother buying individual tickets.
You can take the chance of purchasing tickets at the ferry terminal on arrival but I would book this in advance to avoid disappointment.
The Outer Hebrides ferry prices can vary but I would look to estimate around £20 or less adult return and approximately £100 return for a mode of transport.
Best time to visit the Outer Hebrides
When booking a holiday, most of us naturally want the best weather possible during our time away.
Personally, I would advise visiting May-August for the best hopes of good weather but this is also the busiest tourist season for that same reason.
The weather can be temperamental, we are in Scotland and The Hebrides are very exposed which can work in two ways. You can be graced with the most beautiful weather or it can be a little wet and windy so do be prepared for both.
The CalMac ferry summer timetables tend to run additional crossings from the beginning of July to mid-October.
Catalina on Vatersay – Vatersay
Starting on the Isle of Vatersay you will finish at the most northerly point of the Isle of Lewis, the Butt of Lewis lighthouse.
Lewis and Harris are particularly close to my heart as I am from Stornoway (the capital of Lewis and Harris) so I have also written a post of The Best Things To Do On The Isle Of Lewis, from the Callanish Stones to the Gearrannan Blackhouse Village and I look to write a similar post shortly on the best things to do on The Isle of Harris.
Now I don't like to refer to this one as a gem, it doesn't feel appropriate but it is certainly very interesting and something you need to visit.
The Catalina was most commonly used during WWII and it was during this time that this crash took place, on 12th May 1944. This plane was built by the Americans in the 30/the 40s and is often referred to as a flying boat as it could take off and land at sea. The Catalina lost its way during a nighttime training exercise from Oban and crashed into one of the hills on Vatersay, Heishaval Beag. 
There were 9 people on board with 3 fatalities in the crash.
After the crash, a team was sent across to recover armament, radios and engine equipment. Once this was done, the plane was broken into pieces and dragged down the hill, towards the sea, where it has lain ever since. Almost 75 years have passed and the wreckage can still be found where it was left by the side of the road. There is now a memorial in place to remember those involved and it is a poignant reminder of the war and to all those that were lost.
Such a site and wreckage can be only viewed this closely and without a barrier in place thanks to the level of trust placed in visitors by locals not to disturb this sombre attraction.
Sea Kayaking/Clearwater Paddling – Isle of Barra
The Isle of Barra. Well known thanks to its unique airport where flights land on the beach. Unique as that is, that's not what we're talking about today.
This is something for the more adventurous; with Clearwater Paddling you have the option to go sea kayaking, snorkel with seals, learn to surf, travel to the different islands with help of a tall ship and potentially see a multitude of wildlife including dolphins.
Horse Riding On The Beach – Balivanich, Isle of Benbecula
Thanks to the Uist Community Riding School, horse riding on the beach is an option when visiting Benbecula.
Suitable for all ages and abilities, this is certainly a unique experience to be had on the island.
The prices are very modest in comparison to mainland stables and there are alternatives, other than the beach rides, to take the horses on a hack or simply have lessons.
Bunabhainneadar Tennis court – Isle of Harris
The most remote tennis court in the UK? Or the world? I certainly think so.
Bunabhainneadar (boon-avin-aedar) is located on the road to Huisinis on the Isle of Harris, with a beautiful view over West Loch Tarbert.
Pictures of this tennis court garnered some attention on Twitter and soon welcomed Tim Henman and Judy Murray who both took the opportunity to try this remote court out.
We have seen it used, and empty but of course, pictures look ever more dramatically empty.
The Bunabhainneadar tennis court can be hired, along with rackets and balls any day but a Sunday, the Sabbath, which is still very respected.
And in following this road you will find…
Amhuinnsuidhe Castle – Isle of Harris
Now, the Amhuinnsuidhe pronunciation is probably the first thing you want to address.
I would say 'avin-soo-yih' but much of what I see online says 'avin-soo-yee'. I would love it if someone could confirm but I also wonder if the difference is just in my dialect, where I am from and what part of the word I emphasise.
The Gaelic word 'amhuinn' is a river and 'suidhe' is a seat, or to sit which is a perfect (although it appears daunting) name for this castle, as it does indeed sit on the river.
Amhuinnsuidhe Castle is a large private country house located in North Harris, around 10 miles along with the incredibly beautiful, but equally incredibly winding and potentially dangerous single-track road to Huisinis.
The castle and surrounding estate can be hired for short stays (meals included), weddings or booked exclusively for special occasions. It is also used as a sporting estate.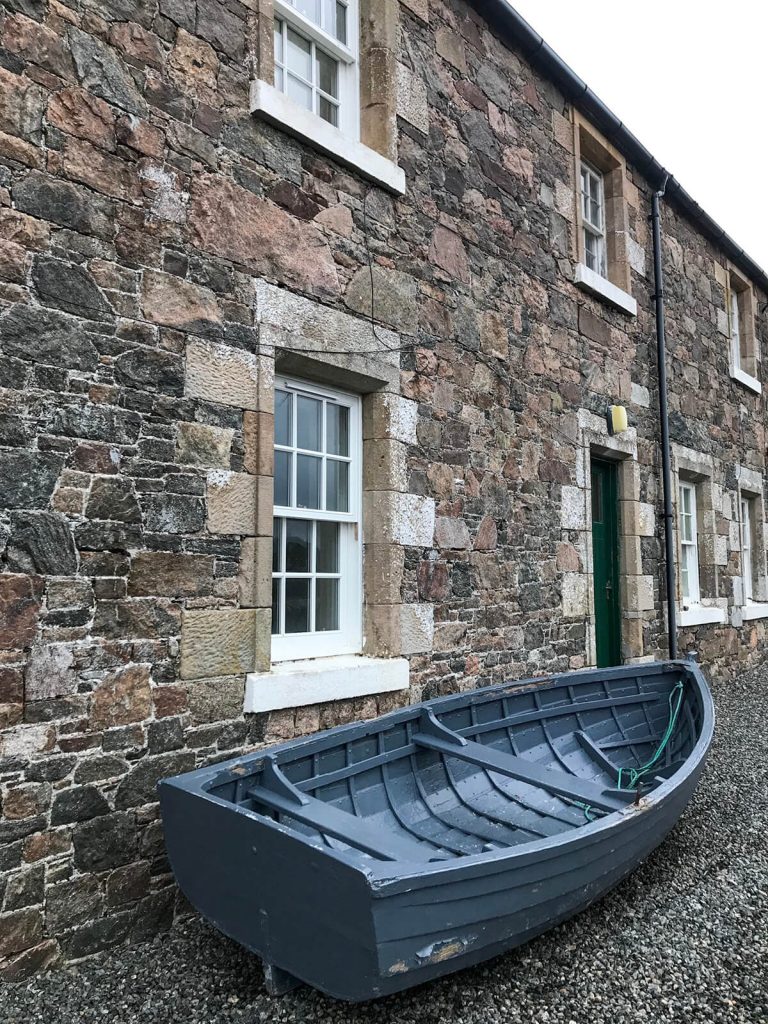 The Golden Road – Isle of Harris
As always, there are many stories as to the story behind the name 'The Golden Road' and this is what I've been told by family. In short, during the time of laying tar on this road, the costs were mounting and mounting and people said it would have been cheaper to make it out of gold. Something along those lines anyway, but feel free to let me know if you have heard differently.
The Golden Road is another long and winding road on the Isle of Harris, just South of Tarbert. This road which is mainly a single track does require full attention when driving but it has some incredible and often changing views to offer.
If you manage to catch a sunny day, it is a worthwhile and enjoyable drive. The landscape is very dramatic and there are plenty of stops to be made on the way, be it for cafes or photo opportunities.
Croft 36 – Northton, Isle of Harris
Mainly a pie/bakery business that also sells fresh bread, ready meals and fresh soup.
You can pick up fresh seafood as you can with the Scallop Shack, including mussels and dressed crab but they also provide meats and pies such as rabbit, mutton and venison.
There are some gluten-free and vegetarian options available, I also believe they may be looking to add some vegan options in the future.
I have also heard that the crab ravioli is especially great and I will be picking that up when we're next home!
However, this is not a restaurant. Or a cafe. This is a shed in the back and beyond in which you can pick up some sustainable, local foods and be on your way.
There are microwave and tea/coffee-making facilities should you be looking to eat on the go.
I would recommend grabbing a meal, some snacks and a hot drink and heading down to the beach to eat.
Croft 36 offers incredibly reasonable pricing for their foods so produce can sell very quickly, although they are restocked every few hours.
Open Monday-Saturday.
Like the Scallop Shack, Croft 36 uses the method of an honesty box which I think is incredible and I can only hope that people do not take advantage of this trust and privilege.
And while visiting Harris, make sure to take a look at one of the Harris tweed shops which sell a huge variety of Harris tweed products!
If this appeals to you, you will also find the wonderful Mustheb Shack on the roadside between Leverburgh and Northton. Open at all times and again, with the use of an honesty box. You can pick up some locally made flavoured mustard and also flavoured salts. Or even if you just stop for a quick picture. This wee hut is a brilliant find!
The Scallop Shack – Uig, Isle of Lewis
Update – Sadly the Scallop Shack closed down during the pandemic, but although the shop isn't operating, you should still take a trip down to see this beautiful shell-covered shed.
The Uig Scallop Shack in Miavaig is very cool and still very hidden. I haven't seen any mentions of it online as word of mouth is still working its way around the locals, so consider it as up and coming as they have only just completed their first season in running the cafe.
We visited over the Christmas period so the Seafood Cafe was closed, but it will reopen in April where you can order freshly cooked scallops; straight from the water and into the frying pan! Literally. Sometimes in under 10 minutes. We cannot wait to visit in the summer!
However, Seafood Cafe aside, the Scallop Shack is open 24/7, all year round, where you can buy fresh scallops, mussels and oysters to take away and cook at home.
This works by use of an honesty box; there are two fridges with packages of the different items along with costs. This is in the trust that you will not abuse this privilege and will leave the correct amount in the box.
Mangersta Bothy/Eagles Nest – Uig, Isle of Lewis
For those interested in wild camping in the Outer Hebrides, The Mangersta Bothy, otherwise referred to as Eagles Nest is the best bothy in Scotland. Don't know what a bothy is? Well, it's a pretty basic shelter to put it simply.
No bathroom, running water or electricity.
It was built with stone and wood into the side of the Mangersta cliffs in Uig and it has become a very, very popular place to stay.
Just look at those sea views!
We are desperate to visit, and I am hoping to this year.
Best of all, it's free to stay in. Suitable for up to three people, all you have to do is fill in this contact form to book but be aware, people travel far and wide to visit the Mangersta Bothy, so it can fill up quickly during peak seasons.
The Mangersta Bothy was built and is run by John and Lorna Norgrove who set up The Linda Norgrove Foundation in memory of their daughter. Make sure to read more about the wonderful work that Linda and her parents have done in aid of those affected by the war in Afghanistan. 
40 North – Bragar, Isle of Lewis – NOW CLOSED
I know, a restaurant. You're thinking 'hardly a unique experience', right? But it deserves to be in this post so hear me out!
The Verandah restaurant which is part of 40 North in Bragar, is a delicious upper-market restaurant to be found on the Isle of Lewis. Of which there are not many! They use the best products from the Outer Hebrides and Highlands and we have never left disappointed. Meat, fish and vegetarian options are available.
The pricing is also a great value for the quality of food at £30 for two courses and £34 for three courses.
Bookings must be made in advance.
Comunn Eachdraidh Nis – Ness Historical Society – Isle of Lewis
A historical society may seem an odd choice to throw into the mix but the Ness Historical Society has been newly refurbished and now features a museum, cafe and gift shop.
The museum collects and preserves items from local information and history from written records about The Butt of Lewis Lighthouse (which is nearby), an old loom for making Harris Tweed and even some old Decca Equipment which helped navigate ships and aircraft. There are plenty of pieces of art and items from the community and I would highly recommend visiting.
Even better, they have a fantastic cafe where you can order soups, sandwiches, cakes and even afternoon tea. The food is delicious, affordable, the service is great and it's filled with wonderful old pictures that you can't help but admire.
St Moulag's Church – Europie – Isle of Lewis
Another point of interest near the Butt of Lewis Lighthouse is St Moulag's Church (Teampull Mholuaidh). It's hidden away up a narrow, fenced path, sitting in a crofter's field and looks like a very unassuming building. Certainly not like a church as you may expect.
The church has a long tradition and is thought to be a place of healing, particularly for those with mental health worries.
It is without electricity or water, instead, it uses oil lamps and candles for light and heat and still functions as a church to this day. It is a very simple building made of stone and is very traditional inside, which gives you great insight into the years gone by.
And there you have it! Some of the hidden gems and unique experiences to find on the West Coast. I would love to know what other ones you can think of as I know there are many, many more to mention.