Best Things To Do On The Isle Of Lewis
This post may contain affiliate links of which we earn a small commission should you choose to purchase through them. This helps us to keep the site running. Thank you for your support
The Western Isles, The Outer Hebrides, The Hebrides, The West Coast or the Isles of Lewis and Harris. Whatever you may know them as or whatever you may call them, the Outer Hebrides is one of the most beautiful parts of Scotland and I am going to show you 8 of the best things to do on the Isle of Lewis.
I think this is where I should hold my hands up and say that I am from Stornoway, the main town on the Isle of Lewis which is in the Western Isles and is also the capital of the Outer Hebrides, so when it comes to finding great things to do on Lewis, I am a huge advocate.
You can look at that in two different ways
Do I love where I'm from? Yes. So am I biased? Maybe, but it is beautiful so I don't know if it's just fact.
Will I show you the best things that I think you should see from a local perspective? Absolutely.
I have grown up having visited these places and taken many, many, many day trips to these historic sites over the years and these are just some of my must-see hidden gems when visiting the Outer Hebrides.
How to get to the Isle of Lewis
To visit the Isle of Lewis specifically, the best route is to take the CalMac ferry from Ullapool, alternatively, you can choose to purchase a hopscotch ticket with CalMac and start from Oban, working your way up, which is great if you are coming from the South of Scotland and this allows you to visit the islands of South Uist, North Uist, Harris and on to the Isle of Lewis.

You can also book flights with Loganair from several of the Scottish cities.
And make sure that you have access to a vehicle or some form of transport on arrival! I would advise that this trip and any Hebrides tours will require some mode of transport to travel as the different attractions are many miles apart.
Please ensure that you also travel with appropriate clothing as many of the things to do and sights to see in the Outer Hebrides are outdoors and if you are familiar with the weather we experience in the United Kingdom, especially in Scotland, it will come as no surprise to hear that the Isle of Lewis weather can be very challenging if wet and windy. In saying that, if you are lucky to visit during the good weather, then it can also get very hot!
Butt of Lewis
Let's start at the Butt. The Butt of Lewis is the most northerly point of the Isle of Lewis in the Outer Hebrides. And it's windy.
Standing on top of the rugged rocks in the village of Ness, around 80 feet high from the North Atlantic Sea, there is no longer anything between you and North America.
Once marked as the windiest place in the UK by The Guinness Book of Records (up to 100mph), wrap up warm and please don't get too close to the edge! There have been some very sad and unfortunate accidents here for which you may see memorials, so do take care of the uneven ground.
There isn't a huge amount to see here, the water, the rocks and the lighthouse. Just enjoy the views and if you can withstand the wind, there is a coastal walk that you can take.
Approximately 1 mile south of the lighthouse in the village of Europie, you can find St. Moluag's church. St. Moluag's church is a 13th-century church with two small chapels on either side. The building is a very basic structure which could be easily overlooked if you did not know about it. This lone-standing building can be reached on foot by the narrow fenced path and you can enter the church.
Back to the Butt, I have visited the Butt of Lewis on glorious days of sunshine and also during the bitter wet and cold, both are incredible and show a very different scene and landscape depending on the weather!
The lighthouse is a grand and imposing structure built in 1862, made of red brick and remains unpainted.
And at the risk of sounding a little geeky, take some time to look at the surrounding rocks, the Lewisian gneiss, which are some of the oldest in Europe at over 3 billion years old.
If like me, you prefer a little shelter, you have Port Stoth which is an inlet that you pass just before reaching the lighthouse. Follow the path down and it leads you to a very quiet and lovely small beach.
Make sure to head to the Port of Ness afterwards for some beautiful views and you will get to see some of that famous Hebridean turquoise water.
The Callanish Stones (Calanais)
When looking for things to do in the Western Isles, the top tourist attraction on the Isle of Lewis is undoubtedly The Callanish Standing Stones, seen often in pictures depicting the beauty of Scotland and more recently used as an image on bank cards and in that Call The Midwife Christmas special.
The Callanish Stones, which are older than Stonehenge (just putting that out there), are still a bit of a mystery.
There are many theories on what they stand (no pun intended) for. From an aerial view, you have a stone circle in the middle, with rows of stones leading to the centre which look like a cross.
Some people believe that it was built to be shaped like a cross, linked to early religion and was used as an altar for a place of worship.
Others may believe in folklore which says that they were heathens turned to stone.
Perhaps the most popular belief though, and the reason I mentioned Stonehenge earlier, is people think that it was built to track the light and cycles of the sun and moon.
There are many, many standing stones all around the Isle of Lewis but the stones at Callanish are the largest group. You also have Callanish II which are a smaller collection of standing stones only a short drive from these if you would like to see more.
The Callanish Visitor Centre and all of the Callanish sites are free to visit.
Lastly, make sure to check out the Callanish alpacas nearby. They are so cute and probably an unexpected addition to the landscape and Hebridean life, so well worth checking out!
Garry Bridge/Bridge To Nowhere
You're probably thinking two things, what and why? In short, as the name suggests, it is a bridge to nowhere.
In 1918 there was a businessman (a soap manufacturer, which is now part of Unilever), Lord Leverhulme, who took a boat trip and fell in love with the islands and err, bought them.
Reports vary but show he did this for around £150,000 which just makes me want to cry. I live in Aberdeen city right now, I could barely get a 2-bedroom flat for that amount!
Anyway, I digress, from what I know he was an eccentric man, a keen dancer and passionate about generating jobs and opportunities for those living in the Western Isles, mainly in fishing. The aim to achieve this was to create a road from the village of Tolsta to Ness and this is the point, at Garry Beach, that he admitted defeat and stopped.
You can drive over the bridge but it is an almost immediate turn in the road to get back. It is a little fun though and it is a great spot for photographs.
The Bridge To Nowhere stands out to me as somewhere of significance, in the knowledge of the work that went into it. The men employed to construct the bridge were paid a whopping 10p per hour and all the mixing of concrete was done by hand. BY HAND!
Lews Castle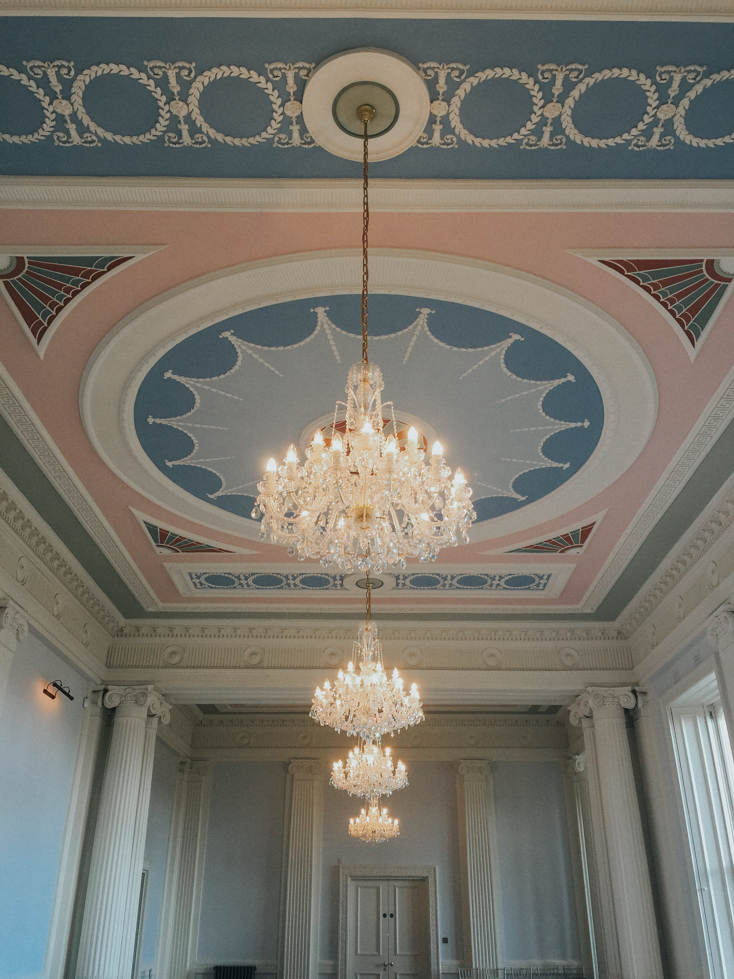 On the subject of Lord Leverhulme, Lews Castle was his home. He bought Lews Castle from the original owners, the Matheson family and he lived there for the duration that he owned the island until he eventually gave the castle to the people of Stornoway on his departure in 1923.
Lord Leverhulme installed electric lights, central heating and telephones into Lews Castle and when I said he was a keen dancer earlier in the post, the castle was the place to be. He held grand and frequent dances in the ballroom here.
Lews Castle sits on a hill overlooking Stornoway Harbour and the colourful shop fronts. It is a focal point of the town. And I just adore it. The castle grounds are also where Stornoway's famous Hebcelt Fest is held.
Over the years, Lews Castle has been a home, a hospital, a college and is now a hotel and function area. With a Starbucks. Starbucks?! In Stornoway. I still can't get used to that and it never fails to surprise people when I say it.
I have been in love with the exterior of this building my whole life. It induces that Disney princess swoon and leg pop every time I see it!
I spent most of my life dreaming about the inside of this building, as it lay in darkness for decades. There were comments about how run down it was and what a shame and what a waste and I thought I would never get to see the inside until Natural Retreats and The Western Isles Council funded a regeneration for which I am so thankful. The next dream is to stay there!
I think it's beautiful, in particular, the great hallway with the starred ceiling, the ballroom and morning room (all pictured above) are just breathtaking. The restoration of Lewis Castle was featured on Channel 4's Great British Buildings: Restoration of the Year and is worth a watch if you can find it!
While you're here, make sure to take a trip to Museum Nan Eilean which is accessed through the Storehouse Cafe or by a separate entrance to the back of the castle. Museum Nan Eilean goes a little way to show the culture and lifestyle on the islands from throughout time, where you can learn a little more about the history of the Islands, its influences and also see some of the famous Lewis Chessmen.
Don't know about the Lewis Chessmen? In 1831, the chessmen were discovered in a stone kist in a sandbank on a beach in Uig. Made from walrus ivory and whale teeth, they are thought to have originated from Norway and are one of the few remaining examples surviving of a medieval chess set. Recognised for their comical and somewhat shocked facial expressions, you will see carvings and reference to the chessman throughout the island.
If you have time, I would also highly recommend a walk (or cycle) around The Castle Grounds which give you some of the most stunning views of Stornoway. Head for Cuddy Point or the River Creed for some great views and spot some interesting wildlife and artwork. You can even hire a segway if you're up to it!
Oh, and lastly, there is the Stornoway Golf Club which has an 18-hole golf course to the back of Lews Castle. Just in case any golf fans are visiting.
Visiting Lews Castle and Museum Nan Eilean is free to the public.
Dun Carloway Broch
The Carloway Broch is an Iron Age structure which was built as means of defence and usually kept for tribal leaders and people of importance in the community.
It may not look like much now but this is one of the best-preserved Iron Age Brochs in Scotland.
The Dun Carloway Broch is resting on top of a mound, which means that it is of course, quite windy.
But there are beautiful views or the land around and again, you are often surrounded by sheep and this was a fun place to visit growing up as you go to explore the rooms of the broch.
There is a gate which takes you into the broch structure where you will find some very low doorways or openings. Now, you either have to be willing to crouch down and shimmy through (or send a child) but if you go directly to the entrance at the back, you will find steps between the wall cavity, which would have led you up to the next level of housing.
As you can see, this is now open to the elements but you can walk up to them and the fact that this structure and it's steps are still there, is testament to the skills of the masons that made it.
This is free to visit and open to the public.
Gearrannan Blackhouse Village (Garenin)
I feel as though I have said this about everything I have mentioned so far but this is one of my favourite places to visit and another one that you may recognise from the Call The Midwife Christmas special if you saw it.
The Gearrannan Blackhouse Village in Carloway is a crofting village beside the bay. It consists of 9 stone blackhouses with thatched roofs dating back to the late 1800s. Life in the Blackhouses must have been really tough and you can learn a little about that in the museum. With families and animals sharing the house, albeit different ends, and
The blackhouses were lived in until the 1970s and were to last to be inhabited in the Western Isles until eventually, the occupants left for easier and more comfortable living with better access to electricity and plumbing.
8 of the black houses have now been restored and made into self-catered guest house apartments and hostel.
However, they have kept one of the blackhouses as it would have been, where you can walk around freely along with the warmth of the peat fire burning and take in a bit of history.
Also, in this house, you will find a Harris Tweed weaver making some tweed on an old-fashioned loom. Don't be afraid to ask questions, he is very knowledgeable and it is such an intricate bit of machinery that he is happy to talk you through the workings of.
Make sure to walk around the full village and right down to the bay. Take in the smell of peat burning (one of my favourite smells), make a stop in the cafe for some lunch or just some coffee and cake if you are looking for a light snack and take a look at the gift shop for some locally made goods and enjoy!
Gearrannan is the only place from my list that you have to pay entry and this is for access to the museum. Costing approx £3.50 per adult, it is worth every penny.
The Whalebone Arch
The Whalebone Arch in Bragar is another one of my standout memories as a child. Something I would and do always look out for because, wow, it's huge. I feel it's something that would be quite unusual in any setting but especially somewhere as remote as the Isle of Lewis. And it's in someone's garden! Could you imagine!
It's a fantastic story that even now I ask to be retold when passing it.
In 1920, a giant 82ft long blue whale drifted ashore and beached in Bragar, it had a harpoon lodged in it that had not detonated so sadly it would have been quite a slow and painful death for the whale but obviously at the time the whale would have had a lot of benefits to the people of Bragar.
I believe the people of the village made use of what parts they could for oil etc but one man decided he would like the jawbone as a feature for the gate to his house.
So here you have all these hardy men trundling a big whalebone arch from the bay back to his house where he fixed it up. He also took the harpoon which did eventually detonate but luckily no one was injured.
The harpoon now stands in the apex of the jaw which to this day, stands at the gate between houses.
Scottish Gaelic
Try learning Gaelic phrases before your trip! The Gaelic language is still commonly spoken in the Outer Hebrides and I expect that you will hear it often while visiting, not only that, you will notice that the majority of the street signs on the Island of Lewis are primarily in Gaelic, with the English written in a smaller text underneath.
Learning Scottish Gaelic is no easy feat but I have created some short beginners videos to help learn Gaelic for free, you can also take part in an online course to try and learn Gaelic, or you have the option of using the Duolingo app to use at your leisure.
Us Gaelic speakers are a friendly bunch who love to share our language and speaking Gaelic is a fun way to immerse yourself in the culture by getting to know a little of the way and the history of the people that live on these islands. All while getting to know a new language!
The Beaches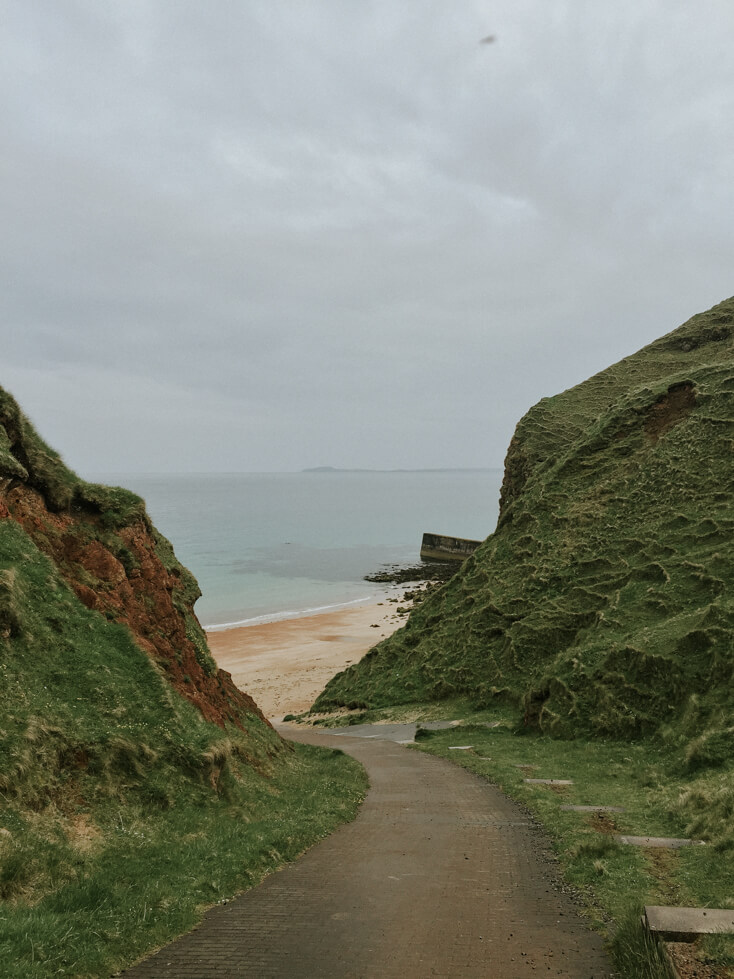 This feels like a cop-out last choice but it's not. I couldn't possibly make a post about the best things to do in the Outer Hebrides and not mention visiting the beaches!
We have some of the best beaches in Scotland. And without bragging, according to some lists, they are some of the best beaches in the world.
You have the rough and rugged rocks and hills that you would expect of Scotland but mixed with this clear water and fine sand associated with much hotter climates.
A couple of my favourite sandy beaches…
Dalmore Beach in Carloway – Remember when that oil rig ran aground? This is the beach. This is a very popular beach for surfers and barbecues.
Garry Beach/Traigh Mhor in Tolsta – Next to the 'Bridge To Nowhere' is Garry Beach. This one has sea stacks and caves that are great for kids to explore. You will also find extensive flat sands on Traigh Mhor.
Tolsta Head (Ghioradail Beach) in North Tolsta – This is the beach I visited most growing up. It involves a long and winding path down to the beach, so if mobility is an issue, this is not the beach for you. It is enclosed and sheltered by the cliffs surrounding it and here, you are likely to find caves and rock pools with crabs/mussels etc. If you walk towards the pier, which is surrounded by rocks and if feeling adventurous, you can climb up and over towards another secluded beach.
The Braighe between Stornoway and Point – This beach is an interesting one because although not one of my favourite beaches, it is unique. There is a narrow stretch of road connecting the Stornoway and Point roads with beaches on each side. This road is often closed during bad weather. You will need to take this road to and from Stornoway airport.
Bosta Beach in Great Bernera – Another beautiful white sand beach with a lot of history including an Iron Age house replica in keeping with the local history.
Uig Beach/Ardroil Beach in Uig – The infamous Lewis Chessmen were found on Uig sands, but more than that, these are long and beautiful beaches with dunes and plenty to explore.
And there we have it, some of the best things to do on the Isle of Lewis, in the Outer Hebrides. I hope this encourages you to visit more of the Western Isles or the Outer Hebrides in general.
Or simply helps with planning your journey if you are already coming!
For more information on some of the main Isle of Lewis shops and some more Isle of Lewis accommodation, specifically in the main town of Stornoway, make sure to read our guide of Things To Do In Stornoway.
For any further information on things to do, check out this site.
Fancy booking your trip to the Isle of Lewis? Book your trip online or check out the best Airbnb options on the Isle of Lewis.
If this is your first trip to the Isle of Lewis and you have heard stories about life on the islands on Sundays, make sure to read our post for suggestions and tips on what to do in Stornoway on a Sunday to save being caught out