Best Airbnbs on the Isle of Lewis
This post may contain affiliate links of which we earn a small commission should you choose to purchase through them. This helps us to keep the site running. Thank you for your support
If you've spent any time browsing around this blog already then you'll know that we absolutely love the Isle of Lewis. It's where Lauren calls home and it's a place that's totally made me fall in love with it. Somewhere that we visit every year, sometimes on multiple trips throughout the year.
That's why we wanted to put this post together. To help you find the best Airbnbs on the island should you fancy heading over to explore the stunning scenery and rich history.
There are plenty of things to do in Lewis and our handy guide should help you plan your trip further.
But first, let's help you find a place to stay when visiting Lewis.
Here's our round-up of some of the best Airbnb choices to suit all budgets.
Our Top Pick – Hebrides Bothy
This unique bothy can house up to 4 people with a double bed and a sofa bed and is one of the most unique stays on the Island in terms of what's on offer.
Complete with its own bathroom and kitchenette within the pod-like accommodation, this luxury self-catering eco-cabin is just a short distance from the main town of Stornoway.
It's also fully heated and has a fire pit and throws outside so you can sit and watch the sunset around a warm fire until the small hours and who knows, you may even be lucky enough to spot the Northern Lights during the winter months.
Book your stay at Hebrides Bothy
Start your Isle of Lewis adventure today by booking a stay at the Hebrides Bothy.
Northshore Croft
Our next pick for visiting Lewis would have to be the Northshore Croft which is located just outside of the main town of Stornoway.
Set beneath the home of the host, this completely self-contained guest suite comes with everything that you'd need for a relaxing stay for up to 4 people.
This accommodation also comes with a hot tub that offers stunning scenery to accompany it. I mean who wouldn't want to look out over the coastline at the setting sun after a long day of exploring?
Sounds dreamy, doesn't it?
Oh, and did I mention that they also allow up to two well-behaved dogs too.
Otter Bothy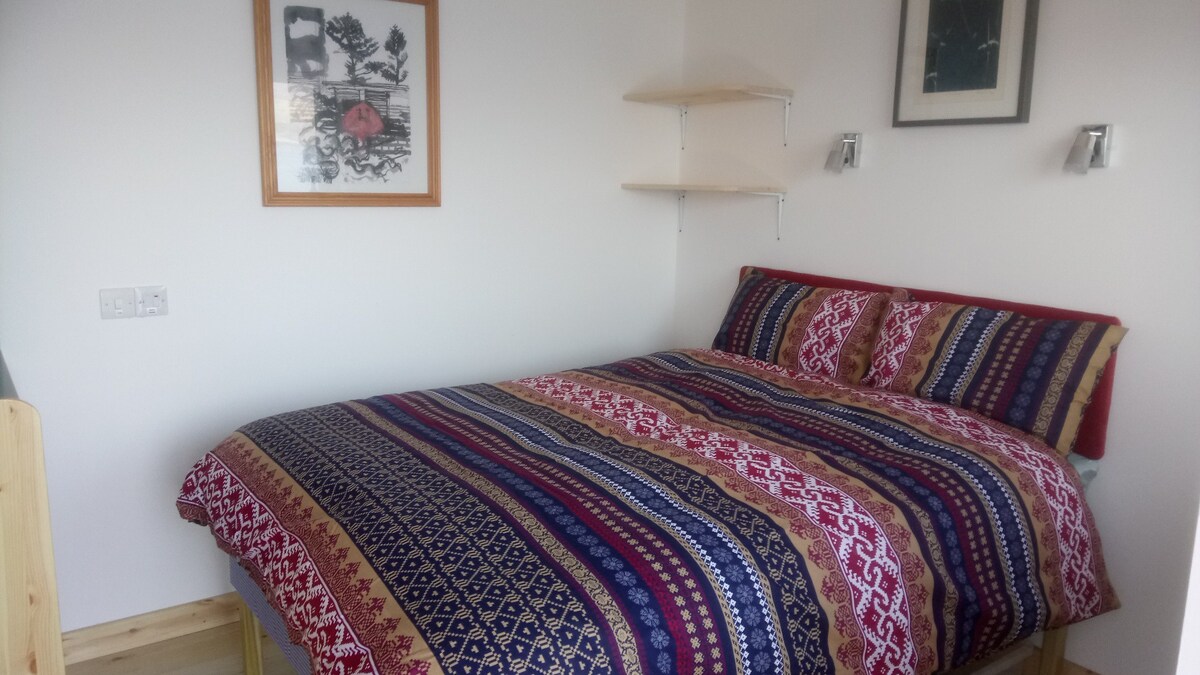 If you hadn't already noticed. We've chosen a lot of bothys here and that's because that's what we feel offers some of the best ways to experience the tranquillity of the islands, where you're not in the centre of town and civilisation feels like miles away.
You've got the whole island to yourself and the ability to see the stars in the sky without artificial light getting in the way.
The Otter Bothy is no different to the others and offers a fantastic experience of living on the edge of the water and gives stunning views in the morning and at sunset.
If you're an outdoorsy person then perhaps this is the accommodation for you, with access to West Loch Roag and the ability to hire Kayaks on-site.
The Otter Bothy sleeps two and has a minimum stay of two nights
Book your stay at Otter Bothy
Start your Isle of Lewis adventure today by booking a stay at the Otter Bothy.
Blackhouse Bothies – Seaspray Bothy
Another bothy, but this time we've gone for one that resembles the traditional Blackhouses of the islands.
Located in the middle of the island, this is probably closer to Harris and is just past one of my favourite places to say, Balallan. I have to say it out loud every time we drive through it on our day trips to Harris.
The exterior may look like it was built hundreds of years ago, but the interior oozes luxury.
With a king-size bed, bathroom with a walk-in shower and views over the loch.
Booking a stay here gives you the whole bothy to yourself.
You're only a few minutes walk from the bus stop, but this one is probably best suited for those who have a car or are cycling the length of the islands.
Abhainn Cottage
If you're heading over to the islands and want a bit more luxury then perhaps Abhainn Cottage is the choice for you.
With accommodation for up to 6 guests, this Airbnb includes a spa bath, an open fire and its very own SAUNA!
Yes, that's right we said a sauna.
Located over in Uig, the cottage is just a 6-minute drive from the world-famous and must-see Callanish Standing Stones, so it's perfectly positioned if you're looking to explore that part of the island.
Book your stay at Abhainn Cottage
Check the latest prices and availability for a stay at the Abhainn Cottage.
Beach Cottage
Beach Cottage is a bed and breakfast apartment situated over on the west coast of the island on the edge of Uig Sands beach.
With miles of stunning scenery around you, this guest suite gives you access to a two-storey accommodation with a King bedroom, an en-suite bathroom with spa bath, a balcony for you to enjoy the beautiful views and a cinema room on the lower floor to chill out in the evening.
This guest suite is best suited for solo travellers or couples offering space for up to two people.
Highly rated by everyone who has stayed, it's definitely worth adding this one to your list of choices.

The Old Post Office
For something that has a bit more of a homely feel and gives you access to the full home, perhaps the Old Post Office is the one for you.
Located in the village of Tolsta Chaolais where there are about 40 other houses, so you can get a proper feel for living in an island community.
The cottage offers one-bedroom accommodation for up to two people staying and can be booked for a 4-night minimum stay, so for those of you looking for a longer term, this may be perfect.
Tolsta Chaolais is close to lots of the main sites on the islands that tourists are drawn to, so if you're visiting with your own car then you're in a great spot for exploring.

So those were our best picks of Airbnb choices when planning to visit the Isle of Lewis.
We will be doing our best to keep this list updated as often as possible or perhaps even with your help.
Do you know of an Airbnb on Lewis that you've stayed at and loved your experience?
Let us know in the comments below.
Fancy something a bit different? Check out our round-up of the best hot tub lodges in Scotland instead.