This post may contain affiliate links of which we earn a small commission should you choose to purchase through them. This helps us to keep the site running. Thank you for your support
How to spend a Sunday in Stornoway – This is something that I always feel raises eyebrows and is a question I am often asked about by people looking to visit the Outer Hebrides. Isn't it really religious? I've heard that there is no transport? Are shops open on a Sunday?
I suppose whether you consider visiting Stornoway or anywhere else on the Isles of Lewis and Harris, a Sunday in The Outer Hebrides is not the norm to most.
So what impact does it have and how will it affect you when visiting? Well, with a little planning, hopefully not much.
I grew up in Stornoway during the 90s and I think many of those well-known stories that have made their way down the grapevine are from around this time and earlier. The tales of not being allowed to watch tv, no playing games, no washing to be put out on the line, no playing outside (what would the neighbours say!), the swings in the playparks being chained up on a Saturday night and of course, of everything being closed. And truthfully, these are all things that I remember vividly. But not negatively.
It was a time when the only necessary reasons to leave home on a Sunday were to visit relatives in the hospital or to attend church. Although the people are some of the friendliest and most content you could meet, Sundays were a sombre occasion and there is always a touch of melancholy surrounding it.
As you can imagine, spending Sundays in Stornoway as a child were long and tediously boring. It's not that I didn't enjoy the religious aspect, it's all I knew at the time but as a child, losing a day of your weekend to sit inside and do nothing but relax, well it was a tough pill to swallow.
My family are religious so for me, a typical Sunday consisted of a Gaelic church service in the morning, followed by Sunday school, a visit to the hospital and then the evening English church service. And a lot of time spent reading The Broons in between.
If I was lucky, my mum took me to visit some non-religious family friends who had Sky (which was terribly posh at the time) and I would get to watch the new weekly episode of The Simpsons. I would never dream of watching tv at home. Had you not attended the church service that evening the back of the tv would be felt for warmth by family on their return. It was never something to be feared, only to be respected.
This makes it all sound very dour, doesn't it? Well, that's definitely how the media likes to portray a Sunday in the Islands but just because many of it's inhabitants are religious, I can assure you that things don't just stop. Not entirely. And let's remember, almost 20 years have passed since I grew up and although it may not seem like it to some, times have changed.
To this day the Sabbath remains a unique and valued tradition on these Islands.
Stornoway is a predominantly Protestant town and the majority of the Islands are made up of different Presbyterian and Free churches although there are other religious churches and mosques on the Island.
Attending Church in Stornoway
As you would expect with religion having such a prominent influence over the Island, there are many churches to choose from should you be looking to attend a service.
Mornings are generally a Gaelic service, with an English service being held in the evening.
There are no choirs, the service can generally appear quite serious and the singing to me sounds as though it comes from the pit of your stomach and has such a sombre and melancholy feeling as mentioned earlier. But I find it captivating.
Churchgoers do tend to wear their 'Sunday best' with women also wearing hats.
Can I travel on a Sunday?
You can get the Sunday ferry service from mainland Ullapool to Stornoway, when it comes to air travel there are limited flight options available on a Sunday from many of the major UK cities. I don't imagine you will encounter many locals on these Sunday services but I can assure you that you will not be greeted by angry locals holding placards on arrival either.
Travelling to the Western Isles on a Sunday is no problem but while you won't have issues in getting to the Outer Hebrides, you may encounter some difficulty with travel arrangements on arrival.
The bus service runs from Monday-Saturday and this is something to bear in mind if you have booked accommodation outwith the town centre and are hoping to rely on public transport.
Taxis are still available but could be costly if staying at a distance.
Another thing to check upon booking accommodation in Stornoway is whether your chosen hotel/hostel accept guests arrival on a Sunday. While many do, some don't and I wouldn't want you to be caught out!
What is open on Sunday in Stornoway?
Stornoway may often be referred to as being in the back and beyond and while that may have felt the case when I and those before me grew up, times have changed significantly since. While a majority of the town still observes the Sabbath, there are also a number of those who don't and you will not be left without.
Is everything shut? No. But most things are, so do make some preparations if necessary.
So what's open on a Sunday? I will make a brief list below for those places open on a Sunday in Stornoway town which should offer a little guidance and alleviate any concerns or notions of being left high and dry with nothing.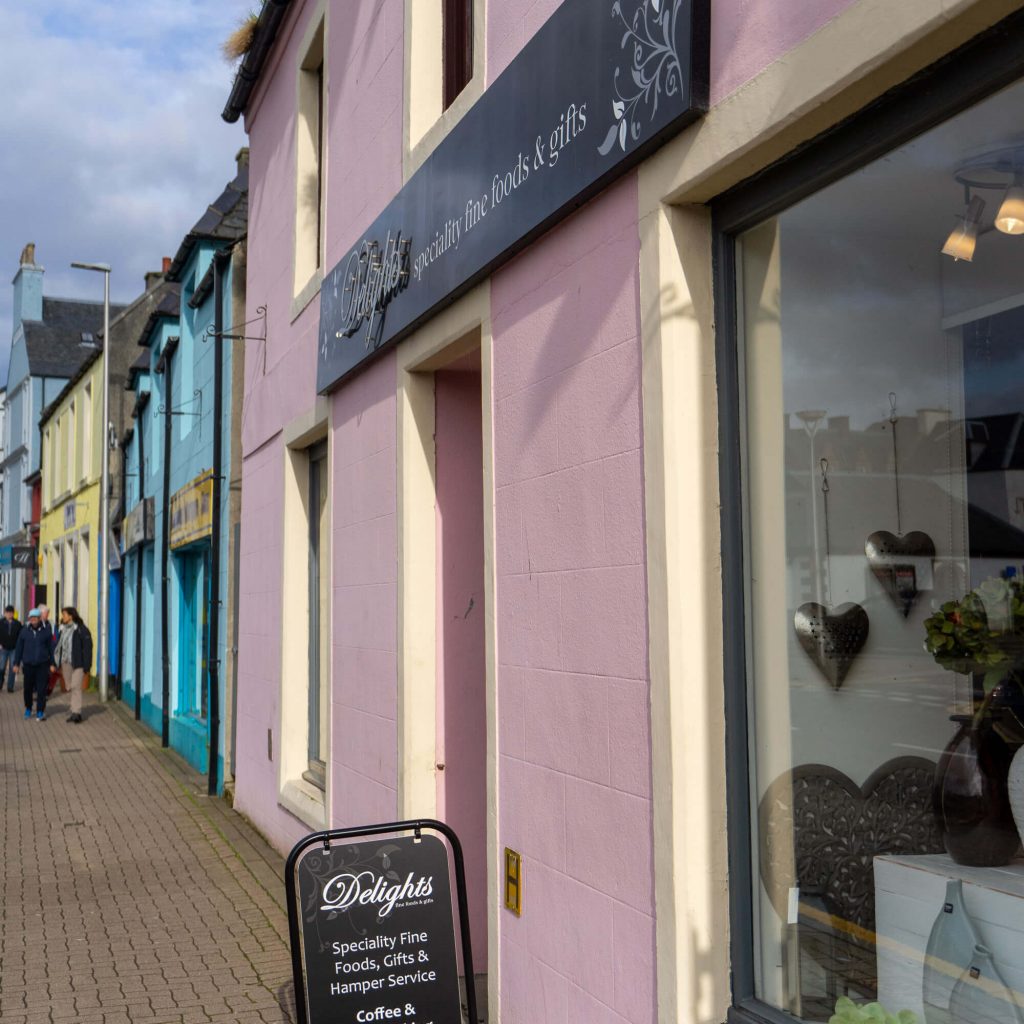 Shops
All shops are closed on a Sunday. This includes nationwide chain stores such as Boots, Superdrug and Argos.
Supermarkets
It is important to note that all supermarkets are closed on a Sunday.
Engebrets Filling Station
Open 10-4 pm on a Sunday, this is a popular stop for those with Sunday cabin fever who are looking to stock up on snacks, light groceries or fill up on petrol. You will see a busy car park with tourists and locals alike sitting in their cars, eating and talking the day away.
Blackhouse Bakery
The Blackhouse Bakery is located in the area of Plasterfield in Stornoway and is again open from 10-4 pm on a Sunday. An artisan bakery and general store, they also sell speciality coffees along with their baked goods. If you have no transport availability to make it to the bakery, their goods are sold in the Iceland store in the town centre which you would be able to purchase before the Sunday closures.
Places to eat on a Sunday in Stornoway
Below are some hotels in Stornoway which hold restaurants and bars that are open to the general public as well as paying guests.
HS-1 Cafe Bar
HS-1 is one of the longest-running Sunday openings in the town. With harbour views, this cafe bar is a popular choice among locals. They change their menu often but currently offer a variety of meat and vegan options.
The Boatshed
On the other side of HS-1, you will find The Boatshed restaurant in the Royal Hotel. The Boatshed serves a range of cuisines but focuses primarily on Scottish dishes using fresh and local produce such as meats, fish and shellfish.
The Boatshed is a great option if you encounter Lewis' blustery weather as they have an open flame fire.
Eleven
The biggest draw in for Eleven, part of the Caladh Inn hotel, is their carvery although they do also offer an à la carte menu.
Eleven is a popular choice for large groups and also offer a carvery grab and go self-service takeaway over lunchtimes if you are looking to take a trip.
Solas
Solas at the Cabarfeidh Hotel is a modern brasserie restaurant serving contemporary dishes.
Harbour View Restaurant
The Harbour View Restaurant above The Crown Inn is one of the top-rated restaurants in Stornoway. However, this is not your typical pub grub.
Using fresh and local produce where available, there is an extensive menu available with options from risotto, pizza, and tacos to seafood.
The Storehouse Cafe/Whisky Bar
The Storehouse Cafe and Whisky Bar are located within Lews Castle and are open much longer from 8.30 am-11 pm.
Until recently, I felt that The Storehouse Cafe had an extensive menu but I suspect there may have been too many options available as they have now significantly reduced the number of options to a now very basic menu of mainly sandwiches and quiche.
It does however remain a popular choice to visit on a Sunday. This is most likely thanks to the children's activities held in the castle on a day when most other options are closed.
However, the Whisky Bar within the castle is beautiful and would be a great way to end your Sunday with a nightcap.
Things to do in Stornoway on Sunday?
What can you do on a Sunday in Stornoway to pass the time? Relax. Have a little bit of a digital detox if you can and enjoy the outdoors. Whether you are religious or not, Sundays are a great excuse to get together with friends and family and spend some quality time together and while I loathed losing a day of my weekend as a child, as an adult, I appreciate the slower pace.
Sundays in Stornoway are a fantastic way to disconnect, there is a real sense of calm in them, that is until you hit extreme cabin fever and find yourself online shopping for things you never knew you wanted and craving food and sweets that you have no access to. Sundays serve your peaks and troughs.
Lews Castle and Lews Castle Grounds
Lews Castle and Lews Castle Grounds are two of my favourite places in Stornoway.
I was always fascinated by Lews Castle growing up but sadly, this grand Victorian-era building, overlooking Stornoway harbour, the town and surrounded by the most wonderful walks within Lews Castle Grounds lay there in the darkness for my youth.
Thankfully, the castle was restored and reopened in 2016 which is now also home to Museum nan Eilean and the backdrop for the annual Hebridean Celtic Festival.
Lews Castle Grounds are a very popular destination for Sunday walks, runs and bike rides as well as simply having some of the most beautiful views over the town of Stornoway.
Read our post on things to do in the Outer Hebrides , for further information on Lews Castle as well as locations such as the infamous Callanish Stones and Gearranan Blackhouses, most of which are open to the public on a Sunday.
Beaches
The Outer Hebrides have some of the best beaches in Scotland (as often ranked, not entirely based on my bias) and Sundays are a brilliant day to visit them. On a nice day, with some preplanning, consider having a barbecue on the beach, or perhaps take part in some surfing or bodyboarding which are popular activities on the Islands.
See some of the best Outer Hebrides beaches to visit
Learn some of the local language
When the weather isn't the best and you don't fancy leaving the house then the options of things to do can be limited.
Why not take some time to learn a little bit of Scottish Gaelic? I do short introductory snippets over on Youtube that include phonetics making it easier to pick up some phrases.
Learn a little Gaelic over on my Youtube Channel and don't forget to subscribe.
Hopefully, this post shares a glimpse into what you can expect from a Sunday in Stornoway.
I think it's such a wonderful and positive thing, the majority of people have the day off work, it's time to recoup and gather with family and friends and I also think it's fantastic that so many national chains have adapted to the way of life and have not tried to change it.
I can understand the frustration when living on the Island. It can feel like cabin fever being forced upon you but living in the city now, I can't tell you how much I value and look forward to a Sunday in Lewis.