This post may contain affiliate links of which we earn a small commission should you choose to purchase through them. This helps us to keep the site running. Thank you for your support
Coming from the Outer Hebrides, I was always aware of St Kilda. Everyone around me had an intrigue, or a want, to visit the island. Curious about the history and the unique way of life.
And honestly, I thought the majority of people in Scotland were the same. I now know how very naive that was, as now, having visited, I realise how many people know nothing of this little island that sits 40 miles off the coast, just west of the Outer Hebrides.
My grandparents visited St Kilda after years of talking about it, years and years of talking, and they thought it was so wonderful and enjoyed it so much, that they very kindly gifted me with some tickets one Christmas.
I say one Christmas because it took almost 3 long years to finally make the trip. Nonetheless, I couldn't be more thankful for the opportunity as it's somewhere that I have always wanted to visit but wasn't sure that I ever would in reality.
As I said, I was surprised by how many people don't know of St Kilda, so for those of you that don't, I will do my best to give a brief overview, but really, I think the pictures will speak for themselves.
Where is St Kilda?
St Kilda is an archipelago in the North Atlantic Ocean and it is the UK's only dual UNESCO World Heritage Site and this is really special as there are only 39 in the world!
It's famed for its sea stacks which are home to nearly 1 million seabirds but perhaps more so, it's the village and small crescent of houses found on Hirta, which provide a small insight into what seems like a very different world.
As I'm from the Isle of Lewis in the Western Isles, the easiest route for me to take was to travel to Leverburgh in the Isle of Harris. Other options are depending on which company you book tickets with and these also leave from Oban, Uist and the Isle of Skye as far as I'm aware.
How long does it take to get to St Kilda?
The trip from Harris to St Kilda is around 2.5 hours while some of the other routes can take more than double this time, definitely something to factor into your decision if you can.
If you are planning on making the trip to St Kilda, make sure to book in advance as travel is very weather dependant and as I'm sure we're all aware, Scottish weather can be testing!
We booked our trip with Kilda Cruises around 6 weeks before leaving (and even then, we were placed on a waitlist) and you are advised on booking that should the weather be unfavourable, your trip may be pushed back a day to allow for the previous days bookings to travel. So, do be aware to allow for that extra day should it be needed.
Luckily, we had lovely weather on the day, it's never guaranteed and it's honestly not something I was overly concerned about. I love the moody, misty shots of the sea stacks most of all but equally, I knew that with better weather, would come a calmer crossing. Peaks and troughs.
It's an early start. The drive from Stornoway to Leverburgh takes around 1 hour 30 mins, you are required to check-in around 20 minutes before departure and you leave Leverburgh at approximately 8 am.
But it's exciting, so it's not the usual dreaded early wake-up alarm. We arrived much earlier than required, as is in my nature, and we just sat in the car and assessed which of the people walking around we thought might be on the boat with us.
25 minutes before departure, we decided to head to the pier. I stepped off the kerb by the car, and my ankle just buckled beneath me. Now, I'm not particularly accident-prone and I've never broken a bone, but this really did floor me. I hobbled back to the car, took a couple of minutes, embarrassed and on the verge of tears but I regained composure in the fear of letting Peter down or having to cancel (also, being in doubt that cancelling so close to departure may just void my space and ticket).
The Journey to St Kilda
I gritted my teeth and limped towards the pier because I waited 3 years for this trip. I was going to go.
We eventually got on the boat to start our 2.5-hour journey towards St Kilda. There were around 12 of us on our boat and ever the optimists, we all sat on the benches outside.
I'll start by saying, dress warmly. Despite the lovely weather that we had, you are heading out into the Atlantic Ocean and it is cold on the boat, so whether or not you need it once you reach the island, take a jumper and a jacket of some sort.
Most people eventually chose to sit inside from the cold, or perhaps opt for the plush leather seats over the hard benches, but I tend to feel a little less seasick with the fresh air. So, secondly, I'd say, if you are prone to feeling seasick, take something for it. We had a calm crossing but we did hit a slightly rough patch and there were casualties. And it's not dignified. You really do have to puke in a cup and just hope that it's inconspicuous enough that people didn't see.
Luckily, my Grampa had warned me that you can see St Kilda within about 30 minutes of leaving Harris but not to be fooled and think it's closer than it is, and despite him telling me this, I believed that it was, but no, it will take you the full 2.5 hours to reach.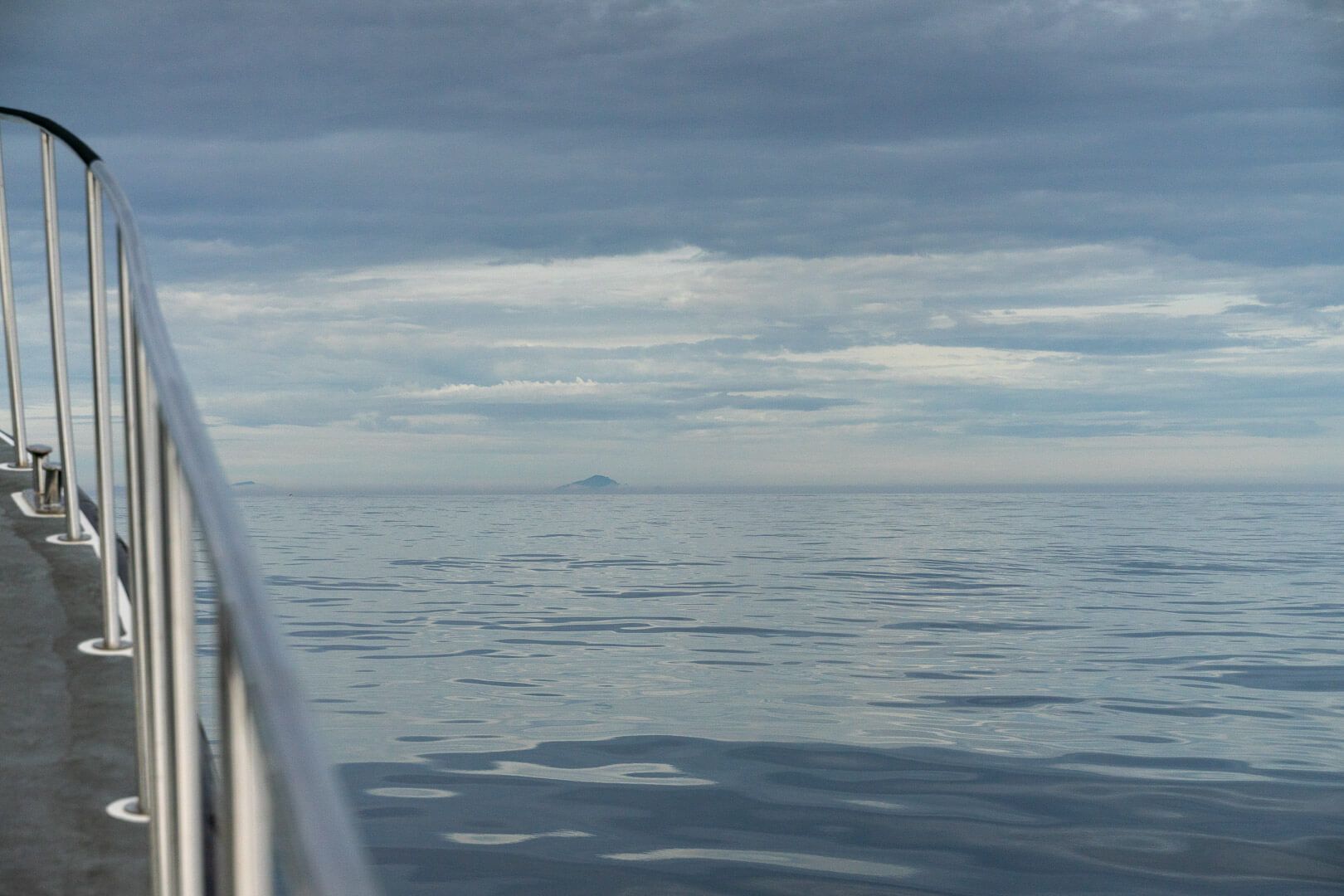 Whilst sitting outside, you have plenty of time to spot the wildlife around you. We think we saw glimpses of a whale, but we definitely saw seals, cormorants, puffins, kittiwakes, fulmars, guillemots and of course, gannets. On the same day, there was another boat that saw orcas, and I'm kicking myself for missing out. Not that I could have helped it.
It is a long, cold journey but equally refreshing and somewhat exhilarating. We were mostly left to ourselves on the journey there, we had the odd thing pointed out to us or a little bit of information but I had been expecting a lot more. The early morning though, I think we were happy to take it all in without interruption.
Now, I was in a lot of pain with my ankle and I could feel it seizing up after such a long period of sitting. I had a lot of concerns about getting off the boat as I really wasn't sure if there would be climbing involved and I couldn't bear the thought of putting weight on it. The anxiety that ensued when they stopped just outside of the bay and told us that we would be taken to land by speedboat, my heart stopped.
But it was ok, they secured the speedboat to the back of our boat and it only required climbing down one or two steps, a quick 1-minute ride followed by one (wobbly) step onto the small pier in the Village Bay.
Arriving at St Kilda
Once safely on land, a number of us, from different boat trips, congregated near the first building that you come across. Here, we were given a brief introduction on the dos and don'ts while on the island, things to be aware of and just a little bit about the history and what we could expect.
From there on, we had 4 hours to roam the island on a self-guided tour. I had a little bit of a seat, assessed the surroundings and took it all in before pushing on.
Do people live on St Kilda?
The island is not quite as abandoned as you may think, with the MoD holding a section of Hirta for training purposes, along with the conservationists and researchers for the National Trust of Scotland among others.
The ground is uneven all across the island once you leave the main road. I knew would be a struggle but it felt like a once in a lifetime opportunity and I wasn't going to waste it.
We spent a little time taking pictures, stocking up on some water and visiting the toilet before eventually walking around the village.
What really took me by surprise were the number of cleits on Hirta. There are approximately 1,260 cleits on Hirta alone. And for those that haven't heard of cleits, I hadn't, they are wee stone storehouses or bothies of varying size which are dotted around the lower parts of the village. Cleits were used by the islanders to dry and store foods or equipment. They are now home to many of the Soay sheep.
St Kilda is really special because there are so many flowers and wildlife that are unique to the islands. The Soay sheep are completely feral, meaning, you may see them with odd-looking tufts here and there as they naturally shed their wool. They are smaller than the average domestic sheep, seem totally unphased by people and can be seen all around the island. Just be careful where you step.
Some other animals that are unique to Hirta are the St Kilda wrens and the St Kilda field mouse and whilst I did see many of the wrens, I did not see any mice!
Despite my sore ankle, I committed to climbing The Gap. This was highlighted to us as the easiest of the walks, which I believe, but I also don't want to pass it off as 'easy'. It still requires quite a bit of effort if you aren't a frequent hillwalker.
With many starts and stops, it probably took us around 30 minutes to climb. It is steep, which was causing me a lot of discomforts but more so, we were advised not to make the climb as the mist rolled in. And let me just be clear, DO NOT make the climb as the mist rolls in!
We didn't, thankfully. I think your mind, by design, imagines that once you reach the top there will be another side, but it is a sheer drop of 150m+. Terrifying!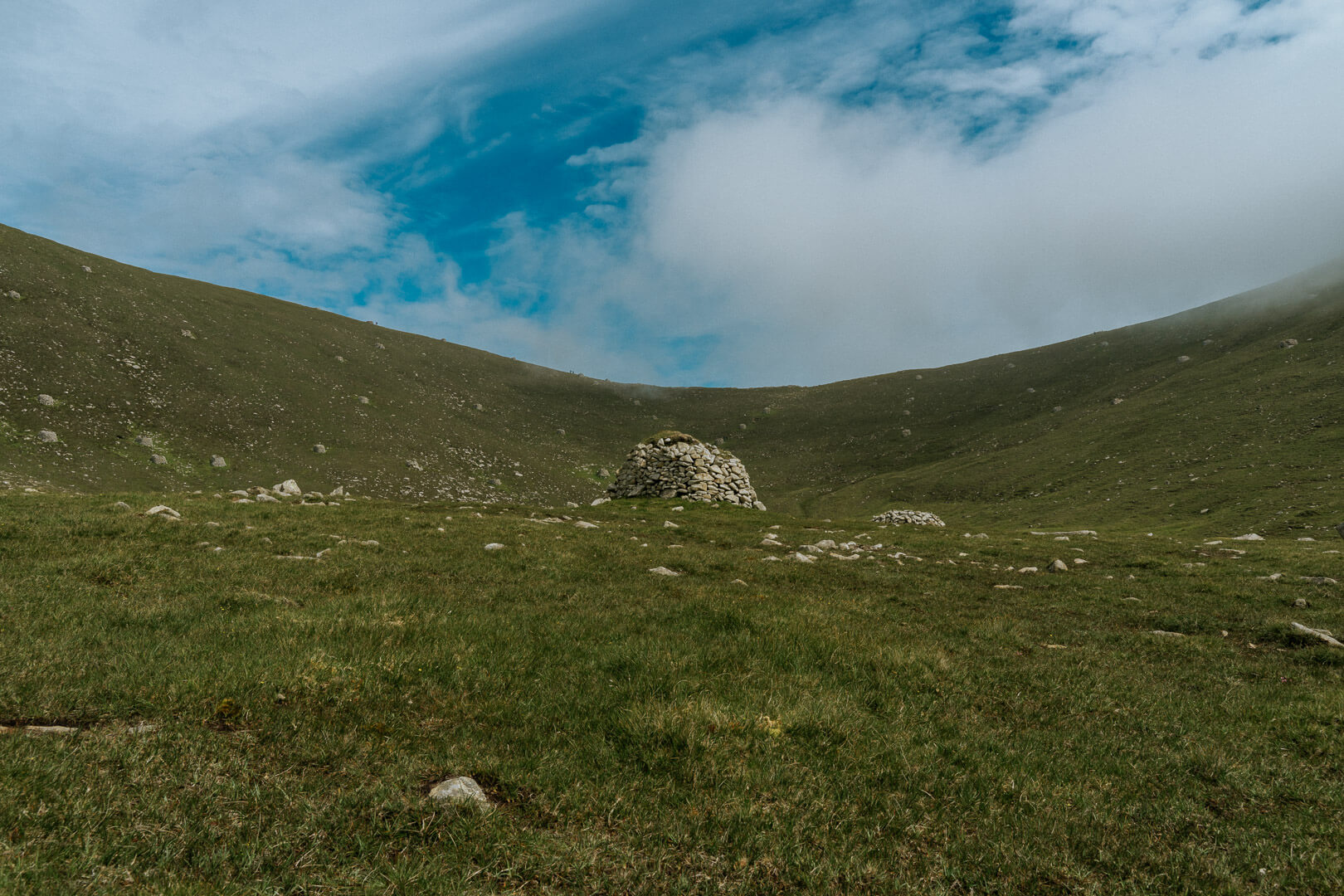 The views at the top are breathtaking. It was worth doing just to see the views both back down to the village and across the water. We were up in the skies, with the birds flying all around the cliffside and we just sat and took the time to take it all in, marvelling at the fact that the St Kildans, with just a bit of rope, would abseil these very cliffs to get the guga!
It was so beautiful that we decided to stop here and enjoy our lunch. Although you are only visiting Hirta for around 4 hours, it's a long day, so make sure to take plenty of food and drink with you as there are no shops! We ate our sandwiches and had a little snack before taking pictures and beginning the descent back to the village.
Once back in the village, we visited some of the houses which were open to the public. The majority of them are closed but one has been converted into a small museum which tells you all about the St Kildans and their way of life. There are also many items from the history of the island to be seen within the museum.
We visited the church and the school, which are connected. Both are very small and sparse but I think they give a good insight into how it would have been.
Within the school, there was a small shop area where you can pick up postcards, books and other memorabilia. They themselves used to send mail by mail boats which is surreal to think about, almost like messages in a bottle and just hoping that they would be found somewhere and passed on to the correct person! These days, you can actually send postcards from the island, you will find a post box towards the pier area and all post is marked with a special St Kilda stamp to prove that they were sent from the island!
Read one of the best books around the history of St Kilda
The Life and Death of St. Kilda: The moving story of a vanished island community – Available on Amazon
Sea Stacks and Gannet Colonies
When it was time to leave Hirta, we boarded the speedboat once again before making our way back to the tour boat. Once settled, we were all given a slice of cake and a cup of tea or coffee, before bidding farewell to the island.
From there, it was time to visit the sea stacks of Stac Lee, Stac an Armin and Boreray. Stac Lee was possibly the most impressive to me as it is home to the worlds second-largest colony of Northern gannets (beaten only by Bass Rock in East Lothian). Over 120,000 of them.
The sea stacks are around 150-200 metres in height which make them the highest sea stacks in Britain. They are incredible to see, so tall and imposing and we were told that they are even better beneath the surface. Just, breathtaking.
As we made our way around the stacks, we were given facts about the rocks, the different birds and stories of the history visiting these rocks in the middle of the ocean! St Kilda is northwest Europe's largest seabird colony including the UK's largest colony of Atlantic puffin but we really only saw the puffins in the water. I was a little disappointed as I always see such beautiful pictures of puffins and this was my first time seeing them, but we really weren't very close.
I really don't want to ruin anything for those looking to visit St Kilda, so I will not regale any of these stories but just, wow. It's really something.
Boreray is another uninhabited island in the St Kilda archipelago that we heard some incredible tales of, but again, I won't ruin it for you. However, we saw some of the Boreray sheep which are feral and unique to the island and these have to be some of the most agile sheep around. It is honestly mind-blowing to watch these animals graze with such ease whilst on the side of cliffs, directly above the ocean.
Anyway, sheep appreciation aside, I'd say that we spent around an hour making our way around before eventually heading back towards the Isle of Harris. Fortunately, another smooth crossing but this time we were joined by some playful dolphins who were swimming alongside the boat. We were given a small dram of whisky and we ended our St Kilda trip feeling very content.
As far as day trips go, St Kilda tours were way up there on the bucket list of things to do and I'm so thankful to finally be able to tick it off.
If you are looking to book St Kilda trips from Harris, I would highly recommend Kilda Cruises but I think you are in safe hands whoever you choose!